Masala Cuisine is squeezed between a church and a shoeshine parlor on International Boulevard in East Oakland. The name, written in blue paint across the top, shares a wall with graffiti that grows with each passing year. A board reading "Grand Opening. Indian Food" still hangs from the wall. Inside it feels as if you have entered someone's home for a meal. On the left an open kitchen: The stove is sandwiched between a fridge and the vegetable rack. On the right are two tables covered with a deep-yellow tablecloth.
"Our aim was to open a simple Indian home-style restaurant. I've been cooking my entire life, and so it came naturally," Rooplal Masih tells me over a cup of tea at the restaurant he founded in 2010 with his wife, Sushil. The restaurant is essentially a takeout kitchen with tables that can be arranged to accommodate a party of 10. The Masihs settled in East Oakland after years of constant travel. Rooplal was trained and recruited as a cook in the Indian navy in 1964, at the age of 18. He was initially trained in Cochin, Kerala, and completed his chef training at the Indian Naval Ships (INS) Hamla base in Mumbai. As a cook in the naval forces, Rooplal worked across the length and breadth of India. He spent time on the INS Sutlej, Vikrant, Virbahu, and Satavahana. Sushil traveled with him. She learned to cook from Rooplal but never worked formally in a kitchen until they opened Masala Cuisine.
Rooplal didn't enjoy cooking in his first decade of service. For him the kitchen was a way into the armed forces. With the intention of joining the navy, he went through the crew-recruitment program and was drafted as a cook. He alternated between cooking on ships and submarines. This was a boring routine, and Rooplal often wondered whether he'd made the right choice. But that thinking changed the day his senior naval officers made him compete in the annual navy cook-off. The idea of competing against his colleagues in a nationwide competition for which all used the same ingredients excited him. "During those competitions, cooking became a learning experience. I spent a lot of time experimenting with flavors during these competitions."
Rooplal won three consecutive cooking competitions in the navy. "Winning the competitions became a fun exercise. It was always fun cooking against a set challenge." He retired from the navy and continued working on private transport ships. Once it was time to settle on land, he entered a cooking audition—he read about it in the newspaper—and beat 30 other chefs for a job in an Indian restaurant in London, where he worked for two years. "It was really cold there. A friend of mine said he was moving to San Francisco and that the weather was better. That's how we finally decided to move to California."
Over the last decade, multiple cities in the South Bay and Northern California have seen increasing immigration from South Asia. It's now easy to find almost any type of popular South Asian meal in the Bay Area. A dosa or idli fix can be remedied by a visit to Amruta Vilas or Madras Cafe in the Bay Area. Vik's Chaat in Berkeley is a staple when it comes to chaat (a type of Indian street food). Mughlai and North Indian cuisine can be found in both expensive and budget restaurants from San Francisco to the East Bay, and there are even cult thali (Indian set meals), such as Komala Vilas in Sunnyvale.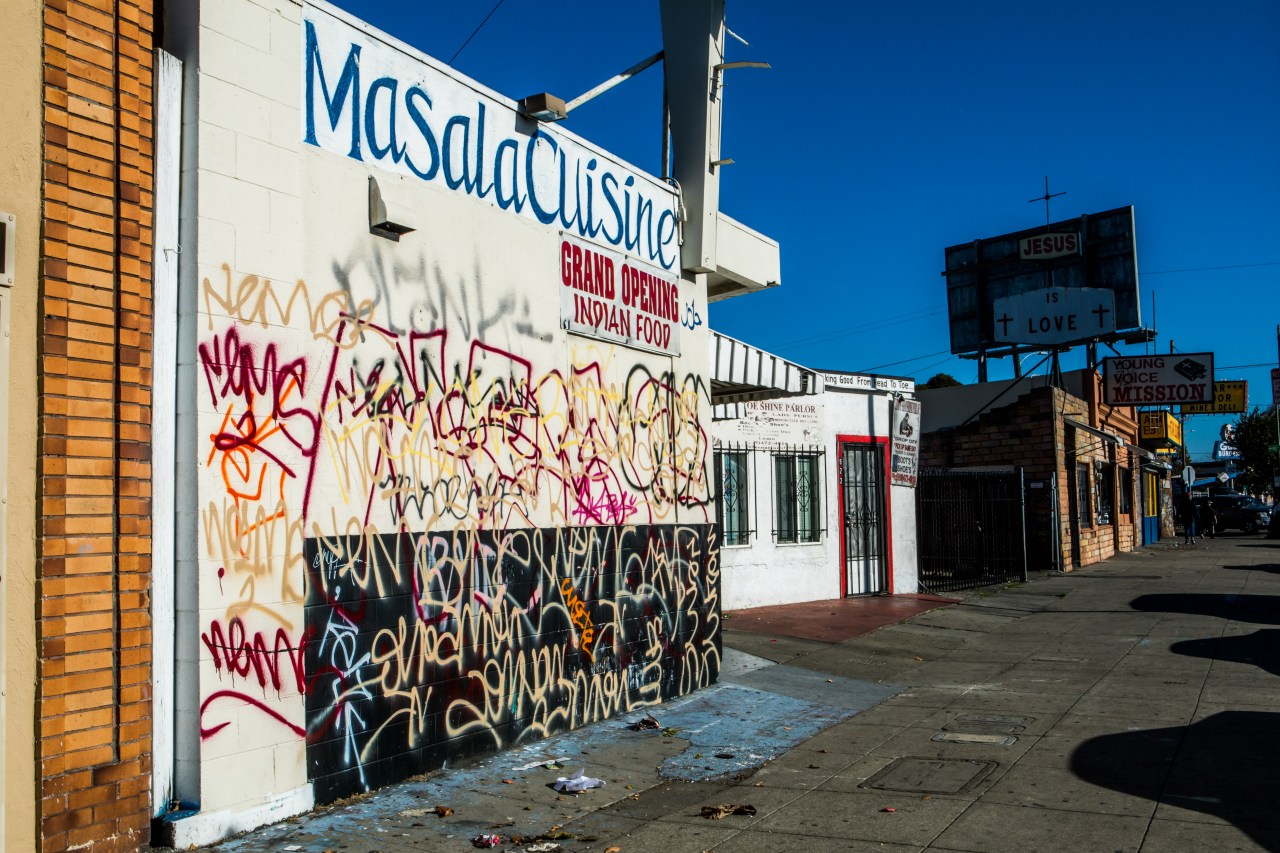 Rooplal's initial years in the Bay Area were spent working both in Indian restaurants and as an independent caterer, cooking for businesses and private parties. By the mid '90s, Rooplal and Sushil were regularly catering to hundreds of guests.
In 2010 the couple decided to invest their savings in a restaurant. They haven't hired a single employee since day one, taking care of every aspect of running Masala Cuisine themselves. "For the first three years, we virtually had no guests. It was really tough," Rooplal says. "After the East Bay Express wrote our first review in 2013, people started looking us up and coming to eat. Then, as the years passed on, we got a few regular customers who'd visit us no matter what." The Express reviewer called Masala Cuisine "the closest thing [he'd] experienced, in a restaurant setting, to being invited into the home of two wonderful Indian cooks."
For more than seven years the Masih couple has continued to cook authentic North Indian cuisine in East Oakland. They purchase small quantities of vegetables and supplies daily, keeping their overhead to a minimum. Their menu has remained unchanged over the years; the couple says they've never thought of experimenting. "At this age, I've found a stability in our menu, which our patrons like," Rooplal tells me. Masala Cuisine offers a staple set of vegetarian, chicken, and lamb dishes. The restaurant is open six days a week from 11 a.m. till 7.30 p.m.—but occasionally closes early if they run out of supplies.
While the menu never changes, the chefs do accommodate special requests. Rooplal says one man visits their restaurants twice a month just to eat their karela (bitter gourd).
For the couple, this restaurant is less a business establishment than an extension of their home. "We come here and cook, we go back home and we cook. We're always up to something or the other that's keeping us busy," Sushil says. "We think of this place as our home—it isn't work for us."