Even on Lima's hottest summer days, a hazy veil shrouds the sky. We limeños complain about it, but we've also learned to live with it. This gray city, where it virtually never rains, fights back its eternal fog with the aromas and flavors of its famous kitchens.
Lima is a melting pot of Peruvian and foreign cultures and traditions, and the city is all about the food of those cultures. Every ray of sun is celebrated with a ceviche and a beer, every foggy day is forgotten with a lomo saltado (stir-fried beef with rice and fries), and the cold journey of winter is cured with a big sancochado (a huge soup with different kinds of meat, corn, potato, manioc, and cabbage).
Limeños learn our families' cooking secrets in the home, where our mothers cook recipes inherited from our grandmothers. As a visitor, you will begin to understand this love of our food from your very first cab ride. Taxi drivers will tell you about their mom's ají de gallina. Ají is rich and creamy and made with small pieces of chicken, yellow chili, breadcrumbs, and milk served with yellow potato, rice, and boiled egg. Or they will recommend their favorite huarique, our popular, small, simple, one-dish restaurants, or they'll tell you where to eat the best ceviche in town.
Because that's what the real Lima eats: comfortable, simple, generous dishes in tiny diners. Dishes that are accessible and prepared with a lot of heart. My perfect day will take you to some of those places, where every bite brings back memories for me and form new ones for you. Whether you are in the beautiful and chaotic downtown or by the peaceful bay.
When I was a teenager in the late 1980s, I was not allowed to go downtown. Back then, Peru was immersed in an internal armed conflict and dealing with a deep economic crisis. Lima was an unstable city. Businesses and government bureaus were downtown. They were easy targets for attacks, and the area was the perfect location for workers to strike. Strikes sometimes became violent. My only memories of this area when I was growing up are of the main square, the Jirón de la Unión, the Central Market, and some of the old churches that my grandmother used to take me to when I was a toddler.
My rediscovery of this area, years later, was nourishing and challenging. I demonstrated against the authoritarian government there in the 1990s, I worked for magazines and newspapers, and my young mind was fed by the multicultural atmosphere and fantastic architecture. Downtown had changed by that time. And every time I go back there now, I remember those formative years.
We limeños are sandwich people. The repertoire is vast, from chicken or avocado classics (the avocado sandwich makes a regular appearance in our breakfasts, so it's not a trendy thing) to the king of them all, pan con chicharrón (pork belly sandwich). Félix Yong's restaurant, El Chinito, is an obsession of mine, and it is the perfect place to try con chicharrón. Founded in 1960, the establishment has an ornate tiled floor and walls, a counter with different kinds of meat and piles of French bread. (The bread is not from France; it is just called French, but no one knows why.)
El Chinito is always packed, and it's normal to find long lines of people waiting. Be patient. The line might be long, but the process is fast, and your reward will be worth it. It's a sandwich you will want to hug. It is moist and fat and filled with fried pork. It comes with thin sheets of fried sweet potato and a creole sauce, made of onion, lemon, and chili. One bite and you will know you are on the right path toward a perfect day.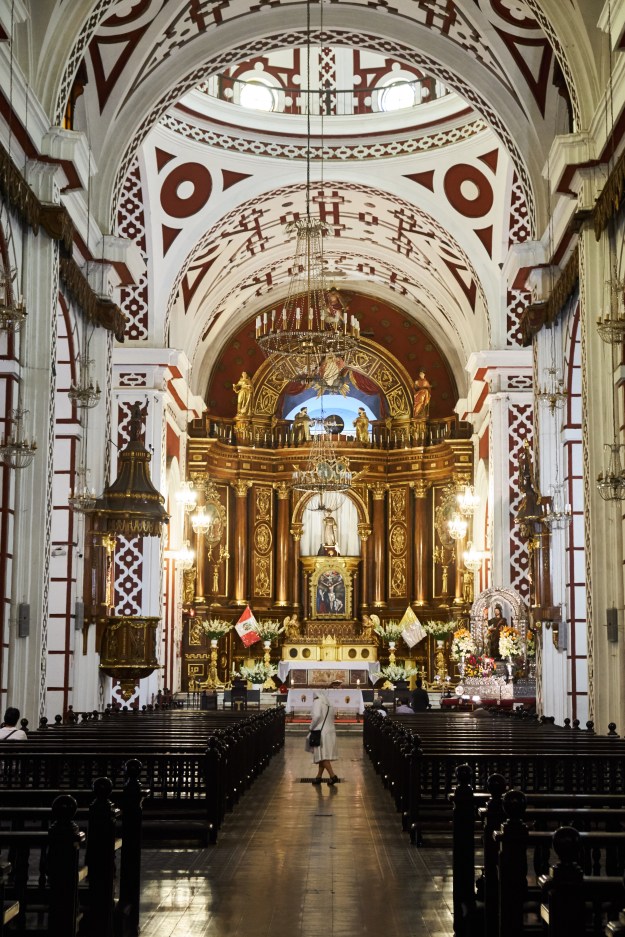 Take a 15-minute taxi ride from El Chinito and go straight to San Francisco Church. It's on Jirón Lampa, Cercado de Lima, behind the Plaza de Armas, which is Lima's main square. There you will find one of the most beautiful churches in the city and a great example of religious syncretism: the monumental style of Spanish Baroque architecture with colorful interiors. Look up: The open windows in the ceiling allow the light to filter through. Look down: In some parts of the church, you can see the catacombs through barred holes. Be sure to visit the monastic gardens too. Take a look at the frescoes and walk around the front atrium on Jirón Áncash. In the old city, the Spanish colonial style of architecture dominates, so it's worth paying attention to the doors and windows and looking up and to enjoy the ornate balconies.
To best understand the city center, you need to visit the bars, old taverns, and hotels. These are the refuge of bohemians and lifelong artists. In a few of them, emblematic drinks were born, such as pisco sour (pisco grape spirit and lemon juice). At the end of Jirón Áncash, at No. 202, you will find Bar Cordano, which first opened in 1905. It's a favorite with writers and politicians. Be sure to grab a hot coffee, made like in the old days: pasado, strong and black. Across the street is the Literature House. It's a splendid 1912 building full of stories, book exhibits, iron benches, wooden seats, large Art Nouveau stained-glass windows, and a vast staircase. It used to be the train station, called Desamparados. It's an odd name, meaning "helpless."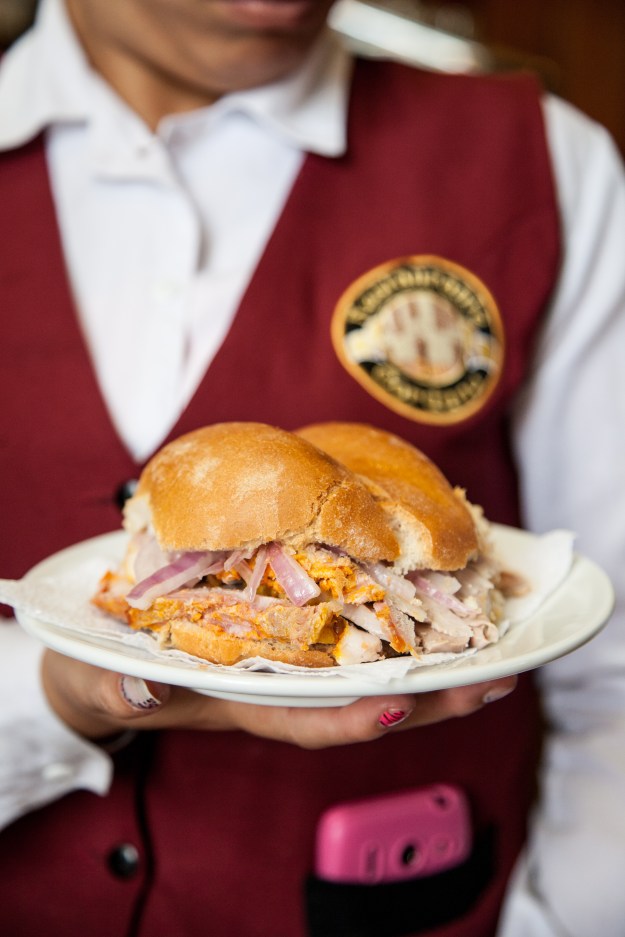 From Desamparados, it takes 40 minutes to walk through the main square, Jirón de La Unión and Jirón Cuzco until you arrive at the Central Market and Chinatown. One of the biggest Chinese communities in Latin America is in Lima. Large numbers of people from China arrived in the late 1800s to early 1900s, and their cooking gradually merged with Peruvian gastronomy. The mix of techniques and ingredients eventually became known as a new style of Peruvian food called chifa. The best place to grab a quick ha kao, siu mai and min pao is at Avícola Modelo. It's the most popular place there among the locals. If this is not enough, San Joy Lao, at 779 Capón Street, is the answer. It serves some of the most remarkable chifas in the area, including arroz chaufa (stir-fried rice), wantán (wonton) soup and tallarín saltado (stir-fried noodles).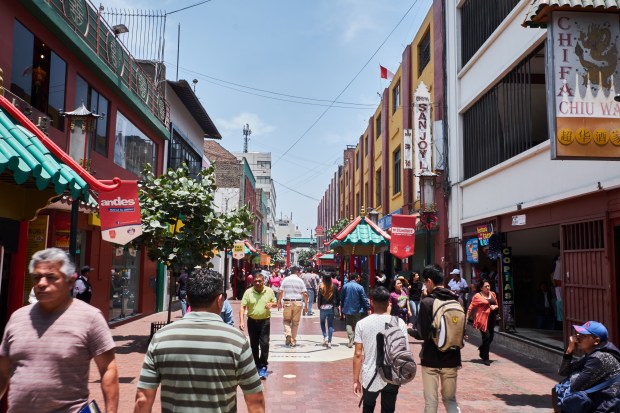 Lima lives on huariques: simple, cheap, one-dish joints. Some of the most distinctive huariques are found in and around markets, and Al Toke Pez huarique is one of the best. It is the place to eat ceviche and leche de tigre ("tiger milk," or the juices and remains of the ceviche). To get to Al Toke Pez, take an Uber from Chinatown. Be warned that the journey time is unpredictable because the traffic these days is horrendous. Al Toke Pez is a contemporary huarique near Market 2, and it is owned by Tomás Matsufuji. He is a cook, a supramolecular chemist, and the son of Dario Matsufuji, one of Peru's best Nikkei (Japanese diaspora) chefs. The place offers ceviche and combos, which are made with the catch of the day, dosidicus gigas (giant calamari), chicharrones, and rice with seafood. The food is rich, smooth, and powerful. If you are lucky, you might get to try some of his more unusual dishes, such as Asian stir-fries and parihuela, a seafood soup. The chicha morada (a beverage made with purple corn, cinnamon, lemon, and sugar) is homemade, and the leche de tigre is unforgettable. You will probably have to eat standing up, since Al Toke Pez has only 12 seats.
4:00
pm
Neira Café Lab
Calle Enrique Palacios 1074
Miraflores
Get Directions
You will need a walk at this point. Remember, Peruvian food is spicy and well seasoned, so take a break and see the sights. We are now in Surquillo a residential and industrial neighborhood far from downtown, far from the trendy part of Lima. Three blocks from Al Toke Pez (Lizardo Montero Street and Jirón Dante Street) is Surquillo's Market 2. It's not fancy, but this is where locals go to buy food on a daily basis. There are fresh fruits, juices, food stands, different kinds of vegetables, and a seafood alley. These are all attractive spots to garner a little knowledge of the cooking routine of limeños. After the market, take an Uber to Neira Café Lab in Miraflores. This is a coffee shop run by Harryson Neira, a young barista who painstakingly explores the country to find the best coffee. He roasts the beans at his place, and a heady aroma inside Neira Café Lab fills Peruvians with soothing memories. If you arrange an appointment, the café can prepare a tasting session so that you can explore the different origins and tastes of the beans.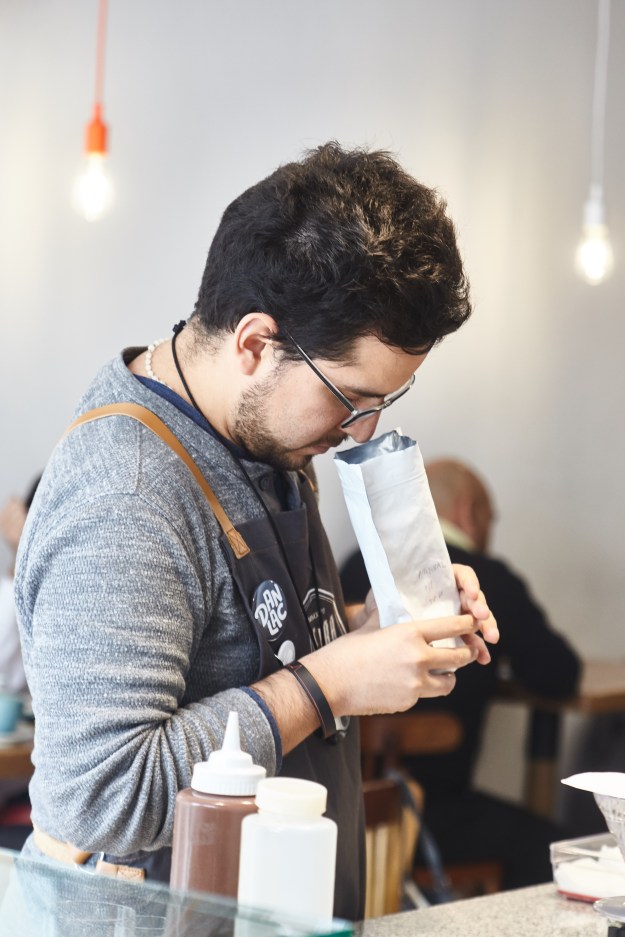 We limeños have a thing for sunsets. Even in the winter, we go to the malecón to see the end of the day. Barranco is the bohemian/hipster district, and it's just a 15-minute walk from Neira Café Lab. The Pacific and the green parks along this part of the coast offer the best scenery for a long walk in Lima. From El Parque del Amor (Miraflores) it's about a 40-minute walk following the coastline until Avenida Sáenz Peña (Barranco). There is a beautiful park there and a design store called Dédalo, which sells pieces made by local artists.
It's time to refuel, and the best place to do that is at Isolina in Barranco. Until about 1900, Barranco was a fishing village, and then it became the summer retreat for wealthy families. More recently, the bohemian and artistic community took over, and today it's a peaceful place that embraces modern trends. Barranco's ability to adapt without losing its essence and joy is amazing to behold. Its architecture has survived, despite the attempts of real estate developers to change it. We have seen houses knocked down, but others stand proud and renewed. One such building is Hotel B, which dates back to 1914. It is the first boutique hotel in Lima (Relais & Châteaux). Another is Isolina restaurant, which is the result of the hard work of its owner, chef José del Castillo. He turned an old house into a classic but updated limeña tavern. But what to order? The ceviche with deep-fried octopus, the escabeche (fish marinated in vinegar, spices, and chili in a fish broth), the asado de tira con frejoles (roasted short rib with beans), and the lomo saltado. The sweet finale is a teja, a pecan, caramel, and manjar blanco (blancmange) confection. Don't go alone, since these are huge sharing plates. To wash it all down, the best option is a pisco sour or a chilcano (pisco, lemon, and ginger ale).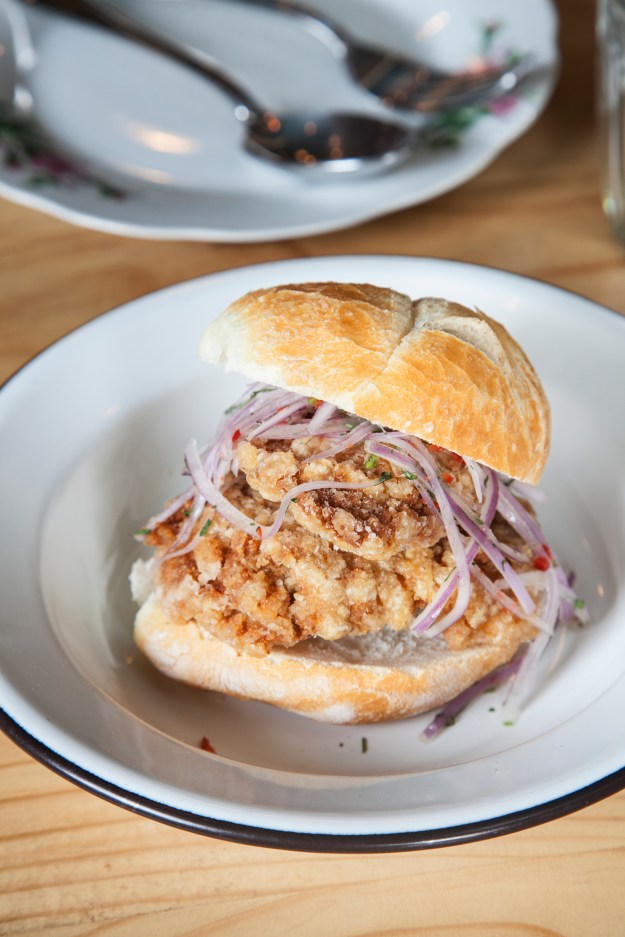 This is just a quick stop, a must-see: La Bajada de los Baños and El Puente de los Suspiros (Bridge of Sighs). Built in 1876, it connects the streets of Ayacucho and the Ermita. This bridge has long been an inspiration for singers and writers (like Chabuca Granda, who sang "El Puente de los Suspiros"), and a favorite place of poets like José María Eguren and Martín Adán. It's a romantic way to reach the sea and the cliffs.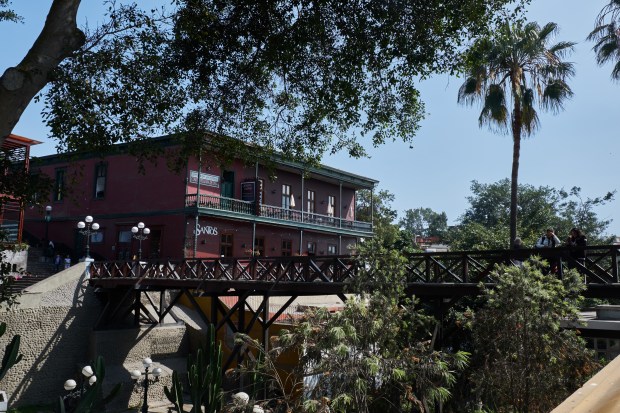 11:00
pm
Juanito Barranco
Av. Almte. Miguel Grau 270
Barranco
Get Directions
Juanito Barranco is a legendary bar in Barranco. It is the place to start or finish the night. When the owner died, his children closed the original bar and built an exact copy next to the old one. They serve an epic jamón del país sandwich (homemade ham marinated in achiote, served with creole sauce), but at night it's mostly a place to have long conversations marinated with beer or chilcanos. This bar is always full, but somehow it's usually possible to find a little corner to nestle into for the night. This is my final call, but if you feel like concerts, La Noche (Sánchez Carrión 199, Barranco) is two blocks away, at the end of Boulevard Sanchez Carrión, and if you need salsa, Barranco Bar offers live salsa sessions on Sundays (Plaza Butters 291, Barranco). Or you can take an Uber and go to Son de Cuba (Calle San Ramón 277, Miraflores) or to La Casa de La Salsa if you are with locals (Fridays and Saturdays, Av. Bauzate y Meza 169, La Victoria). It's the right spot to kill the last hours of the day and to begin a perfect new one.