Bogotá is very large, and its constant traffic can make it seem three times as big. But if you plan well, you can experience many of the great things it has to offer in one single day. Here are some humble suggestions on how to make the most of the Colombian capital in under 24 hours: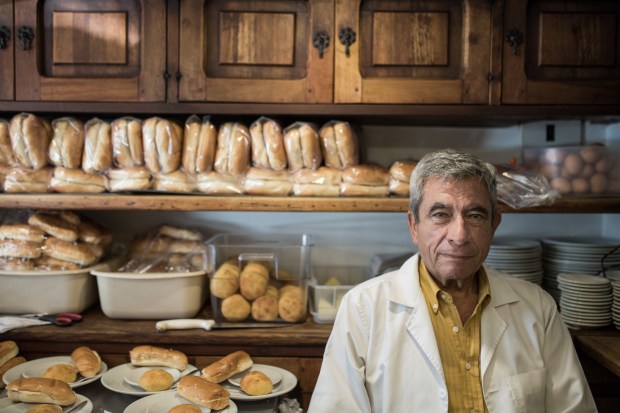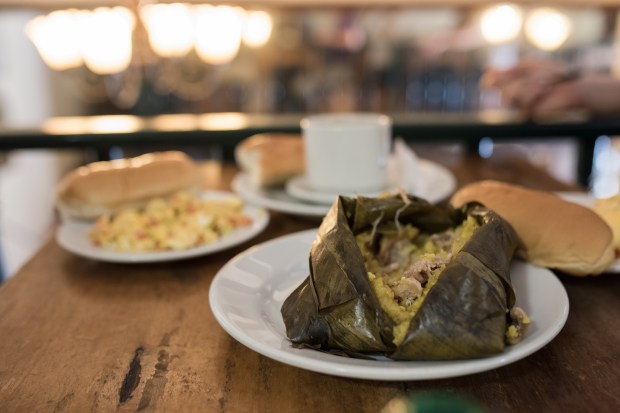 Start downtown for breakfast and a taste of history. La Puerta Falsa is one of Bogotá's oldest restaurants, in business since 1816. Heroes of Colombian independence—won between 1810 and 1819—dined and gorged on the delicious sweets here. Owner Carlos Sabogal, who represents the seventh generation of his family to manage the restaurant, is more than willing to tell you about the history. After all, La Puerta Falsa is half a block away from Plaza de Bolívar, the center of power in the country; many presidents, senators, judges and other political figures have dined here throughout the years.
The restaurant's tamal is legendary and the recipe, a family secret. Colombian tamales are usually rice- or corn-based, stuffed with vegetables and meats, and wrapped in plantain leaves. They also serve hot chocolate the old-fashioned, santafereño way, with water in place of milk. For an authentic taste of Bogotá, get the onces santafereñas, which includes hot chocolate or aguapanela (brown, unprocessed cane sugar melted in boiling water), cheese, bread with butter and almojábanas (cheese-flavored rolls). Don't forget to put the cheese inside your hot beverage, let it melt a bit, and then scoop it out with your spoon. You'll fit right in.
Get a glimpse of Colombian politics. Walk the half-block to Plaza de Bolívar to take the country's pulse; the city's main square hosts the Colombian Congress to the south, Bogotá's City Hall to the west, Colombia's Palace of Justice to the north, and the Primary Cathedral of Bogotá to the east. Two blocks south, you can find Casa de Nariño, site of the executive branch offices and the official residence of the president. This concentration of buildings usually has a number of protesters trying to get the attention of politicians.
Get to know Bogotá and its vibrant street art. Due to the 2011 police killing of a young graffiti artist, the city changed its street art laws, and the walls of Bogotá thrived. A group of street artists took notice and started organizing tours of the graffiti to explain the political messages portrayed by the art. The English-language tours are donation-based. (They suggest 20,000 pesos per person, about $6 at the time of writing.) The  2.5 hour tour starts from Parque de Los Periodistas, a 10-minute walk from Plaza de Bolívar, every day at 10 am and 2 pm, winding through most of La Candelaria, Bogotá's colonial neighborhood.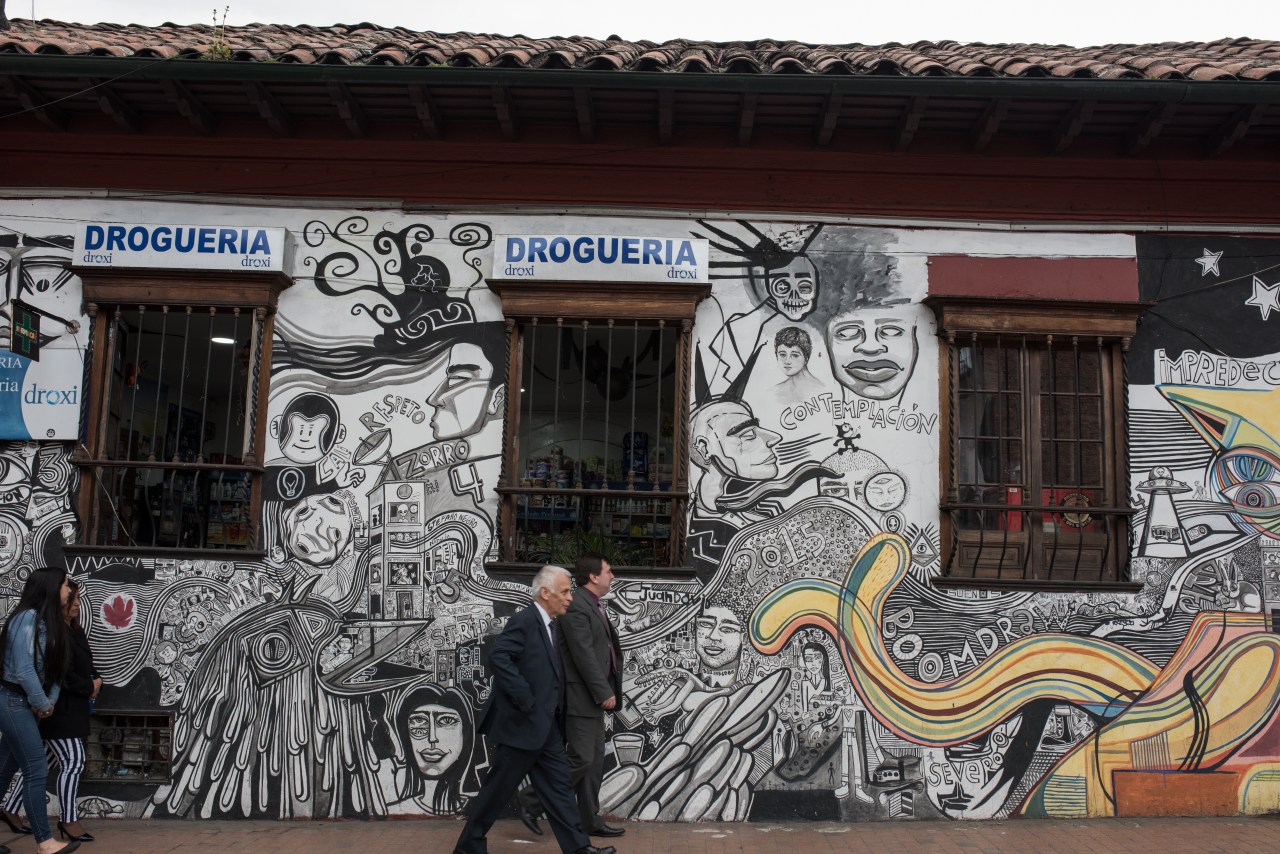 12:30
pm
Banco de la República Art Complex
Cl. 11 #4-21, La Candelaria, Cundinamarca
Get Directions
Find some art at the Bank. The tour will drop you off at Calle 11. Head downhill to the Banco de la República art complex, where you can enter four museums for free. The Bank's Art Collection features Colombian, Latin American and European Modernist art exhibits. El Parqueadero is a site for experimental and contemporary art, while the Coin Museum features the history of Colombian currency. Most famous of all is the Museo Botero, a colonial house where Medellín-born artist Fernando Botero has a large collection of paintings and sculptures. There is also a substantial collection of European Modernist art, including works by Picasso, Mirò, Matisse, and others.
Since you are in Bogotá, try its signature dish for lunch. Ajiaco is a soup made with three kinds of potatoes, corn, chicken, and an herb known as guasca, with the optional (and hotly contested!) addition of avocado, rice, capers, and cream.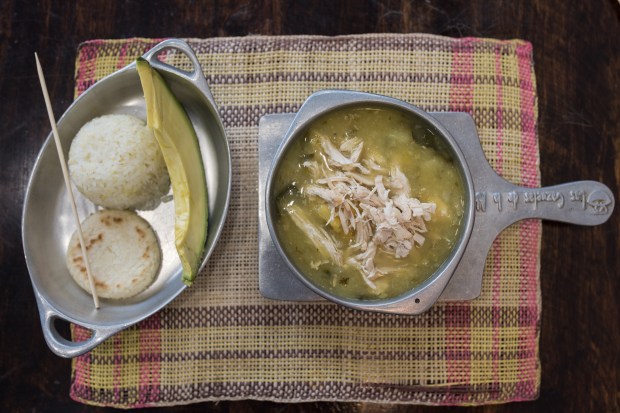 There are many great places to get it, including Las Cazuelas de la Abuela in Chapinero and La Pola in Las Aguas. But if you are still in La Candelaria, your best bet is Antigua Santafé, just a few doors from La Puerta Falsa (which, by the way, also offers a great ajiaco).
Find El Dorado. Remember the legend of Spaniards looking for the indigenous city made of gold? Perhaps you noticed that Bogotá's airport name is El Dorado. Legend has it that before Columbus, the local Muisca people had a ceremony in which they threw gold figurines into Lake Guatavita—near the town of Sesquilé—to worship their leader, the Zipa. A few of these golden figurines have been recovered from the lake as well from other anthropological sites around the country. You can see most of them at the Gold Museum, a short walk away from Plaza de Bolívar.
See the city from above. Before it's dark (and it's always dark, every day of the year, at about 6 pm), get a cab to the Monserrate entrance. Monserrate is a mountain in the center of the city with a 17th-century church, restaurants, and souvenir shops. You can walk, which is the preferred method of pilgrims to the church, but you can also pay to take a cable car to the top. The church is not particularly interesting, and the restaurants are overpriced and touristy, but the view is absolutely stunning and worth a visit.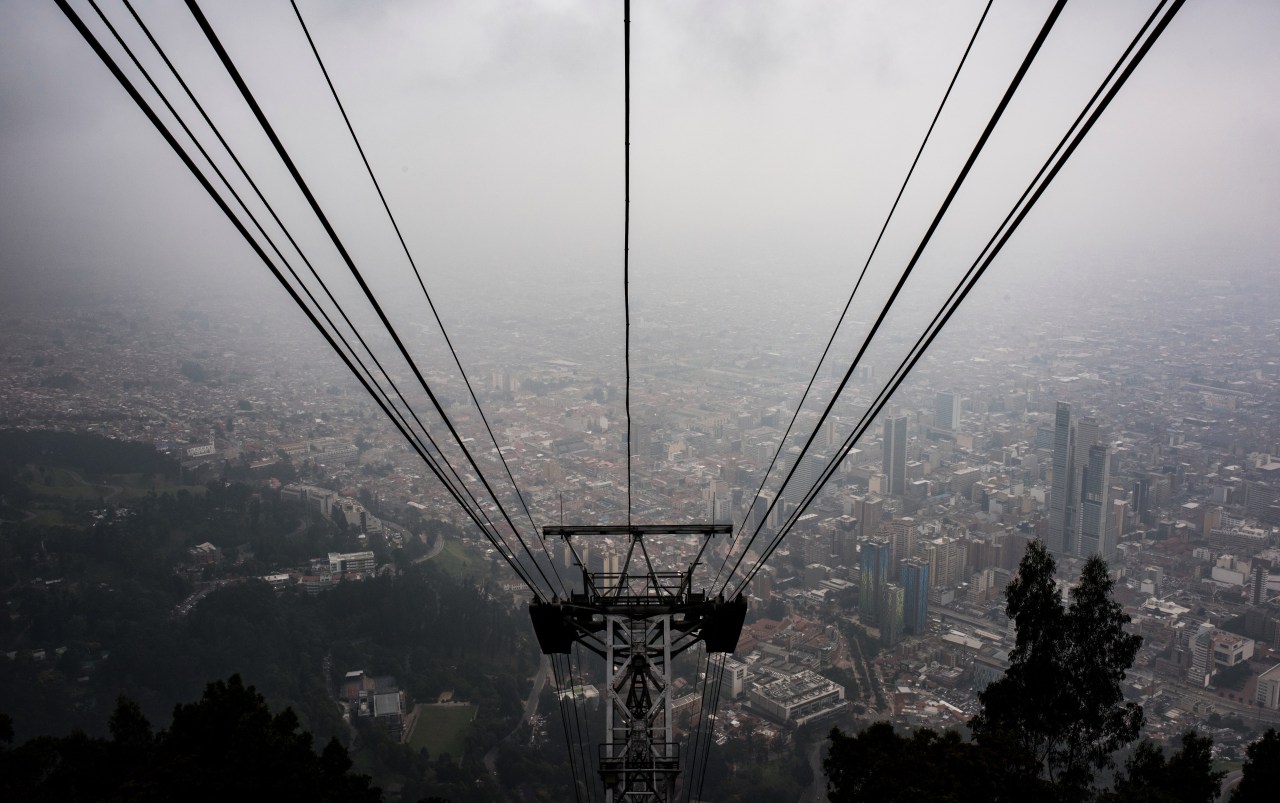 Explore the new, hip side of Bogota. In the past few years San Felipe, a working class neighborhood that used to feature little more than a few grocery stores and car shops, has become a hub of cultural activity. Its spacious two-story houses and cheap rents have attracted many young artists, and a number of galleries and cultural centers have recently opened. Some, like KB, also include a bar where you can relax, have a beer, and discuss the art. Every so often, these spaces get together to have a Noche San Felipe, a sort of gallery crawl with complimentary beer.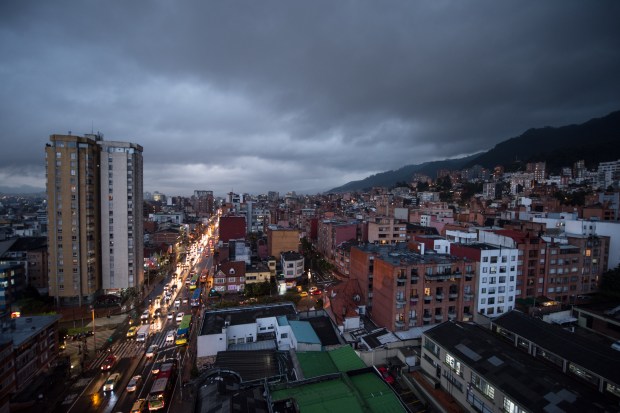 8:00
pm
Zona G & Zona T
Zona G: Carrera 5
Zona T: Carrera 12
Get Directions
Splurge on a gourmet dinner. From San Felipe, you'll be equidistant from two restaurant districts. In Zona G, the food is more experimental, fusion-focused, and international. Sample Lebanese food at Zatar, vegetarian inventiveness at Suna, wood-fired pizza at Julia, and Peruvian fine-dining at Lima export, Astrid y Gastón.
In Zona T you'll find fancier spots, and you can start planning postprandial imbibing since this is also the city's party district. Try the Peruvian ceviches and pisco sours at 14 Inkas, the hearty Colombian fare at Patria, or the offerings of Harry Sasson, one of Colombia's most famous chefs, at his eponymous restaurant. Prices are expensive for Bogotá, which means dishes are $15 and up. You can also head north to Parque de la 93, a large commercial park with a wide selection of bars and restaurants.
After dinner, hit the party scene—as long as it's between Thursday and Saturday—around Zona T and Parque de la 93. If salsa is your jam, try Casa Quiebra-Canto or Galería Café Libro. If you want it to be your jam, try La Villa, which offers a class for salsa neophytes. If you are more into reggeatón, head to Dembow, located in one of the top floors of a grocery market building in Calle 85. In the same building, you can go to La Bolera, for bowling and dancing. Next to it is Armando Records, where the cool kids are and the most recently famous Colombian acts usually play (as well as some American and European indie bands). For electronic music head to El Coq or El Mozo. If you're feeling adventurous, try Theatrón, one of Bogotá's biggest gay clubs in Chapinero, *matik-matik* in Quinta Camacho for experimental music, El Goce Pagano in Las Aguas, long time home of Bogotá's hardcore salseros, or Campanario in Zona T for some champeta, Cartagena's and Barranquilla's gift to the world and a recently adopted rhythm for the rest of the country.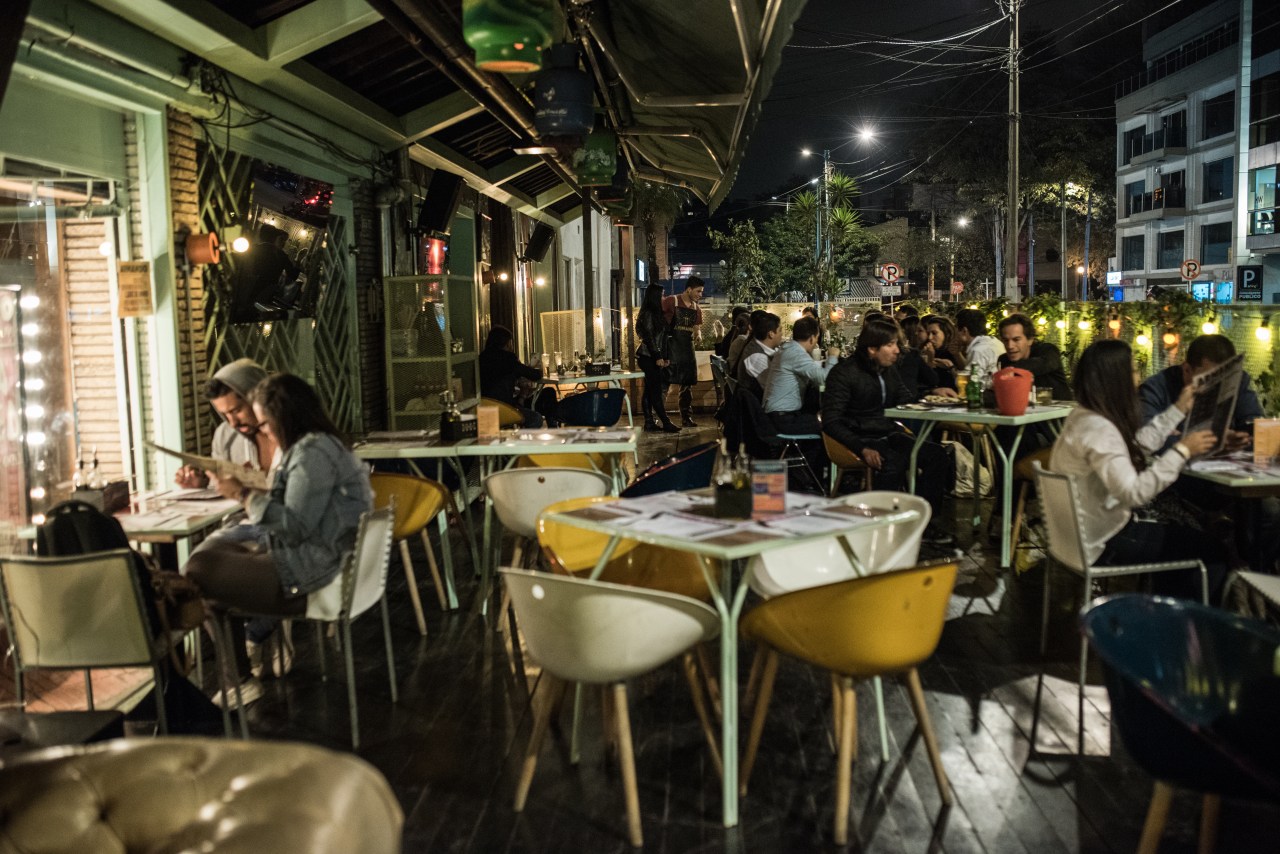 Finish your night with some food to stave off a morning guayabo. Nobody likes a hangover, and if you eat some nice, greasy food before you go to bed, you might fight it. Many food establishments are open around the clock and cater to the drunken crowds after clubs and bars close at 3 am. Desayunadero El Cañón del Chicamocha in Galerías is a classic. They serve food from the Santander region, including arepas, various meats, sausages, fried pork skin, baby goat and pepitoria, a mixture of goat innards and blood, eggs and breadcrumbs. Caldo Parao, in the northern neighborhood of Cedritos, is also a favorite for both partiers and late-night workers looking for generous portions of Colombian classics, like bandeja paisa, a platter of meats served with a fried egg, rice and beans, avocado, plantains, and arepas. If you don't want to travel that far, you can usually find a lady on Carrera 14 and Calle 80 who sells a Colombian delicacy, arroz con pollo, all night. Arroz con pollo literally means "rice with chicken," but this dish is much more than the sum of its parts.
There are tons of things to do in Bogotá, and a lot of them— various parks, museums and hiking routes in and around the city—are worth a longer stay. But if your time here is limited, with a day like this you can say you lived like a rolo—a Bogota native—for 24 hours.