In Turkey, it's never easy to arrange interviews. This is especially true in Istanbul, where life is saddled by traffic and the near-constant movement of the city's roughly 15 million inhabitants. Still, tracking down the owner of a shop selling branded merchandise celebrating the world's most infamous terrorist group proved to be a particularly tall order.
In the sleepy working-class neighborhood of Bagcilar, nestled just north of Istanbul's Ataturk Airport, life moves at a slower pace than in the heart of Istanbul. The central tram line of Istanbul's European side—the T1—ends in Bagcilar after taking nearly two hours to snake past the city's grand attractions, such as the Hagia Sophia and the Blue Mosque. When I visited in 2014, few passengers were left on the tram by the last stop.
It was a particularly humid summer day at the height of the Muslim holy month of Ramadan. Large tents were set up in the public square opposite the Bagcilar Meydan metro stop, where vendors waited patiently for dusk and for thousands of hungry and pious people to break the day's fast. The tents featured logos of the Turkish aid organization Humanitarian Relief Foundation, the group behind the infamous Mavi Marmara aid flotilla to the Gaza Strip in 2010 that was stormed by Israeli commandos, killing 10 Turkish activists. The group has been accused of having links to al-Qaida but operates openly in Turkey and reportedly maintains support from several senior politicians, including Prime Minister Recep Tayyip Erdogan.
A few blocks from the square, past several nondescript electronics stores and dozens of kebab stalls, is a modest, one-room shop called Islami Giyim, or Islamic Clothing. At first, the store appears to be nothing more than a depot of a neglected wholesaler: a bare room sparsely populated with a smattering of mannequins featuring niqabs, the black, full-length face and body coverings worn by pious Muslim women. In the center of the room, a well-worn work desk stands buried under a pile of papers, rulers, tape measures, and swatches of fabric.
The goods on offer target young males with active lifestyles and a tendency toward Islamist insurgency.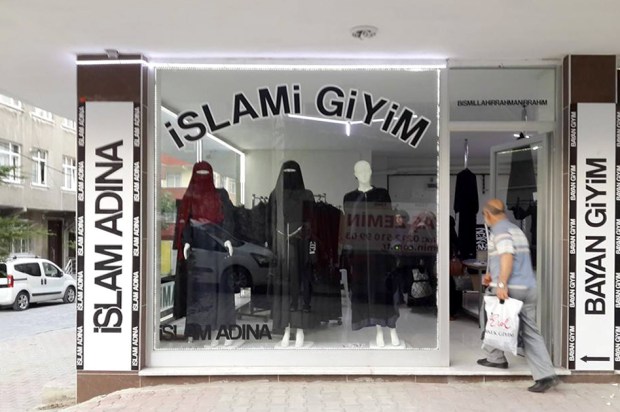 The shop would barely pique the interest of an unconcerned passerby if it weren't for a prominent rack of men's clothing ranging from T-shirts to sweatshirts to cargo pants placed directly in front of the main display window featuring the logo of the Islamic State of Iraq and Syria, or ISIS. In the months before I visited, the terrorist group had captured the world's attention thanks to its rapid territorial gains in Iraq and the brutal brand of Shariah law it enforced in towns it captured. In the two years since I visited this shop, ISIS has risen to the vanguard of global terrorism. In control of a large area of land that extends across Syria and Iraq, ISIS has carried out large-scale terror attacks across the world—several have been in Istanbul, killing scores. A January attack on a nightclub left 39 dead.
The goods on offer target young males with active lifestyles and a tendency toward Islamist insurgency. While the cargo pants, made of a dense Carhartt-esque cotton fabric, appeared ready for action in the craggy hills of northern Syria, many of the T-shirts felt like the cheap promotional clothing thrown around during political campaigns in this part of the world. There were green bandannas of the type often seen around the heads of jihadi fighters on suicide missions. I spotted at least five different bandanna designs.
The first time I visited the shop, all the lights were on but the owner was nowhere to be found. "He comes and goes a lot," the kiosk owner next door told me about the shopkeeper. "I think that he has a large family and that takes away from time in the shop. Most of his customers arrange visits in advance."
After two weeks of trying, I was finally able to get hold of the owner of this shop by phone. He was dismissive, agitated by the waves of Turkish journalists eager to visit Istanbul's only known purveyor of ISIS merchandise. Given the growing number of Turkish nationals volunteering to fight for ISIS, as well as the Turkish government's recent classification of the group as a terrorist organization, his reticence was not surprising.
Partly due to its far-flung location, Islami Giyim managed to sell ISIS clothing for months before catching the attention of local or foreign journalists. That changed after ISIS's summer takeover of the Iraqi city of Mosul in 2014. The man selling ISIS clothing became the perfect story for journalists to show how entrenched the militant movement's foothold is in Turkey, and they lined up to interview him. The Turkish media stories generally cast the shop as an example of ISIS's growing reach beyond the borders of Iraq and Syria.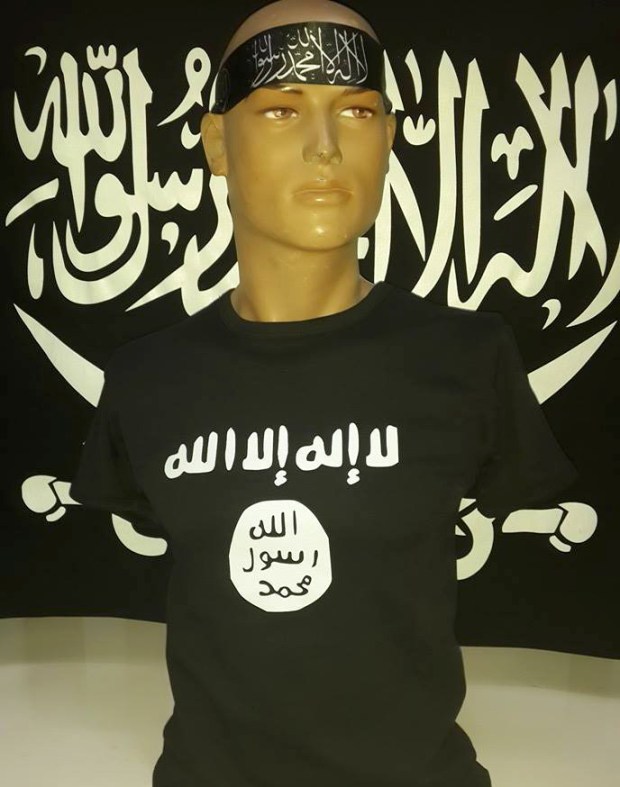 "I am not an ISIS member, nor have I ever been one," the owner of the shop said through a translator. Refusing to give his name, he expressed surprise at the surge in media attention that his shop has stirred up in the past few months. "I am responding to a market demand. This is Islamic clothing. What else can I say?"
One of the most popular items on sale at Islami Giyim is a black T-shirt with the slogan "There is no God but Allah" written in white letters. The logo is used widely by ISIS militants on flags and banners. When I asked the owner about it, he curtly said, "This is Islamic and that is why I carry it here." When asked about the ISIS connection to the logo, he said, "For some this brings to mind ISIS and jihad, for me, I see the Prophet Muhammad."
The idea of ISIS T-shirts shouldn't actually be that surprising. For a terrorist organization hell-bent on creating a state based on a puritanical and bigoted interpretation of Islam, ISIS has an incredibly savvy marketing and branding campaign. The group uses social media platforms, especially Twitter, to mold a specific media narrative and recruit funds, as well as fighters, from across the globe. Clothing targeting young men has come to be a central component of the group's branding.
The Indonesian company Zirah Moslem has emerged as the world's leading seller of ISIS merchandise. T-shirts are generally priced under $15 and, until several years ago, could be found on its Facebook page. Before Facebook removed the page for violating its terms of service, Zirah Moslem had more than 9,000 likes. The company still sells clothing on its website and likely acts as a wholesaler to smaller operations around the world, like Istanbul's Islami Giyim. While it might be easy to buy ISIS T-shirts and other articles of clothing online, at the time of writing Islami Giyim was the only brick-and-mortar establishment to receive any press.
The popularity of ISIS clothing—most notably T-shirts emblazoned with the group's initials flanked by AK-47s—demonstrates the next phase of ISIS's international branding campaign. Islami Giyim's Facebook page prominently displays a variety of ISIS-related clothing items. Without revealing exact sales figures, the store's owner said that business was good. So good, in fact, that when I met him he planned to open more locations throughout Istanbul in the coming months.
It's not hard to see why ISIS clothing has found an audience in Turkey. While Turkey has denied funding militants in Syria the way that Saudi Arabia and the Gulf monarchies have, the country has aided militants in other ways, such as allowing ISIS and other Sunni jihadi forces the use of territory to access Syria.
Staunchly opposed to Syrian President Bashar al-Assad, Turkey had, until very recently, kept open a large part of its 510-mile border with Syria. Foreign jihadis have been using Istanbul as a main international air transit point to reach Syria. Towns in southern Turkey, such as Hatay, Reyhanli, and Gaziantep, have large jihadi populations. On a trip to Kilis, a small town on the Syrian border in 2014, I watched as men speaking Iraqi Arabic bought thousands of dollars' worth of camping equipment from an outdoor store nine miles from the border. After a cup of tea with the owner, with the gear loaded in large duffel bags, they departed in the direction of Syria.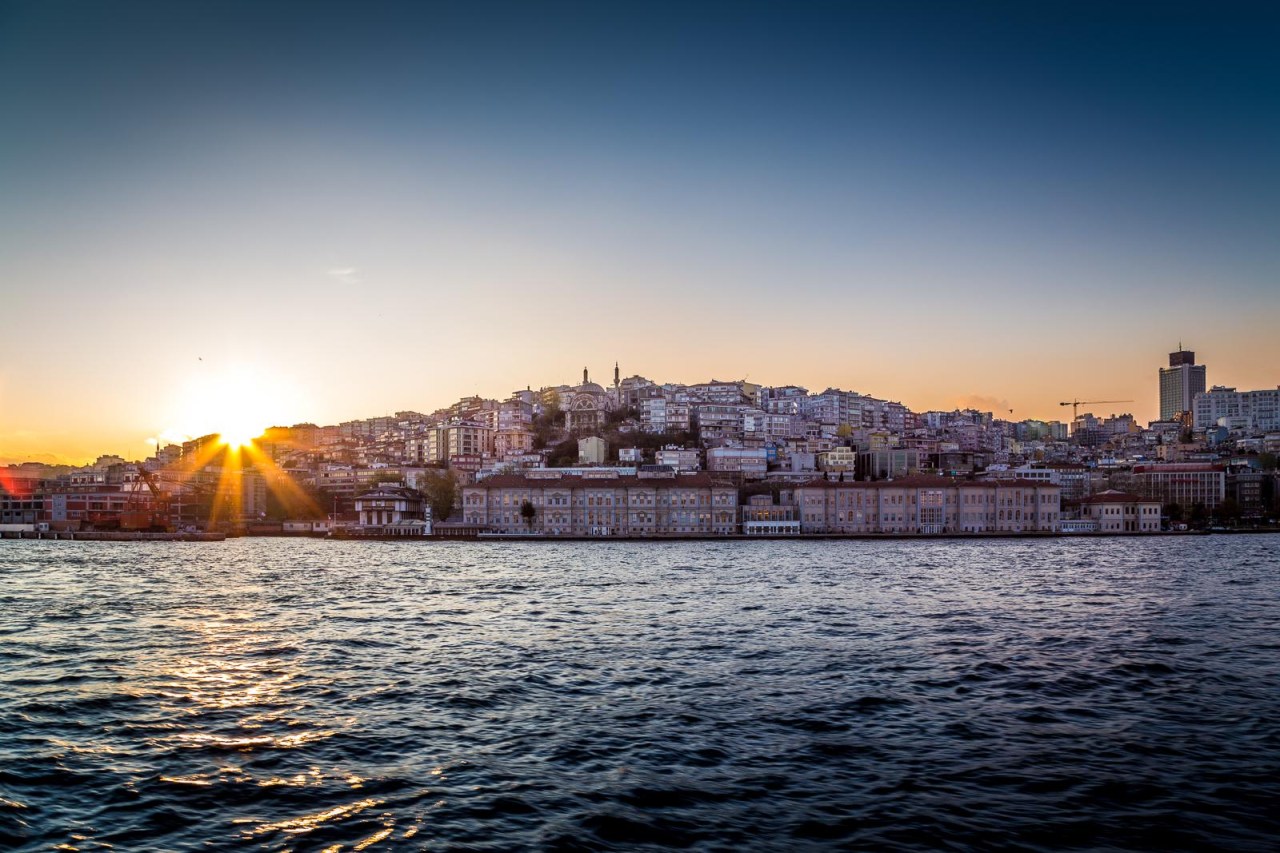 Turkey has been slow to designate groups like ISIS and Jabhat al-Nusra as terrorist organizations, placing the latter on the list only in early June, 2014.
After ISIS stormed the Iraqi city of Mosul and took local Turkish diplomatic staff hostage, along with nearly 100 Turkish truck drivers, the Turkish government finally got serious about the threat of ISIS in Turkish territory. But that hasn't stopped ISIS.
Leaving Bagcilar after one of my fruitless attempts to track down the owner of Islami Giyim, I took the tram to Aksaray, a lively district just outside of Sultanahmet, where all of Istanbul's famous historical attractions are located. Aksaray has become ground zero for Syrian refugees in Istanbul.
Visiting one Aleppine restaurant for a quick bite before heading home, years before Istanbul became the victim of numerous ISIS attacks, I asked the owner what he thought of the ISIS clothing store. "They have a lot of support here," the soft-spoken man told me. "Obviously, we have our own problems [as refugees]—but I am sure that ISIS will turn its attention on Istanbul at some point."
Originally published on Roads & Kingdoms on August 8, 2014.