Despite multiple trips to Morocco over the years, I had never quite made it up to Tangier. I tried several times, but scheduling conflicts, combined with mixed reviews from friends, kept me from putting in the extra effort.
"You can tell its heyday is over," a friend who had recently spent a long weekend there told me. She's right about the fact that a number of Tangier's hot spots reached their peak in the 1920s to '60s.
In 1924, Tangier became an international zone and was managed by a mix of European countries until Morocco's independence in 1956. The zone quickly became known for its, let's say, tolerance of illicit and underground activities, which attracted a whole new generation of expats. From the Beat poets to musicians, they went in droves.
And while the days of William S. Burroughs and Paul Bowles are long gone, their spirits still haven't left the city.
Stroll into one of the many famous cafés that are trapped in another time; furnishings unchanged, framed photos of the famous Tangerines—the nickname for Tangier-based expats—still line the walls. What I quickly came to discover is that it's this trapped-in-time feel that makes this unique city still very much worth exploring.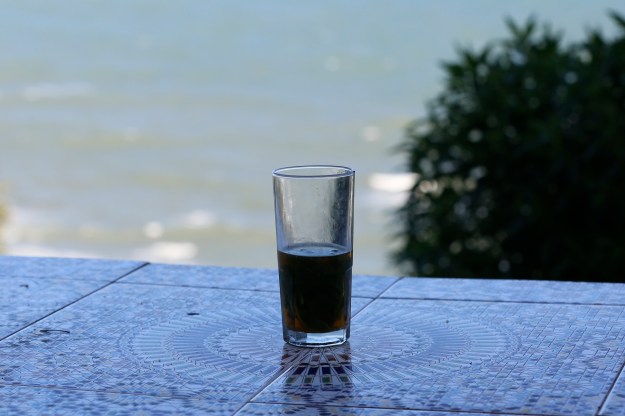 You'd be pressed to find a Tangier travel guide that doesn't include a bit about the famed Café Hafa. Its claims to fame capture the essence of a Tangier hot spot—stunning views and historic legacy, all washed down with a glass of sickly-sweet fresh mint tea … and OK, maybe some hash. Not much about the decor has changed since Café Hafa opened in 1921. It was once frequented by the likes of the Beatles, the Rolling Stones and a swath of midcentury writers, including Bowles and Burroughs. Go sit in their place for a relaxed morning and an unobstructed view of the Strait of Gibraltar. Pro tip: Ask for half sugar in your tea. Your teeth will thank you.
Walk down toward the kasbah, where you'll find a mix of old and new competing with each other. The old: the sultan's palace, built in the 17th century. The new: the sprawl of quirky art galleries and boutique shops that envelop the narrow streets of the inner fortress. Head to French expat Laure Welfling's boutique, where you'll find one-of-a-kind prints, postcards, and other small collectibles.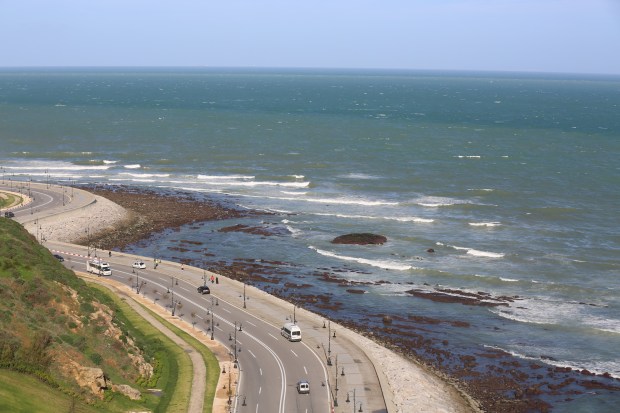 Then take a step inside the sultan's former palace, which has since been turned into the Kasbah Museum of Mediterranean Cultures, dedicated to the city's ancient history. Exhibit information is offered only in French and Arabic, but you don't need to understand either language to appreciate the beautiful geometric carved ceilings, mosaic tiles, and Andalusian garden. Entry is 20 dirham, about $2.
The décor here is British kitsch, but the food is Moroccan—with a slight twist. This small family-run café offers a rotating menu that varies, depending on what's in season. The chicken tagine I ordered featured a mix of well-seasoned organic root vegetables, adding to the heartiness of the classic dish. Fresh juices are also on offer. Sit inside on one of the cozy velvet antique couches or on the upstairs terrace. Main dishes will cost you 80 to 100 dirham ($8-$10.50).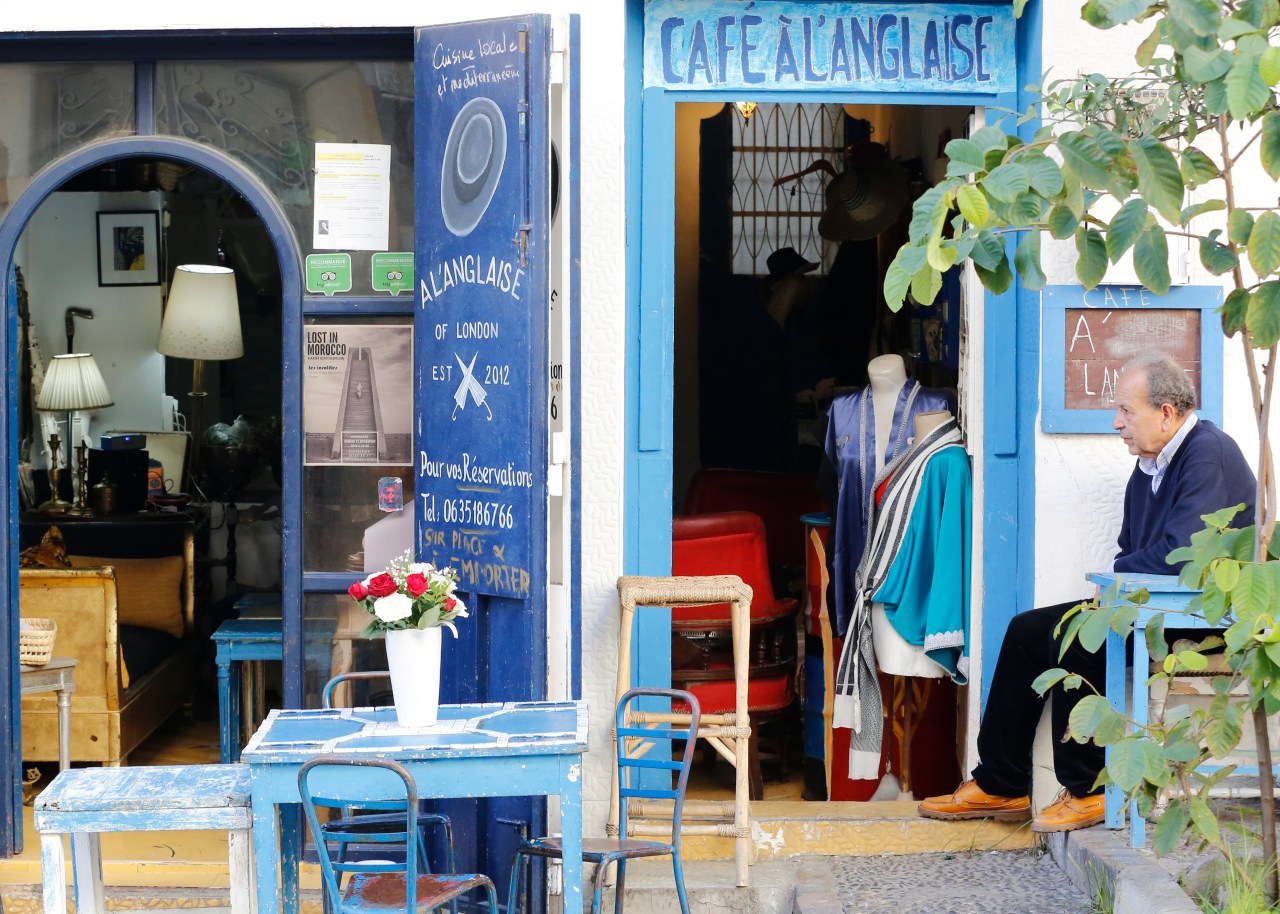 It's a signature part of any trip to Morocco: getting lost inside the ancient medina, or the old walled city. Tangier's medina dates back to the 14th century, and there you can find anything from spices and antiques to goat heads and textiles. Step inside Berber Tissage, a family-owned rug shop. Owner Driss Stouti spent years as a surfer before opening the store 15 years ago. He'll welcome you with a big smile, and if you're lucky, maybe even invite you for some tea. The shop houses some 1,600 rugs, each one unique.
What is a legation, you ask? A step down from an embassy, a legation was run by a minister, as opposed to an ambassador. The American Legation in Tangier is the United States' oldest overseas diplomatic building. Morocco was the first country to recognize U.S. independence, in 1777. While legations are now a thing of the past, the old five-story building has been beautifully restored into a museum housing various artifacts. These include an entire exhibit dedicated to Bowles, who spent the later years of his life in Tangier. Entrance is 20 dirham ($2).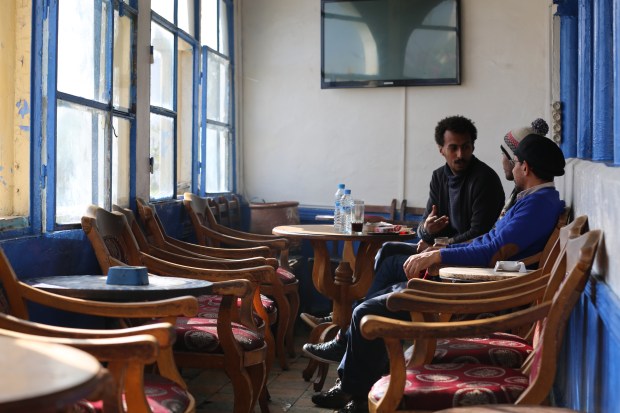 Another former hot spot for the 1950s and '60s Beat generation. Today the majority of Café Baba's regulars are young Moroccan 20-somethings who go to smoke hash, sip fresh mint tea, and get lost in a game of Parcheesi. Next door to the café is American socialite Barbara Hutton's former home. Current owner Abdoul Aoufi says he still remembers the days in the late '60s when she would invite him and his family to the lavish parties she used to hold in her courtyard. Sit down with him, and he'll happily let you pick his brain about the café's many famous guests over the years. Make sure to stay for the sunset view.
Since Tangier is a port city, one of your best options there is going to be fish. There's no place better for that than Le Saveur du Poisson. Arrive hungry and promptly. The dinner service opens at 7 p.m.; arrive even 15 minutes later than that and expect a line. At 200 dirham ($21), it's a bit pricier than other restaurants in town, but it's well worth it. The menu is set and varies slightly, depending on what's in season. My meal included a fragrant fish stew, tagine with spinach, tomatoes, whitefish and shark; grilled sole served alongside shark skewers; and fresh fruit topped with local honey, nuts, and barley. All washed down with the signature house juice—a mix of fresh grapes, figs, carrots, and other yummy nutrient-rich ingredients.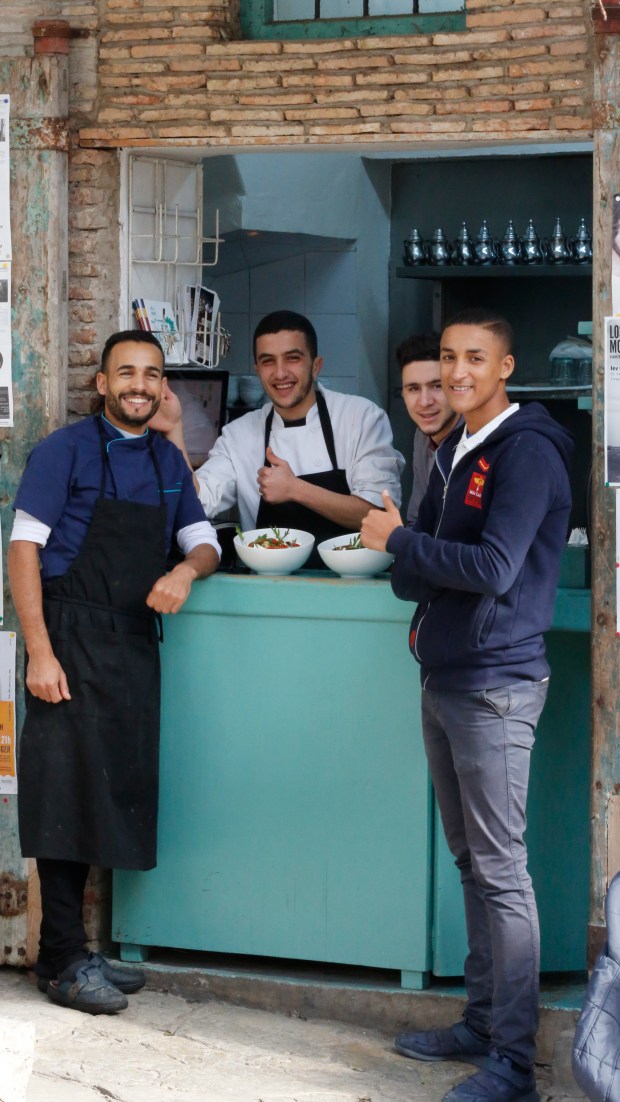 Back up the hill inside the kasbah is the famous El Morocco Club. Not only will you find the best mojitos in the city here, but you'll also easily be entertained by the sophisticated piano bar. The upstairs restaurant is also worth a visit.
Once you've washed down a couple of cocktails and taken in a few tunes at El Morocco, head over to TangerInn, a small dive bar that you will instantly recognize as another one of the city's old haunts. Photos of Jack Kerouac, Allen Ginsberg, and other Beat generation regulars line the walls, as do a number of signature quotes from Burroughs. Go there to make friends with friendly 20-somethings, a mix of locals, expats, and tourists.
"TangerInn is where you go when you're new in town," my friend Parfait tells me. "But Le Rubis is the place you go once you become a true Tangerine." He's been living in the city for six years, so I trust him, and we take the short walk over to check out this Andalusian-inspired joint. If you're feeling the munchies, you're in luck. Free tapas are included with any drink order. All enjoyed with live music and a friendly, laid-back crowd—the perfect way to end the night.