To make the most of a day in the western half of San Francisco, leave your car elsewhere because nothing can ruin a day of natural beauty, oddly alluring neighborhoods, quirky wildlife, and fantastic food like spending hours looking for parking. If you feel up to it, start your morning at around 10 a.m. by stopping at one of the many bike shops on Stanyan Street, at the eastern border of Golden Gate Park, and rent a bike. San Francyclo, a neighborhood bike shop on the corner of Golden Gate and Arguello, has friendly staff who are always happy to fix a flat or offer advice on how to avoid the worst of San Francisco's hills, but they open a little later, at 11 a.m. Bike rentals there, are, by San Francisco standards, very affordable. For $40 you'll get a good bike for the whole day. A few doors down is Le Velo Rouge, a vaguely French-feeling cafe where you can get a cup of coffee, use the free Wi-Fi, and people-watch the mix of young parents, tourists from Golden Gate Park, and the occasional USF student from up the road. If biking isn't your thing, western San Francisco is accessible by foot and also by the best public transportation of any part of the city, as buses or streetcars run on most of the major east-west boulevards.
After deciding on your mode of transport, continue on Balboa Street until you get to 14th Avenue. Balboa is an unremarkable western San Francisco street, but the large homes, more modest flats (in San Francisco there are flats, not apartments), and ground-floor businesses boasting everything from test prep for kids to Korean BBQ capture the gestalt of the changing Richmond District. At 14th Avenue, head north for a couple of blocks to Geary, San Francisco's largest and busiest east-west thoroughfare.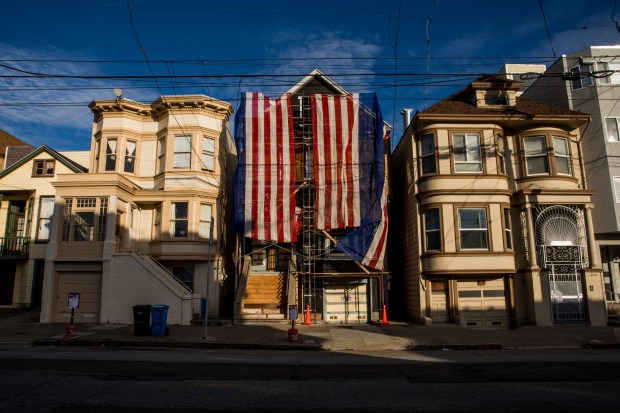 11:00
am
House of Bagels
5030 Geary Blvd.
San Francisco, CA 94118
Get Directions
San Francisco is not known for Jewish cuisine, but the House of Bagels is an exception (and not a sad New York knock-off). It is a real bakery that has been serving the best bagels in the Bay Area for more than half a century. Because of its location on a modest block in the Richmond district, it is not a well-known spot among the younger tech crowd, but older San Francisco Jewish families know it well. My mother has been getting her bagels there since 1971 and claims, with no supporting, or contradictory, evidence, to be their longest continuous customer. Like many Jewish San Franciscans of her generation with roots in New York, she would not dream of serving smoked salmon, or hosting an event of any kind, with bagels from anywhere else in the Bay Area. However, don't get the bagels there. Get the onion flats, a bialy and sourdough hybrid that when fresh out of the oven, holds its own with anything the best bagel places in New York can produce.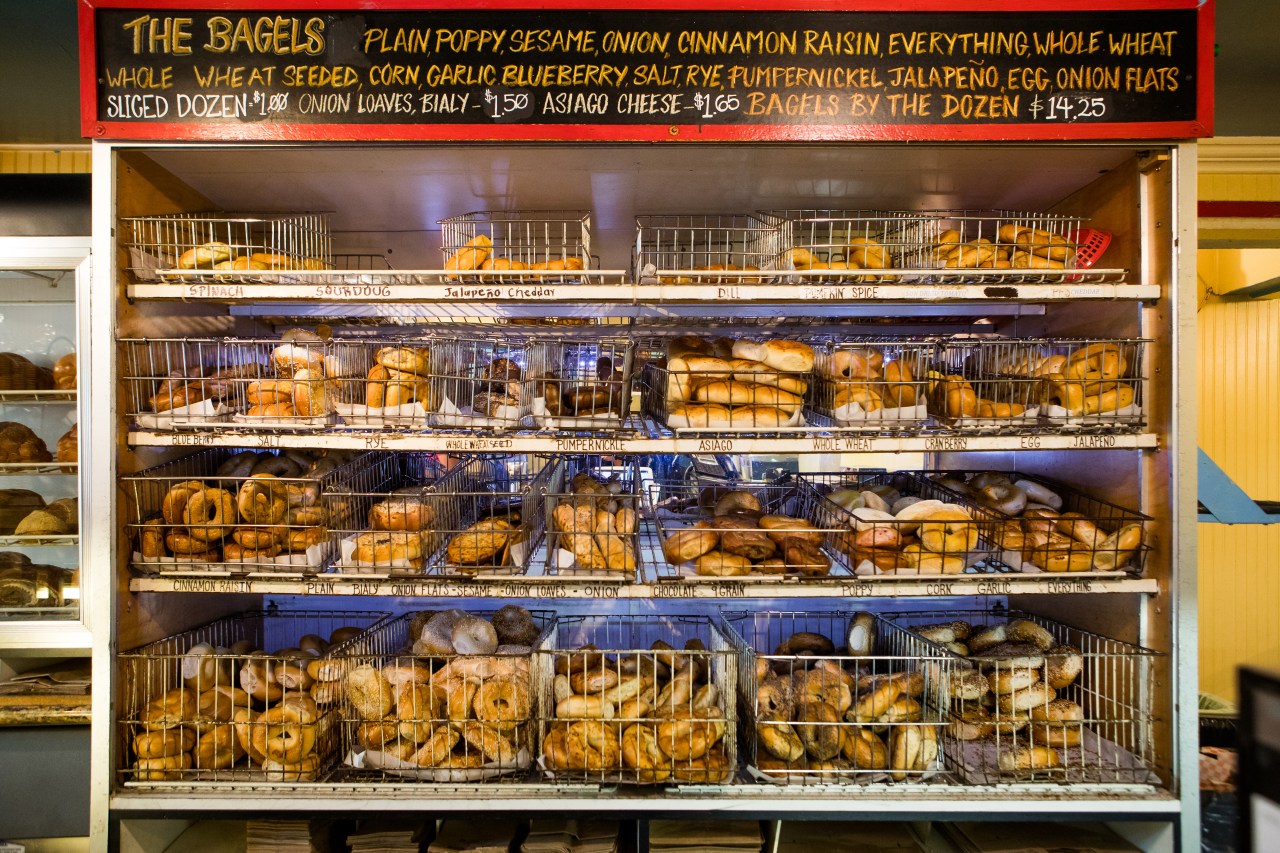 Get your food to go and enjoy a morning and early afternoon of walking or cycling beginning in Golden Gate Park, a few blocks south of the House of Bagels. The park is roughly the same size and shape as New York's Central Park but, particularly on a weekday, much less crowded. Golden Gate Park has numerous museums, gardens and performance spaces, but the most intriguing, even bizarre site in the park can be found where 37th Avenue would intersect Golden Gate Park if the avenues cut through the park.
Shortly before Golden Gate Park begins its lazy descent to the beach and the Pacific, a fenced-off pasture is home to a dozen or so bison. These formidable beasts, who are usually sleeping or grazing, seem both out of place in the middle of an urban park, and a fitting and acute reminder that tech money, real estate booms and social revolutions aside, San Francisco was, and always will be, part of America's west. After spending a few minutes communing with the bison, you can either continue heading west and spend the rest of the morning exploring the coast, including Ocean Beach, Land's End and the Great Highway, or you can go further south into the Outer Sunset District.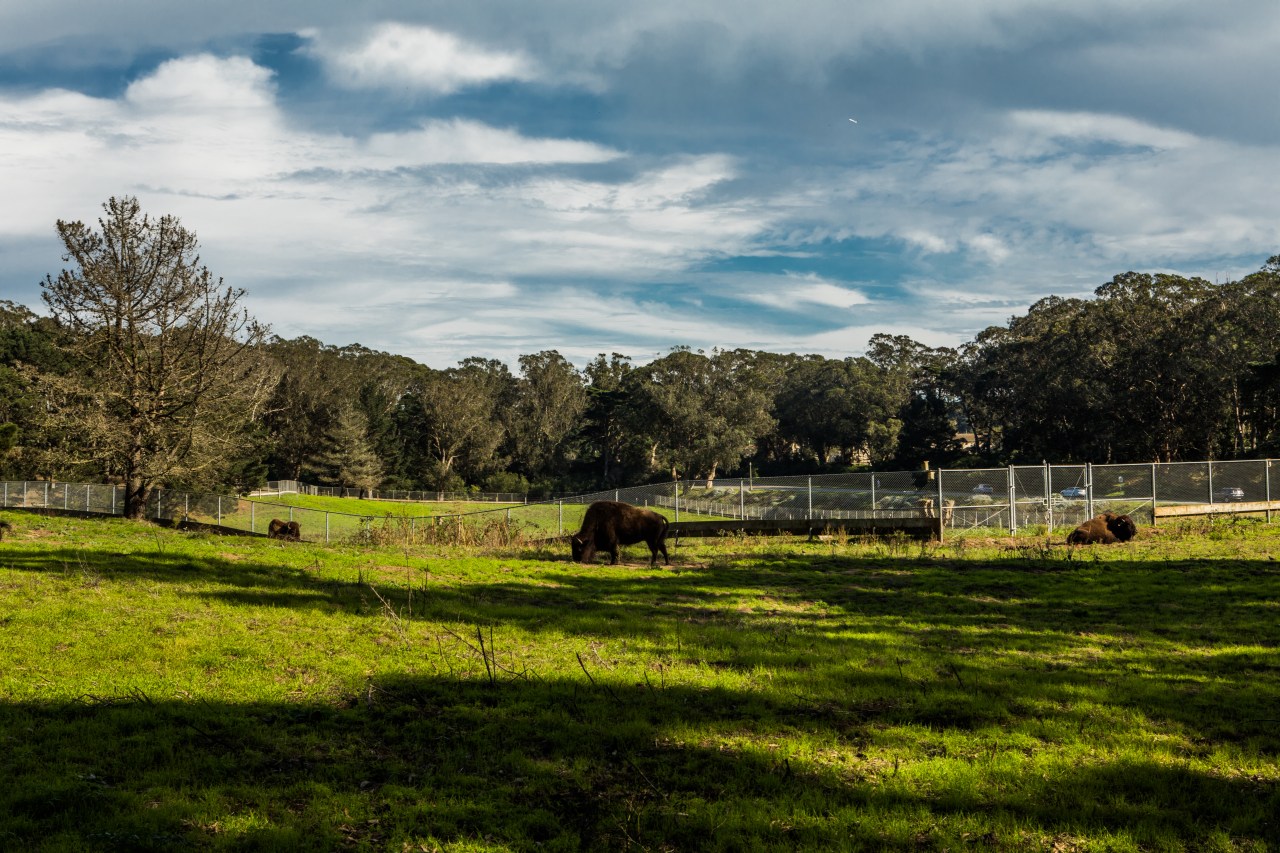 If you decide to go to the Outer Sunset, you will find yourself in one of San Francisco's most remote feeling—but also magical—neighborhoods. This is a part of town that still gets fog, frequently for more than a few hours a day, and is the last holdout of San Francisco's once sizable Asian and white—mainly Irish—middle class. Walking around this neighborhood of mostly small single-family homes and commercial strips (on Irving and Judah) that are much more affordable and practical than shopping areas in most of this city will take you to a San Francisco that is rapidly disappearing. This is still a neighborhood where the avenues are empty during the day except for a few young mothers with children and the occasional man working on his car in his driveway.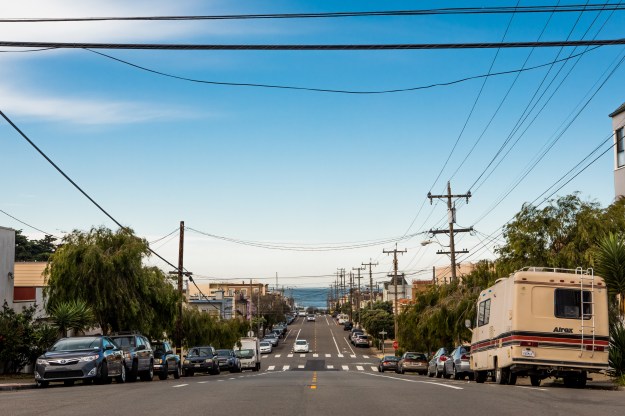 2:00
pm
Good Luck Dim Sum
736 Clement St.
San Francisco, CA 94118
Get Directions
For many visitors to the Richmond and Sunset Districts, the number and quality of Asian restaurants are amazing, even daunting. Choosing between them is not easy. Shanghai Dumpling King on Balboa and 35th Avenue is best known for its xiao long bao (Shanghainese soup dumplings) but offers an assortment of dumplings from Shanghai and northern China. If you go there stick to the dumplings, which are the tastiest I have ever had outside of China. Kevin's Noodle House on Irving and 20th, a down home pho spot, is one of the very best in a Sunset District full of Vietnamese restaurants.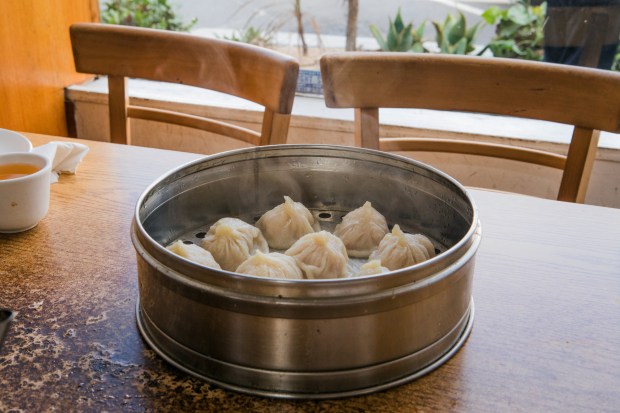 There is no shortage of excellent dim sum places in these neighborhoods, but Good Luck Dim Sum on Clement and 9th Avenue is the best of the bunch. It is the kind of establishment where you circle what you want on a pink paper menu, take your food to go and are shocked at how cheap it is when you pay. A few years back, I took a friend there who was visiting from New York. We were getting dim sum for seven of us, including three hungry boys. We ordered almost everything on the menu. My friend insisted on paying. When she heard it was $123, she remarked on how affordable the place was. The woman behind the counter looked at us quizzically and told us it was only $23. The baked or steamed pork buns, turnip cakes, shrimp and chive dumplings, and even the more dessert oriented dim sums are all outstanding. San Francisco's former mayor Ed Lee used to eat there as part of his election day ritual.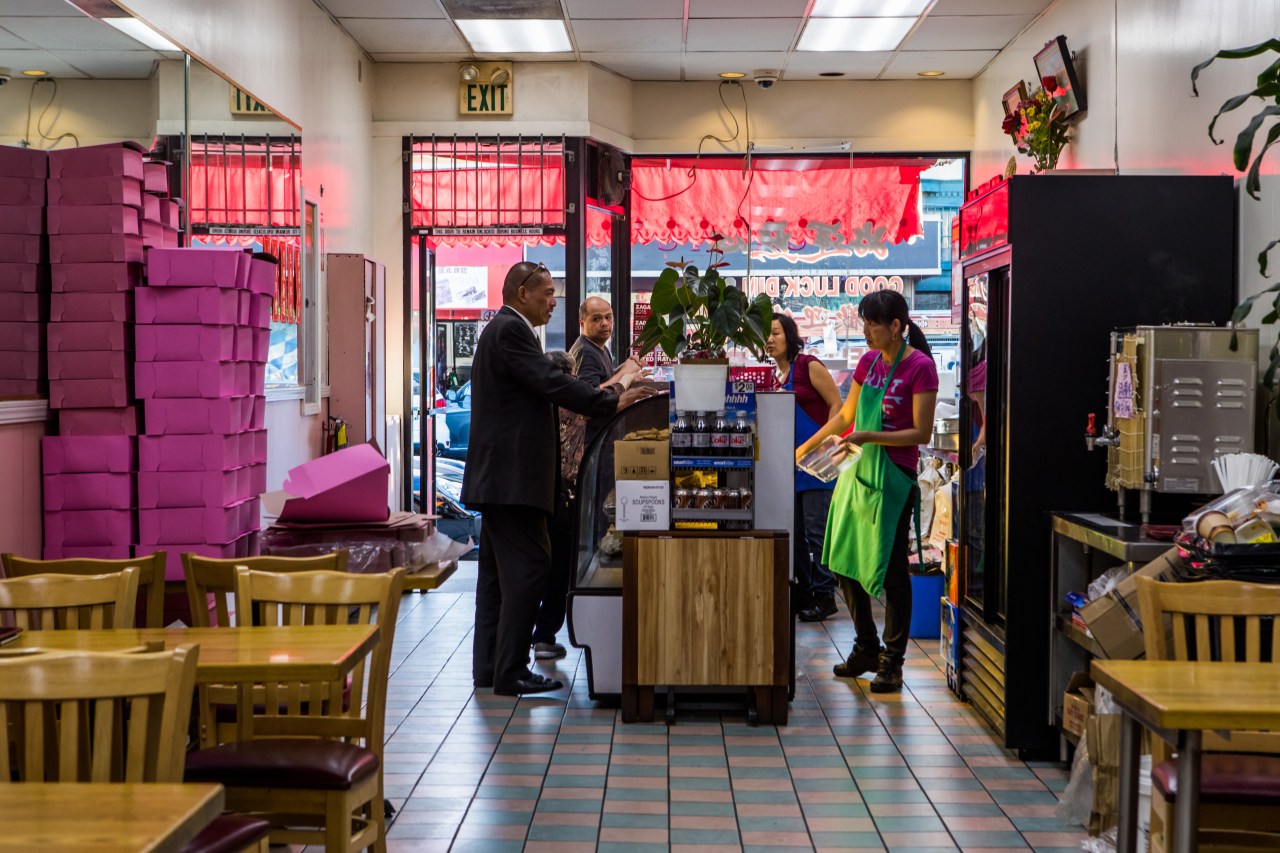 3:00
pm
Green Apple Books
506 Clement St.
San Francisco, CA 94118
Get Directions
After a relatively active morning of exploring Golden Gate Park, the Sunset District, and the beach, you've earned a restful afternoon, so stroll over to Clement Street. There, between Arguello and about 10th Avenue, you will find one of the most interesting urban stretches in America, with great shopping, excellent cafes, more enticing Asian restaurants than you could visit in a month let alone an afternoon—even one of the city's best Irish bars.
Take some time to explore the quirky retail ranging from discount Chinese import stores and Asian grocery stores to fun design stores like Park Life on Clement between 3rd and 4th Avenue. Be sure to leave some time for Green Apple Books. This bookstore is divided into the main store on Clement and 6th and a fiction annex a few buildings down. Selling both new and used books, often alongside notes from their helpful staff, this is a great place to browse, buy a few books, read to your kids, meet people or watch generations of literary San Franciscans shop and hang out.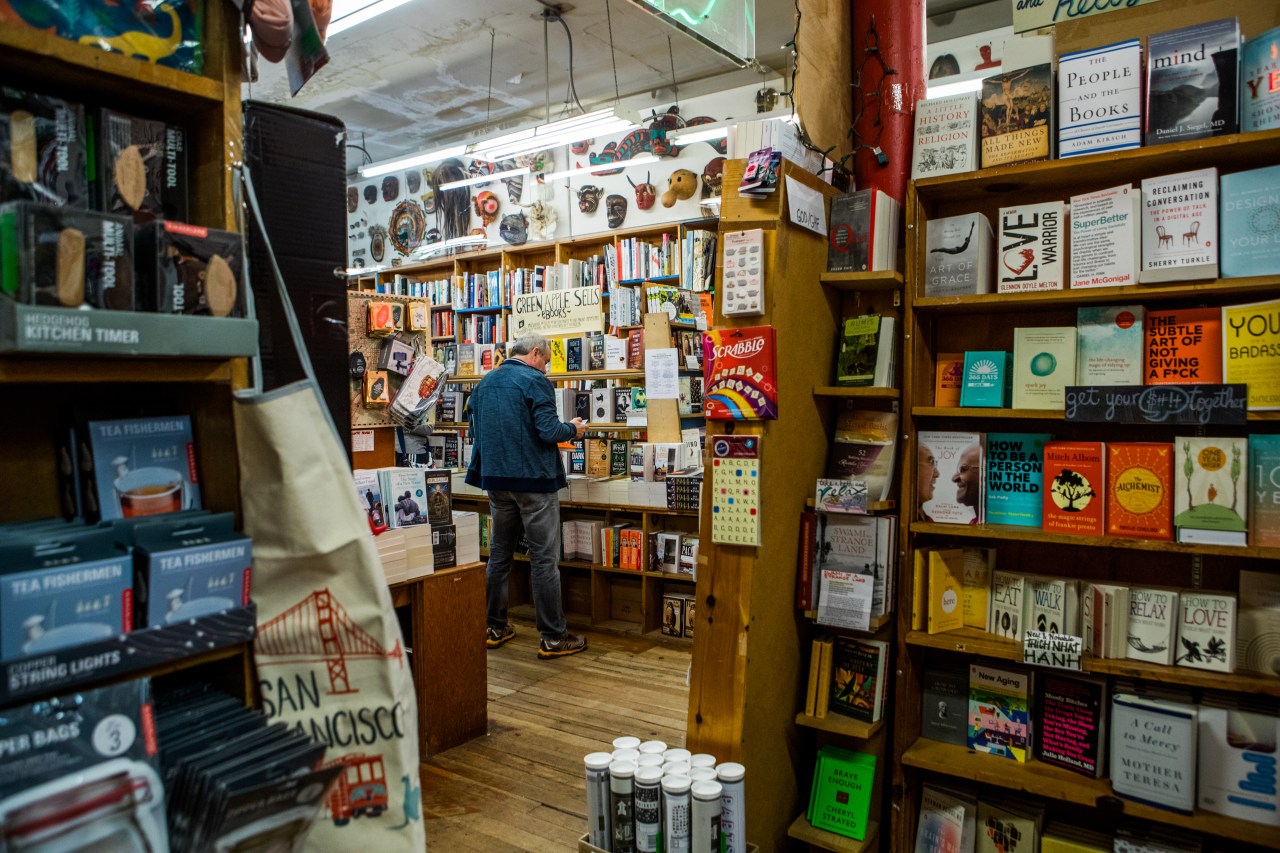 5:00
pm
Toy Boat Cafe
401 Clement St.
San Francisco, CA 94118
Get Directions
After browsing at Green Apple it's time to relax with a coffee and a snack at one of Clement Street's cafes.
The recently reopened Blue Danube on Clement and 4th is more of a traditional cafe. It serves food but is mostly about coffee, hanging out, reading, and writing. It captures the San Francisco vibe beautifully with a menu that mixes high octane caffeine drinks with healthy smoothies and sandwiches. The crowd reflects the diversity of western San Francisco with Asian teenagers, affluent white families, a few old hippies, and the last holdouts from the Richmond's more working class days enjoying a cup of coffee, conversation, or a good book.
The Toy Boat Cafe on Clement between 4th and 5th is the best choice for desserts, particularly ice cream, which they get from Double Rainbow. There is even a sublime cherry chocolate chip made with soy for the lactose intolerant. The toy theme makes this a popular place for young families and kids on their way home from school.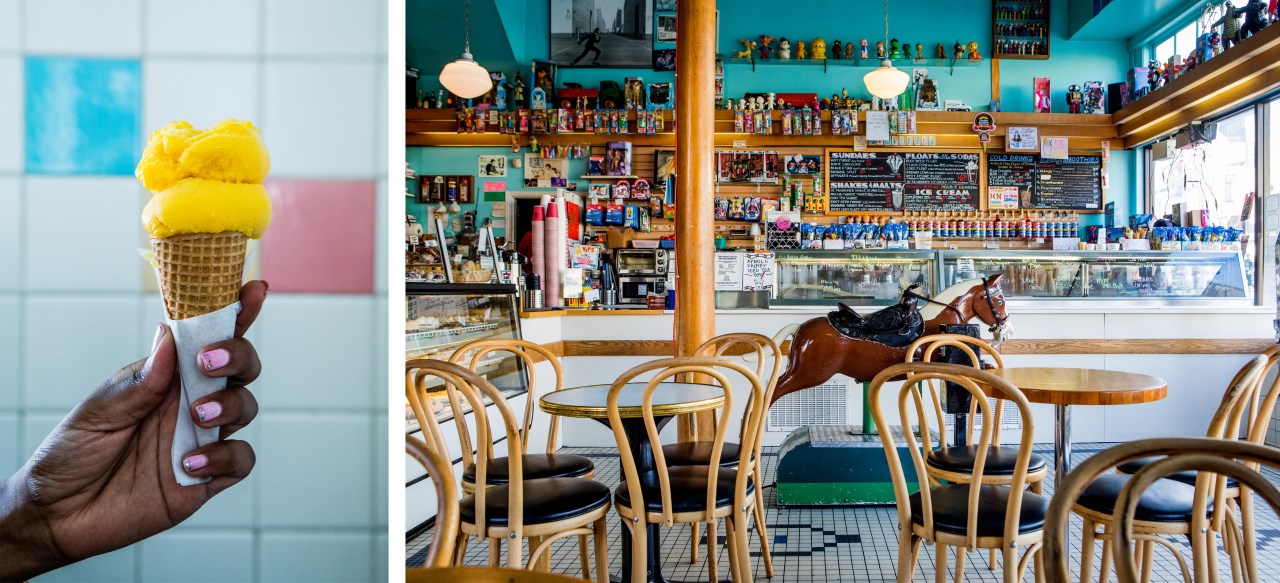 6:00
pm
The Plough and Stars
116 Clement St.
San Francisco, CA 94118
Get Directions
It is easy to overlook the Irish influence in western San Francisco, but that would be a mistake. The Plough and Stars, on Clement and 2nd, is one way to remind yourself of that. On weekday afternoons and some evenings, the Plough and Stars has a neighborhood bar feel, with regulars having a drink, frequently a Guinness on tap, or playing a quiet game of pool. On weekends it has Irish music and a much livelier crowd.
It is also the type of bar where, at least for a time, Irish nationalism ran deep. There was an exchange of graffiti in the men's room from the 1980s that reflected this. Someone had scrawled "IRA=KGB." In Irish San Francisco of the late 80s, these were fighting words. Underneath that somebody else had written, "Go back to Maggie's Farm, You Limey!" The messages remained for years until they were painted over and the brief time when San Francisco's Irish nationalists freely quoted Bob Dylan has receded into the city's past.
8:00
pm
China First Restaurant
336 Clement St.
San Francisco, CA 94118
Get Directions
After a few beers in the Plough and Stars, western San Francisco's cooling fog will arrive in the Richmond. There are non-Asian food options such as Chapeau!, a surprisingly good French place on Clement and 2nd, or Ernesto's, a solid red sauce Italian place on Clement and 24th, in the Inner Richmond. But when in Rome—or the Richmond—another Asian meal is probably the best idea. China First on Clement between 4th and 5th Avenue looks like it has been serving family dinners to its largely Chinese clientele forever. This is not a place for dim sum, hand-pulled noodles, soup dumplings or any other of the more recent Chinese delicacies that have captured the imagination of American palates. Rather, the fare bends more towards hearty fish, meat and vegetable dishes prepared authentically.
Brother's BBQ on Geary and 5th is also a short walk away and serves enormous quantities of spicy Korean food; it's famous for the coal burning barbecues brought to your table so you can grill your own meat. This lively spot draws Korean families as well as locals from the neighborhood and is one of the handfuls of Inner Richmond restaurants that have become a destination for people from other parts of the city.
There is no major metropolis in America that has changed as much in the 21st century as San Francisco. The latest transformation has created a city that is wealthier and more crowded than at any time in its recent history. The San Francisco of the past—where immigrant communities lived next to each other, where the offbeat culture rather than high-paying tech jobs was a major force drawing people, and where cafes were meant for discussing literature and politics rather than real estate and tech—is disappearing quickly, but if you do it right, you can still experience it in the Richmond and Sunset districts.