Bourdain-isms
"When I first went up this river, I was sick with love—the bad kind, the fist around your heart kind. I ran far, but there was no escaping it. It followed me up river, all the way. That was 10 long years ago. … Yet here I am again, heading up to that same longhouse in the jungle."
"This is where a wandering soul such as myself can dive right in and get some of that Straits Chinese food I've been missing."
"First order of business: dinner. I've been on a plane for— I don't know, it was long, very long. So, like, five Mark Wahlberg films."
"Char kuey tiao, which is— Oh, look at the greasy, fatty— Yes, come to Daddy. I'm a bad man."
"Oh, yeah—black pepper crab. Right here. Reveal yourself to me, my love."
"Oh, yeah, baby, this is a magical dish. I don't know, it's like two types of noodles, I think, chicken, prawn, coconut, chili. But, you know, the main event for this is the broth. The wisdom of the ages is contained in there."
"We will need pork for Gawai. And unfortunately, that means a pig must die. More awkwardly, custom—and my personal history in this village—demands once again that I do the job."
"This time I plunged the spear in without hesitation or remorse. When the pig dies, finally gives it up, I feel only relief. I have been hardened by the last 10 years. I don't know what that says about me, but there it is."
"Constant karaoke—never-ending karaoke—from a limited playlist of favorites."
"I wake up, I go to sleep, I wake up again. The party has moved down a few doors, but it's still going. This is an experience that will repeat itself again and again for the next three days."
"If you're wondering, by the way, if this hurts, two guys hammering away on my sternum with a bamboo club and sharp needles: yes. Yes, it hurts a lot. And you're going to be damn sure that if I wasn't on television while it was happening, I'd be whimpering and yelping like a gun-shot poodle."
Fact
Fun fact: Borneo is the third-largest island in the world and is split between Malaysia, Brunei, and Indonesia.
By the numbers
10

Years since Bourdain's last visit to Borneo

2

Number of tribal tattoos Bourdain now has marking a voyage to the island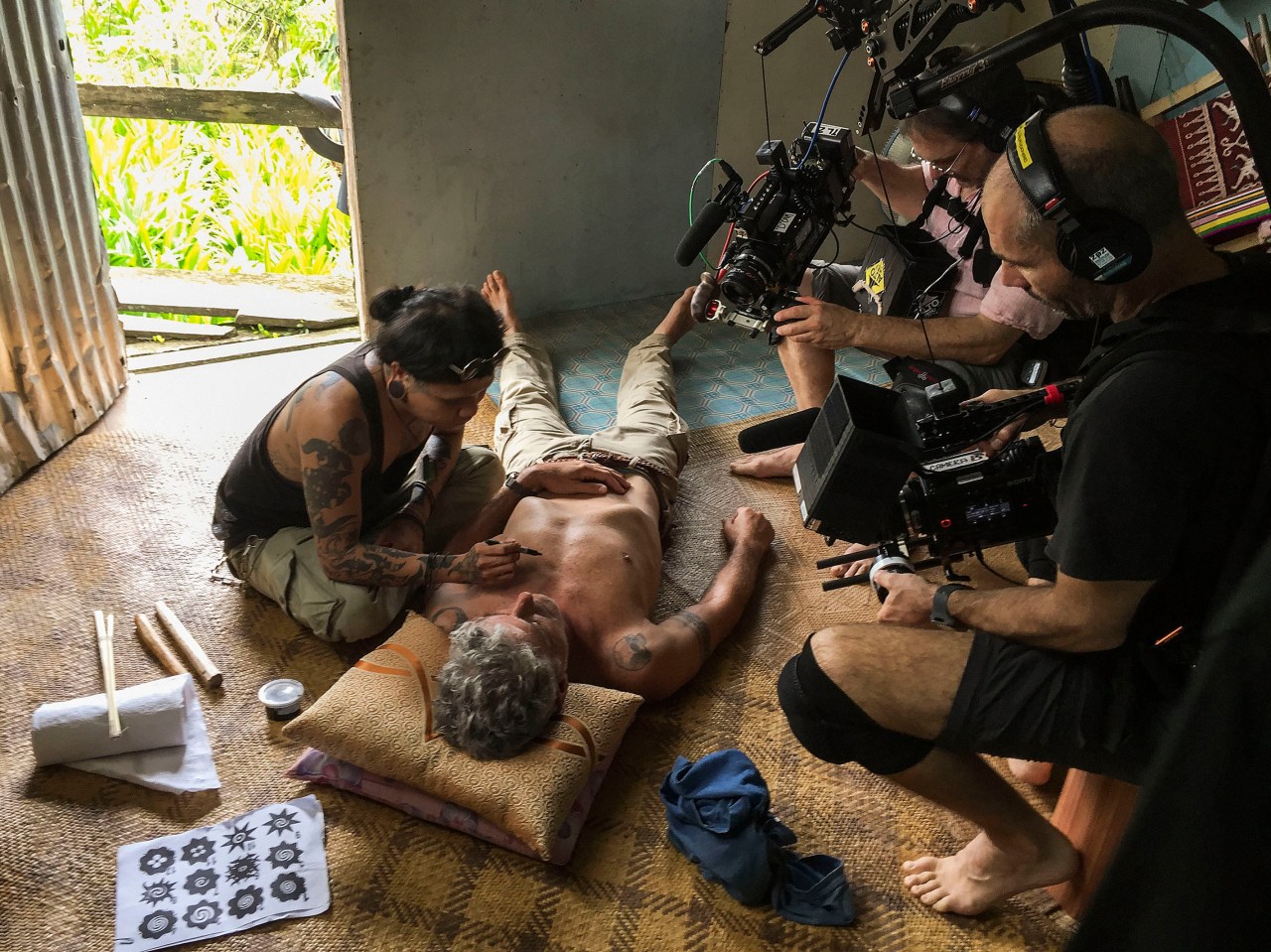 Eats
1 Jalan Alor
Kuala Lumpur 50200, Malaysia
(+60) 3-2144 2463
Bourdain ate: char kway teow (dish made with rice noodles), spicy pork noodles, black pepper crab, beer.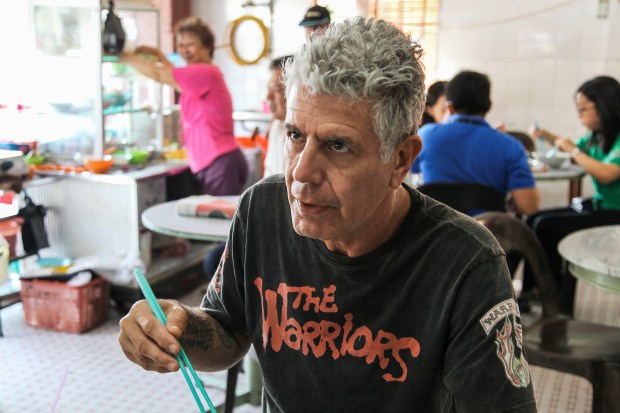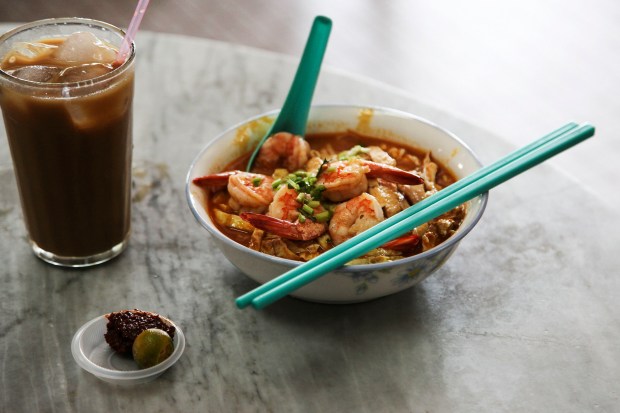 237 Jalan Tun Sambanthan Brickfields
Kuala Lumpur 50470, Malaysia
(+60) 3-2274 6722
Bourdain ate: Indian buffet food.
Batu 16, Jalan Sepang, Kampung Chelet
Nilai, Negeri Sembilan 71800, Malaysia
(+60) 6-799 1276
Bourdain ate: roast beef, poached egg, chicken rendang.
34 Jalan Ban Hock
Kuching, Sarawak 93100, Malaysia
(+60) 82-780 369
Bourdain ate: Sarawak laksa (chicken, prawn, coconut, chili, and noodles in a "complex" broth = "best breakfast ever").
Sidekicks
David Moggie: Iban documentary filmmaker who first took Bourdain to Borneo a decade before this episode of Parts Unknown.
Eddie David: Tattoo artist at Borneo Ink; tattooed Bourdain on his first trip to the island.
Aini: Former actress and chef behind Aunty Aini's Garden Cafe, which serves kampong-style, or traditional village-style, food.
Alex Wong: Kuching native, singer-songwriter, and Jet Ski racer.
Lingo
Wok hei: A Cantonese term for the flavor the wok gives dishes when used with great skill.
Gawai: The Iban people's annual rice-harvest festival.
Ouroboros: In many cultures an ancient symbol of a snake eating its own tail; Bourdain's first tattoo, marking a voyage to Borneo.
Kampong: A regional term for traditional villages.
Nyamai: The Iban word for "delicious."
Tuak: Traditional rice wine.
Langkau: A traditional Borneo spirit.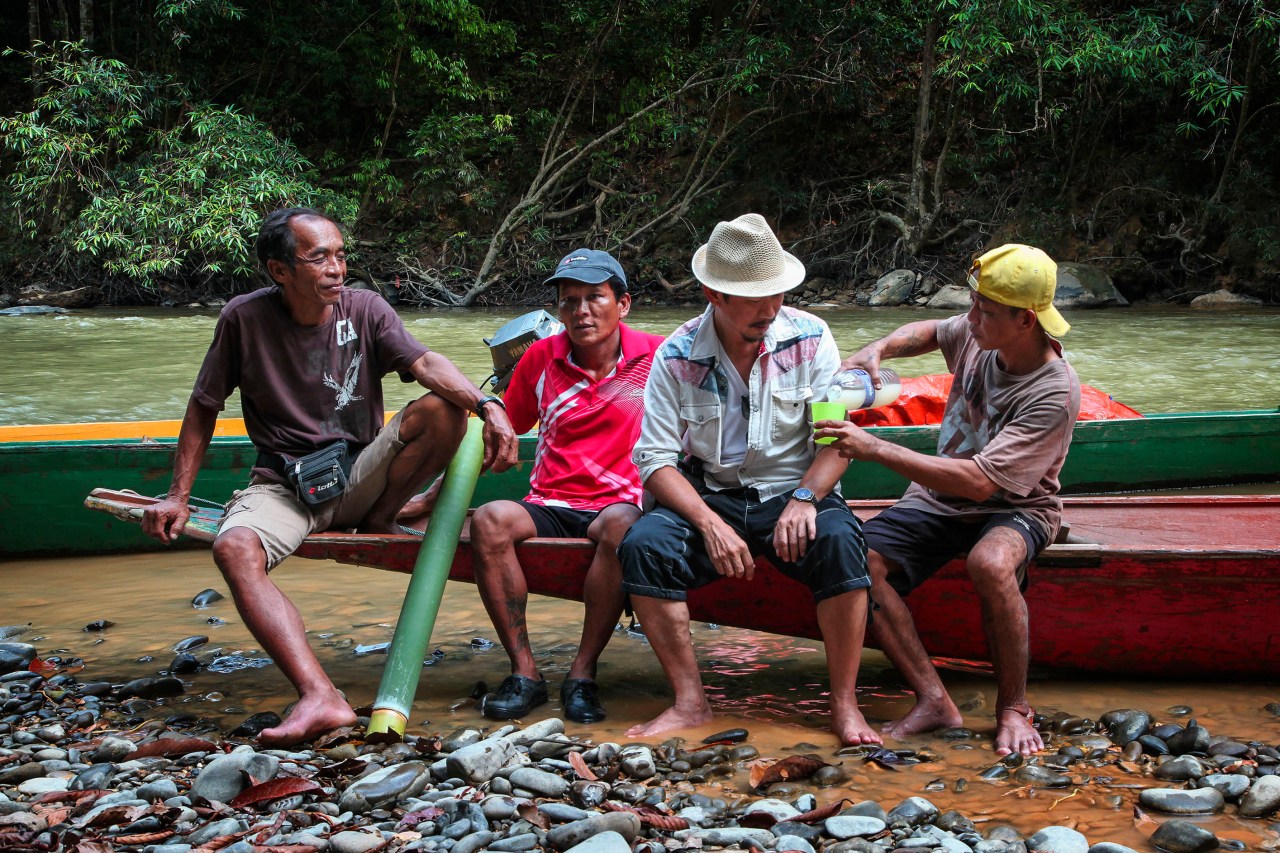 Memento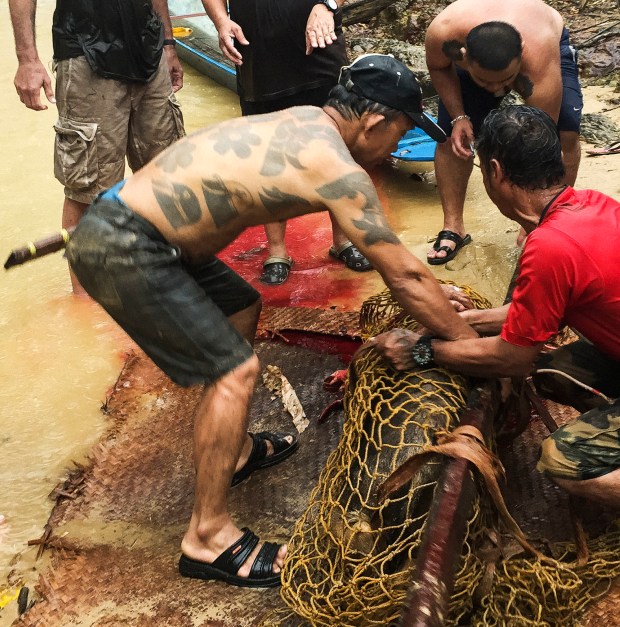 In the Iban culture, tattoos signify journeys and the knowledge and wealth that the bearer earns on a journey
"Each tattoo he gets over the course of his life represents a different experience, a different journey," Bourdain explains.