The first thing you notice when you walk into the Old Town Ale House are the paintings. Filling just about every possible spot on the walls, they're the work of part-owner and famed blogger Bruce Cameron Elliott. Although mostly portraits of bar regulars, Elliott's work has recently delved into the political. The compositions, like Bruce himself, are thoughtful, honest, and occasionally vulgar. He's a man who freely shares his point of view, created and sharpened by living, working and drinking in Chicago.
I visited the Old Town Ale House a few months before the 2016 presidential election. When I asked for Bruce, the bouncer asked if I intended to shoot him. This didn't make much sense until Bruce pointed to a nude Sarah Palin painting hanging directly above the bar. He told me that he'd received threats after conservative talk show hosts reported on it. He painted it in response to the way Palin was sexualized at the 2008 Republican National Convention. With the Alaskan wilderness as a backdrop, Palin stands tall and naked, holding a rifle. Bruce smiled and said, "You know, I might be a lowlife, but I never made my knocked-up daughter marry the village idiot."
Bruce had his first legal drink at the Old Town Ale House. Growing up in Chicago was an artistic adventure for him; he attributes most of his early education in painting to famed Chicago artist Gertrude Abercrombie. "She'd paint in the front room drinking… her husband was a writer, and there were all of these kind of bizarre people. She'd be painting and I'd just sit there and watch her."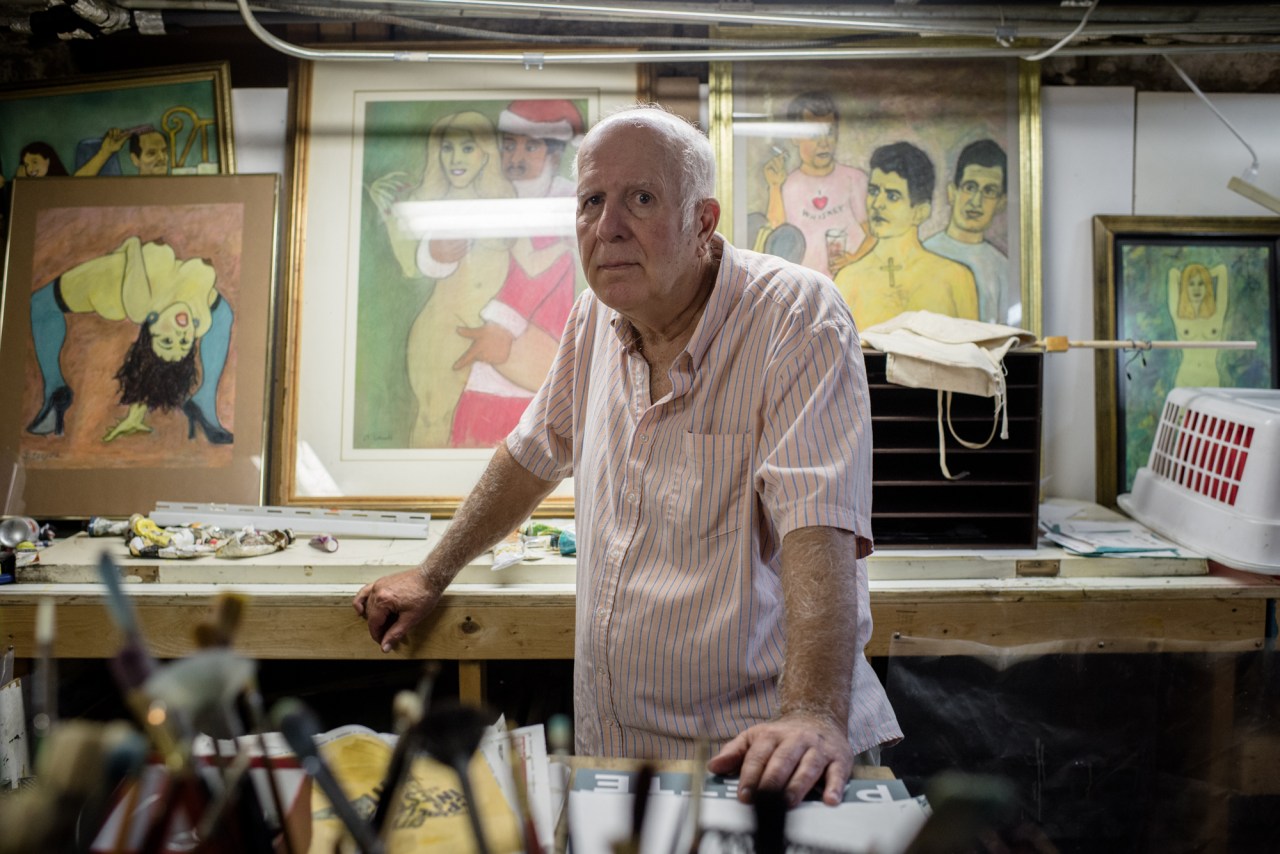 During Bruce's lifetime, the Old Town neighborhood that wraps around the bar has changed dramatically. He described Old Town in the '60s as a small Greenwich Village, filled with artists, writers, and actors. The biggest shift happened in the '70s when the city widened the street outside the bar. Bruce said this seemingly small move altered the social fabric of the block and forced local businesses to close. In the years since, Old Town has seen massive gentrification and is now one of Chicago's wealthiest neighborhoods. Bruce said the bar keeps the crowd at bay by playing an eclectic mix on the jukebox—e.g. no pop—which he claimed is one of the best-managed in the city.
Stationed across the street from the famed Second City Theater, the bar has been home to a host of comedians, artists and celebrities for decades. Bruce's paintings of boxers and filmmakers are hung alongside those of drug users and nude dancers. There are depictions of colorful regulars like the late Ruben Four Toes, pictured as a child smoking a cigarette and drinking a martini. Tim Barrett, who bartends at the Old Town Ale House, is up on the back wall too. He started coming to the bar five years ago when he was taking classes at Second City; both Bruce and Tim say the only way to get a job at the bar is to become a regular.
Some of the paintings have sad stories behind them. Bruce depicted painter, poet, and pianist Ed Balchowsky injecting drugs into the stump of his right arm while seated at a piano. Balchowsky lost his arm fighting with the Abraham Lincoln Brigade in the Spanish Civil War and died after getting hit by a subway car in Chicago in 1989. Bruce has forgotten the story behind some paintings. In his basement, he pulled a portrait of a black woman from a shelf and brought it upstairs to see if anyone in the bar remembers her name. "Oh that's Sarge," an older man shouted out. "She was the first female in combat." Bruce shrugged and said he didn't remember much about her except that she used to play pinball and smoked a lot. She's dead now.
But it's the political paintings that draw the most attention. Bruce leans left on the political spectrum and speaks with a smile about his time spent at UC Berkeley during the Vietnam War. He described himself back then as a "hardcore draft dodger." Scattered around the bar and in his basement studio are more recent paintings—nude political figures playing out their scandals on canvas. He painted Trump in 2011 after the real estate mogul said he was a bigger businessman than Mitt Romney. The "Bruce Treatment" depicts an overweight nude Trump with a small penis pointing to Romney with text that reads "mine's bigger than his." The painting had been in storage until Trump's presidential campaign provoked Bruce to put it on display. Illma Gore, the Australian artist who painted the controversial nude painting of Trump in 2016, contacted Bruce to say that he had inspired her.
Looking up at his paintings of Trump and Palin, Bruce reflected on the 2016 presidential election. "It's the easiest vote you could ever make, as much as I hate Hillary. It's so, so simple to vote for her. This guy's [Trump] a sociopath and a maniac." Bruce had no sympathy for the far left either, and leaned back on his barstool to say: "All these young people, these Bernie people are purists. There's no purity in politics, there's no such thing. Read your history. Read about it. There's no savior out there. It's trench warfare."