Bourdain-isms
"I usually try to avoid clean, orderly countries without massive social problems."
"The air smells fresh and physically fit, statuesque blonds pedaled through streets, lined by old buildings and canals. I read something very disturbing on my way here. Apparently Denmark is, like, the happiest place on earth."
"That's un-American. That's socialism, isn't it?"
"This show is not about Denmark. It's not about Copenhagen. I'm here for one man. And one restaurant."
"There is stuff rotting in jars, these experiments of fermentation and flavor. You're all doing some sinister shit down there."
"So it's hallucinogenic fish sauce potentially?"
"Isn't it your historical imperative as the chef to take his good work and innovation and put it on the menu and take credit for it as your own? I mean, that's the way it's been done for centuries."
"There was still a little part of me that was saying, you know, this is going to be bull. The guy's out in the field yanking weeds out of the ground. I really didn't expect it to be as good as it was. It was delicious. It was amazingly delicious."
At the Front Lines of Foraging
René Redzepi's Noma serves grass, moss, and insects and has been acclaimed as one of the best restaurants worldwide. Redzepi "pretty much kick-started the restaurant world's now widely emulated practice of foraging," Bourdain explains.
Bourdain had one important question for Redzepi: "Have you ever eaten something that…"
"Oh, yes. On-the-spot diarrhea," Redzepi replied, matter-of-factly.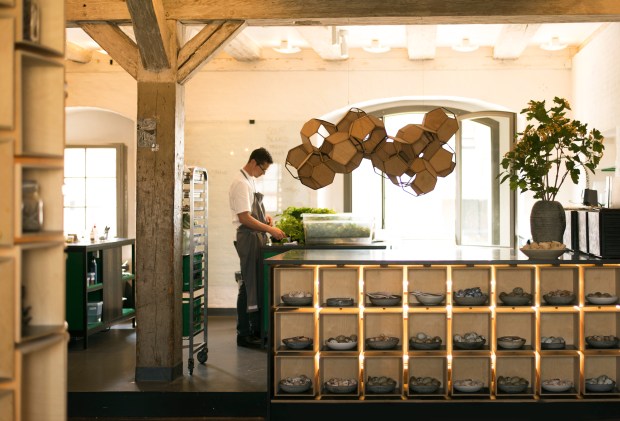 Lingo
Pølsevognen: (Literally, "sausage wagon") A hot dog stand.
Gammel Dansk: (Literally, "Old Danish") A kind of bitters, often shared at special occasions.
Janteloven: (Literally, "The law of Jante") A Nordic social behavior discouraging individual success, bragging, and attention-seeking.
Skål: Cheers!
Æbleskiver: (Literally, "apple slices") Danish pancakes stuffed with sweet or savory fillings.
Christiania: A para-autonomous and self-governing hippie commune in the middle of Copenhagen.
By the numbers
50

Weeks of maternity leave on full pay

45

Percent of income Danes pay in taxes

1

World Happiness Ranking 2016

2

World Happiness Ranking 2017

0

Cost of healthcare
Eats
Noma (temporarily closed)
Strandgade 93
1401 Copenhagen K, Denmark
+45 32 96 32 97
Bourdain ate (over the span of the entire program): Danish coconut with bouquet of flowers, reindeer moss with mushrooms, sorrel leaf marinated in grasshopper garum and "green snow" made from nasturtium leaves, æbleskiver (round pancake) with pickle and fish filling, roasted fish with roe and beach plants, grilled pike heads with beach herbs, sourdough bread with "virgin butter" (not churned all the way), leek and asparagus with cheese and flowers, quail egg cooked in hay, fermented apple tea with razor clam and chamomile, lamb tongue and fermented kohlrabi, cepe ice cream with barley, strawberries pickled in rose vinegar and crème fraîche infused with burnt roses and rose pollen, flatbread with shoots of spruce and oak tree, potatoes cooked in fermented barley with sturgeon roe from the lakes of Finland, two-year-old cherries and five-year-old wild roses, fermented wild spinach, lacto-fermented gooseberries, dried juices from the previous year's harvest of black currant wrapped in wild roses marinated in vinegar for two years, six-month-old mummified roe deer, grilled onion and fermented pear with salt made from wood ants, wax moth larvae mousse with hazelnuts and a morel sauce, bee larvae, fermented herring stuffed with molded grains.
Nørre Farimagsgade 55
1364 Copenhagen K, Denmark
+45 33 11 54 45
Bourdain had: Gammel Dansk (Danish bitters).
Axeltorv 1
1609 Copenhagen
+45 31 32 58-48
Bourdain ate: The deluxe: an organic sausage made with bacon and garlic, homemade mustard, onions pickled in beer.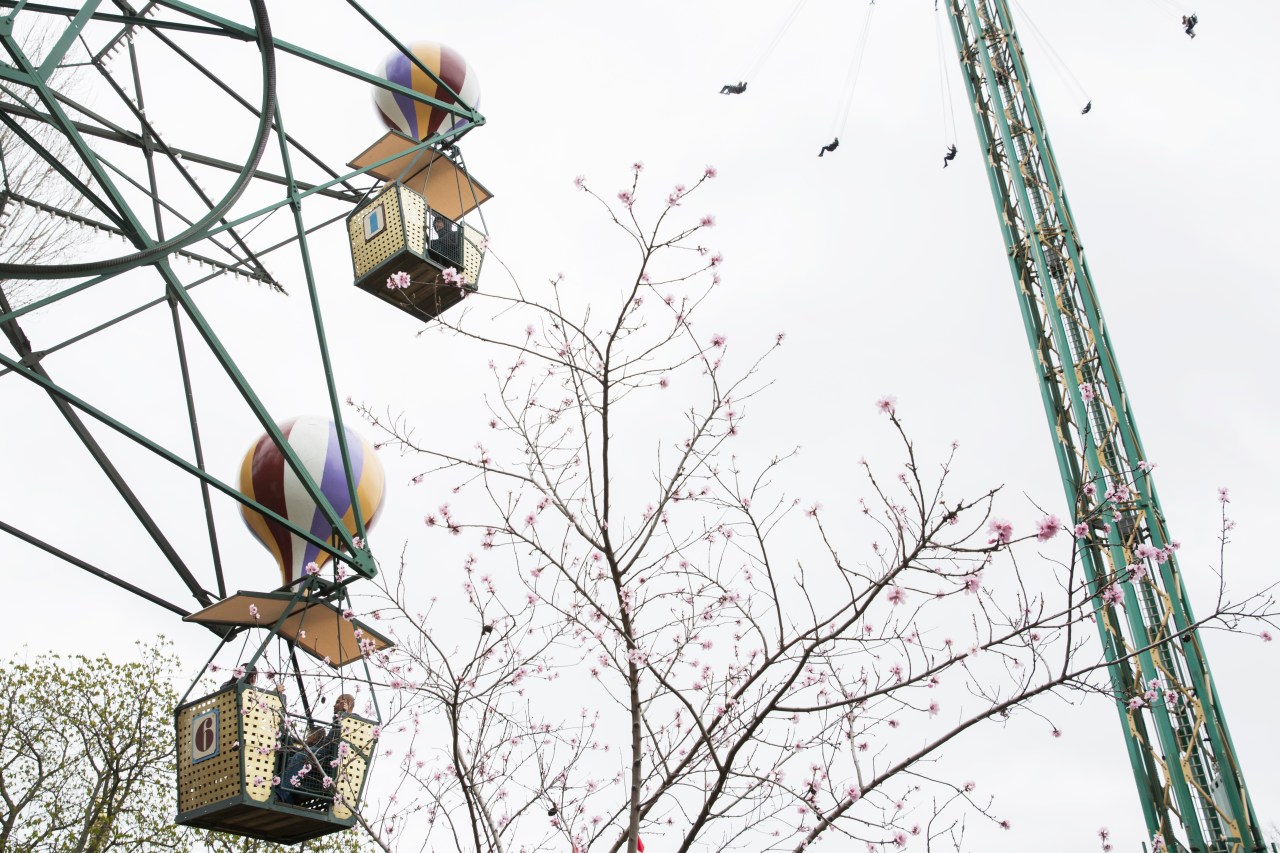 Fact
Tivoli Gardens is the second-oldest amusement park in the world. Let the good times roll, like Bourdain and Redzepi.
Sidekicks
René Redzepi: Restaurateur behind Michelin two-star restaurant Noma (René's Twitter)
Alessandro Porcelli: Italian living in Denmark who started Cook It Raw, the roaming Boy Scout camp for the world's best chefs (Alessandro's Twitter).
Niels Sømand: Drinker, sailor, charter tour-boat operator, musician.