As an American traveling to Cuba, I've realized that politics are an unfortunate part of the experience. The U.S.'s treatment of foreigners invites a spectrum of reciprocity measures. You'll feel this most sharply in the use of a second currency by tourists, the Cuban convertible peso (CUC), which is set at a one-to-one exchange rate regardless of the value of the U.S. dollar at the time—$1 equals one CUC, plus a 10 percent penalty for each transaction. Whether it's food, drink, lodging, transportation, souvenirs, or even entertainment, the tourist currency is unavoidable, because many establishments frequented by foreigners require tourists to pay in CUCs.
Natives, meanwhile, primarily use the national currency, the Cuban peso (CUP). One CUC is equal to about 26 CUP, so visiting establishments where locals eat is quite a bit less expensive. More important, it will open up a world of deliciousness and food culture not often experienced by tourists.
I started using CUP on my second trip to Cuba, in 2011, when Oleidys, the owner of my casa particular (privately owned bed-and-breakfast) in the Miramar neighborhood, informed me that the currency exchange a few blocks away would sell me Cuban pesos. I quickly learned that to get an authentic taste of comida criolla (typical Cuban food of rice, beans, and flavored sauces that draws on indigenous and Spanish cultures), nothing is as handy as a pocketful of CUP.   
Despite the culinary variety I have experienced, I often hear friends complain about the food in Cuba, unimpressed by guidebook-recommended paladares (privately owned restaurants, often in homes) with mediocre international fare. Under Raúl Castro, paladares have sprung up everywhere, serving everything from sushi and Italian food to traditional Cuban food.
While these wide-ranging menus are impressive in a country with a history of severe food shortages, I still feel that the best Cuban cooking remains hidden in the city's meandering pockets. My personal quest for the best comida criolla has led me to private dinners at chefs' homes, to hunt for cafeterias in the Cayo Hueso neighborhood, sample random rooftop pizzerias that deliver individual pies in a basket tethered by a rope, and even give some of the state-run restaurants a go.
There is fine cuisine to be enjoyed in Cuba's paladares, but here is my list of street food and stalls, eateries, and markets where you'll dine with locals, using CUP, the only currency that will grant you access to authentic meals.
Agropecuarios
The number of farmers markets in Havana has grown in the last 10 years. However, most of these markets remain understocked and lack variety: a heap of dirty, overripe ñames (yams), boniatos (sweet potatoes), bags of rice, uncrated eggs, cooking oil, and individual cigarettes, sold by a bunch of shirtless workers.
Mercado Agropecuario in Miramar, one of the largest in Havana, is an exception. I visited on a New Year's Eve, when many Cubans were shopping for tubers and vegetables for side dishes to pair with their traditional lechón, or roast suckling pig. Here your island fantasy of a Miami-style pan con lechón on a baguette or pan de flauta is met with a humble reality of moist, tender pork and mojo (a garlic-flavored sauce) on a small industrial hamburger bun. The Cuban version packs more flavor and is wetter than its spoiled Miami cousin. At another stall the pan con croqueta (ham and cheese croquette) is the real story. There are many tasty frituras (fried snacks) in Cuba, but the croqueta is king. It's simply the most exciting sandwich on the island, where crispy, hot ham and cheese croquettes ooze onto a bun, blending perfectly with mayo, lettuce, and tomato.
Mercado Agropecuario
Cafeterías
These CUP establishments are privately owned businesses that serve a simple menu: sandwiches called panes, filled with eggs, ground meat, ham, and hot dogs; Cuban-style pasta; juice and fruit shakes (batidos); individual pizzas; potajes (bean soups); tortilla española (omelet); and combo meals.
Visit Cafetería El Juany, one of the favorites and the most popular among local jineteros (hustlers) for a mouthwatering pan con tortilla or croqueta. This is where you'll find the bold Cuban flavor you've been searching for. The cafetería is downstairs from the iconic restaurant La Guarida; so after you eat head upstairs for a glass of 11-year Santiago de Cuba, served neat on the chic rooftop bar.
Cafetería El Juany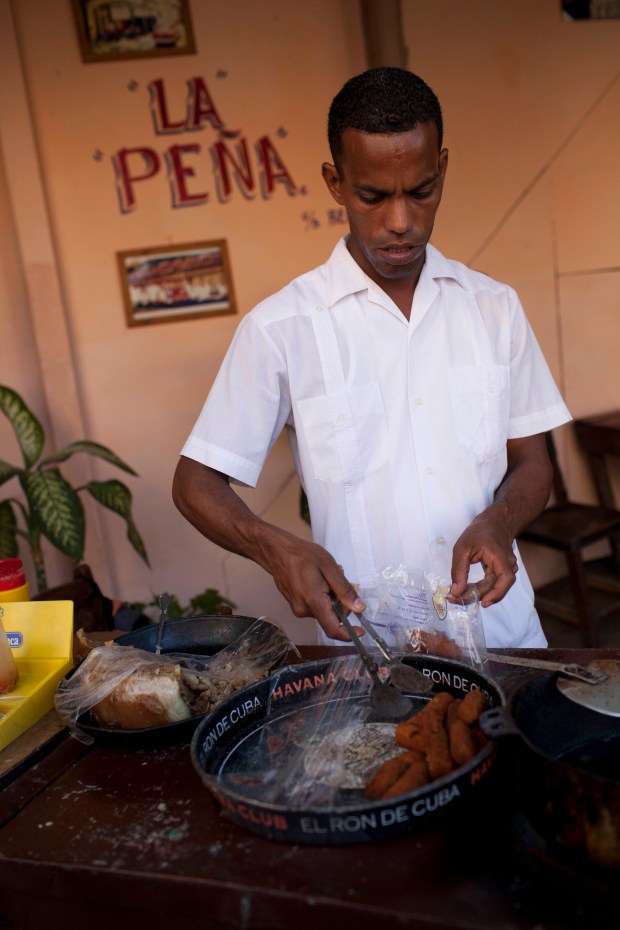 Cajitas
One thing I can't wait to get my hands on whenever I visit Cuba is a cajita. These are small, thin cardboard-boxed meals of congrí (beans and rice), a protein like milanesa (breaded meat fillet) or marinated pork, and a dressing. I recall picking up a cajita at a performance by the Grammy Award–winning Cuban band Síntesis at La Rampa as well as at a stall located at the back of the Cafetería Doña Ana car wash. They are ubiquitous. The two cafeterías outside La Guarida, El Juany and La Negra, also prepare cajitas, which can cost as little as 20 CUP, or 75 cents.
Granizados
While tourists throng the lobby of the Hotel Parque Central for Cuba libres to escape Cuba's oppressive summer sun, locals resort to granizados (slushies) to beat the heat. You need CUP to get granizados—paying with CUC is like trying to buy an ice cream with bitcoin. Granizados come in a variety of flavors (strawberry, pineapple, orange, and lime), consist of artificially flavored syrups poured over shaved ice, and are served from mobile carts.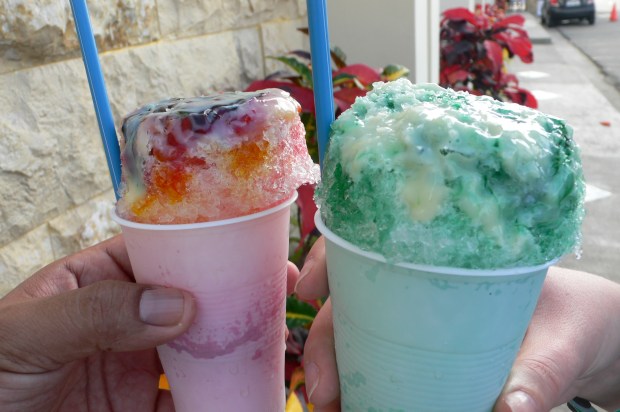 Guarapo
Fresh-pressed sugarcane juice is offered at some agropecuarios, usually served ice cold. You can relish it while taking in the surrounding colonial architecture, vintage American cars, and percussive sounds of Cuban Spanish. If you're really lucky, you can sip your refreshing, lightly sweet guarapo to the sounds of an impromptu cubeton performance by a band rehearsing in their living room. There's a market in the Vedado neighborhood near the corner of San Martin and Padre Varela that advertises fresh guarapo. Even its unalluring color (somewhere between pea green and pale brown) feels like a savior from the punishing tropical sun.
Market in Vedado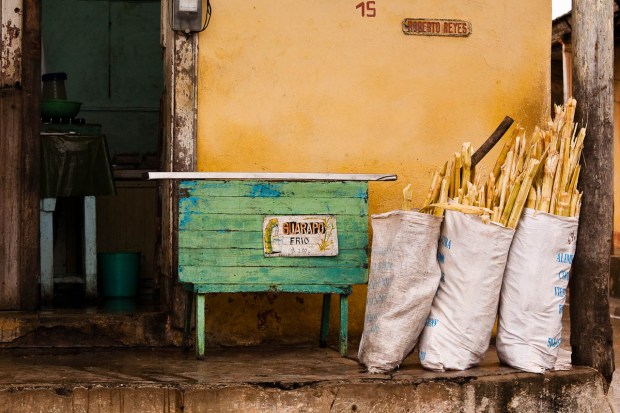 Paladares en monedas nacionales
I was so excited to bring friends to Paladar Yemaya back in 2015, a small restaurant in Vedado run by a family dressed in all white—a color sacred to orisha Obatalá in the Santería faith—to represent purity. The first time I dined there I had a delicious potaje de frijoles colorados (red-bean stew) flavored with ham hocks (pork knuckle) and a Cuban tamal dressed with ketchup. Another diner was a regular. He'd come to Havana to work a contractor job, and this paladar en monedas nacionales (that takes CUP) provided a taste of home cooking with dishes like fricase de carnero (lamb fricassee), pork chop, or fried chicken, plated with rice, salad, and vianda de estación (sliced, cooked tubers, bananas, and plantains).
I arranged to return for lobster cooked in mojo, bistéc uruguayo (a breaded pork steak filled with ham and cheese), and fufu, a mashed ball of fried plantains filled with fried pork skin, similar to Puerto Rican mofongo. With some Bucanero beers and a few Cuba libres, I paid a grand total of only 130 CUP, or about $5!
Sadly, the restaurant has since moved or perhaps closed permanently as the more famous private restaurants that deal in CUC cater to international crowds and palettes. But you can have a similar experience in La Habana Vieja at El Chuleton del Chino, which serves juicy masitas (Cuban-style chicharrones) and tostones rellenos (stuffed plantains) filled with cheese and ham and pork chops. You'll eat in a balmy, pea green room perfumed by cheap cigarettes and the harsh, but highly recommended planchao (cheap rum in a juice box).  
El Chuletón del Chino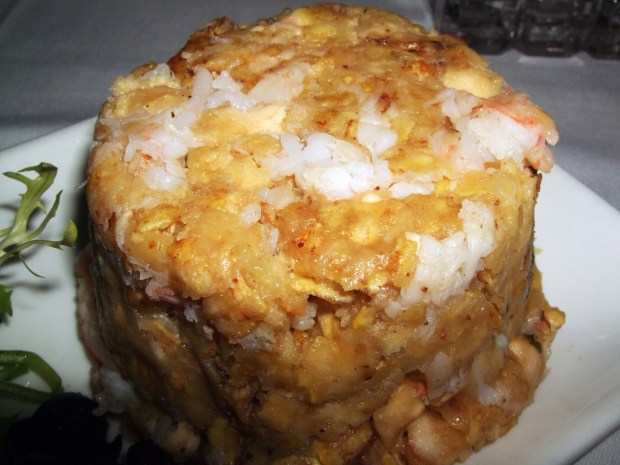 Pizzas Cubanas
There's something romantic about a personalized pizza delivered in a basket tethered by an old rope from a rooftop where the cook smiles and waves from above. The pizza in Cuba is one of the reasons many have labeled Havana's food scene uninteresting. With its cardboard crust and canned tomato sauce barely salvaged by salty Cuban cheese, the island's pizza is anything but tasty. But there are exceptions, like Hector's Pizza in Centro, which offers pork, cheese, bacon, ají (sweet pepper), Hawaiian, or chorizo and onion on a soft crust. When doubled over, it can even resemble a savory crepe—an added bonus to make the meal more interesting!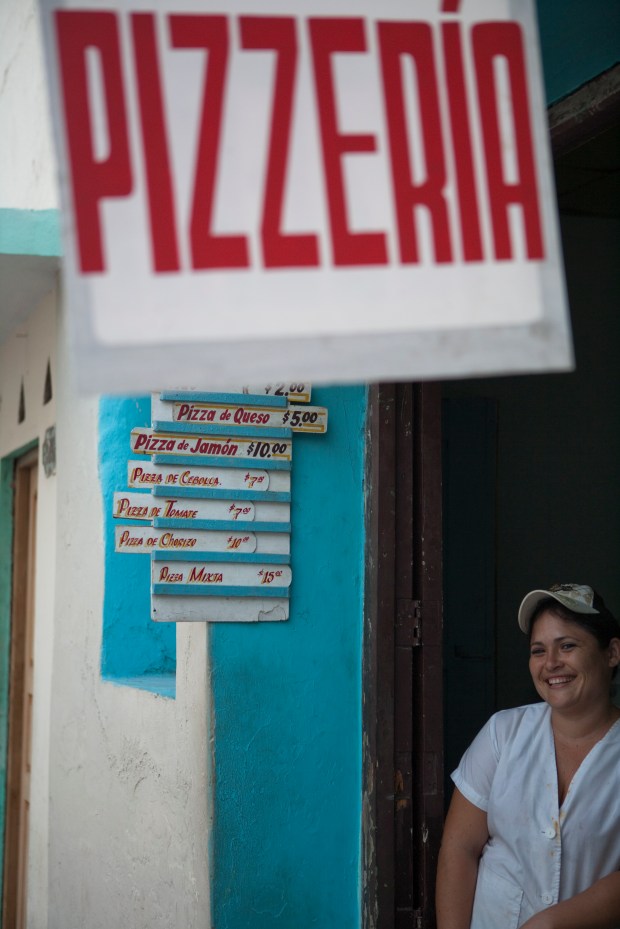 Sandwiches
There are many sandwich options, ranging from panes and cheap hamburgers to bocaditas (cold-cut sandwiches). Alas, you won't find those flashy Miami-style Cuban sandwiches with tomatoes, onions, and fresh lettuce. At a stand on 13th and 84th in Miramar, a small, quiet gathering of older men can be found smoking creole cigarettes while nursing their Cacique beers, waiting on the infamous ham sandwiches. The sandwich is just ham and watery Spanish mustard on an airy, crunchy loaf of bread that quickly flakes and crumbles when you take a bite, but it's simple and satisfying.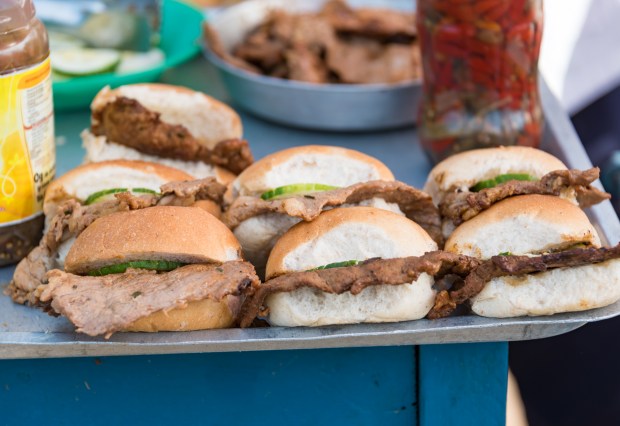 Ventanitas
Keep an eye out for "windows," rectangular openings in private homes or small restaurants, for rare dishes like caldosa (a stew of meat, tubers, and corn) and Cuban tamales served with sweet Spanish ketchup. Another form of legal restaurant that Cubans can run from their homes, ventanitas are less of a financial burden to owners and don't require more than a few good recipes or two to three items and a window to operate out of. They almost resemble tuck shops and often have no name.
One window I approached, offering a three-item menu, had a barren living room with an old, stone-faced man sitting in a chair. I asked for a TuKola (the local brand of cola) to sip while I waited for my order of caldosa (dish made of  root vegetables, meats, and spices) and tamales. This is a typical experience in neighborhoods like Vedado.
Finding great food in Havana has required some exploration, but it has been worth it. I had one of my favorite meals in Cuba in 2011, when my friend Carlos Alfonso, of the band Síntesis, arranged for a neighbor in Miramar to cook us lunch in their home. Alfonso's family joined us on the sweltering patio, where the host was beginning to set up a meal of beautiful avocado, roasted pepper, sliced onion, and marinated-cucumber salad; kimbombo (boiled okra); brick-size tamales; maduros (sweet plantains); limeade; rice; and thin strands of ropa vieja (Cuban national dish of shredded beef, vegetables, and sauce). The shredded beef was cooked with peppers, onions, and mojo—no tomato sauce—that accented the tender meat.
The meal ended with chunks of cheese in a thick guava sauce, a café cubano, and a Cohiba Robusto. This was the bona fide Cuban cuisine that was missing in commercial joints. Everything was nutritious, genuine, and still simple.