When Anthony Bourdain headed to Miami in 2015, chef Michelle Bernstein helped him unpack the city's food scene. The James Beard Foundation Award-winning chef has been at the helm of acclaimed restaurants like Azul at the Mandarin Oriental, Sra. Martinez, and Michy's.
In Miami, Bernstein took Bourdain to iconic local spots like Islas Canarias, Pepito's Plaza, and B&M Market. Bernstein's culinary style is a mixture of the training she received under French chef Jean-Louis Palladin and the Latin-style flavors found in Miami, which continue to inspire her cooking. Bernstein spoke with Explore Parts Unknown's Aleesa Mann about showing Bourdain around her hometown and her next venture.
Mann: You showed Bourdain around Miami, taking him out for Cuban, Haitian, and Venezuelan food. Were you satisfied with what you were able to show him?
Bernstein: That's the thing—can you ever really touch on all of it? There's obviously great Latin culture in a lot of cities, but we have a lot. We have a Little Buenos Aires, a Little Nicaragua, a Little Colombia … a lot of the countries that people don't really talk about. When people talk about Latin cuisine, you hear Mexican, you hear Cuban, but that's pretty much it. If only we could have touched on all of the different Latin American cuisines in Miami.
Mann: In the time since the filming of the episode, what has changed in the Miami food scene?

Bernstein: It changes so much, all the time. Thomas Keller just opened [the Surf Club Restaurant], which was pretty amazing. We never thought we would have the likes of Thomas Keller here in South Florida. Every day, there's a new personality and great chefs and cocktailers. It's amazing how we're growing.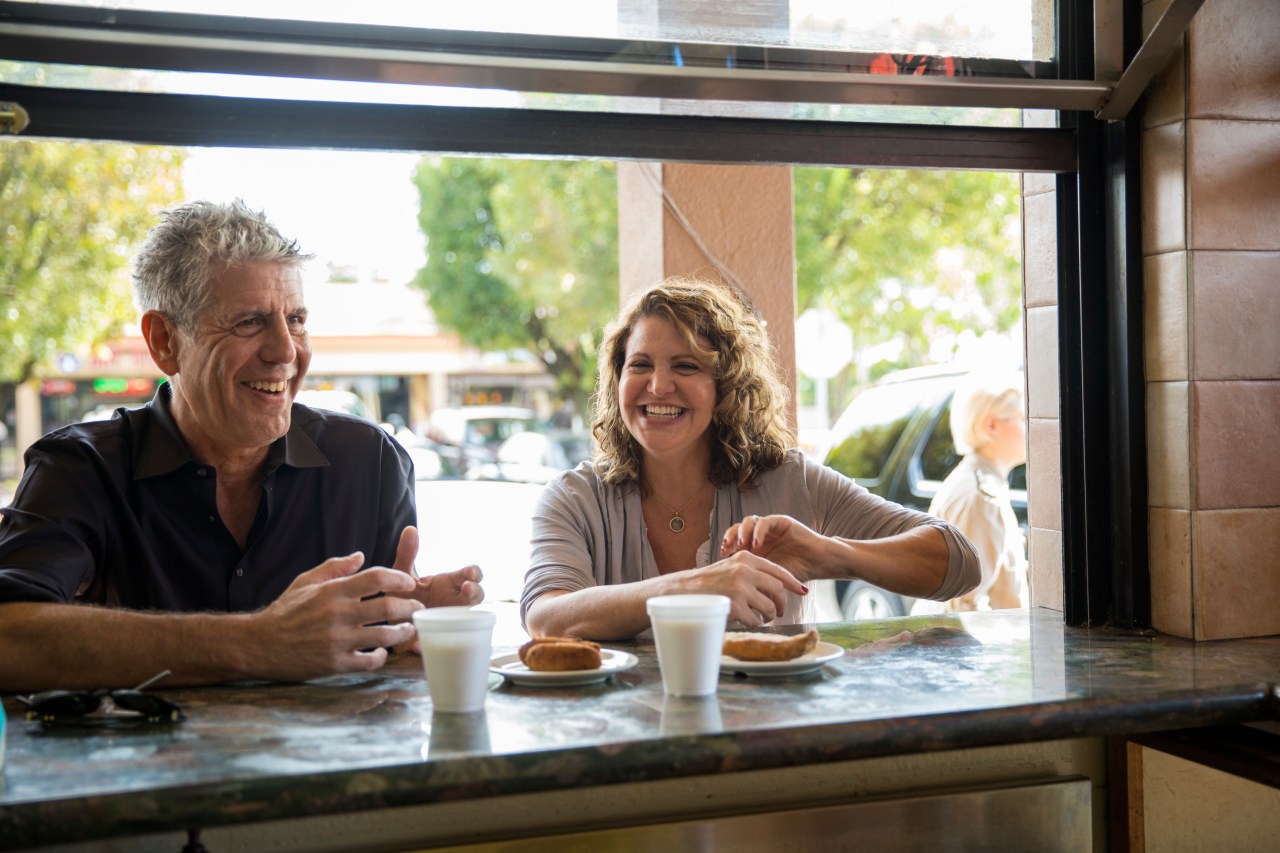 Mann: Given that, what are you cooking now that maybe you weren't cooking three years ago?
Bernstein: My husband and I, with our partner, Julio Cabrera, we're opening a Cuban bar [La Trova], and so right now I'm working on a crazy croqueta menu. For example, a paella croqueta with a shot of seafood broth as a chaser and a green chorizo croqueta with melting manchego cheese. I'm always trying to up my game and working on perfecting those Latin flavors with the French training that I have under my belt.
Mann: What brought your attention to preparing croqueta?
Bernstein: We're in Miami, and everybody loves flavor, and croquetas are a popular dish, as is paella, but nobody stuffs the paella in croqueta. And for it to be creamy and impactful and to go with the drinks and the music that we will be serving up at our new bar, I want that perfect bite. Where you can taste the love, you can taste the flavor, and you can taste the technique all in one.
Mann: Is there anything else you want to share about your experience on Parts Unknown?
Bernstein: Well, you always wish it could be longer or you always wish you said something smarter. You always wish you had more time with Anthony. I wish I had time to really get down and dirty and cook with him, more than anything, but I'm grateful for my time with him, and I'm grateful for my time spent on the show, because the whole staff was amazing, the photographers are incredible, and I just feel very privileged to have gotten the chance to be there.
This interview has been edited and condensed.