Cervelle de canut, a classic Lyonnaise cheese spread, literally means "silk weaver's brain." There are several theories floating around about the origins of the herb-infused spread's name. Some people believe it is a reference to the low opinion Lyon's upper-class citizens had of canuts (silk weavers) in the 19th century. Others say the name refers to the fact that canuts were usually too poor to afford actual lamb brains as part of their meal.
French chef Alain Ducasse shares his recipe for cervelle de canut, which is featured on the menu at his Paris restaurant Aux Lyonnais. Ducasse says cervelle de canut is perfect for the summertime and suggests pairing it with Pouilly-Fuissé, a white wine from Burgundy.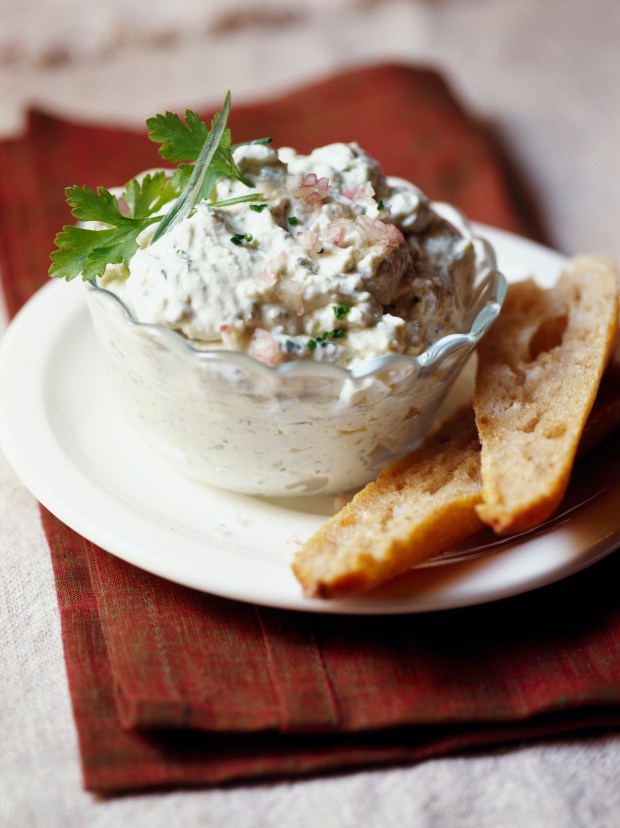 CERVELLE DE CANUT
Servings: 4
Ingredients:
1 ½ cups faisselle cheese (French cheese made from raw cow's milk)
1 shallot
1 clove garlic
1 tablespoon Italian parsley, roughly chopped
1 tablespoon chives, roughly chopped
1 tablespoon tarragon, roughly chopped
1 tablespoon heavy cream
Fleur de sel, to taste
Freshly ground pepper
2 teaspoons walnut oil
1 teaspoon canola oil
Olive oil, for toasting
Preparation:
First, drain the cheese and then set aside. Peel and finely chop the shallot and garlic. Wash and dry the parsley, chives, and tarragon before roughly chopping them.
Thoroughly mix the shallot, garlic, and herbs with the cheese and heavy cream. Season with fleur de sel and ground pepper. Add the walnut oil and canola oil. Mix well and then refrigerate.
Take a small loaf of country bread and slice into sticks. Lightly brush the sticks with olive oil, and toast them on your oven's grill setting. Place the cervelle de canut in ramekins and serve with the toasted bread dippers.
This recipe was provided courtesy of Aux Lyonnais.