I first met Anthony Bourdain at Third Man Records, in Nashville, where we were set to start filming.
He had such a calm demeanor. He approached me, shook my hand, and introduced himself as Tony. We talked about music, the underground scene in Nashville, and about the bands we liked. I knew he didn't like mainstream or pop country music—we had that in common. I'd been told that initially, the Nashville episode wasn't going to include any country music, but then Third Man turned him on to my album. Knowing that he didn't like pop country, I wanted to talk about the country music that he did like: Johnny Cash, Loretta [Lynn], Merle [Haggard], Waylon [Jennings], and Tanya Tucker came to mind. There is a common thread between rock 'n' roll, punk, and outlaw country.
The production crew had asked my husband, Jeremy Ivey, and me to recommend some local restaurants where we could meet Tony, but we suggested he come over. We would cook for him, light a fire on the porch, and pick some guitars. Before our band really took off, Jeremy had cooked at nearly every restaurant in town, and I raved about his culinary skills.
A couple days later we were expecting Tony for dinner. We were frantically preparing a Southern-style meal: braised short ribs, pimento cheese, and homemade biscuits. I cleaned our humble home like it had never been cleaned before and set out to make tequila and whiskey cocktails.
Tony's crew—Helen Cho, Josh Ferrell, and Nick Brigden—was so kind. They came to our house to help set everything up. We were nervous out of our minds to cook for him, but they assured us everything would be fine.
The night went off without a hitch. Again it was so easy to talk to Tony. On camera, we talked about the obvious things: food, booze, music, traveling, gentrification … but the real conversation went down once the cameras stopped rolling.
Tony and the crew stayed for three or four hours after the shoot ended. I'll never forget the advice he gave me about how to handle my newfound fame. He said, "Never accept drinks from fans. I quit doing that a long time ago and I'm better for it. If I drank every time someone offered me one, I'd be in trouble."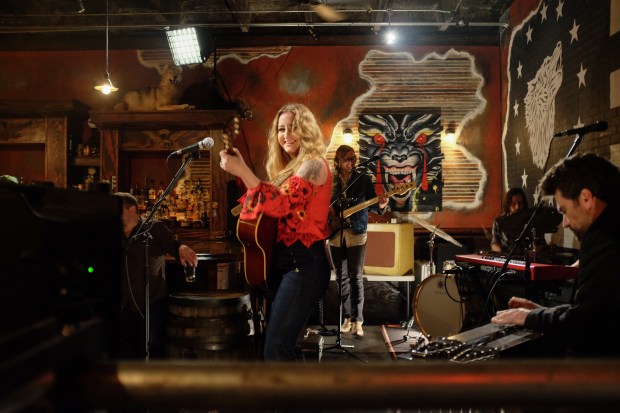 We talked about addiction and also about depression, which I have struggled with. We talked about how staying centered was tied to taking care of yourself physically and how important it was to take breaks and limit booze. He said that he didn't drink when he was home; I told him that I didn't drink on the road. So many people expected him to drink and party for his job—it's not unlike the music scene. We are constantly surrounded by people who want to feed us booze and drugs and any other kind of pleasurable, toxic good time. He talked about martial arts and training—it was something he and his crew were really into, and he seemed to be in the best shape of his life.
We sat around the fire and sorted out the world's problems—or at least we tried to. I think most of my band and house guests were nervous at the start of the night, but soon everyone relaxed because Tony was relaxed. The drinks helped, of course. Anthony exuded wisdom. He was both sound in mind and healthy in body and spirit. Talking to him was like talking to a wandering guru—but was also as easy as talking to a friend.
From the back porch, we all peered out into the dark woods and the pitch-black of the night. The fire crackled, we passed the guitars, we took shots, and we fired off BB guns at the makeshift shooting range at the back of our property.
People played music the whole time, and Tony kept close to listen. At the end of the night, he told me, "I'd trade everything I have to be able to play music. I'd trade it all for just an ounce of musical talent."
I told him he was a writer, and that was the same thing. His words were like acid. They ate through the page with colors and poison and religion, with pain and experience and truth. He truly used his pen like a sword, cutting straight through the bulls**t to the very core of existence. His writing was dangerous, honest, and poetic. He seemed to tap into the underbelly of every city that he visited, just as he did on the evening he spent at our house in East Nashville.
As the night rolled on, we passed around the bottle. There was no need for shot glasses at this point and no sense in putting the lid on. Half of the party jammed on the electric guitars and drums; the other half turned to jiujitsu and began sparring in the wet grass. From there on out things got blurry. We stayed up late, howling at the moon and exorcizing our demons. All the booze was drunk, and at some point, an emergency beer run was made. Someone on the crew sprained an ankle, but we all made it out alive. That in itself felt like a victory.
In the early morning hours, as they packed up the last of the cameras and the lighting rigs, Tony and his crew vowed to go to the local martial arts studio a few hours later. Sure enough, they all went—Tony was a man of his word.
I could go on about the rest of the week and the support, kindness, and encouragement he later gave me as my career started to take off, but some things are meant to be remembered privately.
I will always be grateful to him for the light he shined on me and my band, but I am even more grateful for the words and the work he left behind. Tony had a rare gift for uniting people everywhere, usually around a table filled with food, stories, and love.