I was born in Libya's seaside capital, Tripoli (Tarabulus in Arabic), where I lived until my teenage years. It's a place where delectable haunts and beloved homes dot the map in my mind. Libya's current situation may prevent me from settling back in my birthplace, but Tripoli lives in me wherever in the world I am—through the culture I preserve, the people I love, the language I speak, the memories I keep, and the stories I tell. Sixteen years of living along Tripoli's coastline, deep in the sunny urban landscape, left me with fond recollections that the most atrocious depths of warfare could never dissolve.
A breath of O2
I grew up in a home in the coastal neighborhood of Hay Alandalus. Separating the beach from clusters of houses, a nameless narrow road was Tripoli's final touch of civilization before the sea, stretching across neighborhoods by the coastline.
On weekend mornings, my mother would awaken my sisters and me, order us to get dressed and say, "Don't eat. We're going to O2."
O2 is a popular café near the shore. Aside from a sign bearing the symbol for dioxygen, the café was most noticeable for its elevated patio, speckled with silver tables, orange chairs, and happy Tripolitanians. We rolled onto the ad hoc sandy parking space to an orchestra of customers' laughs and waves crashing nearby. Inside, patrons always sat facing the gigantic windows that overlooked the Mediterranean. A mosaic countertop separated relaxed customers from buzzing employees.
My family visited O2 almost every weekend. The only habits that changed with the seasons were our choices of indoor or outdoor seating, hot or cold beverages, and whether to visit the beach afterward.
My uncle Moaawia was a regular there; he often sat upright on an orange chair, a paper cup of black coffee on the table in front of him, a cigarette between his fingers, and his portly belly bobbing with every laugh.
Moaawia, a spirited man who was known for his sunny disposition and undying love for the Mediterranean, was a good friend of the cafe's owner—as he was with most of the city. Himself the owner of three businesses, it was Moaawia who persuaded O2's owner to add pancakes to the menu and helped him import Canadian maple syrup.
Moaawia died of leukemia in 2008, a few weeks shy of his 33rd birthday, in a Paris hospital room. It was a heartbreak that was felt by all of Tripoli. But O2 remains open, and his beloved Mediterranean continues sending waves to shore.
Amema's home
Along the coastline, going east, beaches gave way to ports and harbors. Tall buildings rose along main roads crowded with cars and lacking traffic control.
When I was young, I sometimes spent my days with my great-aunt Khadija. My mother would drop me off at her apartment in downtown Tripoli, tucked away in an area called Shara' al-Shatt ("street of the shore"). The car ride from our neighborhood to downtown remains engraved in my mind. A roundabout surrounded the Ghazala ("gazelle") fountain, a treasured relic from Italy's colonial period, featuring a gorgeous statue of a nude woman sitting by a gazelle. Then a cluster of colonial-era apartment buildings, which once housed high-ranking Italian officials, lined the streets on the way to my great aunt's. In her building, we climbed a marble staircase until we reached a thick wooden door on the fourth floor. When it creaked open, Amema ("Auntie"), as we called her, was there smiling. She always wore a floor-length dress and a headscarf, in a quintessential Libyan fashion.
After kisses of hello to Amema and goodbye to my mother, I would run inside the apartment. The living room was lined with traditional mindar—elongated floor cushions. The more formal salon, reserved for guests, had elevated seating. Amema's salon contained lavish patterned couches, a long wooden dining table, and a balcony with views of the harbor. Straight across the living room were Amema's living quarters.
Amema's apartment was Tripolitanian living to its core, and she was love in its purest form.
I used to race to Amema's bedroom. She had a music box on her bedroom dresser, which, when opened, revealed a tiny mesmerizing ballerina in an arabesque pose that turned to a little tune. This box, one of dozens like it, held a small fraction of my great-aunt's sewing supplies. When she was a child, she, along with many other girls in 1920s and '30s Tripoli, was held back from receiving an education. As a result, she could not read or write, instead knowing a quiet career as a seamstress.
When I tired of the music box, I turned to tormenting my great-aunt. I loved hiding, a habit that exasperated my family no end. Amema, an elderly woman with a limp, was my favorite victim. I didn't need creative hiding spots; crouching under tables and inside closets was enough to send her into a panic, calling my name around her massive apartment. With zero regard for her distress, I emerged only when a full bladder forced me out. Upon my reappearance, Amema would hug me tight while uttering Quranic verses, scold me lightly, then take me to the bathroom. Then she would sit at her sewing machine while I played until my mother returned to pick me up.
Amema's apartment was Tripolitanian living to its core, and she was love in its purest form. Amema Khadija, to me, remains a pearl of grandmotherly warmth in a historic shell.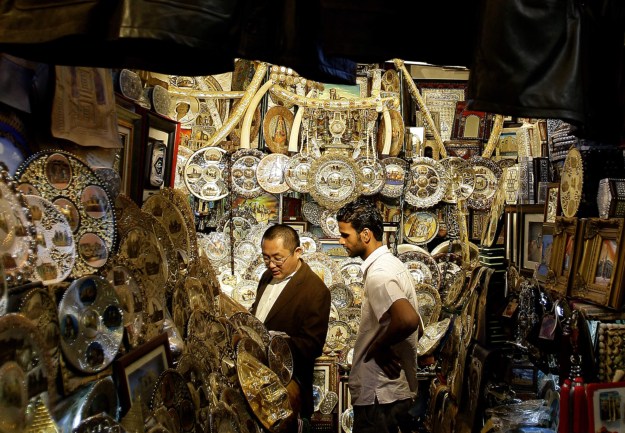 The medina
Farther east along Shara' al-Shatt, the city becomes more congested—a vibrant, contradictory mélange of overflowing traffic and public squares surrounded by Italian-designed parapets. Downtown was utterly chaotic, an arena where reckless drivers forwent flimsy road laws and entertained brushes with death.
But Tripoli's medina, its old city, was an oasis, a labyrinth of narrow roads sheltered by historic arches, interspersed with old brick home and shops that composed the old city's market—its souk (pronounced "soug" in the Libyan dialect).
The merchandise, for the most part, catered to locals, with vendors selling things like traditional Libyan clothing and hand-painted ceramics bowls waiting to be filled with staple Libyan dishes, from bazeen to rishta to couscous. Textile shops sold rugs for Libyans to sit on and consume communal meals on the floor, as tradition requires, in addition to prayer mats.
Of course, many of those little stores sold souvenirs. But even the touristy trinkets with "Libya" written on them somewhere were purchased by Tripolitanians themselves, be it for home decor or for car dashboard ornaments.
I always gravitated toward the shops that sold hand-crafted pottery from Gharyan, a Libyan city known for its skilled potters. I remember picking up beige clay statuettes from store shelves and running my fingers across their dusty little intricacies while my mother haggled in the background.
My favorite place in the medina was a courtyard that could be accessed through one of the many ancient arched entryways. The rectangular court was tiled, and in the middle stood a fountain that never worked. There, in my late teens, I bought a clay statuette in the shape of a mosque. I had already come to the difficult realization that I was not as pious as Libya had taught me to be, and yet this little artifact reminded me of my beloved hometown's most distinct traits—beautiful, authentic, and deeply religious.
Tripoli, though dented by recent events, radiates splendor that is too great to be destroyed in hearts and minds. Despite bullet holes in historic monuments. Despite military boots on the centuries-old ground. Despite smoke from shelling that fills the Mediterranean air. Despite armed groups and negligent governments. Despite war. Our Tarabulus lives in the souls of those who cherish her.