The aroma from food cooking in a wok, mixed with cigarette smoke lingering in the air. Conversations between the cook and his hustling staffers, who loudly take orders and direct diners to their tables. Strangers sitting side by side on plastic stools, laughing and chugging beers. Rolls of toilet paper on the tables serve as napkins.
Diners feast on wonton noodles, Spam and egg macaroni soup, and stocking milk tea (an ultrasmooth concoction made with a thick layer of condensed milk). Seafood dishes and stir-fries come with a hearty dose of wok hei, best described as the flavors imparted from heavy-duty woks. It's an important—yet hard to re-create—element of Cantonese cooking.
I don't remember my first time in a dai pai dong—Hong Kong's open-air street food stalls. It would have been when I was a child. Now whenever I visit one, I feel an overwhelming sense of familiarity and nostalgia for a Hong Kong that is quickly disappearing.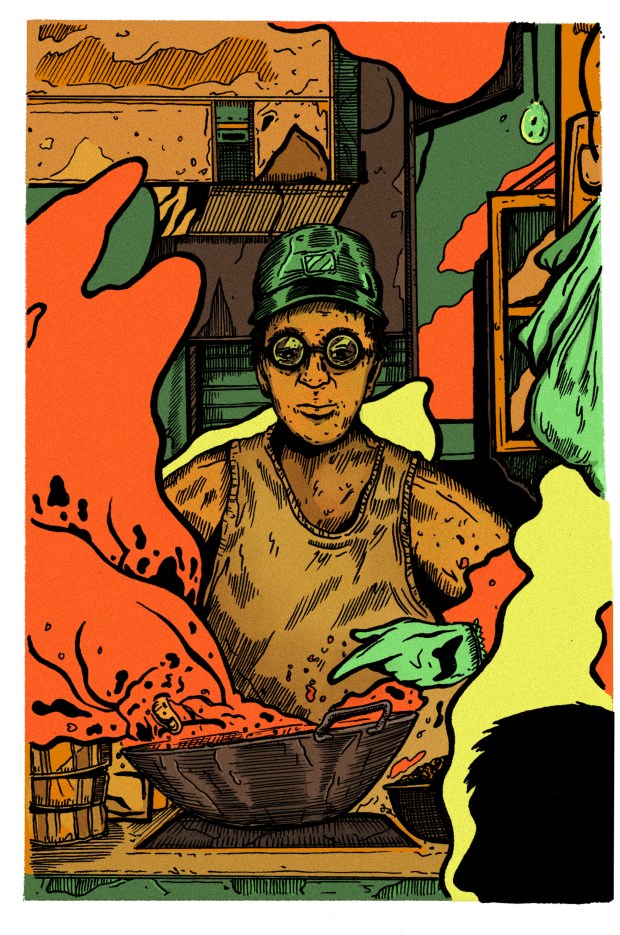 The humble dai pai dong (big license stall) is a Hong Kong institution. They sprang up in large numbers in the 1950s and '60s. As the name suggests, they were licensed to run as bigger outdoor eateries with seating, as opposed to smaller, mobile hawker stalls—another Hong Kong relic that's nearing extinction. (The unlicensed roasted chestnut stalls that spring up in wintertime are a notable exception.)
There used to be hundreds of dai pai dong throughout the city. In the early 1970s,  the government began restricting licenses, citing concerns over hygiene and noise; it stopped granting new licenses altogether in 1972. Licenses, can, in some cases, be transferred to family members. Today there are fewer than 30 left.
In a city renowned for its culinary scene, ranging from dim sum to Michelin-starred French fine dining, you could say the dai pai dong isn't really much to look at. Typically housed in green, tin-roofed stalls, most have a makeshift, low-key vibe.
Visitors are inevitably squeezed in with strangers. Everyone is sweaty because of the sweltering subtropical heat. Inches away, a worker will likely wash dishes in a bucket, emptying the dirty water down the street.
But that's exactly their charm: Unpretentious, traditional food. Diners from all walks of life—from taxi drivers to construction workers to young professionals. Brusque and to-the-point service.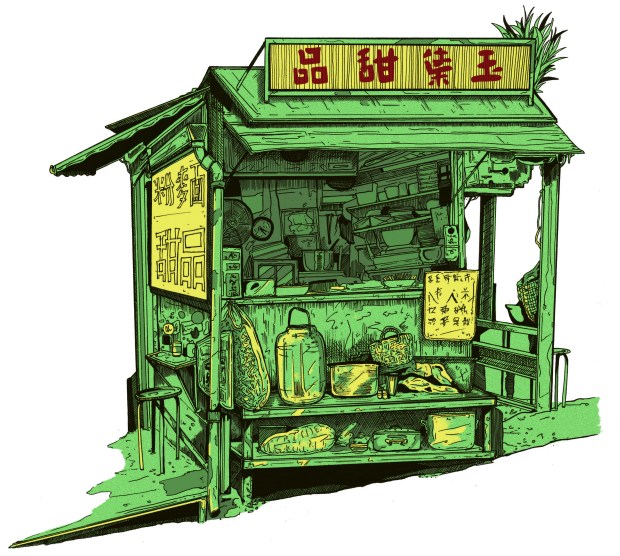 When I was a child, my parents took me to dai pai dong on Hong Kong Island, where we lived, and sometimes we ventured farther afield to ones in the New Territories. Most have long since closed. Some have upgraded—they now boast air conditioning—or moved into cooked-food markets, government-run buildings where hawker-style eateries and market stalls mix.
I moved abroad for boarding school when I was 11 and came back after college. People who leave Hong Kong for extended periods are struck by how much and how quickly it changes while they're away. When I returned at 21, I had a newfound appreciation for these eateries, like Sing Kee in Central, which specializes in heaping plates of stir-fried clams and salt-and-pepper mantis shrimp, and Leaf Dessert in SoHo, where I go for flavorsome beef brisket noodles.
The dai pai dong are some of the few places in Hong Kong that hadn't changed, offering Hongkongers like me a connection to our past.
Like much of Hong Kong, the dai pai dong will disappear one day. As Hong Kong continues to change and evolve at a breakneck pace, it will become harder and harder for these old-school eateries to survive. Some have survived by transforming into cha chaan teng diner like Lan Fong Yuen or noodle joints like Kau Kee.
But nothing can replace a loud, sweaty, satisfying meal at a dai pai dong.