On a typically cold and wet autumn evening in Istanbul, during a now-rare stretch of weeks free from terrorist attacks, Mustafa Topuz waxed nostalgic for the good old days in his city. The short, gray-haired meyhane boss, who's run his traditional Turkish tavern off the city's central Istiklal Avenue for more than two decades, couldn't recall another time as violent and unpredictable as the present.
Warming up over chai in his meyhane—one of nine lining Istiklal's famous Flower Passage, a stunning if faded Beaux Arts passageway crammed with white linen tables—he reflected on what he sees as the more logical violence of years gone by, when a "wise guy" might pull a gun in a personal dispute, but the uninvolved had little to fear. "It was nothing like what we see today," he said. "Now there are suicide bombers. Their objective is to kill innocent bystanders and to terrorize people."
Even before yet another attacker fulfilled a collective dread in the first hours of New Year's day, killing more than three dozen revelers in a posh Istanbul club, a year of unrelenting violence had cast a darkness over the city's nightlife hubs. Istiklal Avenue, a mile-long pedestrian thoroughfare teeming with shops, cafes, meyhanes and trendy nightclubs that illuminate the upper floors of its 19th Century buildings, had been particularly gloomy.
Topuz traces the area's malaise to the bombing of Istiklal itself last March. "That really ripped us apart," he said. The attack killed four tourists, injured dozens of others and further sank the city's reputation as a vibrant and safe destination. Chain stores shuttered, performers cancelled their gigs, and the round-the-clock mass of human traffic that flows along the historic avenue thinned as revelers thought twice about blowing off steam in the most central and congested Istanbul district.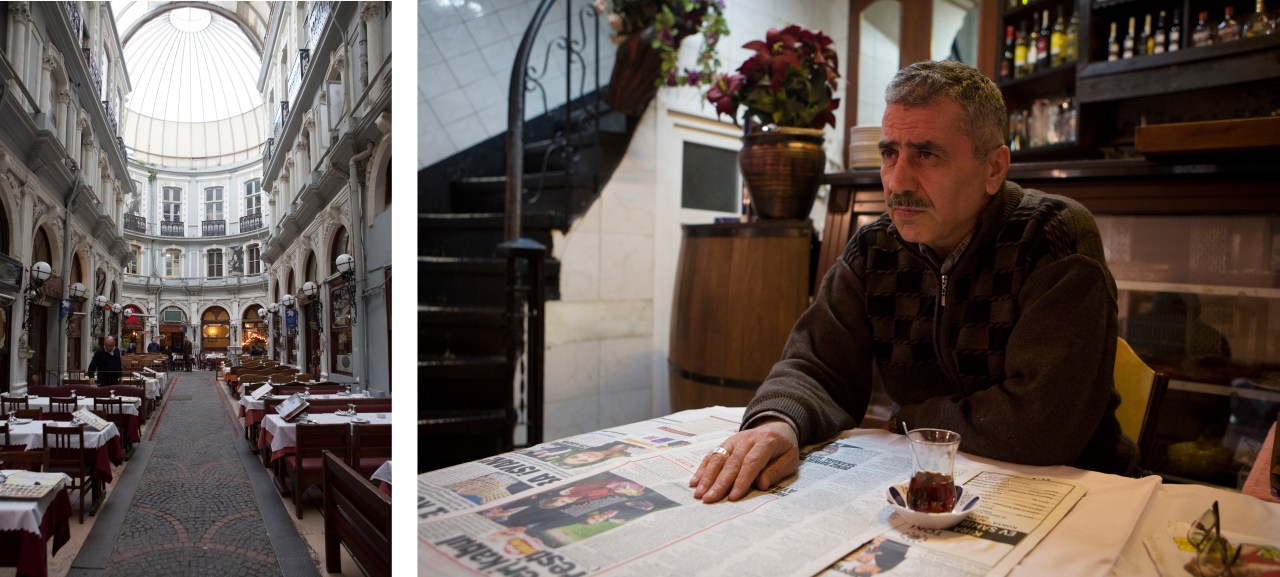 The retreat from Istiklal has been particularly palpable inside Cicek Pasaji, or the Flower Passage, where Topuz has spent most of his evenings since the 1970s when he began helping his father run the meyhane that was eventually passed down to him. Accessible through an ornate archway off Istiklal Avenue, the passageway has been a bastion of traditional Turkish drinking culture since the late 19th Century. Its taverns still proudly display black-and-white photos of the smartly dressed intellectuals and statesmen who socialized there from the area's late-Ottoman glory days through the first decades of the Turkish Republic.
One even claims to have been the meyhane of choice for the country's founding father, Mustafa Kemal Ataturk, a notorious lover of rakı, Turkey's ubiquitous anise-flavored liquor and a staple of the meyhane table, along with shared appetizers and seasonal fish. But even as the surrounding area and city at large filled with more modern and diverse alternatives, tourists and locals were still drawn to the passageway's history and location in the pulsing city center.
Lately though, its central location has been a liability. On a Friday night in November, just a smattering of patrons—a few families, a few out-of-towners—were dining at the passageway's prime outdoor tables, under heat lamps and clouds of cigarette smoke. Indoors, amid rows of empty tables, Topuz described his plan for a throwback event that he hoped would revive the flagging enclave—a night of live music attended by the aging writers, poets, journalists, and actors who once lent the Flower Passage a fashionable air. The night would also feature the discontinued brand of rakı that Ataturk himself used to drink.
But months later, the plan still hadn't materialized. Another bombing. Another crisis.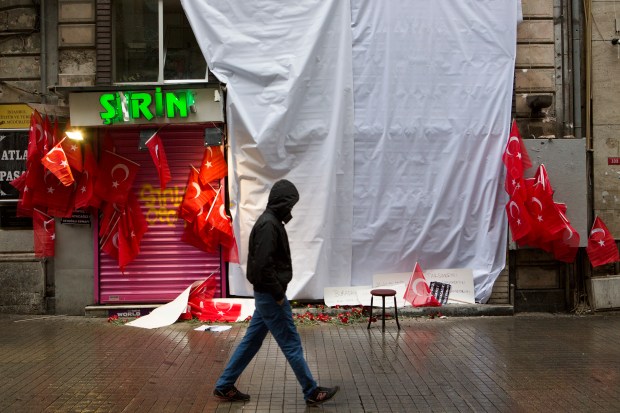 The unprecedented violence of the last year, though, has not stamped out the revelry of Istanbul after dark. The party has simply shifted to the city's more peripheral districts, where the mood is still dark, but fears of a terrorist attack are less oppressive.
The more subdued neighborhood nightlife hub of Kadikoy, a secularist stronghold on the southeastern edge of the Bosphorus Strait, has proved particularly resilient. At the end of a typically chaotic week in Turkey last November, which saw the jailing of politicians, the government throttling of social media, and an ISIS call for its followers to turn Istanbul's streets to rivers of blood, the cozy bars along Kadikoy's Kadife Street (nicknamed "Bars Street") were crowded. Twenty- and 30-somethings mingled outside under a light drizzle, beers in hand, while blocks away, families and couples watched soccer at Kadikoy's own strip of traditional meyhanes.
The managers and nightlife bosses who've kept the party going in Kadikoy through the country's recent tumult attribute the district's resilience to its defiant character and location, outside the city's more chaotic center. A pleasant ferry ride away from Istanbul's main tourist attractions, consulates and other obvious terrorist targets on the European side, Kadikoy has been shielded from attacks—a point locals tend to make with hesitation, as if declaring it too boldly would tempt fate.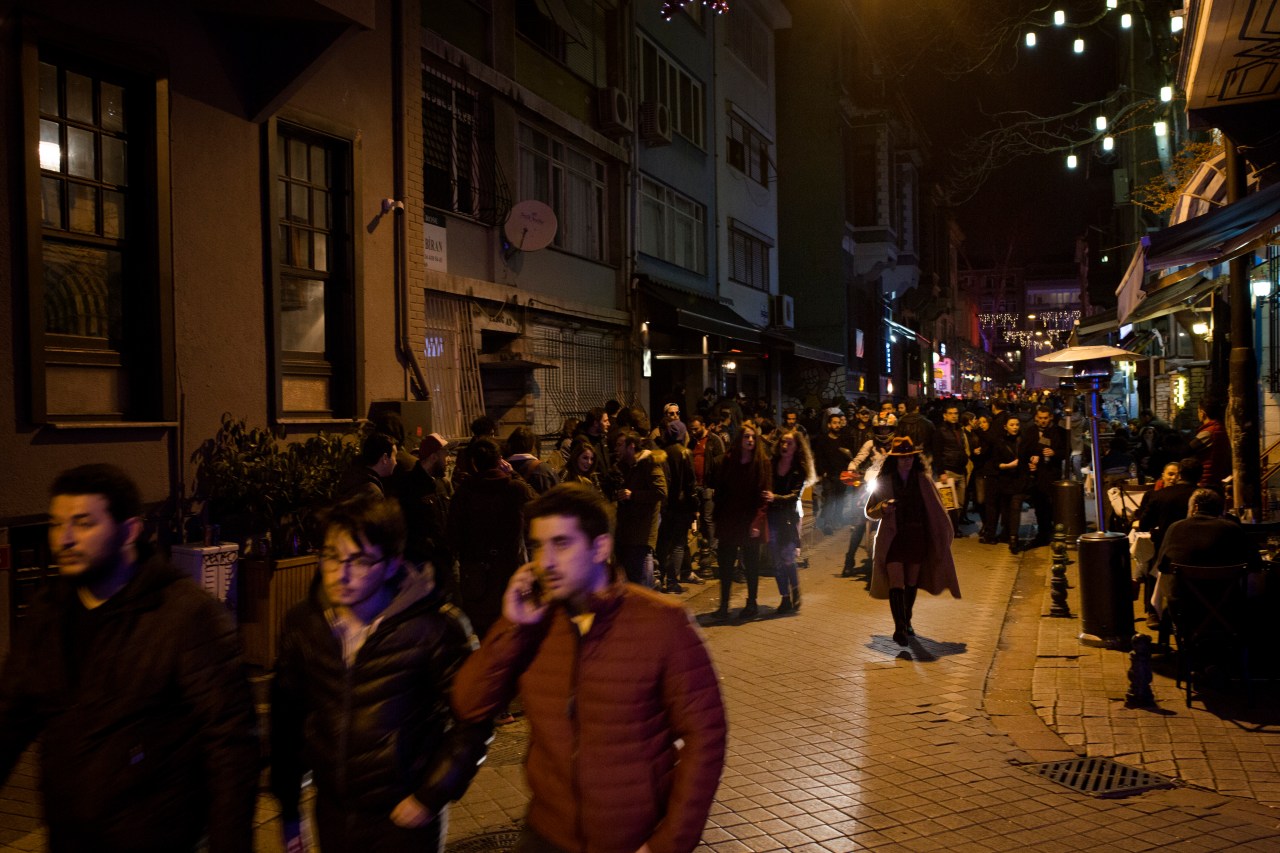 Still, faced with an elevated terrorist threat and nationwide state of emergency in the wake of a failed coup attempt in July 2016, Kadikoy has shown characteristic determination to carry on, come what may.
Deniz Ozurer, who runs Punch Kadikoy, an intimate bar in a 70-year-old converted residential building on Kadife Street, recalled the deliberate decision he and fellow bar managers made to open for business the night after the terrifying coup attempt.
After patrons fled to their homes in panic that night, Ozurer and other business owners agreed over WhatsApp that they needed to set a resilient tone. Just a handful of people turned up to Kadife Street the following night, but within four weeks, he said, the crowds were back—expanded even with nightlife refugees from Istanbul's European side, who previously partied around Istiklal. "Kadikoy is a strange place," he said. "You can throw a bomb in the street and the next day people will be out drinking. It's an advantage."
Unlike Istiklal, a dizzying central thoroughfare as diverse as the country itself, Kadikoy is more homogeneous. Its reputation as a hub for intellectuals, booze-drinkers and the defiant has made it well-suited for the current security crisis—one acknowledged but unable to spook the youthful revelers on Kadife Street, who are still laughing and dancing amid the darkness.