Francisco Icaza wrote, "There is no greater shame in the world than being blind in Granada." The poet might be guilty of exaggeration, but it certainly would be a shame not to see Granada at all. Set amid the Sierra Nevada, packed with churches, former mosques, palaces, and plazas, the city seethes with history. It was in Granada that the Catholic monarchs vanquished the Moors in 1492, ending Arab rule in Spain. It was also the birthplace of the poet Federico Garcia Lorca, who often wrote how he loved this city "deliriously."
I have been living in Spain for the past six years now. I have traveled all over the country for my work, and Granada is a place I never tire of visiting. Whether getting lost in the entangled streets of its whitewashed Moorish quarter or traipsing from tapas bar to tapas bar in a greedy, boozy haze, I never struggle to find this city enchanting.
I remember Granada for many things. I remember the first time I listened to the pained wail of a flamenco singer shoot up into the night like a firework. I remember staring for hours at the infinite geometric patterns on the Alhambra's walls. I remember sitting in the Plaza Aliatar drinking a beer, a notebook of my lousy fiction in front of me. I remember the city making even that bearable.
There are many perfect days in Granada, but here's mine.
Leave your hotel early for some churros and chocolate.
You can find churros, a fried dough pastry, anywhere in Spain, but the variety served in Granada tends to be chunkier and crisper. Dunk it in chocolate and you have a perfectly tasty if imperfectly healthy breakfast. There are two places I recommend: Café Alhambra and Café Fútbol. Both are similar in their faded grandeur, sharp if dispassionate service, and excellent churros.
Wash your breakfast down with a cafe solo (espresso), and you're ready to start the day.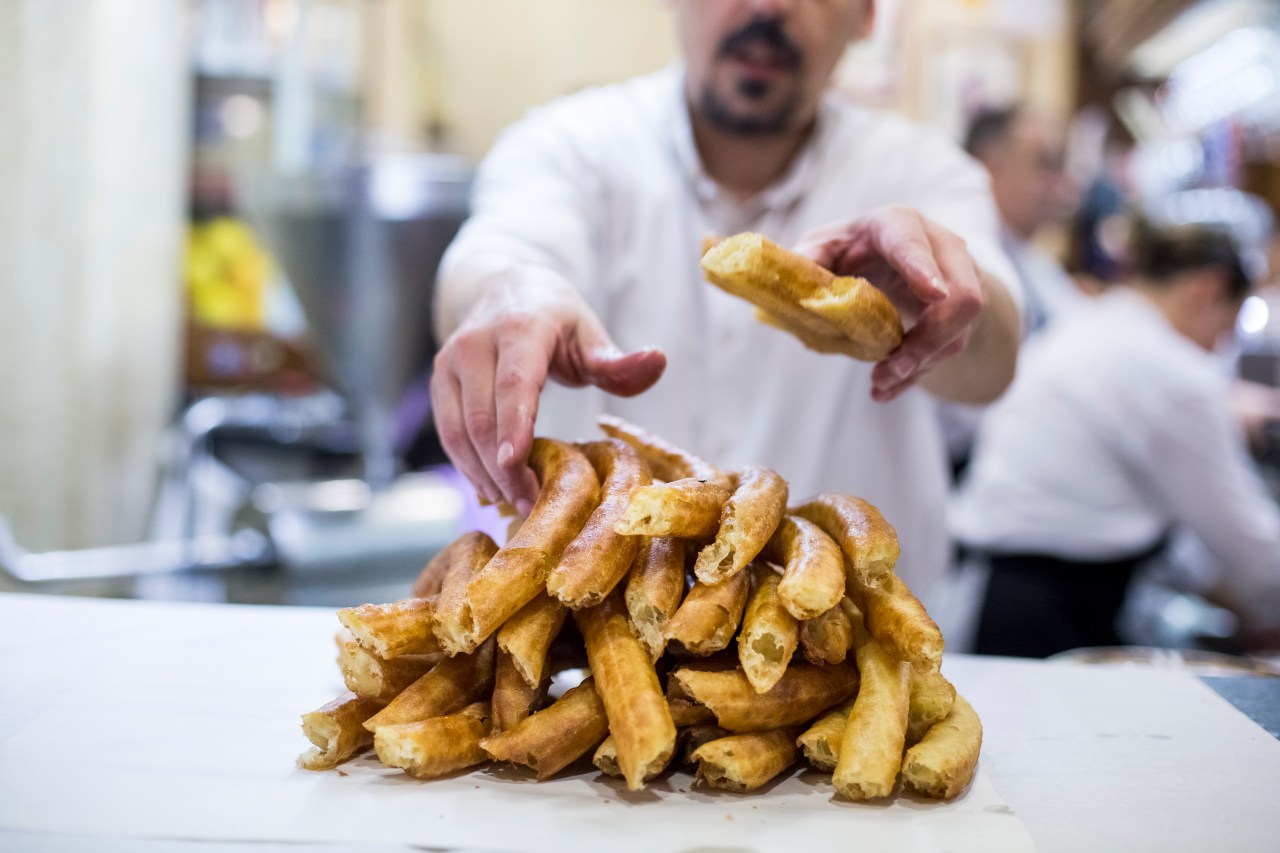 It's time to go to the Alhambra. Yes, I know, it's not the most original suggestion, but you're going to have to trust me. The Alhambra was originally built in 889 on the remains of Roman fortifications and started life as little more than a defense fortress. It became the formidable palace we recognize today only in the 13th century, when it was rebuilt by the Nasrid emir, Mohammed ben al-Ahmar. After the Moors were expelled from the city in 1492, the Alhambra became the court of the Catholic monarchs Ferdinand and Isabella.
Its presence is unavoidable for any newcomer to Granada, mainly because it can be seen from almost everywhere, looming over the city like an urban punctuation mark. Lorca described it as a "jasmine of grief," a Moorish teardrop from the watery eyes of history; a shrine to what the city and much of modern-day Spain once was. I spent four hours there on my first visit. You might need the same amount of time too.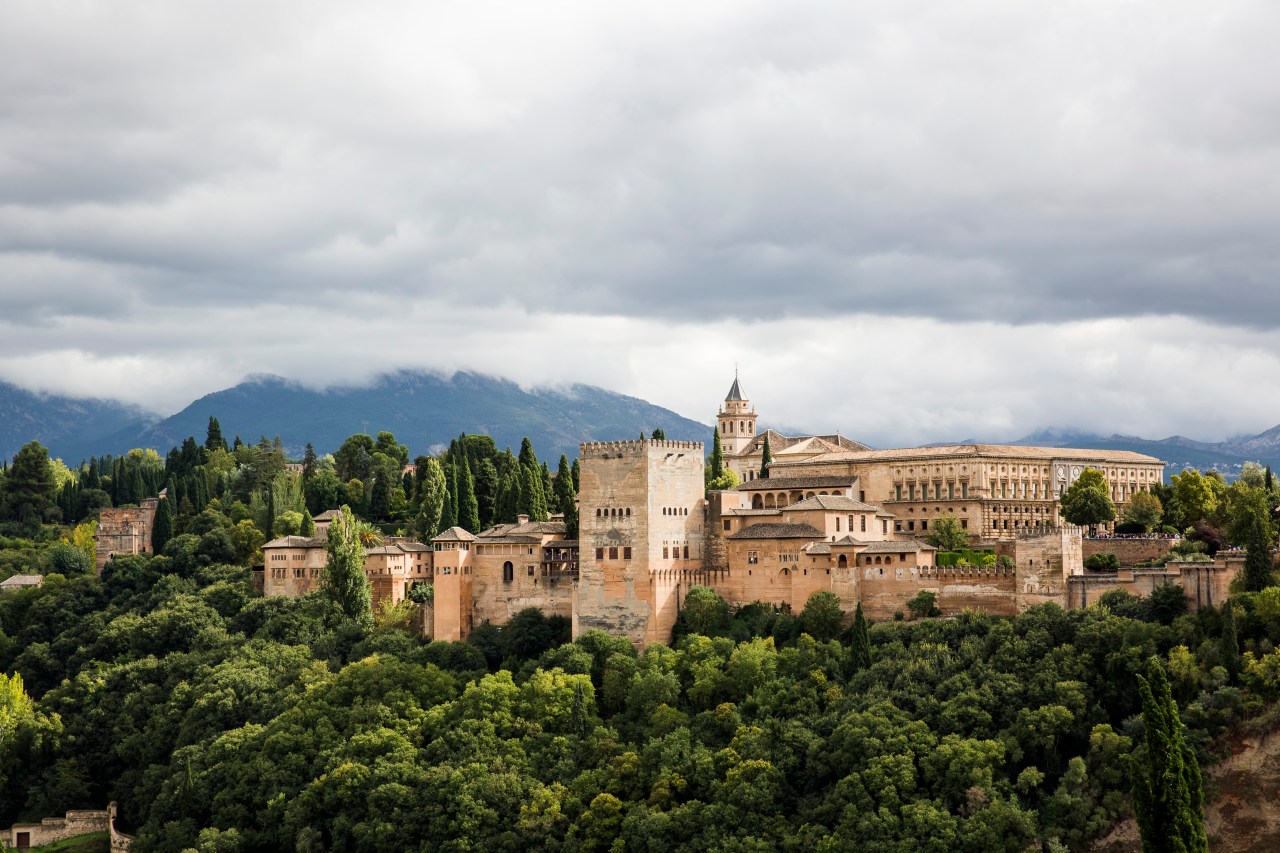 Leaving the palace, take a walk along the Paseo de los Tristes (Walk of the Sad), so named because it is the road to the San Jose cemetery, a sprawling 10,000-square-meter plot that dates to the 19th century. In the midday sun, wandering along with the banks of the Darro River, over cobblestones streets, passing luxuriant trees, teeming terraces and ornate fountains, look up to see the imposing facade of the Alhambra on one side and the whitewashed Moorish neighborhood of Albaicin on the other. For me, there is no better place from which to experience the city's preternatural beauty. It's also a good way to build up an appetite for lunch.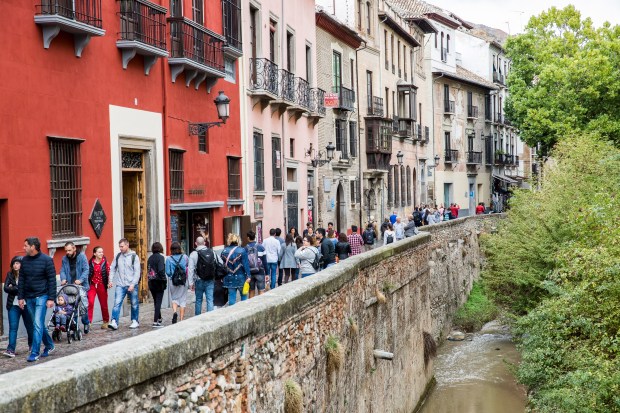 If Spanish eating times are a bit beyond your abilities, stop in at the very unusually decorated Bodega Bella y la Bestia for a prelunch drink and bite to eat. It's usually open around midday. If not, carry on into the center of town, to the Centro Federico Garcia Lorca. This is a museum where you can learn all about the life of Lorca and the city that he said "formed him." Granada was the place to which he owed much of his artistic inspiration and the city where he died, shot by Francisco Franco's nationalists in the first months of the Spanish Civil War. Sneak in for an hour or so before it closes for lunch at 2 p.m.
Now we're getting to my favorite part. In Granada, eating is like nowhere else in Spain. Whereas in other Spanish cities you might be lucky to get a slice of chorizo served with your beer or wine, in Granada you can get a whole meal. In the most reputable bars, drinks come with hefty complementary servings of tapas, which means that eating is, for all intents and purposes, free. Here's where you should go.
Start off in Bar los Diamantes on Navas Street. This place, open since 1942, is legendary among tapas bars in Granada, so be prepared for it to be packed. If you can find that little gap at the bar or by the door, your discomfort will be worth it. With a small beer or wine, you can expect gargantuan bowls of anything from lamb sweetbreads to clams in salsa verde; it depends on what's available.
Close by is Taberna el Aviso. There the tapas are enormous, some of the biggest I've seen in the city, the beer ice cold, and the atmosphere boisterous and loud. While dodging your neighbor's wild gesticulations and wincing through his sharp cackles, you can expect things like grilled pork sirloin and chicken wings.
Next head to the bar El Rinconcillo M&D. There you'll get good wine and plates of homemade pâté or meatballs in tomato sauce. Also, if you're willing to pay for your food, this place does great fish.
Then go to Bodegas Casteñeda. This is another very famous bar in Granada, and it, too, is always full. Although it is renowned for good tapas, what you really go there for is the booze, especially the caliscasa, a combination of local sweet wines. The vermouth is very good too.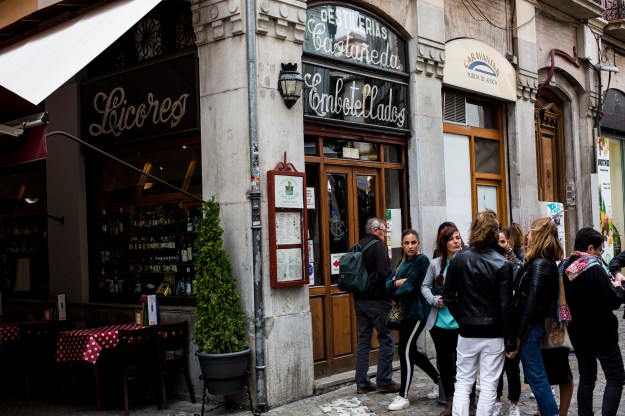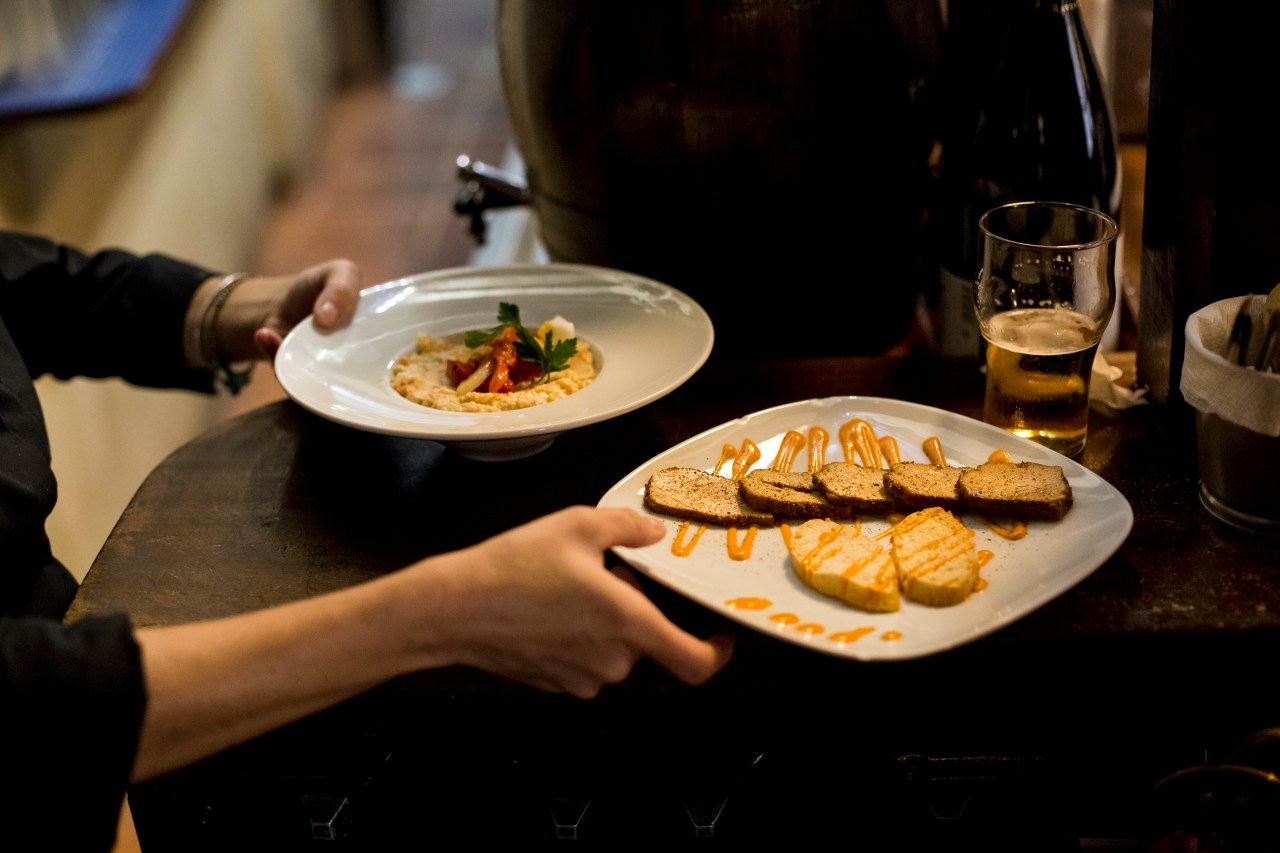 5:30
pm
Ermita de San Miguel
Calle Patio de la Alberca, 36
Get Directions
It's time to walk off the food. From the city center, you're heading for the Ermita de San Miguel, a small church perched on a hill from which you can view the sprawling splendor of Granada, a city of some 230,000 people perched in the Sierra Nevada, 2,400 feet above sea level. It was one of Lorca's favorite spots in Granada, a place where he could get away from the crowds and think about his art.
For me, the best bit about this walk is that you can get lost in the narrow, sinuous streets of Albaicin, which was declared a UNESCO site in the 1980s. There Moorish architecture melds with Christian churches, producing an alluring beauty that will help with the steep slope to the church.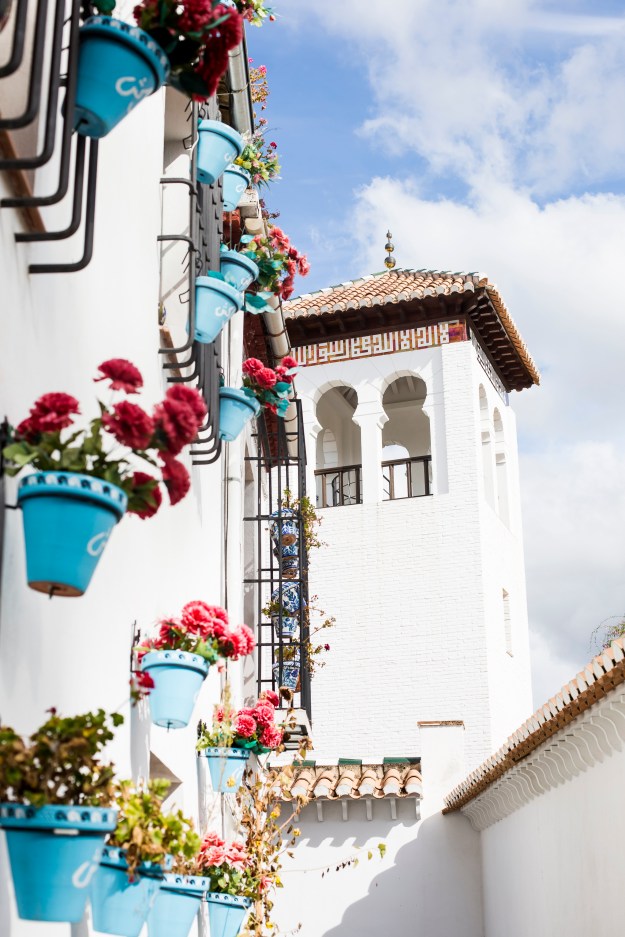 Yes, it's time for dinner and yet more food.
You have two options: continue on your tapas crawl, checking out new spots such as Entre Brasas and Bodegas Espadafor (in and around the city center), or stay in Albaicin and opt for something a bit different.
Along with other hotspots like Seville and Jerez de la Frontera, Granada is famous for its flamenco. The visceral, sweaty performance of swishing dresses, fierce claps, piercing wails, and violent stomps is an inescapable part of nocturnal Granada. For me, a perfect day there would be incomplete without it.
There are lots of places that you can go to watch tablaos, organized flamenco performances, but some can be touristic and overpriced. If you want to see something more authentic, head to the Peña la Plateria, in Albaicin. This is a private club, but every Thursday it opens its doors to the general public. Phone ahead to book tapas and drinks at the venue before the performance starts around 10 p.m.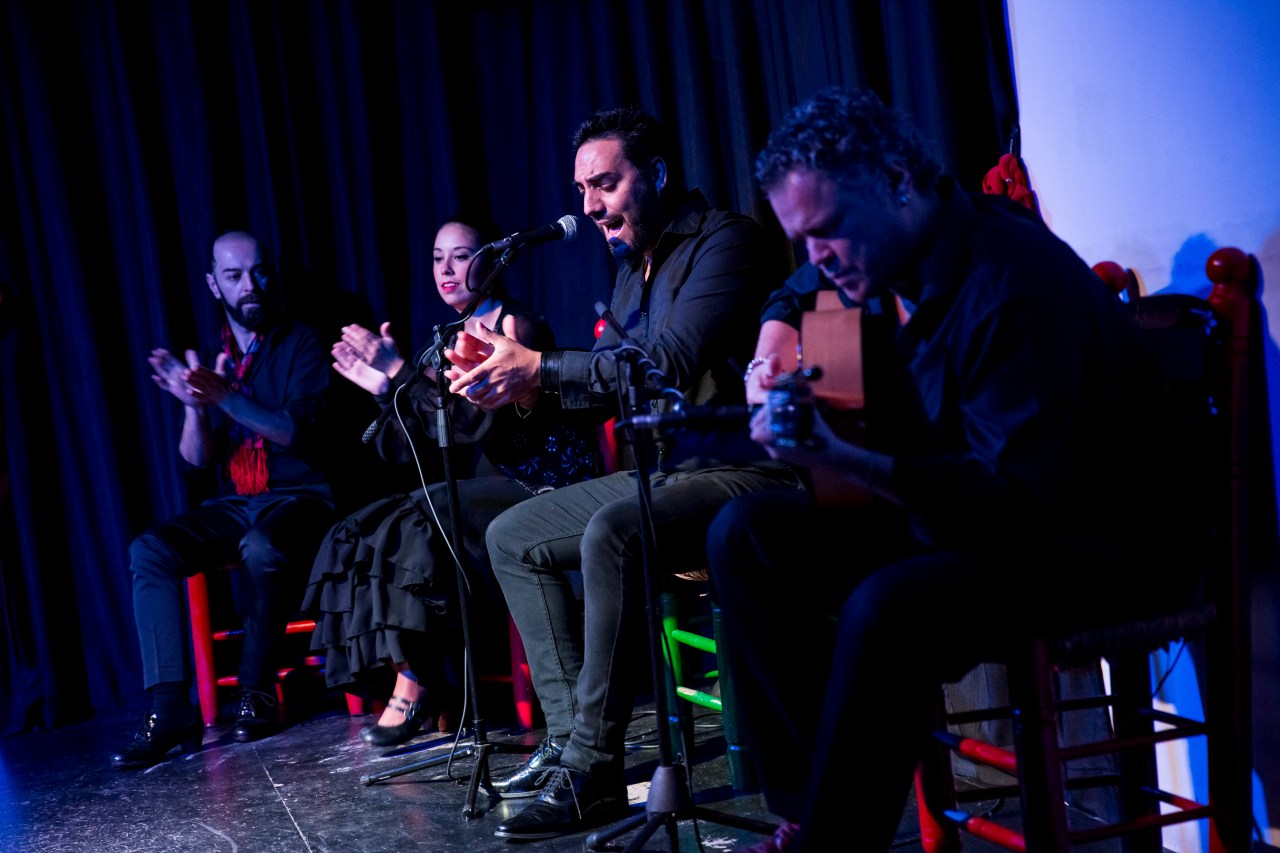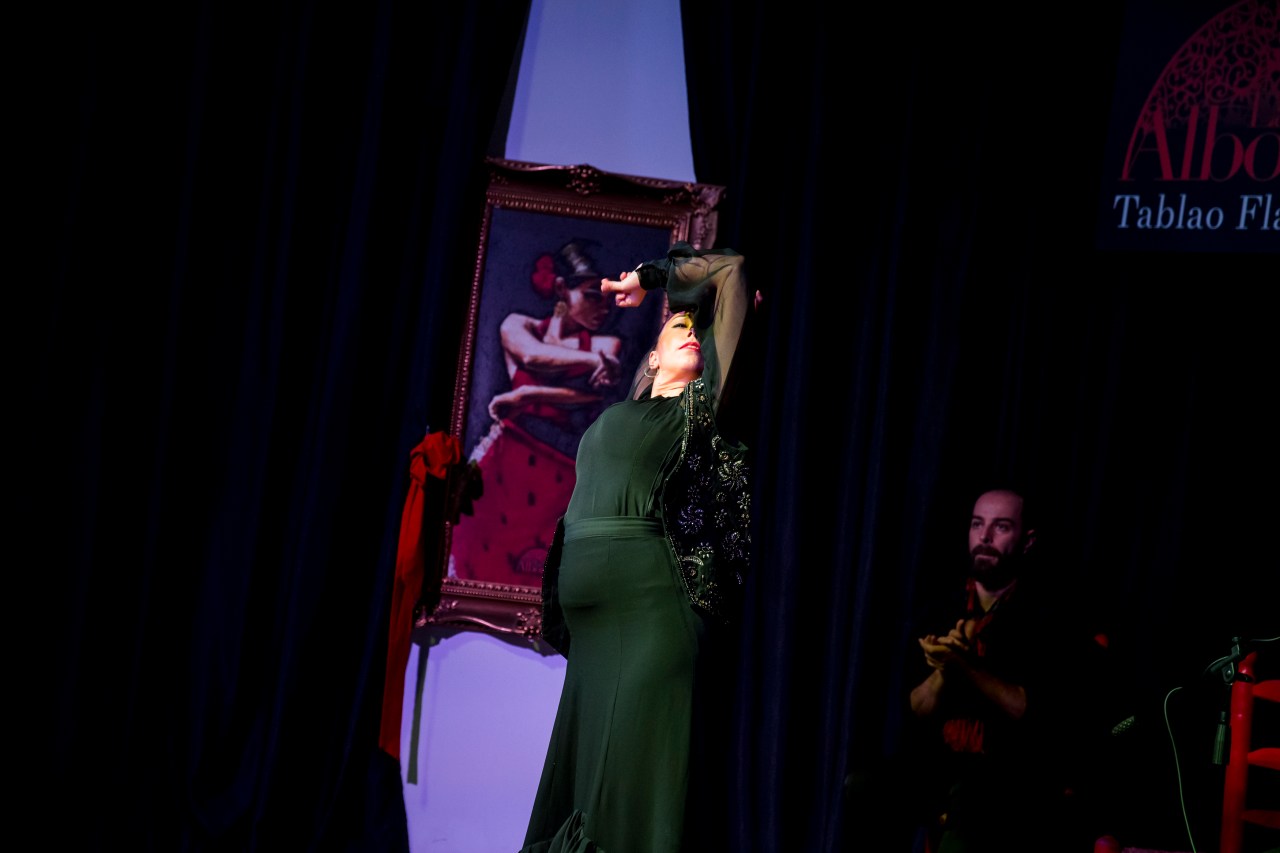 If you've been left energized by the flamenco performance, head on to what is my favorite bar in the city, El Rincón del Cofrade. It's an unusual place, "baroquely Christian," as the local owner, Vicente del Paso Cirre, likes to describe it, cluttered with religious ephemera dedicated to Spain's holy celebration of Semana Santa. At midnight every day of the week, the owner switches off the lights and sings a salve, a special hymn, which causes many of the regular clientele to burst into song. It feels a little like a cult gathering.
Finish with a strong Spanish gin and tonic, and you've had a perfect day.