Paraguay has long been off the backpacker trail, with some reason. The landlocked country lived through South America's longest dictatorship—that of Alfredo Stroessner (1954–89)—while lingering poverty and inequality and a reputation for corruption and seediness have conspired to keep visitors away.
It's also really hot. Temperatures and humidity turn up to sauna levels during the summer.
But an agribusiness boom and an exploding youth population—nearly 60 percent of Paraguayans are under 30—are transforming the country at a gallop. Nowhere is the mix of urban and rural, European and mestizo, tradition and revolution more beguiling than in the capital, whose official name is La Muy Noble y Leal Ciudad de Nuestra Señora Santa María de la Asunción. But you can just call it Asunción—or Asu for short.
Founded by conquistadors in 1537, it's one of South America's oldest and safest cities, and its time-worn feel ends up being its biggest asset: Where else can you spot a horse and cart racing a Hyundai, drink ice-cold beers in a dilapidated mansion, and practice your Guaraní over a steaming bowl of vori vori, a beef-and-dumpling broth whose recipe hasn't changed in a century?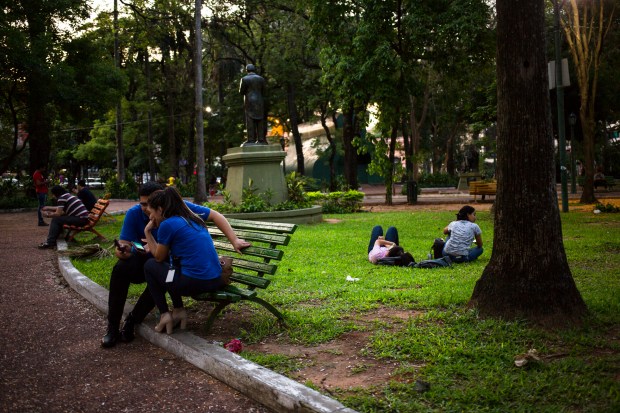 The traffic, buses, and afternoon heat are unforgiving, so most asunceños get up early. Follow their lead and head to Plaza Uruguaya for a cheap alfresco breakfast.
You can pick up a few chipas (squeakily chewy bread rings made of manioc starch and cheese) from the street vendors who carry brimming baskets of the stuff on their heads—or listen for the pumping techno siren of the Chipa Barrero car. More indulgent varieties, like chipa quatro queso (with four cheeses) or chipa so'o (filled with seasoned minced beef), are available from bakery chain Ña Eustaquio. Wash it down with a cup of sugary cocido (burnt yerba mate), poured straight from the jerrican.
Plaza Uruguaya is a prime spot for people-watching: You'll see shoeshine boys, student protesters, evangelical groups, and the guy dangling goldfish off a stick in globular plastic bags. Look for the new statues of Agustín Barrios Mangoré (1885–1944), the wunderkind classical guitarist with a Prince-like talent for self-reinvention, and of national bard Augusto Roa Bastos (1917–2005), who described Paraguay as an "island surrounded by land."
On the south side of the plaza is the ornate, crumbling train station, built in 1861, complete with British machinery and steam locomotives that haven't budged in a decade. Plans are underway to resurrect Paraguay's railways with an electric passenger service from here to the outskirts of Asunción, part of broader plans to improve mobility in the capital.
Amble along Calle Palma to Paraguay's kilometer zero—meaning highways measure their distance from this spot—the Panteón Nacional de los Héroes, a 19th-century church that was repurposed as a mausoleum in 1936. It reopened after a major makeover in August 2018, just in time for the 150th anniversary of the battlefield defeat and death of its most famous resident, Mariscal (Grand Marshal) and President Francisco Solano López (1826–70).
Dug up 66 years after his death in the northeast jungle, the remains of López and other eminences rest in coffins inside the pantheon, draped in the tricolor and guarded by bayonet-wielding soldiers.
Fearless patriot to many, oafish brute to some, López led Paraguay against the combined armies of Brazil, Argentina, and Uruguay in a ferocious conflagration that wiped out at least half the country's population: the War of the Triple Alliance (1864–70), also known as the Guerra Guasú (Great War). The culinary, cultural, and economic influence of Buenos Aires and Brasília is powerful to this day, and many still have mixed feelings about the behemoths next door.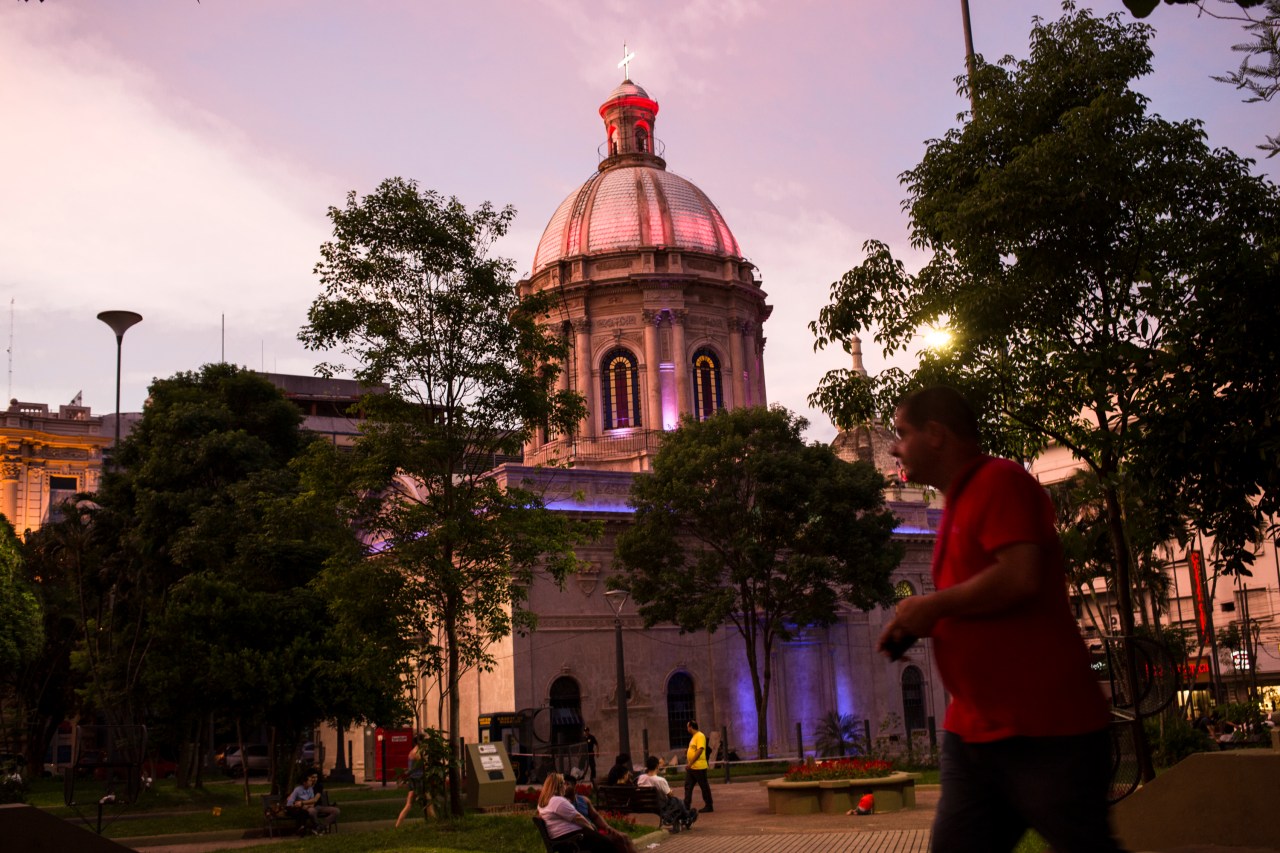 Temperatures rise fast, so score some tereré (chilled yerba maté) in the adjacent Plaza de La Libertad. Mint, ginger, and other curative herbs are mashed up by yuyeras with wooden mortars, and you can get plastic bags of ice from any despensa freezer.
Or ingratiate yourself into a circle where a guampa (gourd) of the traditional infusion is passed around and sipped by each participant until empty, then passed back to the pourer in turn. Important tereré etiquette: Don't say gracias until you're fully refreshed, and under no circumstances should you stir the damp yerba with the bombilla (straw)—it supposedly ruins the already bitter flavor.
The plaza is also a good place to pick up traditional and indigenous handicrafts: intricate, embroidered, lacework ñandutí ("spiderweb"); a comfy knitted hammock; or a flask clad in fine leatherwork.
11:00
am
Café Consulado
O'Leary Street, Palma 299, Local 7
Get Directions
When it rains in Paraguay, it pours—and the streets often flood. Shelter is available at Café Consulado, a small but welcoming coffee shop that offers vegan-friendly brunches and snacks.
The brick walls display a changing set of punkish art for sale. Come back in the evening for cinema projections, live music, chess competitions, and chilled bottles of Indio pale ale, named after Paraguay's top featherweight boxer and sometime South American champ, Darío "Indio de Oro" Azuaga.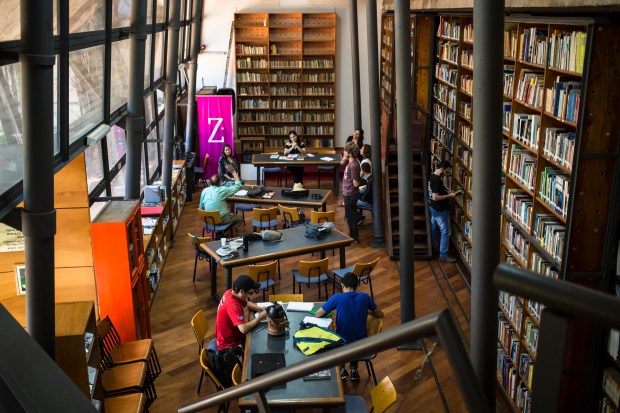 A venue for Spanish cultural diplomacy, the Juan de Salazar hosts a library, art shows, theater, Paraguayan movies, and a Saturday farmers market where you can pick up a massive range of cheap, organic, family-grown produce, including grapefruits, lemons, mandarins, homemade jams, mbokajá (a sweet palm-tree fruit), and vegetables.
One recent exhibition framed selected images from the locally curated Instagram account Everyday Paraguay: Look online for fresh, unexpected snapshots of urban and rural life by up-and-coming photographers.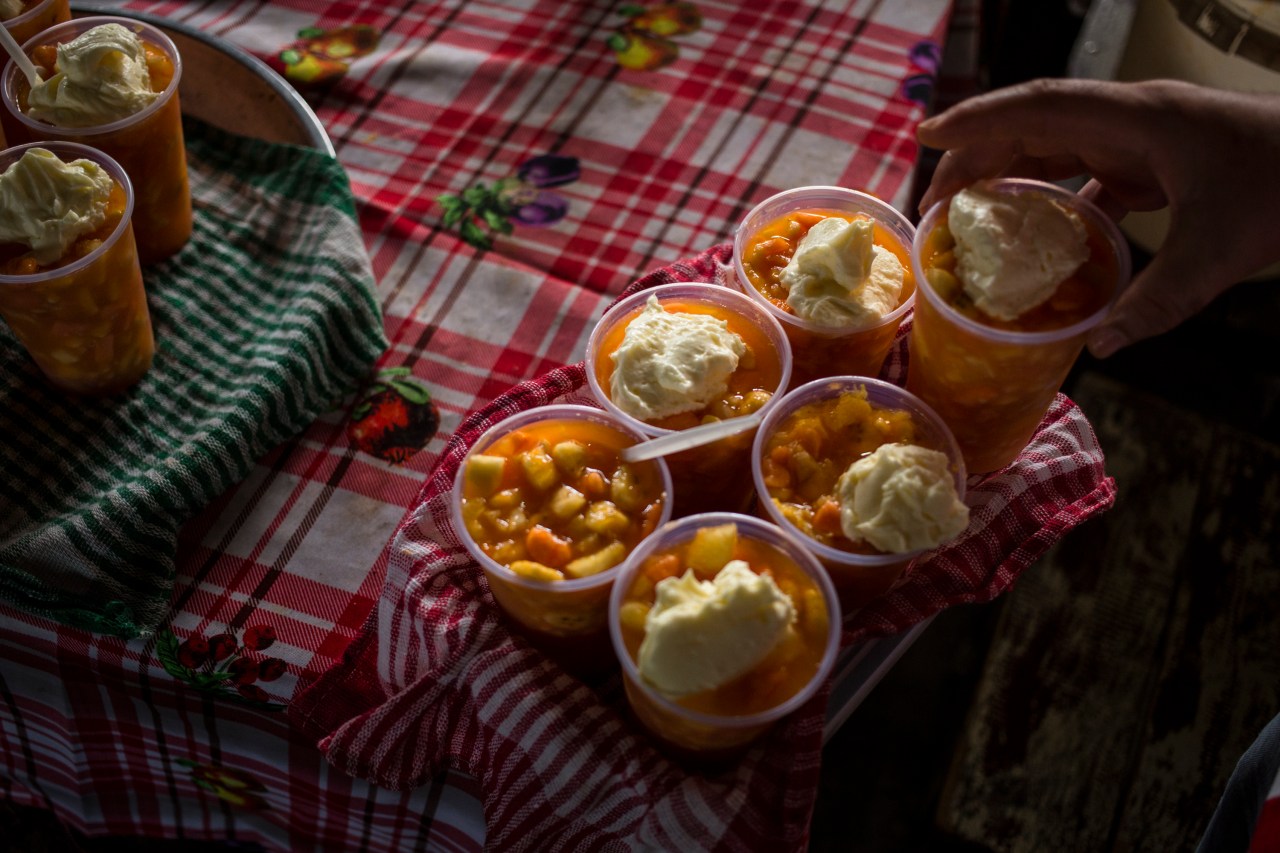 For a slice of traditional and rural Paraguay, take a taxi—or brave a lurching, colorful, and diesel-belching bus—to the Mercado Cuatro. A warren of huts, passageways, and webs of electrical wiring, almost everything is for sale here, including cheap electronics, imitation football shirts, newborn chicks dyed pink, and even—it's rumored—endangered wildlife (like giant armadillos and feisty jaguarundis) from the Chaco, the thorny scrub desert that makes up the northwestern half of Paraguay.
Ask for directions to the food area and pull up a seat at whichever comedor (diner) strikes your fancy. Some stalls offer Korean and Taiwanese cuisine, the legacy of historical migration and close diplomatic ties with Taipei. But the classic dish is sopa vori vori, a warming, protein-rich soup with beef dumplings in a delicious, greasy broth. A full meal is unlikely to cost much more than $4. Try Comedor 33, belonging to octogenarian Doña María and her daughter Ibe.
The Mercado is also a great place to hear people chatting in Guaraní, one of Paraguay's two official languages and spoken to some degree by perhaps 90 percent of the population.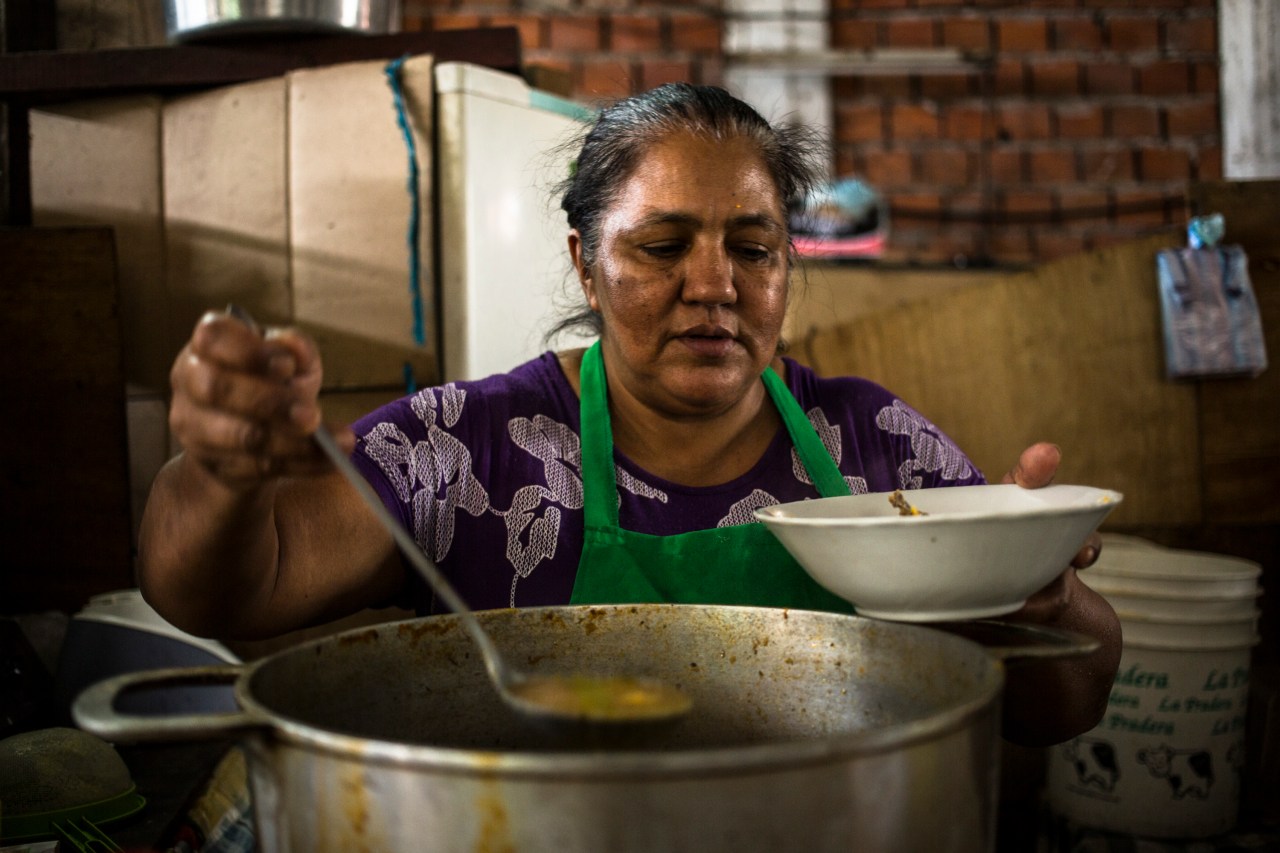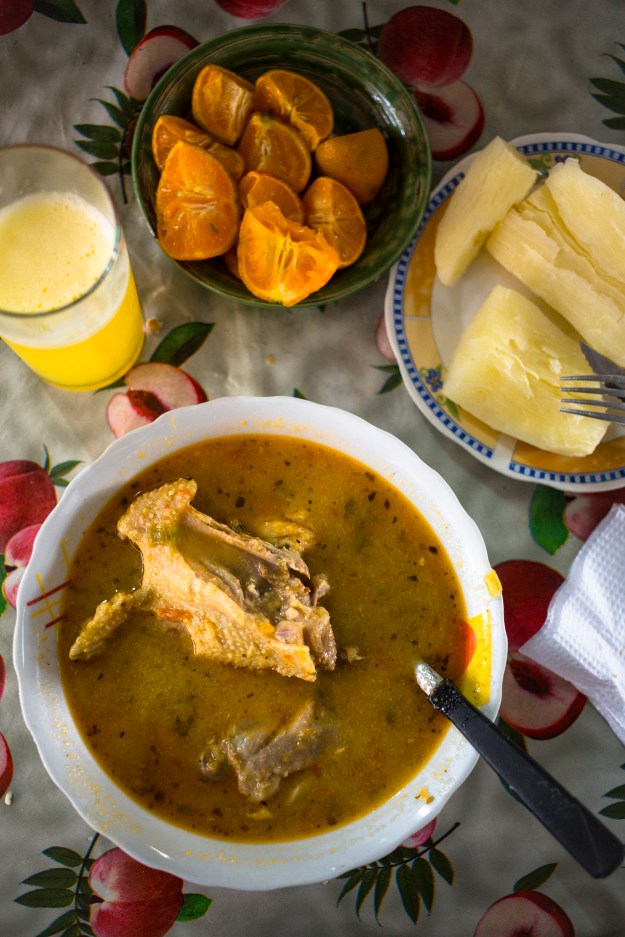 2:30
pm
Centro Histórico
Presidente Franco and 14 de Mayo Streets
Get Directions
Head to Asunción's historical center (roughly, the Catedral district between Colón and Antequera Streets), where flamboyant lapacho trees line the streets, decrepit palaces slope down to the river, and overripe oranges pile up on the sidewalk. Check out the faded tower blocks, beautified—thanks to a 2016 graffiti project led by local artist Oz Montania—by towering murals of pixelated jaguars, 1930s airmen, and indigenous warriors.
If you're lucky, you might coincide with a tour (#fotocaminata) led by urban documentary initiative Fotociclo, which aims to chronicle the 70 or so neighborhoods of Asunción.
Recent tours have visited the housing settlements by the river, where residents are displaced by flooding from December to May, a problem that is getting steadily worse due to climate change.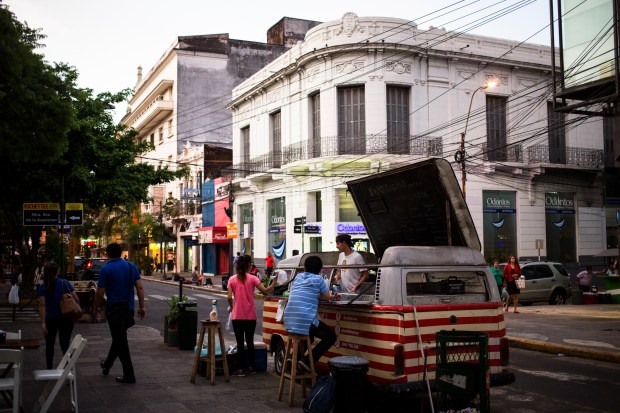 3:30
pm
Negroni Rooftop at Dazzler
Aviadores del Chaco Avenue
Get Directions
Many tourists steer clear of the somewhat soulless bars and cavernous malls around the ritzy business district out east. But to get a sense of the new Paraguay, it's worth heading somewhere high—like the Negroni Rooftop at Dazzler—for cocktails. It's not the heat haze or a mirage: The two towers either side of Paseo la Galería are indeed undulating skyward, adding to the sense of unreality.
Paraguay's economy is the fastest-growing in South America, although some fret about the impact of dirty money from marijuana and cigarette smuggling. Others ponder whether the bulldozing of Chaco scrub and Atlantic Forest for soybean estates and cattle ranches can continue forever. For now, places like Dazzler are where the upper classes go to enjoy the boom times.
Just across the road is the Museo del Barro. The "Mud Museum" houses almost 9,000 items of Paraguayan and Latin American art, including phallic pre-Columbian ceramics, sleek wooden animal carvings, riotous headdresses, and a bewildering collection of Jesuit-era wooden sculptures and naïf oil paintings. Haunting installations by late co-founder Carlos Colombino recall dark episodes in Paraguay's recent history, like the 2012 Curuguaty killings, a rural standoff that led to the deaths of 11 farmers and six police officers.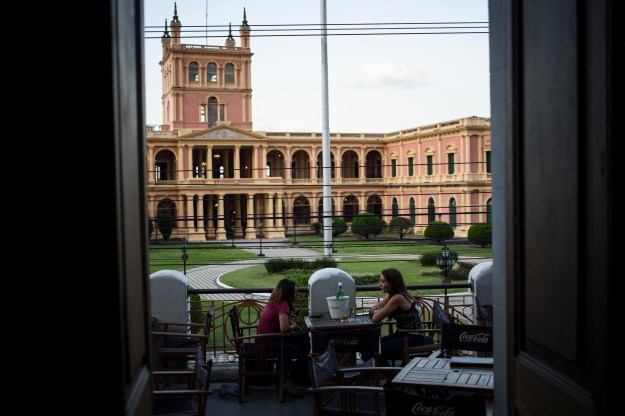 6:00
pm
La Costanera
Costanera José Asunción Flores Avenue
Get Directions
Head to the far end of the river esplanade, by the old port, for the best show in town.
From beneath a pair of rusty cranes, catch one of the rickety passenger boats across the bay to the village of Chaco-i, which boasts a perfect view of the city's skyline. If that last bar to optimistically open here has shuttered, you can buy cans of Ouro Fino from a local's fridge.
Poke around the dirt roads and relish the quiet while you still can. A tech village is planned a stone's throw upriver, alongside soybean ports and logistic centers. The hope is that Paraguay's strategic location, cheap labor, and near-unlimited renewable energy (thanks to the Itaipú Dam) can transform it into the China of South America.
Hop on the boat back to the city in time for sundown: dark reds, pinks, and purples, even a flash of green. The reflection from the water, smog from bush fires, the flat horizon, and subtropical latitude make for a pyrotechnic sunset.

It's still 1974 at Lido Bar, where patrons hunker down at a horseshoe-shaped marble counter and matronly servers in beige uniforms yell orders to an upstairs kitchen. You could go for a milanesa (breaded beef or chicken cutlet), which entirely covers the dinner plate it's served on, or a bife koygua (steak drowning in browned onions and fried eggs).
If it's just a snack you're after, try a chipa guazú (cheesy corn cake with a crispy crust) or its spongier cousin, sopa paraguaya (hint: It's not a soup). The house favorite is the caldo de surubí (catfish), served with a briochelike bun to scoop up the tender white chunks of fish and soak up the broth.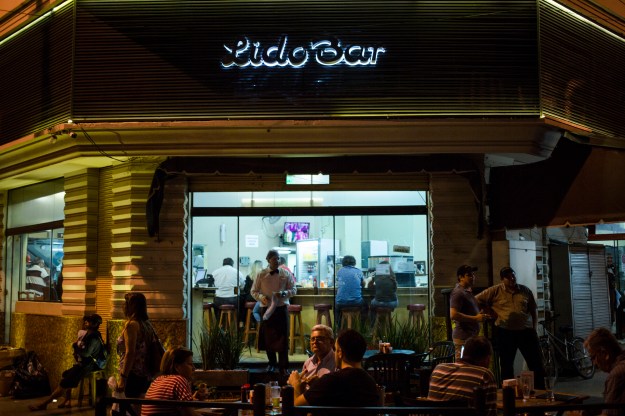 9:00
pm
Palmeando in the Centro Histórico
Mariscal Estigarribia and Caballero Streets
Get Directions
Fancy clubs cluster around Paseo Carmelitas out east, but recent years have seen bohemian nightlife flourish in the once-rundown historical center. Calle Palma is the main hub for bars and eateries, lending its name to the act of promenading down the strip: palmeando.
Start your crawl in style at the Mariano Domingo Bar, a retro cocktail lounge on the ground floor of the Hotel Chaco. Ask for a makaña—rum with white wine, smoked yerba maté, and orange peel—and check out the plaque in the lobby commemorating Stroessner's opening of the hotel in 1975.
Graduate to Arsenal Cué across the street, a popular after-office haunt, where cheap classic Pilsener is served by the liter in ice buckets. If you stay long enough, the whole bar will be singing along to Brit-pop and early-aughts indie hits.
Escape to El Poniente, an artfully shabby fin de siècle palazzo, where the crowds spill out onto the street. The caipirinhas are frosty, there's live music most weekends, and the chalkboard boasts a good range of beers—try a Sajonia.
Along the way you might catch premier power-pop and avant-garde "no wave/new wave surf band" Eeeks (their description); home-grown ska/rock/cumbia heroes Kchiporros; and, if she's in town, rising star of neoperreo (a lurid reggaeton offshoot) Missil.
12:00
am
Barbarella Bar
875 Luís Alberto de Herrera Street
Get Directions
In a strictly conservative country, Barbarella is one of the few nightspots where LGBTQ people (and allies) can let their hair down. It's also the rare club in el centro that departs from the standard diet of stale indie rock, opting for pop and dance hits instead.
Just across the street is the striking residence of Serafina Dávalos (1883–1957), Paraguay's feminist pioneer and its first female lawyer. She never married, living instead with her constant companion Honoria Ballirán. Perhaps they would have approved of all the Lady Gaga anthems.
A gourmet spot for government suits during the day, Bolsi comes into its own in the early hours (it's usually open 24/7). Go for some post-party comfort food. Take a seat at the counter, eye level with the golden rows of coxinha (pear-shaped parcels of chicken and gooey cheese fried in breadcrumbs), and try in vain to order anything else. Add liberal helpings of Heinz mustard and salsa picante to taste.
The "best food south of Plymouth Rock," as an LED sign proudly proclaims? At this hour it might well be.