When you think of Lyon, you probably think of gastronomy, of impossibly good French food, and of Paul Bocuse, the three-Michelin-star chef who brought French cuisine international fame. And you know what? Your intuition is 100 percent correct.
Lyon was declared the "world's capital of gastronomy" by a famous food critic in the 1930s. So a perfect day in Lyon without eating would be blasphemous.
I grew up in Lyon, but whenever I walk through the city's streets, it's still a surprise to see the abundance of bakeries, pastry shops, and restaurants. I sometimes wonder how tourists must feel with so many temptations at every turn. I don't live in Lyon anymore, but whenever I go back there, I feel this shock. And it's a welcome, delicious shock.
However, Lyon cannot be reduced to its fantastic range of delicious dishes. History breathes from every corner here. Ten percent of the city is made up of UNESCO world heritage sites.
Also, Lyon is smart. Yes, you eat well, but the city makes you walk a lot to see its wonders and surprises. So slip on a pair of comfortable shoes, grab a backpack, your swimsuit, and a light towel, and let's start our perfect day.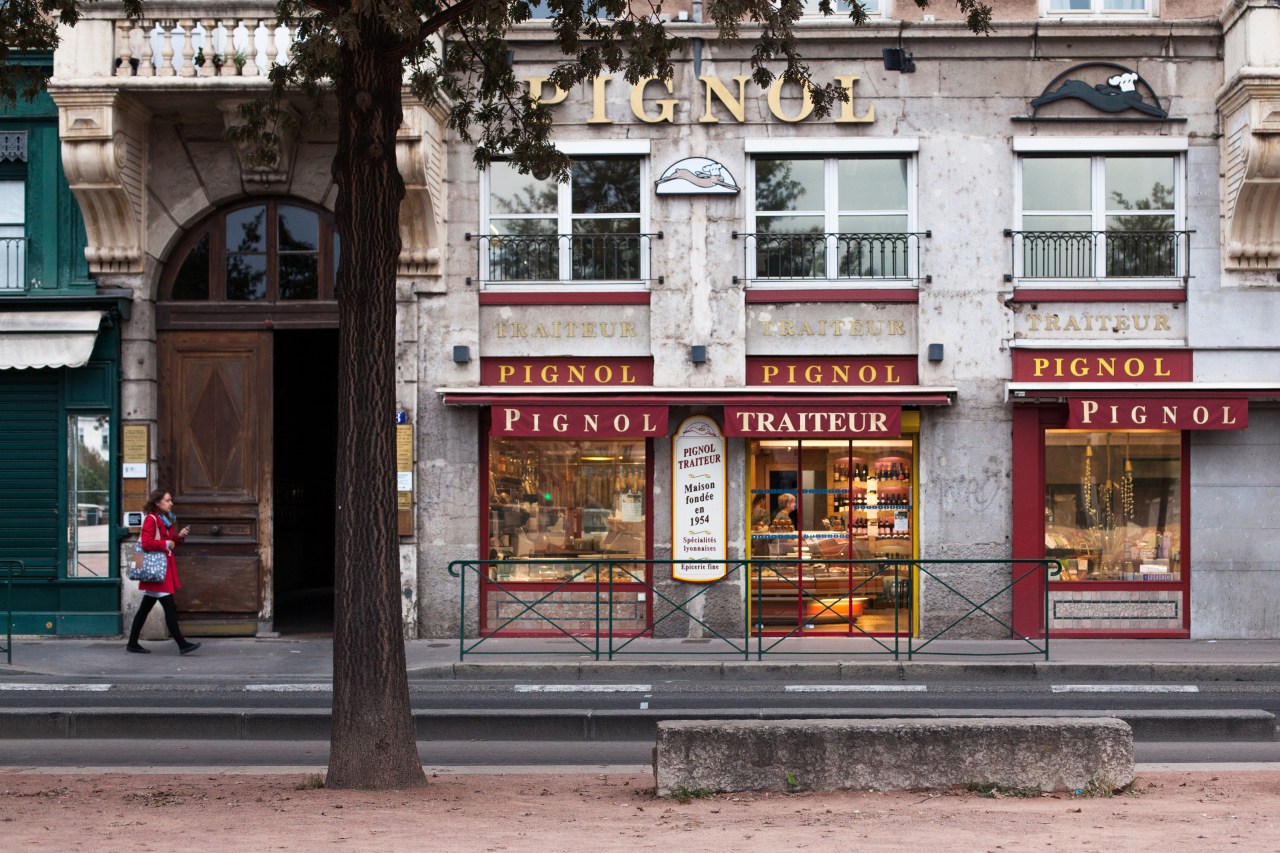 Your perfect morning starts at Traiteur Pignol Bellecour. Lyon has plenty of fine delicatessens, and this is one of my favorites; whether it is due to the salmon puddings, salty pies or pâtés en croute, I can't decide. I suggest you grab one or two of these treats and then head to Pignol Zola, a famous tea room.
When you leave Traiteur Pignol Bellecour, take the first street on your right, onto rue Emile Zola. Order a classic: double espresso and a Pignol croissant. These are so mellow to the taste and crispy on the outside, as they need to be.
If the weather is beautiful, as it often is in Lyon, I would take all these treasures to go and enjoy them in one of my favorite outdoor places, Place des Célestins.
To get there, go down rue Emile Zola, turn left on rue des Archers. in front of you is the Théatre des Célestins. It's an Italian-style theater and one of the oldest working theaters in France. Sit down on one of the many benches surrounded by trees and enjoy your Pignol breakfast.
After breakfast, stop at the telescope in the center of Place des Célestins. When I was a little girl, I loved to peep inside this because it hides a surprise. Look through the telescope to see a work of art, Sens dessus-dessous, by Daniel Buren, one of the most famous contemporary artists in France. The artwork is a view of the car park below, and a rotating mirror moves to reflect the architecture. It is an unusual experience in this urban area.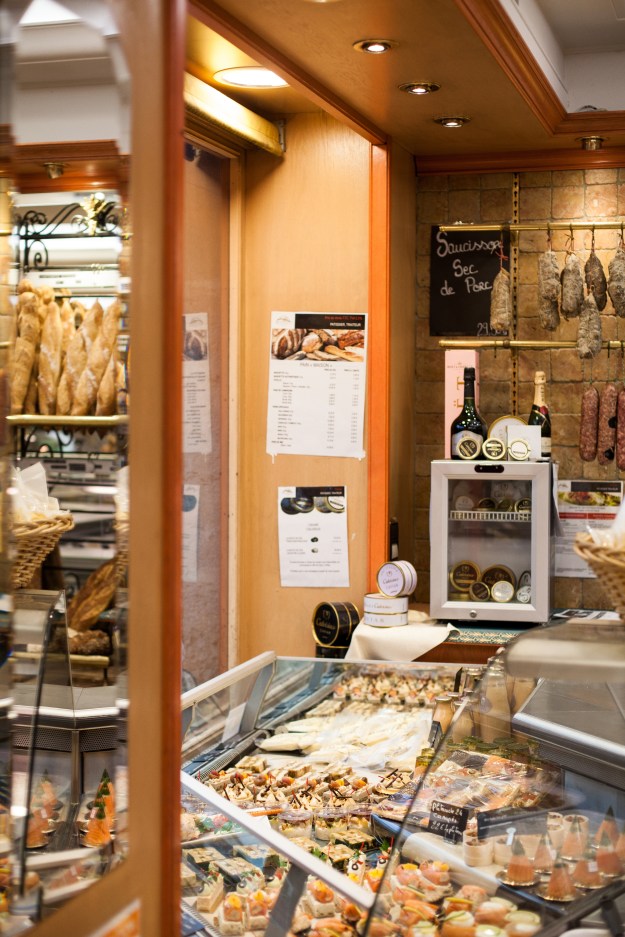 Take a look inside the ornate lobby of the Théâtre des Célestins (open on Saturdays) or buy a ticket to see a play. But be warned, most productions are booked up well in advance.
Now it's market time.
Take rue Gaspard André, on the south side of Place des Célestins. André is the architect who designed the theater. Walk past the Hotel des Artistes. From there you can see the Saône riverbanks and the tops of the market stands at Marché Alimentaire St.-Antoine Célestins (6 a.m. to 1 or 2 p.m., closed Mondays). However, what will interest us is what is hidden under the myriad of little tents.
I recommend that you take an hour to explore this farmers market and try to get some Rhône-Alpes-Auvergne cheese. My favorites are fourme de Montbrison and gapron d'Auvergne. However, don't buy cheese if you visit during the summer, because your bag will remind you and everyone within sniffing distance of your perfect day in Lyon … forever.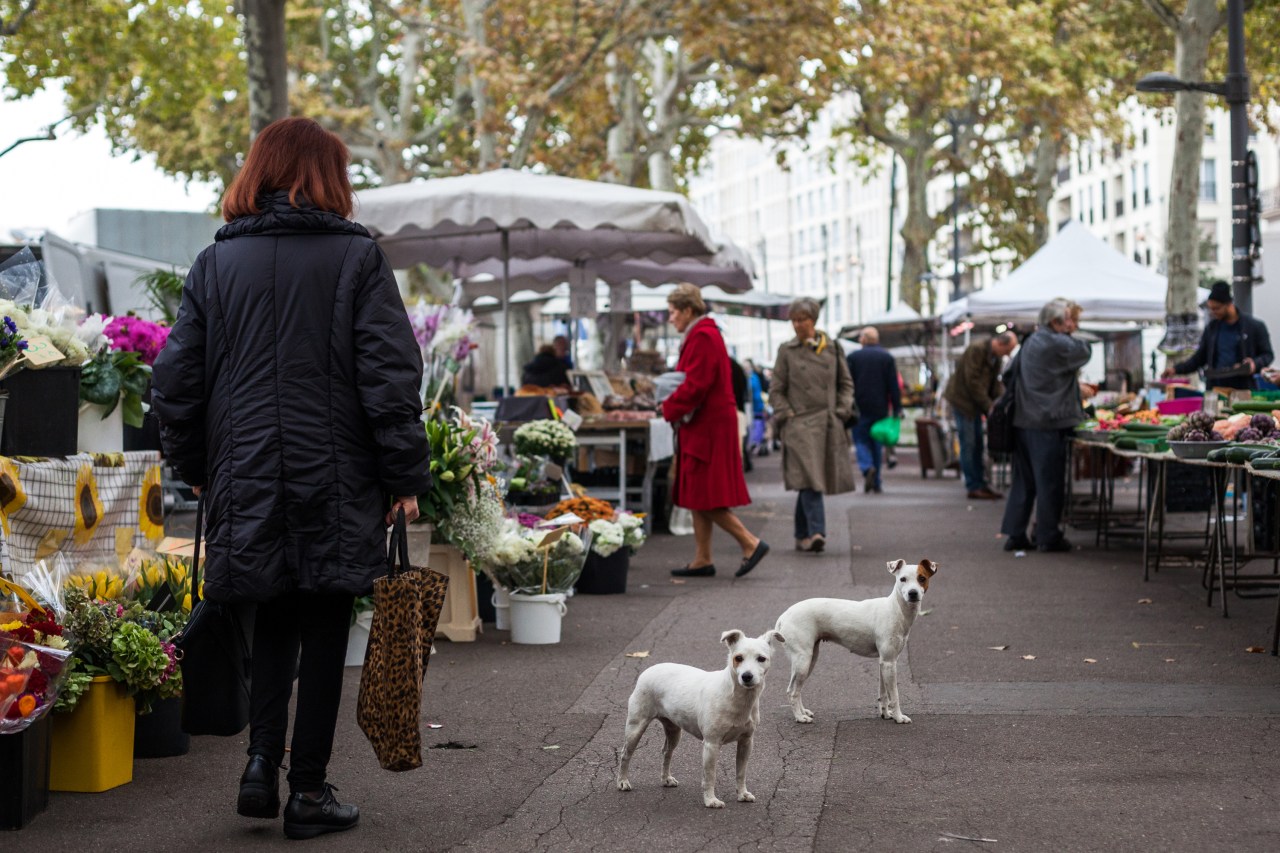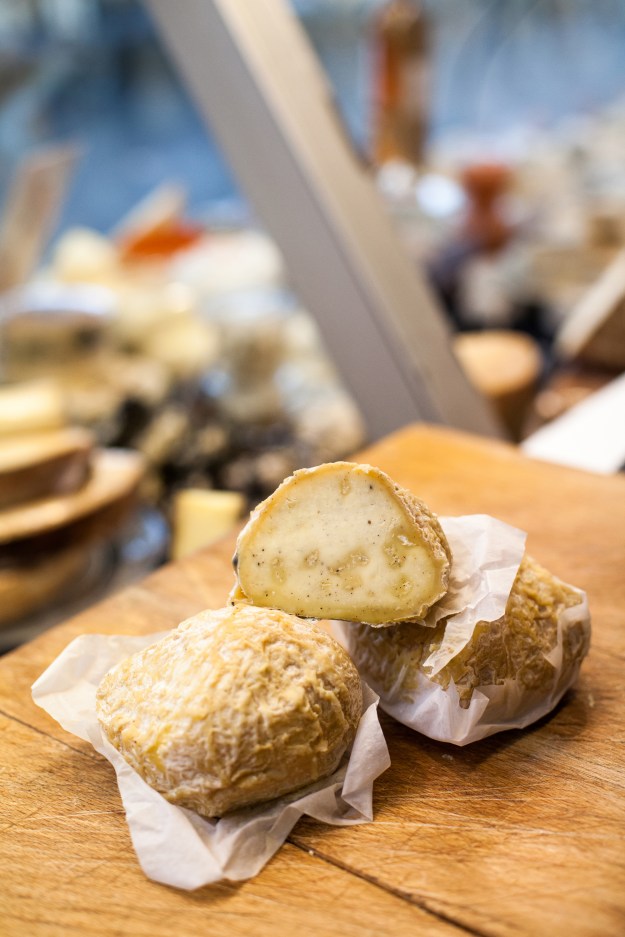 Stop by my favorite flower shop, Le Jardin Célestin on quai des Célestins. Even if you don't buy flowers, the shop is a delight for the eyes. Its romantic creations are like something from a Jane Austen novel.
In many ways, Lyon can make you feel as if you're traveling in different places or through times, and guess what? A time machine is precisely what's waiting for us. It is the district of St.-Jean.
Cross the Pont Bonaparte and enjoy the view of Fourvière Hill. We will climb it later.
Go straight, then turn right to see St. Jean Cathedral. Be sure to arrive just before 11 a.m. and go inside for a magical moment in front of the huge horloge astronomique. The timepiece is covered in gold and little robotlike angels, cockerels, Swiss guards, and a dove. These characters move in time with the clock's mechanism.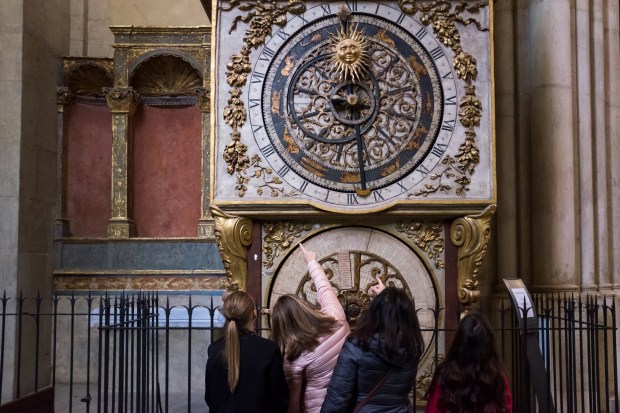 Outside, look around the square. Construction of the cathedral started in 1175 and finished in 1480. Stop for a moment and try to imagine the buzzing scene eight centuries ago.
Now it's time to start your journey through the largest Renaissance district of France. The whole area became a UNESCO World Heritage site in 1998. Even if the streets are very touristy, I don't care, and I hope you don't either. I love the old vibes too much. Plus, I have some favorite places to show you.
First up is the Mandragore medieval shop. On a perfect day, I would buy a bottle of hydromel (mead), an alcoholic beverage made with honey and spices. After that, we can go to Le Bois Debout, an engraving shop with all kinds of maps and cards. Outside, on rue de St. Jean, there are a lot of bookshops specializing in antique tomes. I recommend a visit inside the chaotic Librairie Diogène.
From there, let's meander along the cobblestones until we reach Place du Change, where we can amble through "secret passages" called les traboules. They are narrow passageways that cross one or more buildings and connect streets to each other. In the Middle Ages, craftsmen used the traboules to navigate the city quickly and to shelter from bad weather. Today it's a lot of fun to take random traboules just to see where they lead you. Take the traboule at 24 rue St. Jean to lead you to our next stop.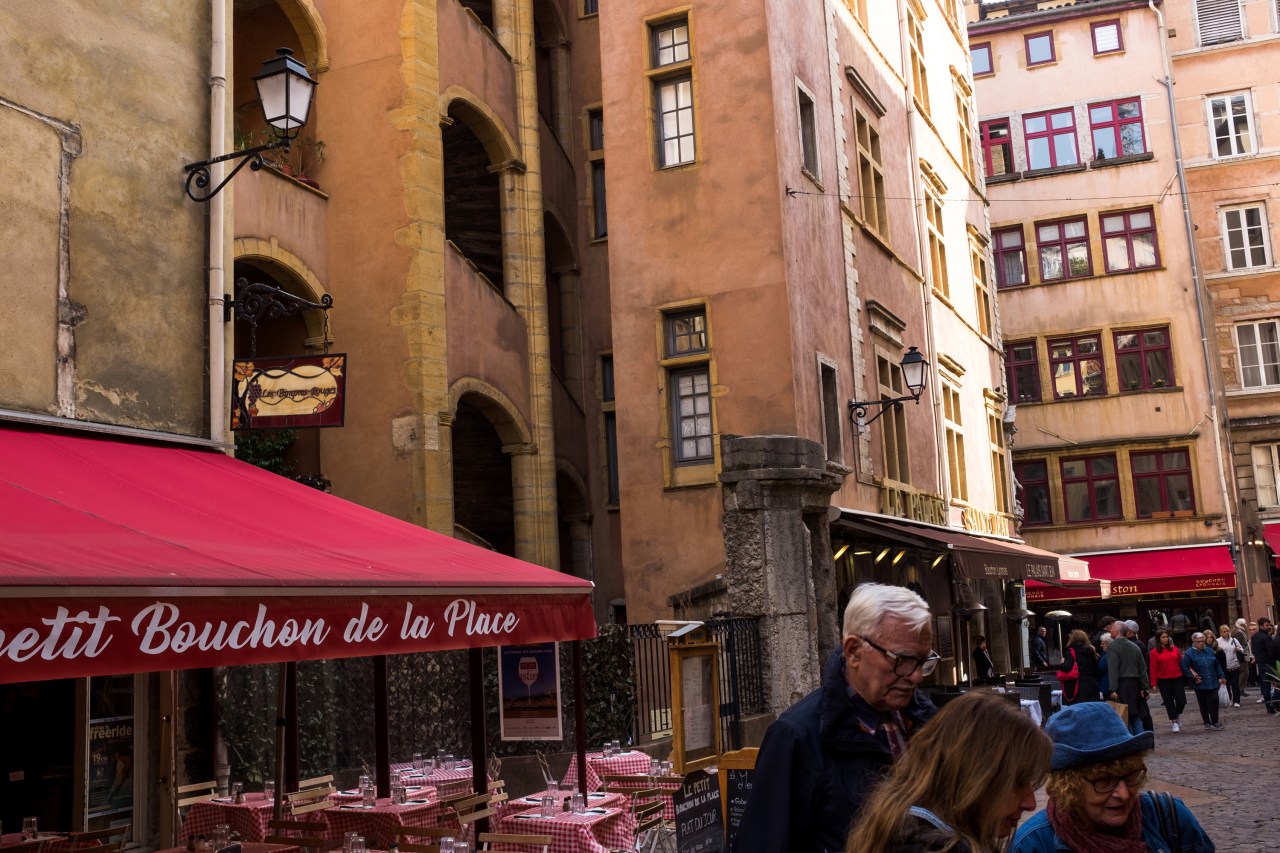 On rue du Boeuf, look for the red door at No. 30. This is the home of Les Adrets restaurant. It's time for lunch. For as long as I can remember, my family has visited this restaurant. There you can enjoy a starter, main dish, cheese, dessert, wine, and coffee for less than 20 euros.
Les Adrets serves traditional food in an innovative way, and you'd better book a table if you want to be sure of a seat, since the place is a hub for locals.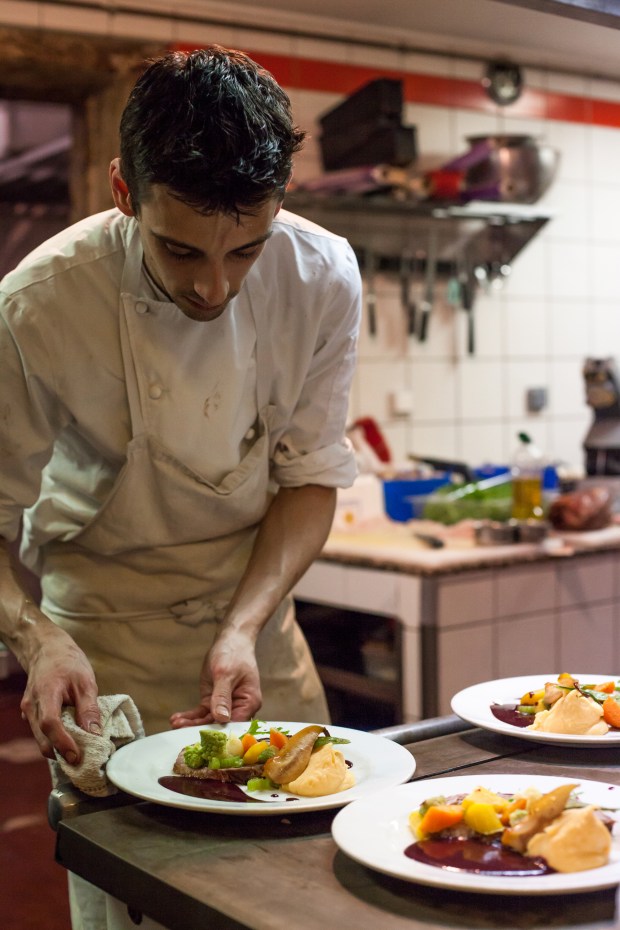 After lunch, head to St. Jean metro station and take the funiculaire in the direction of St.-Jean Fourvière.
Get out at Fourvière, where you'll see the white Basilica of Notre-Dame de Fourvière. Go to the left to find a belvedere with a view over the whole of Lyon. If the sky is clear, we will see the Alps and Mont Blanc, almost 100 miles away.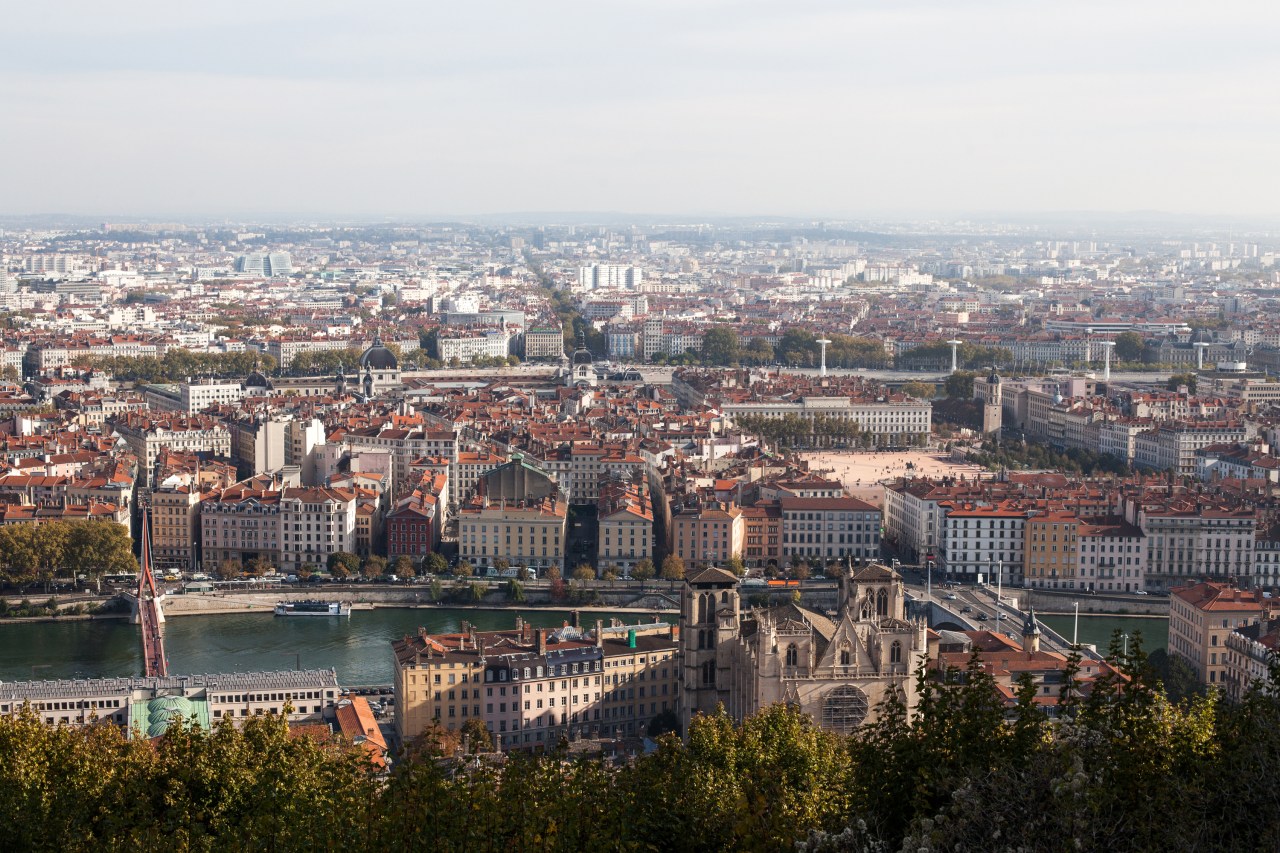 After taking in the view, it's time to return downtown via the Jardin de la Roseraie. The stairs to access the garden are close to the basilica's walls, on the right of the esplanade. At the end of the rose-filled garden is Montée St. Barthélémie. Bear left to take the Montée des Chazeaux staircase passage, then on your right, head down rue de la Bombarde. This will lead us to our early tea time.
Welcome to A la Marquise. It makes Lyon's best pink praline pie. This pie is just one item from a long list of Lyon's specialties. However, if you're not into praline (French praline combines almonds and caramelized sugar), I suggest you try their chocolate pie, which is quite decent.
Enough food for now. Time to go shopping.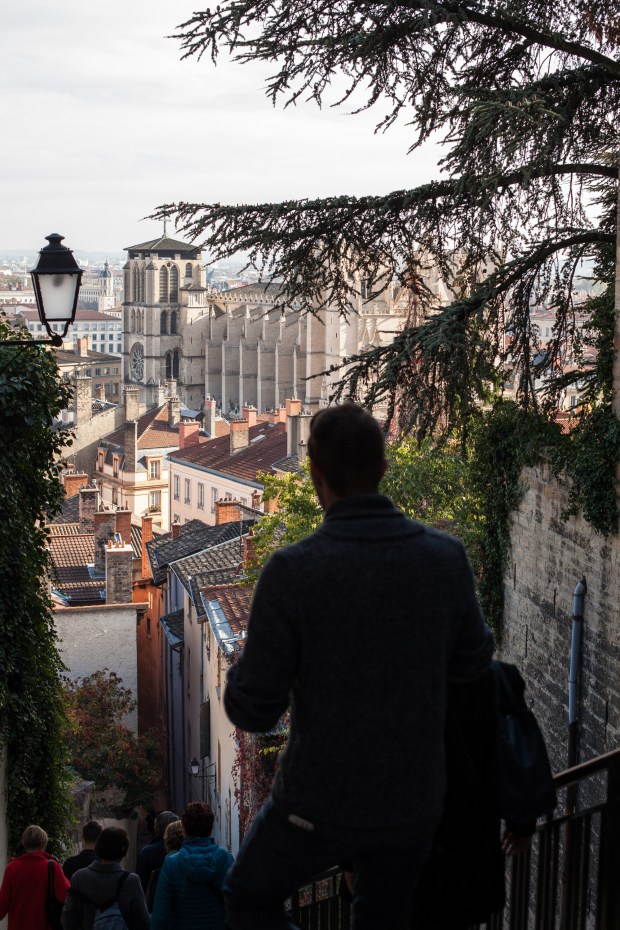 From St.-Jean, cross the Passerelle du Palais de Justice This is a long bridge with a good view, but that is not the only interesting thing about the bridge. When you get to the middle of the bridge, jump up and down. Yes, the bridge is moving, and this is perfectly normal. All Lyonnais must experience this at least once in their life.
On the other side of the bridge, you are in the heart of Lyon, the district also known as Presqu'île. It is surrounded by Lyon's two rivers, the Saône and the Rhône, and the area abounds with attractive shops.
On a perfect day, I would stop by L'Homme d'Osier to look at the beautiful wickerwork. This shop has specialized in wicker furniture since 1781, and it is the oldest working shop in Lyon. From there, we can go window-shopping at the trendy Watch Lab. As the name suggests, it mostly sells watches, and I love its selection of minimalist pieces.
One street away, we can lose ourselves in my favorite bookshop, Le Bal des Ardents. You cannot miss this place, because the owners created an arch of books to frame the entrance. Inside you'll find an attractive collection of funny and artistic postcards, comics, a well-stocked art book section, and books from floor to ceiling.
It's already 5 p.m. Don't you hear a beer calling us? I do.
But no rush. On our way, we can go to Boutique l'Invitée and fall for a nice pair of earrings, or maybe a bag, or … everything, as each piece in this concept store is an object of desire.
Fifty yards away on the same street is Broc'Bar. Take a seat on one of the red or yellow chairs under a protective tree and ask for the beer of the month. Broc'Bar has been a popular bar with Lyonnais ever since it opened some 20 years ago. After a drink, we can go to our next stop.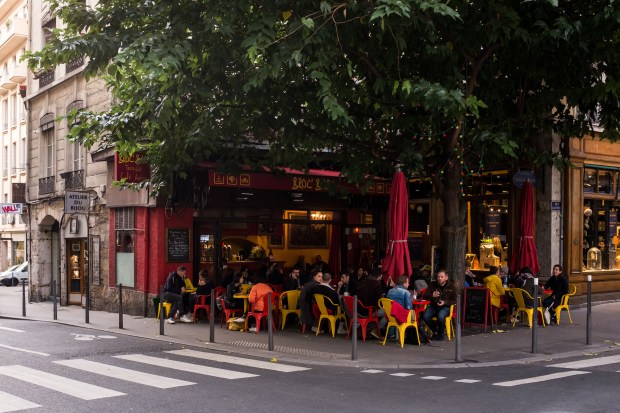 6:00
pm
A la Piscine
Piscine Tony Bertrand
8 quai Claude Bernard
69007 Lyon
Get Directions
On a perfect day, the sun would be shining, and I would take a bike ride. How? Using Lyon's bike-share service, Vélo'v. There is a bike station on rue Serlin, on the right-hand side of the opera house.
Piscine Tony Bertrand is an Olympic-size outdoor swimming pool on the riverfront. The water is heated, and the pool is open year round. By the pool, there is a restaurant called A la Piscine. I suggest going there, but only if you can get a seat overlooking the pool from the terrace.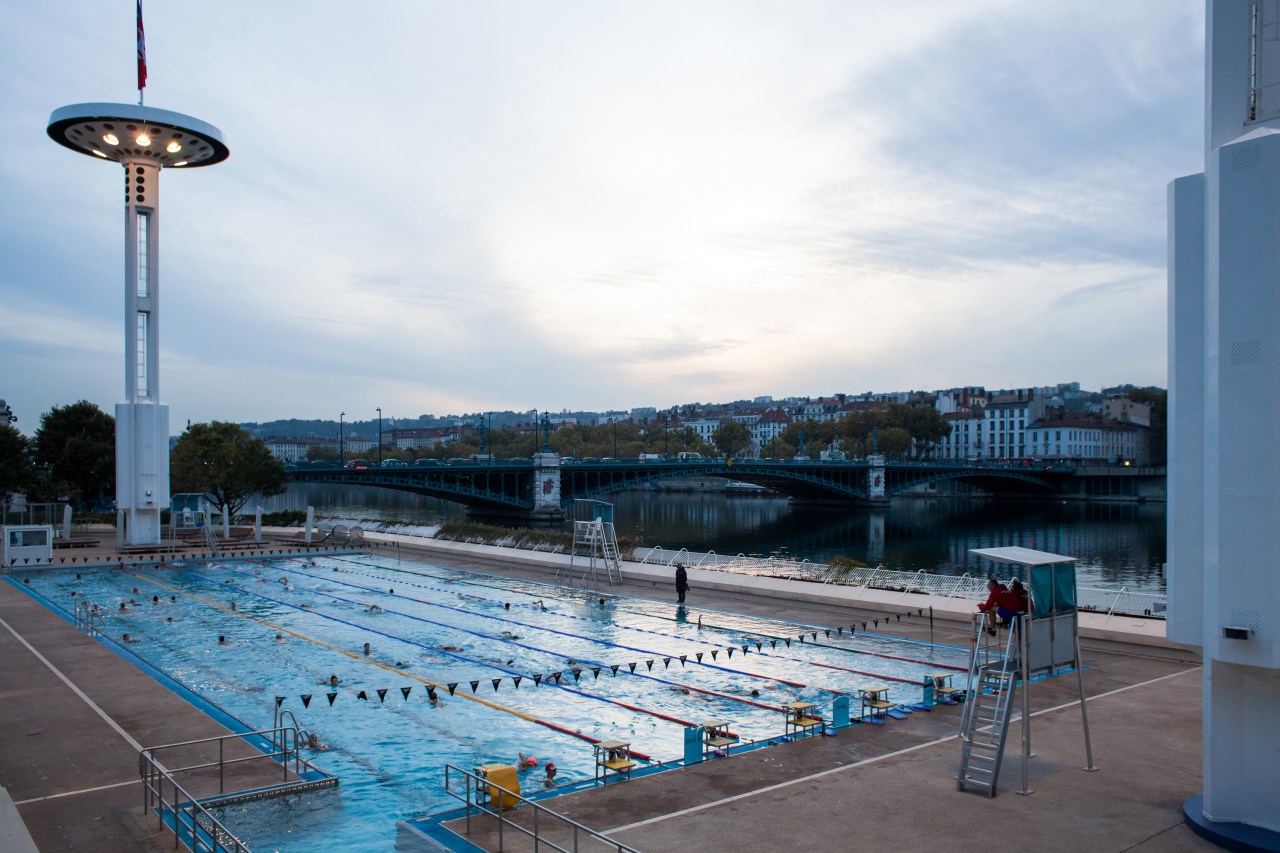 The Guillotière district is just a one-minute walk from A la Piscine and one block from Lyon's Chinatown. Guillotière's identity has been shaped by several immigration waves. In the 1970s, Cambodians, Laotians, and Vietnamese arrived, and the first Asian grocery store opened there in 1977. Today, in what we call our Chinatown district, you can find many Chinese, Japanese, and Vietnamese restaurants and supermarkets.
One of those Vietnamese restaurants is L'Etoile d'Asie, which serves the best bún bò in town. Crispy hot spring rolls are combined with rice noodles, fresh vegetables, and fish sauce, and it's just as spicy as it needs to be. We could enjoy our bún bò in the well-decorated dining room, but since it's a perfect day, let's order it to go and head outside. We can savor dinner on the green grass by the Quais du Rhône and watch the barges pass under the Guillotière bridge.
For an after-dinner drink, we can go to Livestation DIY. This bar is run by two brilliant managers, Lou and Arnaud. It's more than a bar; there are art shows, live concerts, DJ sets, table tennis, snacks, mojitos, and more. It's a great last stop for the night. Or maybe the next-to-last stop.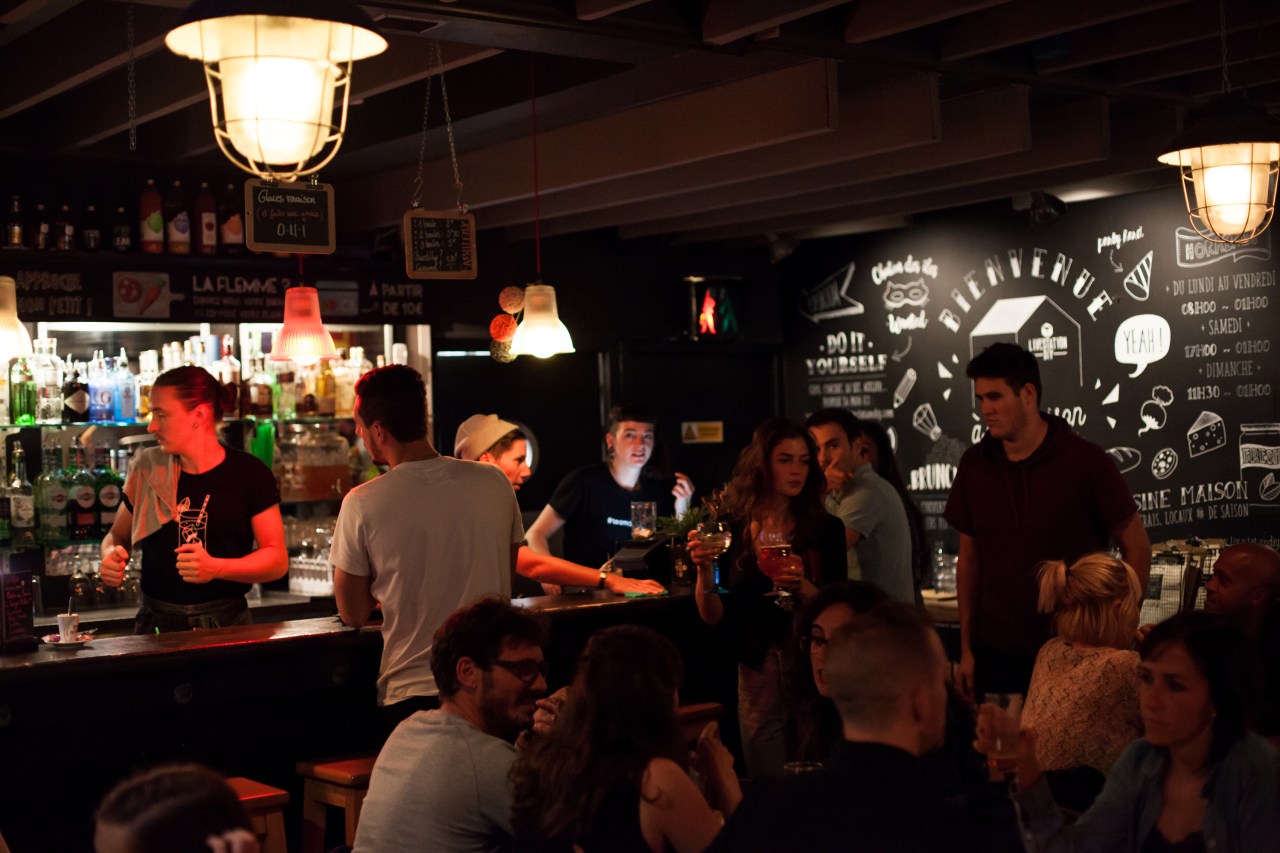 If you still have energy, let's grab a cab, a bike or the tramway (a T1 stop is 50 yards from Livestation DIY) and get off at the Musée des Confluences. Keep an eye out for the huge, cloudlike façade of the most expensive museum in France.
From there, walk about 10 minutes until you reach a vast 1930s industrial building. It's a former sugar factory, and the club inside is called Le Sucre.
The club, in Lyon's newest district, La Confluence, is an important part of Lyon's nightlife and contemporary music scene. Le Sucre hosts Les Nuits Sonores festival, one of the finest electronic music festivals in Europe. The people behind the club have helped reshape Lyon's cultural life over the last 20 years through the many diverse projects they encourage and promote.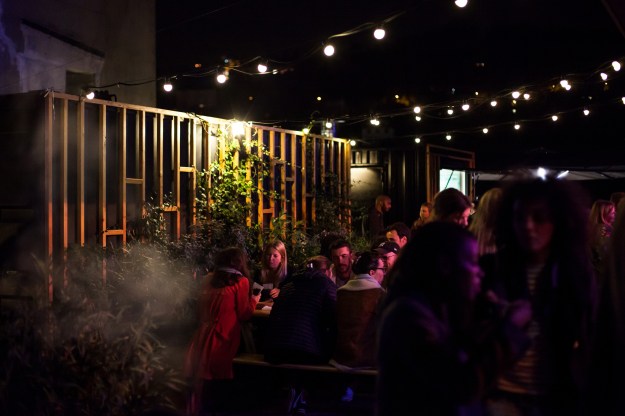 I particularly like the fact that you can meet all kinds of people of all ages here, from freshmen to 30-somethings to your dream grandfather who is still bouncing his head to the rhythm. One of my favorites nights here is the Black Atlantic Club. It happens just once a month, and the DJs play Latin-African, Atlantic-African and Caribbean music.
Last thing: No matter when you go, visit the bathroom. You will find the most unconventional bathroom attendant you have ever met, Jean-Claude. He will give you candies while you're waiting for your turn and will probably make jokes. You can even take a picture with him and post it on his Facebook fan page.
But the best memories are yet to come because Lyon is full of unexpected encounters, whether at Le Sucre, in a pastry shop, or at the end of a traboule. Lyon has many stories to tell you.