Two plates. Plain white china on a red and white tablecloth. On one, a thick wedge of fromage de tête (calf's head cheese) and on the other, a line of rosette, Lyon's best sausage. No sprinklings of hand-crushed parsley and no pan-fried, sea-salted, foraged fripperies here. I am eating in one of les bouchons Lyonnais, the traditional bistros that are dotted around the center of Lyon in east-central France, many of which have been open since the 19th century.
Bouchon tables are typically covered in checkered cloths with unfussy cutlery and plain glasses. Napkins are large and weigh as much as a jacket. The servers wear aprons and offer a timely grumble rather than a chipper smile. Bouchon menus are short, and few diners manage to finish what's on offer: robust dishes that have contributed hugely to Lyon's reputation as the capital of French gastronomy.
My quenelle de brochet arrives, a dumpling of pike the size of a giant mango drowned in a creamy yellow sauce. I close my eyes and visualize the empty iron dish, but this is just for starters. Opposite me, two others are eating their quenelles, mopping up the lobster sauce with torn baguettes, and talking with the patron as I begin to breathe more deeply.
In a city celebrated for its haute cuisine, where internationally traveled inventive young chefs are reinvigorating the metropolis' 4,000 restaurants, there is still a huge appetite for the traditional bouchon. Owners always come out to chat. They want to know what you're doing there, what you think of the food and why you haven't finished. The name bouchon comes from the tiny bundle of straw that used to be tied to the door to show that horses could rest there—bouchonner means "to rub down"—while the coachmen enjoyed a restorative meal at the inn.
Next up for me is a taste of the tablier de sapeur (sapper's apron), the wayward prince of bouchon dishes. It is made from boiled gras-double, the membrane of a cow's stomach, marinated in white wine, coated in breadcrumbs, fried, and served with mayonnaise and a sapper's handful of boiled potatoes.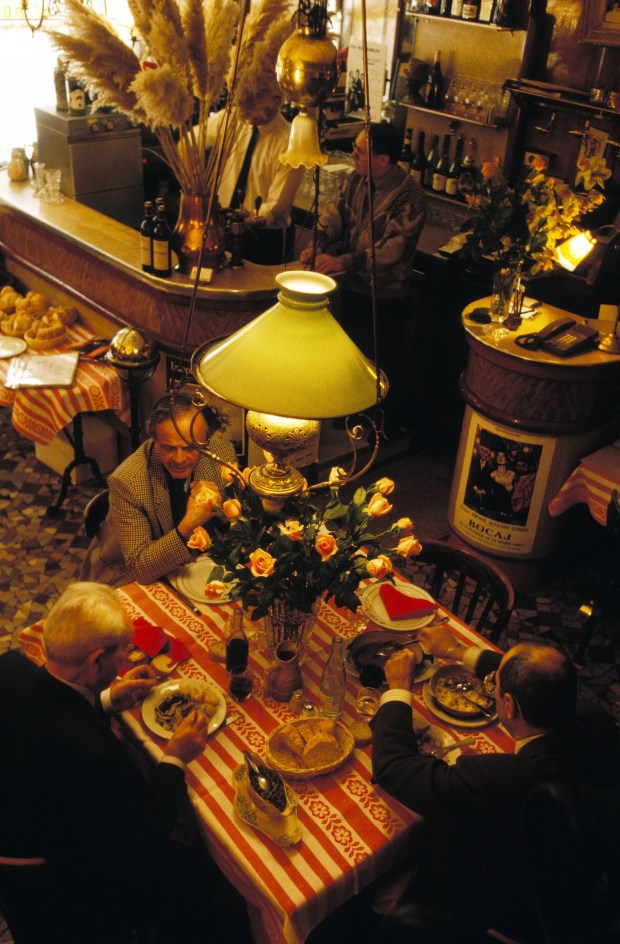 At Bouchon Thomas, owner and head chef Thomas Ponson serves the grands classiques: thick slices of terrine de campagne maison and caillette maison aux herbes pâtés or a saucisson pistaché. He has a small empire of six restaurants, each serving a different style of food along the rue Laurencin, one block from the Rhône river. We meet in his La Reserve, a private dining and tasting room where there's a huge selection of wines in a glass-sided storage room.
His onglet de bœuf Charolais aux échalotes et vin rouge is legendary, but in the end, I plump for andouillette à la fraise de veau, grillé sauce moutarde (chitterling sausage in mustard). It arrives on a ceramic tray served straight from the oven, and so hot, it sears rectangles into the table mats and warms the dining room like a miniature radiator. I recognize the word fraise (usually "strawberry") in the name, but it refers instead to calf stomach membrane, which is coiled into the sausage. It's fair to say that most bouchon dishes sound better left in French. Saying "foie gras" makes your mouth open in awe, rather than the horizontal gnashings of "fatty liver."
In a bouchon kitchen, there's no "with a twist" or "with a touch of"; the delight is in the authentic, the traditional recipes passed down from one generation to the next, from father to son or, in the case of Le Café du Peintre, from mother to daughter. Florence Périer learned how to cook from her grandmother and mother. She is someone who would never be seen grumbling—as convivial and generous as one of her potato gratins. "We have all sorts coming in, people we know well and visitors who just want to try some of Lyon's traditional food," she says.
She still serves the traditional mâchon, a meal of pork and tripe that was originally fed to Lyon's silk factory workers (canuts) in the 19th century. "Since they had been working since 4 o'clock in the morning, the early meal was their lunch," says Périer. She serves up the first mâchons at 9 a.m., complete with a choice of veal kidneys, tripe sausages, braised beef and carrots and a bottle of Beaujolais wine.
It's simple fare, designed to overwhelm your senses with meaty flavors and hefty sauces.
Beaujolais is the big player in bouchon cooking. Late-19th- to early-20th-century French writer Léon Daudet joked that Lyon had three rivers running through it: the Rhône, the Saône and the Beaujolais. Bouchons always serve a pot de beaujo with the meal, even if it's an early-morning mâchon.
At Le Garet, a bastion of bawdy bouchon traditions near Lyon's opera house, the walls are dark paneled wood and are covered with family portraits, newspaper clippings, caricatures, crooked plates, and black and white snapshots of soccer teams. All around the place are corks, ceramic pigs on tabletops, low-hanging lamps and bruised mirrors. It's not refined dining; it's simple fare, designed to overwhelm your senses with meaty flavors and hefty sauces and help you forget about the noise of the factory loom and the yelling supervisor. Le Garet's chef, Emmanuel Ferra, serves a rich sabodet, a clog-shaped sausage in wine. Strikes were not common in the early 1900s, but a sabot (a clog) thrown into the silkworks would stop the machines—the original sabotage.
French wordplay can make the bouchon menu a little confusing. Le Garet's cervelle meunière is poached and fried brains, served with lemon and parsley, while cervelle de canut (literally, "silk worker's brains") are not brains at all but faisselle (a fresh strained cheese) mixed with herbs and chives.
In the end, I skip both brains and go for the tarte à la praline. The most elegant of praline tarts, the kind you take to Lyonnais supper parties, can be found at the city's Les Halles de Lyon–Paul Bocuse. It's a huge food market named after France's most illustrious chef, who died in 2018, but most bouchons make their own, a bright red tart of sugared almonds and crème fraiche on a crisp pastry.
Dessert feels almost too much, as the French have started to say. Tart, creamy cheese or tiny doughnuts are bouchon staples for afters. Fusion food has definitely arrived in Lyon, new flavors and healthier eating, but the attraction of the bouchons is that they never change; they are the soul of the city.