By virtue of geography and history, Santa Fe is a singular place, and like other cities that have thrived on their inimitability—Venice comes to mind—it often seems to present a stereotype of itself.
I'm a New Mexican, but my hometown was the more populous and conventional Albuquerque, an hour's drive down the highway, and on occasional childhood visits to Santa Fe, I experienced it as an outsider: fascinated by the faux-ancient mud buildings, flummoxed by its cramped, winding streets, and derisive of the cowboy-booted, fringe-sleeved, turquoise-besotted pedestrians who ambled them.
But over time, I've gotten to know the village underneath these trappings, and there is authentic magic at its core. A confluence of cultures, of swank and everyday, of locals and outsiders, Santa Fe is—more than anywhere else I've known—a performance, one that visitors can take part in as much as residents. At times the repetition drifts into kitsch, but it is also capable of marvelous reinvention, and you can delight in both.
7:00
am
Rail Runner Express station
100 First Street SW, Albuquerque
Get Directions
I begin the day in Albuquerque, as would most out-of-town visitors who land at the state's main airport. Getting to Santa Fe formerly required a car, but since 2008, the state has operated a commuter train service between the two cities, the Rail Runner Express. At about $10 for a day pass, it's a steal, and if you don't mind navigating Santa Fe by foot and the occasional Uber, it will save you the headache of parking your own car on its narrow streets.
The train picks up passengers at multiple points in Albuquerque before chugging north into New Mexico's high-altitude desert. It climbs to 7,200 feet before reaching Santa Fe, the most elevated U.S. capital. The windows of the double-decker observation cars offer a sweeping view of the Rio Grande Valley, mostly sand and scrub but splashed with green to the left, where the river passes through irrigated fields. The trip takes about 90 minutes.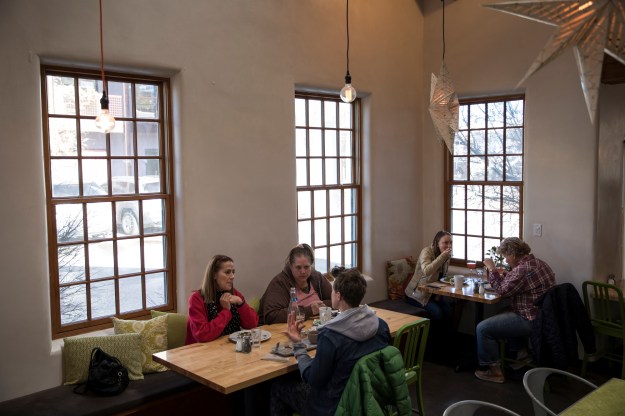 On descending from the train at Santa Fe's South Capitol station, I'm hungry, and no perfect day in New Mexico can get underway without a breakfast burrito. A local staple, the fundamentals are straightforward—eggs, potatoes, and cheese, topped with green chile and wrapped in a flour tortilla—but from that simple arithmetic spring a thousand variations.
For a burrito with Santa Fe's typical pizzazz, Sweetwater Harvest Kitchen is nearby and serves a famed variant with sweet potatoes, black beans, and caramelized onions. It's a bright, atmospheric space; the purveyors mill organic flours on site and boast a range of vegan and gluten-free dishes, with a reverence for wellness that is common across Santa Fe's upper crust establishments.
But forgoing the frills, I head to El Parasol, which a northern New Mexican family began as a roadside stand 60 years ago and now operates in a handful of locations. Waiting for an order outside their kitchen on Cerrillos Road in southern Santa Fe, I see the comings and goings of locals grabbing their nourishment to start the day. The restaurant's breakfast burritos offer the basics, plus your choice of meat and the option of smothering them with red chile. It's plain-spoken but good enough to win the local weekly's breakfast burrito of 2018. On a truly perfect day, I would probably have one of each.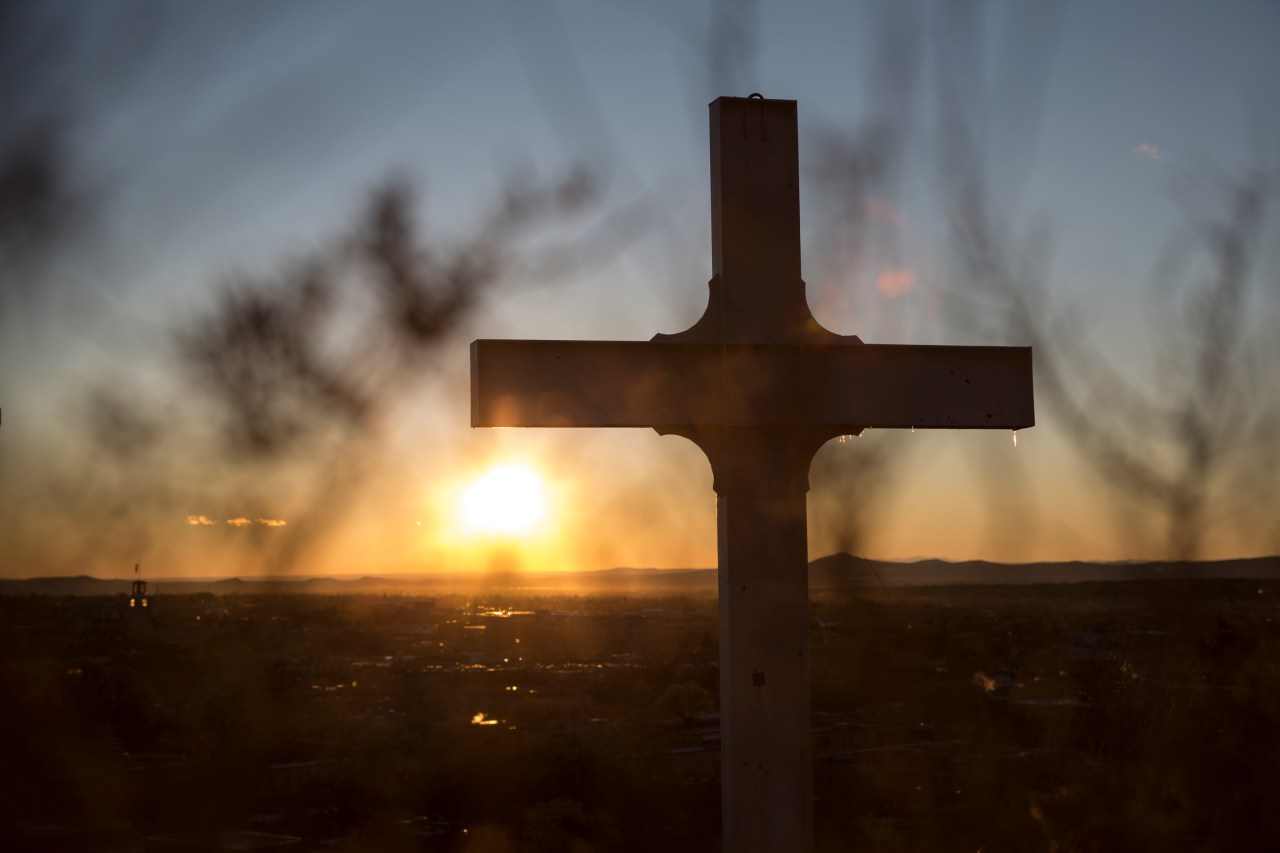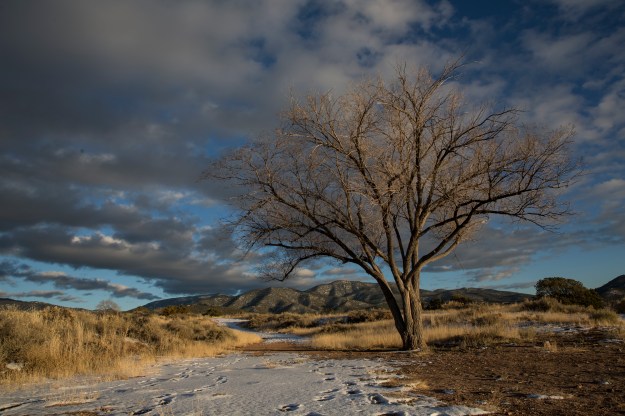 Now it's time to walk it off—and an opportunity to take in the lay of the land. I stroll north to the city's central plaza, the trailhead for a half-mile loop up to the Cross of the Martyrs. The trail is enticing year round; Santa Fe is incredibly temperate, with more than 300 days of sunshine and daytime highs in the 50s to 80s for most of the year. And from the base of the cross at its apex, you get a great view of the city's adobe structures below.
The cityscape reflects Santa Fe's long, complicated history. On what was originally the site of indigenous villages, Spanish explorers founded what would become the modern city in 1610, three years after English colonists settled Jamestown. The city's present-day architecture signals a degree of self-awareness: In the early 20th century, local leaders decided that the character of the local buildings was a boost to tourism and encouraged new construction to conserve what they construed as the traditional features, an amalgam of which came to be known as Santa Fe style.
The prototypical example, the portal of the Palace of the Governors visible in the plaza below, was built in 1610 and restored in 1913. Other architects embraced the rounded adobe walls, stepped building shapes, and exposed wooden ceiling beams known as vigas, among other features. And in 1957 the city enacted a historic districts ordinance that requires all new buildings built in certain neighborhoods to conform to its requirements. To this day, builders contribute to Santa Fe's look by reaching back to a mostly imagined past.
On descending, I head back down the train tracks to the Santa Fe Railyard, a recent development that turned a once blighted area into a thriving arts district. It is home to a year-round weekend farmers market where local growers and craftspeople sell their produce and wares. At its northern end sits SITE Santa Fe, a contemporary art space with an angular exterior that looks like the prow of a futuristic ship stranded in the earth, as if determined to differentiate itself from other structures. It hosts exhibits from around the world from visual art to multimedia to performance, so there's always something interesting to see.
By the time I'm finished browsing, it's lunchtime—and if we're going to get a seat at La Choza, we'd better arrive early. A family-owned New Mexican restaurant tucked into a charming adobe building (and the sister of the downtown eatery the Shed), it serves notable innovations like green chile clam chowder, but staples like the enchilada plate are reliably delicious, especially when smothered with its award-winning red chile. For a little bit of everything, you can get the combination plate. The bar mixes excellent margaritas, with straight lime and lemon juice for sour mix.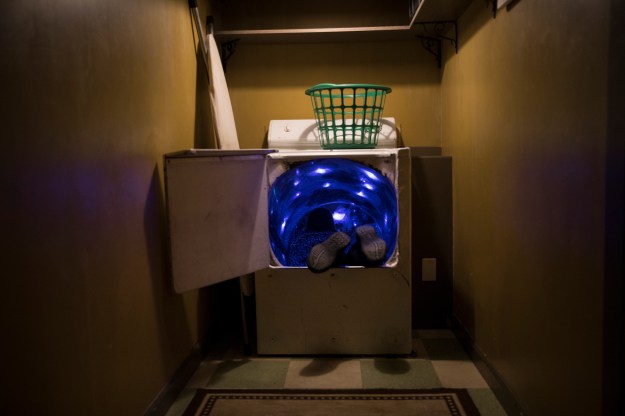 By sales, Santa Fe is the third-largest art market in the U.S. (after New York City and Los Angeles) and many of its upmarket gallery spaces line the area known as Canyon Road. Southwestern iconography is ubiquitous—howling coyotes and soaring eagles, the flowing manes of wild horses and their riders, all framed by purple sunsets—and the price tags are eye-popping. But younger, more countercultural artists have long felt left out of that scene, and a few years back, a group of them created a collective they dubbed Meow Wolf (after pulling the combination out of a hat of loose words) and began building art installations that were at once more radical and more accessible.
Their antics caught the imagination of George R.R. Martin, the author of the Song of Ice and Fire books (the basis for the Game of Thrones TV series) and a longtime Santa Fe resident, and he pledged $2.7 million to help them convert a vacant bowling alley into a permanent space for what is now known as the House of Eternal Return. It's an immersive, 20,000-square-foot, psychedelic wonderland, a place you can spend hours ogling the environments or pursuing the nonlinear narrative woven into it. Dedicated patrons make their own contributions by dressing up. (You may wear a costume, per the rules, just no masks.) The documentary Meow Wolf: Origin Story chronicles the space's history.
If this sounds like too active an adventure, you can retreat to another arts institution that benefited from Martin's largesse: the Jean Cocteau Cinema. This was standing vacant for years until he resurrected it in 2013 and installed the longtime head of the Santa Fe Film Festival as its manager. The theater now screens an eclectic mix of work from mainstream and local filmmakers, along with music performances and talks.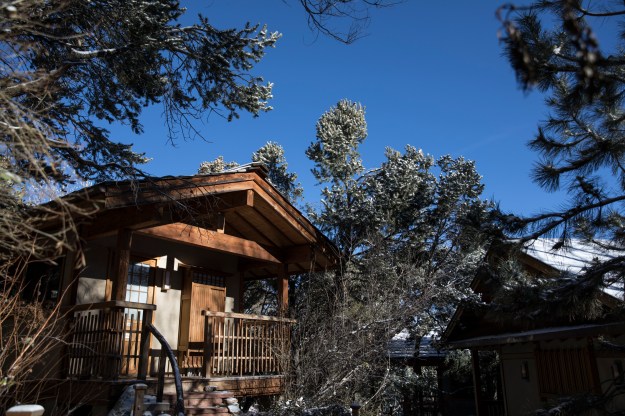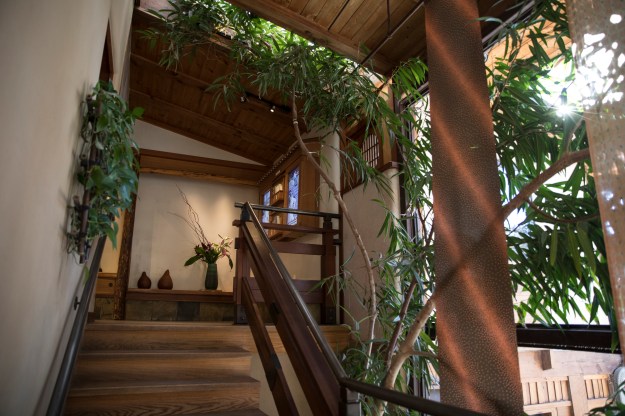 With mind duly provoked, I would be remiss if I didn't treat my body to something equally wondrous. The city has long been a mecca for people in need of physical or spiritual healing and for those promising it. From tuberculosis patients in the era before antibiotics, who were prescribed the bright sun and dry desert air to the gurus, acupuncturists and New Age healers who flocked here in the 1960s and lingered. I've indulged in their therapies before, but today I am seeking the cure of clarifying waters.
In the hills above the city is a remarkable geothermal spa, Ten Thousand Waves, styled like a Japanese onsen. On check-in, you are given a cotton yukata and free rein to explore the grounds, with a number of public outdoor pools and private bathing areas available for reservation. There are few places of greater tranquility than one of its baths as you sink into the steaming waters and look up into the swaying pine branches. If you grow hungry, there's an elegant Japanese restaurant on site.
But these are hardly the only waters available for immersion, and those feeling less meditative can do their bathing at El Rey Court. Once a cheap roadside motel, it was recently renovated and has emerged as a hip boutique hotel, with an outdoor pool open to guests and outsiders for a small entrance fee. You can grab a drink from its award-winning La Reina bar, which offers a range of tequilas, mezcals, and sotols to sip while taking in the scene from a poolside lounger.
For dinner, I take a break from New Mexican food, but one can't escape it entirely. I head to the Shake Foundation, a roadside stand that serves some of the best green chile cheeseburgers in town. There are lamb, turkey, and portobello mushroom patties to substitute for sirloin, and depending on how indulgent I feel, I might get one of its extra-thick shakes to wash it down.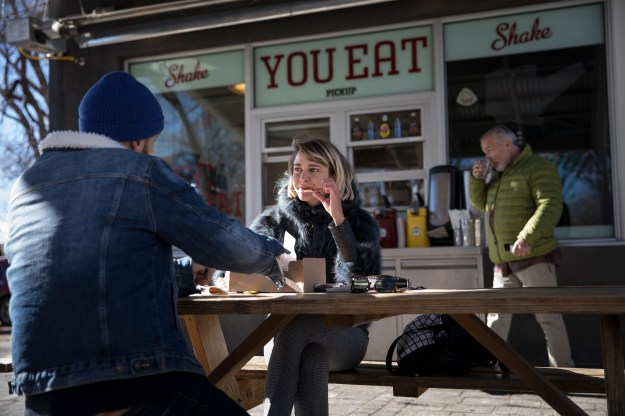 7:00
pm
La Fiesta Lounge, La Fonda on the Plaza
100 E. San Francisco Street
Get Directions
As night falls, I head back to the plaza, where music floats out of La Fonda. The interior of the nearly hundred-year-old hotel was designed by Mary Colter, one of the few women to attain fame as an architect during her time, and on the right nights, you'll find Bill Hearne's country and western trio in residence. Legally blind since birth, Hearne spent decades playing in honky-tonks across the Southwest with his wife, Bonnie Hearne—with him on guitar and both contributing vocals—before settling in Santa Fe and taking up a position as the house band at the inn. She died last year, but he continues to perform Monday and Tuesday nights, and the small dance floor fills with two-stepping couples, with boots on and cowboy hats tilted back.
If you don't feel like getting up from your seat, you might find live music at Evangelo's Cocktail Lounge that goes until late. Just keep an eye on the clock: The last Rail Runner Express south departs from Santa Fe at 9 p.m. on weeknights and 10:14 p.m. on Saturdays.