1. Plan for your trip. Getting a visa to the Democratic Republic of Congo can be a time-consuming and challenging process. Make sure to plan your trip and apply for a visa at the embassy in your home country or country nearest to you. The process can take one to three months and is quite expensive. A tourist visa costs $175 for a one month stay and up to $475 for six months. Virunga National Park has an alternative visa option for tourists wanting to do some eco-tourism in North Kivu province. You can choose from a range of activities, including hiking, visiting the gorillas and staying at the luxury lodge or in safari tents on the small island of Tchegera at the northern end of Lake Kivu. For an additional fee, visitors can get a short-term single-entry visa—valid for two weeks—that allows entry into the city of Goma. The park visa option is (as of November 2018) unavailable because the park has been closed since the killing of 12 rangers in June 2018.
2. Know your route. There are a few different ways to arrive in eastern Congo's main cities, Goma and Bukavu, depending on how much time you have and how much you're willing to spend. Many visitors come via Kigali International Airport in Rwanda and travel by road to the border towns of Cyangugu or Gisenyi, where people can cross the border on foot or in a vehicle into Bukavu or Goma, respectively. It is possible to fly from Kigali, the capital of Rwanda, to the small Rwandan town of Kamembe, which is close to the border crossing at Bukavu. Ethiopian Airlines operates flights to Goma International Airport from Addis Ababa, the Ethiopian capital. The airline also operates a regular flight to and from Entebbe, Uganda, another regional hub.
3. It's bigger than you might think. Eastern Congo includes the provinces of North Kivu, South Kivu, Ituri, Bas Uele, Haut Uele, Tshopo, and Maniema. The provinces vary widely, and it's not feasible to include tips here for every single one of them. The ones you're most likely to visit are North Kivu, South Kivu and possibly Ituri if you feel like going deeper into this vast country. While the region is known for having experienced years of armed conflict, which continues, the cities of Goma, Bukavu, and Bunia are relatively calm. Goma is about 30 miles from Virunga National Park, and Kahuzi Biega Park surrounds Bukavu. A three-hour speedboat ride connects Goma and Bukavu. Alternatively, the recently renovated Route Nationale 2 offers a five- or six-hour somewhat bumpy drive through rural communities and vast mountain ranges. Although many Congolese take the long bus ride between Bunia and Goma every day, most visitors choose to take a local flight.
4. Learn a little Swahili. Though many different languages are spoken across eastern Congo, Swahili is the common tongue, particularly in cities. French is taught in schools, but a significant number of Congolese continue to live without access to formal education. Many people understand and speak French easily, but Swahili is helpful when you're on the street talking with vendors and negotiating prices. The prices of most things are up for discussion, so strong negotiation skills are key. Learn a few Swahili words beforehand or hire a tutor upon arrival. Kidogo tu—or a little bit (of Swahili)—will go a long way.
5. Know what you're getting into. Regardless of its stunning natural beauty, eastern Congo continues to experience bouts of conflict with significant loss of life. Protests are not uncommon, particularly during election periods, and there have been reports of violent repression conducted by security forces. If you are planning to travel off the beaten track into rural communities, it is important to check the security situation before taking to the road. Also, make sure you work with a local fixer who can help you organize your trip. It is ill-advised to take trips into the interior of Congo lightly. Recommendations for trusted fixers are often requested and shared on the North Kivu Life and South Kivu Life Facebook groups. It is also recommended that you get travel insurance before traveling. While you must be prudent and always safe, travel to eastern Congo is certainly possible and definitely worthwhile.
6. Know where you'll stay. In Goma and Bukavu, there are a few hotels and guesthouses, often run by churches and other organizations. Ask for recommendations on the Facebook groups mentioned above or ask for a place to stay. There are usually people with a spare room available for short-term visitors or who can recommend apartments. If you're going outside the cities, your fixer can help you find safe but normally basic accommodations. An important tip: Don't be afraid to ask about the amenities that are available when looking to rent accommodations. Electricity is not a given, and most people have solar panels, batteries, generators, or some assortment of these to assist during power outages.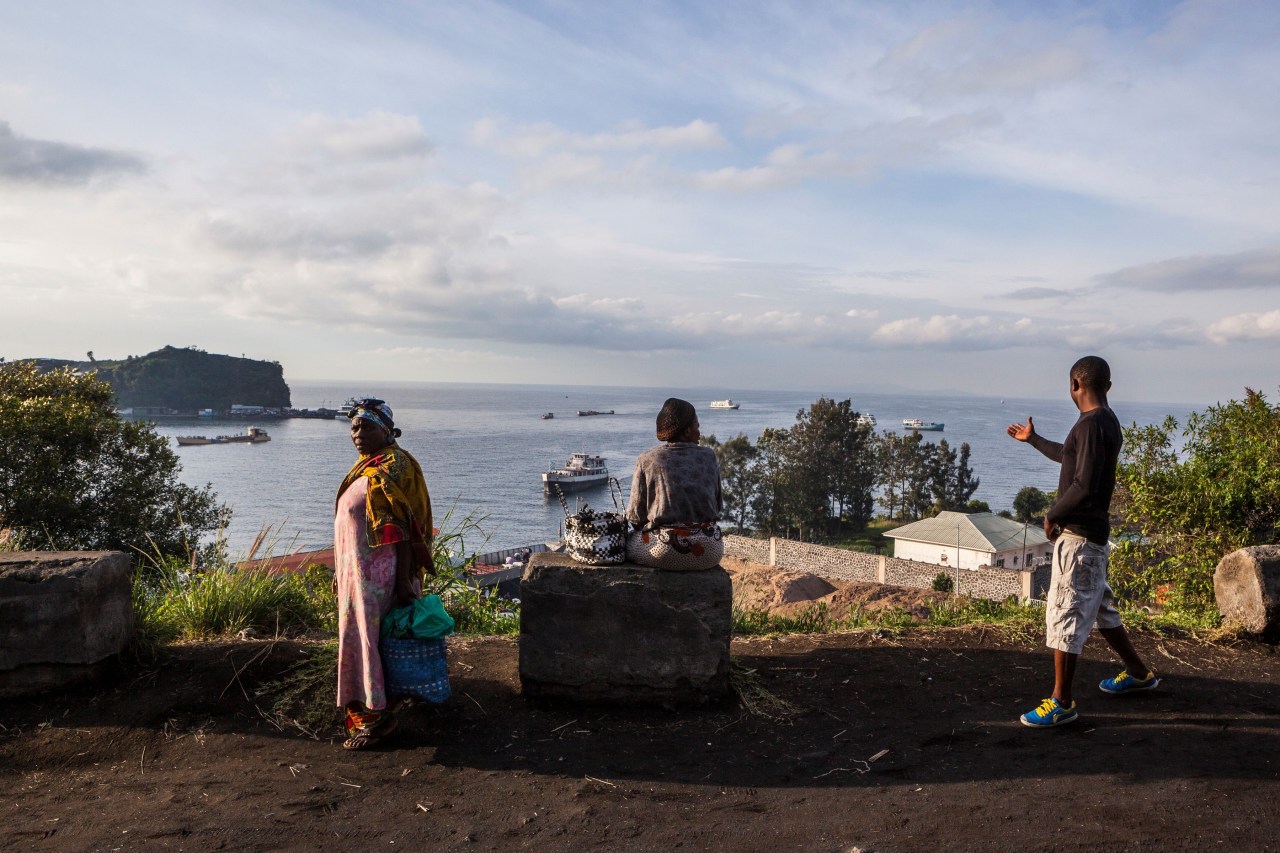 7. Sleep in on Saturday. If you know you will be in Goma on a weekend, don't plan on doing anything on a Saturday morning, because the city will shut down for salongo. This is when locals go out help clean the city's streets. During salongo, businesses, including restaurants and shops, are closed and open only after 10:00 a.m. Sometimes organizations, including the U.N. peacekeeping mission, organize volunteer groups to participate in salongo.
8. Get on a moto. Motorbikes are perhaps the most common forms of transport. Taxis are possible in Bukavu, but they are expensive in Goma, where it will cost at least $10, depending on how long you need the driver for. As a result, residents walk a lot or use matatu buses, bicycles, or tuk-tuks or hop into the backs of trucks, but motos are the most used form of transport. Though your driver will likely have an extra helmet for you, as traffic police, or roulage, are strict on rules and man key choke points in the city to spot offenders, it's advisable to carry your own.
9. Prepare to see lots of U.N. vehicles. All three main cities are home to several hundred U.N. personnel from humanitarian and development agencies as well as the world's largest peacekeeping mission. It's certainly an adjustment seeing U.N. jeeps and armored cars line the streets, some carrying armed military personnel. The national army has its own vehicles, manned with heavily armed soldiers, which can also be seen going through towns and cities. When you hear the sounds of their motorcades, you must give way and pull over to let them by.
10. Stay warm. You'll be about 5,000 feet above sea level, so brace yourself for some chilly mornings and evenings, particularly during the rainy season. Make sure you take a couple of sweaters or a light jacket. If you plan to hike up Mount Nyiragongo volcano or any of the region's mountains, be sure to pack warm, waterproof clothing and heavy boots. A scarf is handy too, as it can act as a shield against the dust kicked up by vehicles during the dry season.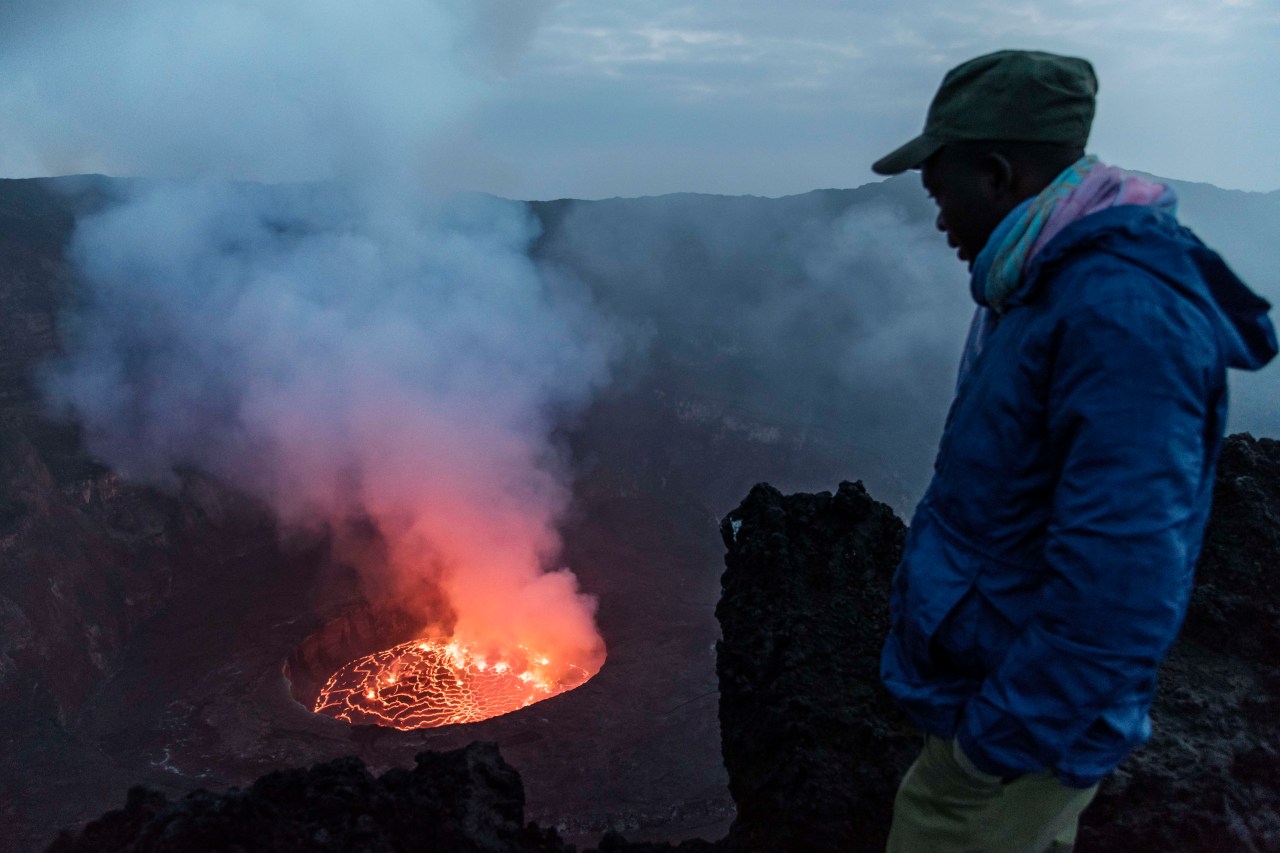 11. Try the fish. Lake Kivu is known for delicious fresh fish, including tilapia, capitaine, and sambaza. Fun fact: the word "sambaza" is derived from samaki ya Zaire, Swahili for "fish of Zaire"—Zaire being the name of the DRC from 1971 to 1997. These anchovy-size lake fish are delicious when fried to perfection with lemon and spices. Tilapia and capitaine are served whole or as brochettes. The fish is usually cooked in palm oil and can be found in most Congolese and European-style restaurants. VIP Palace Hotel in Goma has excellent grilled fish that attracts many people to its restaurant for lunch and dinner. In Bukavu, Mama Kindja is a local favorite for grilled fish and meat. Mama, the owner, runs a number of restaurants in Bukavu. Mama Kindja is also known for its grilled mbuzi (goat meat), and the restaurant's paillotes (unwalled thatch huts) are often crowded with Congolese and foreigners alike.
12. Go kayaking. If you're in Bukavu or Goma, take the time to check out the lake and view the Kivus from the water. In the right conditions, there is a clear view of the volcanoes in North Kivu, and if you're in South Kivu, you'll get a glimpse of Idjwi, the largest island in the lake. Kayaks are available for rent from Orchids Hotel in Bukavu and at Le Chalet in Goma. To be on the safe side, choose a day when the water isn't too rough. The lake is so vast that it can have sizable waves that crash into the rocks that line parts of the water's edge.
13. Drink local. Local beers are commonly served at bars and restaurants throughout the region, and they are worth trying. These include Primus, Simba, Tembo, and Peak. Primus is the big favorite, and its bright blue label and advertising can be seen in towns and villages all over the region. The beer comes in glass bottles that dwarf the average beer bottle or can. Make sure you tell the waiter that you want a cold one, as it's not always the default choice of Congolese customers.
14. Get a bag of coffee beans. Coffee from the Great Lakes region is rich, strong and flavorful. Though the industry in the DRC is only just beginning to take off, you will find bags of locally sourced and roasted beans in many local stores. Le Petit Chalet and Au Bon Pain coffee shops in Goma sell their own packaged coffee beans.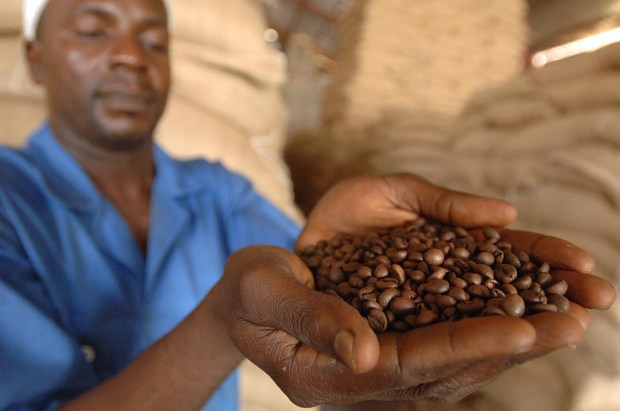 15. Don't forget the cheese. North Kivu is known for its production of cheese, most notably from the farming areas of Masisi. Cheese from this region is sold in rounds and is available throughout the city of Goma. Friends in Bukavu and even Kinshasa are often keen to get gifts of Goma cheese.
16. Spend a Sunday out of the city. If you are in Bukavu, you can take a drive or ride a bike to the convent just outside the city in an area called Miti-Murhesa. Murhesa is about a 45-minute drive from the center of Goma, and the route alongside Lake Kivu is stunning. The convent has spacious grounds for walking, meditation or picnicking, and the nuns make their own ice cream, cookies, and wine, which are for sale on the premises. If you're in Goma, you can take a half-hour drive to a nearby conservation site called Lac Vert and spend some time looking around this green lake. Be forewarned, conservation authorities at the lake sometimes demand a fee. The fees are not published widely, but a park ranger is sure to go up to meet you when you arrive at the site.
17. Enjoy a sundowner. Sundowners are a must when you are in this region. Whether you are in Bukavu or Goma, Lake Kivu provides a stunning display at sunset with a sky draped in shades of red, orange and violet every evening. Cap Kivu Hotel in Goma and Hotel Horizon in Bukavu are great options for a drink or an apéro in the evening.
18. Don't leave without getting to know the place. Eastern Congo is no ordinary tourism destination. The region has a complex history that includes but is not limited to conflict, political strife, and battles over its mineral wealth. The Congolese people have borne the brunt of this suffering, and millions of lives have been lost. If you're planning a visit, it's worth reading about the country before arriving. I recommend Dancing in the Glory of Monsters by Jason Stearns and Congo: The Epic History of a People by David Van Reybrouck. Further research will reveal more about Congo's past, its complex relationships with other countries in the region, and the succession of political leaders that has led to today's electoral crisis. Local voices speak best about the realities of eastern Congo and are invaluable if you want to try to understand the region. Check out spaces like Yole Africa, Maison de la Femme, Maison des Jeunes, and the Pole Institute in Goma to meet local activists, researchers, writers, thinkers, and artists. In Bukavu, the old Post Office, known as La Poste, has become a warehouse of sorts for small organizations, youth groups, artists, and radio stations. Any local driver should know where it is. Local organizations can also provide important insights into the Congolese context. Take a look at this map of nongovernmental organizations in Goma for more information.