While there are endless wonderful ways to spend any given 12 hours in Miami, my perfect day is mostly spent in Miami Beach—where I've lived for 11 years—plus a couple of mainland stops. I live in South Beach, but it's not the South Beach you may be imagining.
My perfect day has no velvet ropes, bottle service, blaring club music, or rented Lamborghini (but a car or Lyft account is needed). And though the craziest, blingiest, highest-heeled shoes I've ever seen are there, I recommend comfortable shoes for this perfect day. And pack some flip flops too.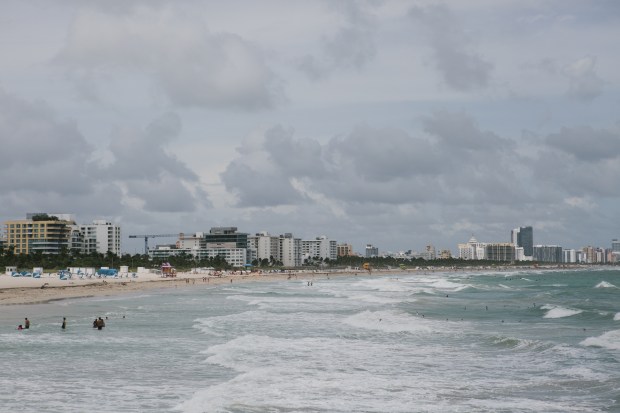 From Miami Beach, choose one of the causeways and keep your eyes peeled for dolphins in Biscayne Bay on the drive to Enriqueta's Sandwich Shop for a Cuban breakfast. For me, the main attraction is the strong Cuban coffee, basically Miami in a cup. My favorite is café con leche. Unlike lots of other Cuban coffee spots (most of which are great; it's hard to find bad Cuban coffee in Miami), this one serves the espresso and hot milk in separate cups, so you can adjust the proportions. Beyond coffee, I like to keep it pretty simple: eggs served with toasted Cuban bread and maybe some papitas (skinny French fries), if you're in the mood for carbs on top of your carbs.
10:15
am
Fairchild Tropical Botanic Garden
10901 Old Cutler Road, Coral Gables
Get Directions
Brave U.S. 1 (sometimes referred to as "Useless 1" for its obnoxious traffic) because it will be worth it when you arrive at Fairchild Tropical Botanic Garden. Flora from all over the tropical and subtropical world grow and are preserved here. My favorite, after years of visiting, is still the rainbow eucalyptus tree, with bark the colors of the Art Deco hotels in South Beach—green, blue, pink, and purple. These trees grow in Papua New Guinea, Indonesia, and the Philippines, but this one was grown from seed at the University of Florida Tropical Research and Education Center in Homestead in the southern part of the county. At Fairchild, there's often outdoor art interspersed with the plants, ponds, and waterfalls; previous exhibitions included Dale Chihuly and Roy Lichtenstein. Near the lake, you may spot an alligator or an iguana (a nonnative species that's cool to look at but bad for the ecosystem). Fairchild is vast, hence the need for soft shoes, but sweet little golf-cart trolleys will take you around the park. Head back to Miami Beach around 1:30 p.m. Depending on traffic, it could take an hour.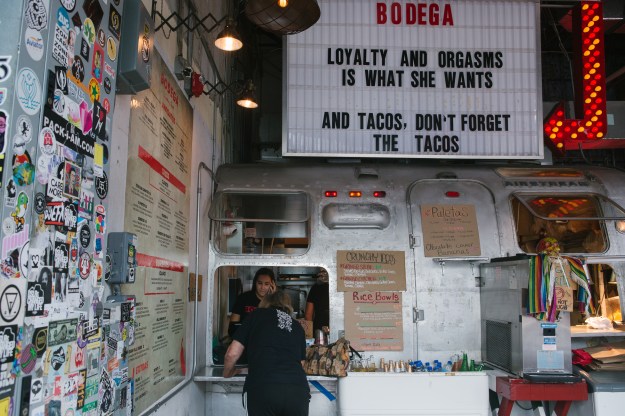 Miami Beach isn't known for its Mexican food, but the $3 avocado and black bean tacos at Bodega Taqueria y Tequila, a colorful food-truck-inspired restaurant, are a legitimately delicious quick lunch. By night, Bodega turns into a not-so-secret nightclub; you have to walk through a porta potty door to enter.
Or slightly adjust the route in the afternoon to take in lunch at My Ceviche on Washington Avenue near Second Street. This tiny takeout place serves ceviche made from wild-caught seafood, with a hunk of yam and corn on the cob, plus seafood tacos, burritos and salads. There are vegan and vegetarian options too. Eat at one of the sidewalk tables or take your food over to the beach or promenade. (See below.)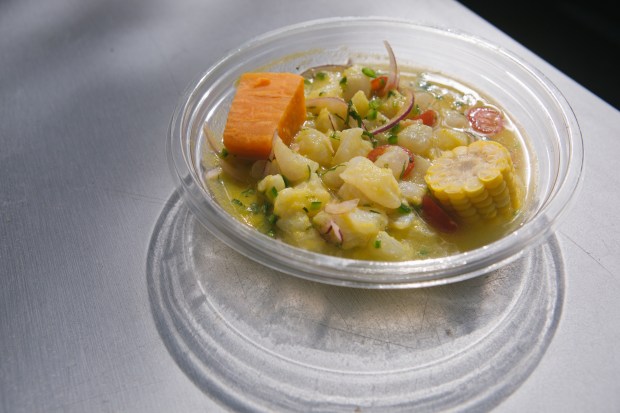 Hop on a bike. All over South Beach, you can rent Citi Bikes by the hour or for the day. You can also rent bikes at Miami Beach Bicycle Center. By now you might need another cafecito, so it's worth making a short detour to a great little local joint called Las Olas Café at the corner of Sixth Street and Euclid Avenue. The island of Miami Beach can feel like a botanic garden unto itself. As you ride through the streets in the middle of the island, look out for flowering trees and bushes—magenta bougainvillea; pink, yellow, and white hibiscus and frangipani; and bright orange royal poinciana. At Las Olas, step up to the ventanita (coffee window), where you can also get freshly squeezed orange or grapefruit juice or guarapo (sugarcane juice).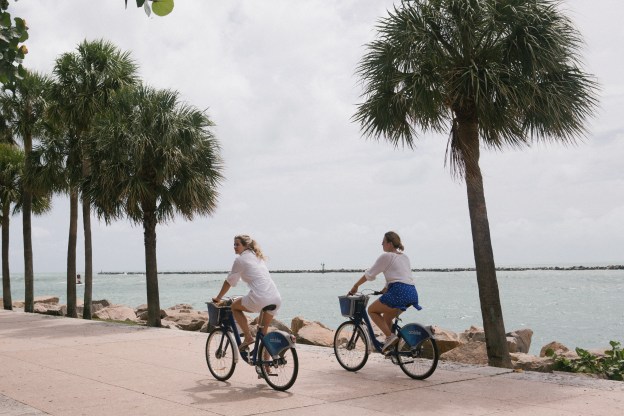 Las Olas is pretty close to the beach, and I know it's tempting to just get there already, but it's worth taking five minutes to ride back west to the promenade that runs between Biscayne Bay and the ocean, starting just off Fifth Street, west of Alton Road. This is a gorgeous bike ride along the water, but if it's too crowded to ride, you might consider locking up or returning your bike and taking the equally gorgeous walk.
Keep your eyes peeled for dolphins. The first part of the promenade is alongside the marina. I saw a dolphin for the first time there, and it never gets old. People gather around staring, gasping, helping one another spot the creatures as they surface for a few seconds before diving back under. Make sure to stop at one of the docks just outside the locked marina gates and peer down into the clear water to see schools of tropical fish. Continue walking, and you'll soon be in South Pointe Park, with lots of grassy areas to take a break or run through the sprinklers in the playground. There is plenty of good people-watching (and shoe-watching) to be done there. Shortly before you reach the pier, there's a rare Miami hill. It's a little hill, but from the top, the views of the ocean and Government Cut (the channel you've been riding or walking along) are beautiful.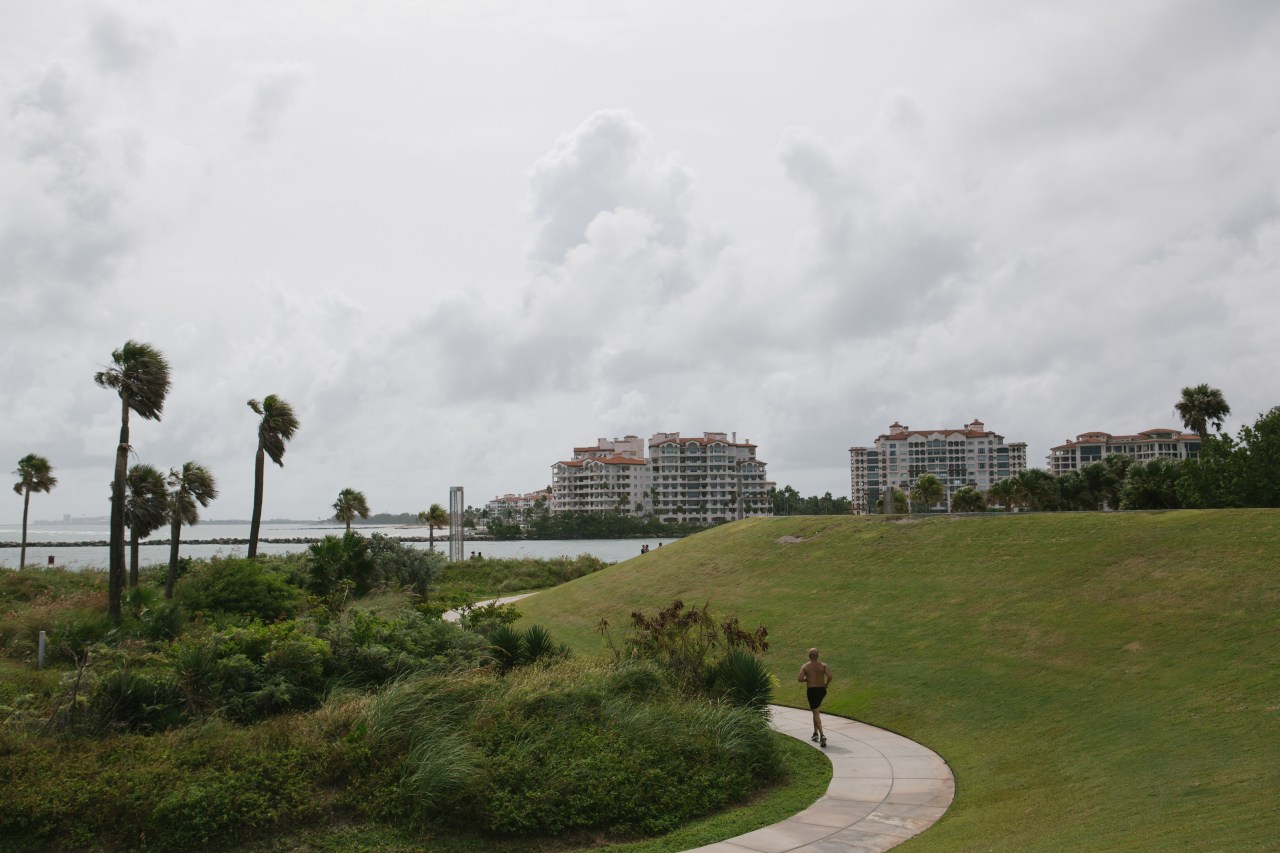 At the end of the promenade, you'll find the pier and beach. That first look at the water is not to be taken for granted. It's so blue and clear, it's sometimes hard to believe it's real. Walk out onto the pier for a different vantage point and look down into the water from the cutouts in the pier.
This is my favorite time of day to go to the beach because it's still sunny and warm but not overpowering. I think of this part of the beach at the southernmost tip of the island as my beach. It's below the hotels and the rented chairs and umbrellas, so there are lots of locals, especially families, and even far out, the water stays shallow. You can walk into the ocean for 50 yards during low tide or 25 during high tide.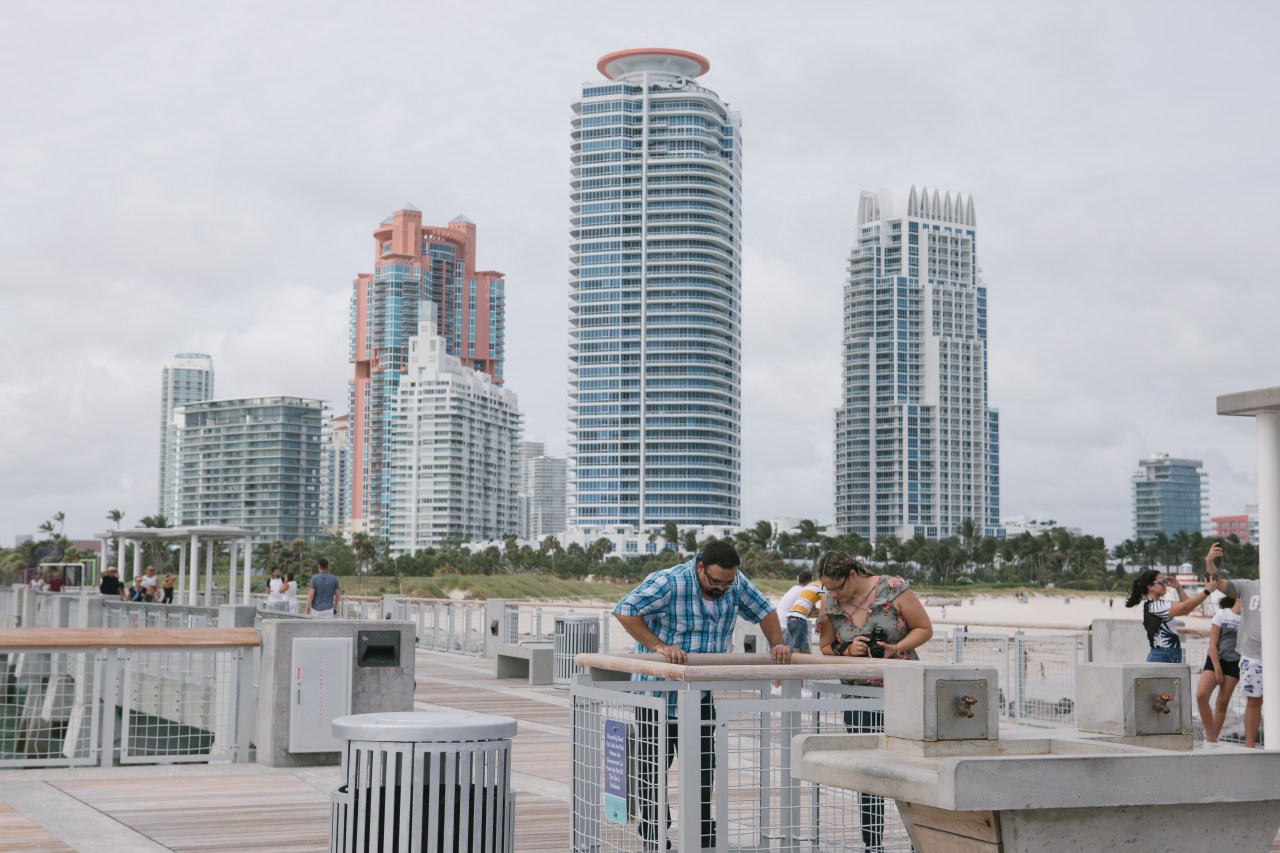 From the sand or water, this is usually a good time to watch cruise ships pulling out through Government Cut. Some of them are so enormous that when you're in the water, separated only by a jetty and the pier, you feel as if you're the one moving, not the ships. In winter the sun starts to set around 5:30 p.m. (8 p.m. in summer), and Miami Beach has exquisite sunsets. Some days the sky looks painted, with fiery streaks of oranges and yellows tempered with cooler purples and pinks.
Just a little ways up the beach, every day (weather permitting) local yoga instructors teach oceanfront classes on the sand right behind the lifeguard tower at Third Street, by donation (at 7 a.m. and 5 p.m. during standard time or 6 p.m. during daylight saving time). That's some yoga studio. On Tuesdays and Thursdays there's also a free class at 6 p.m. at the lighthouse statue in South Pointe Park. Take a beach towel.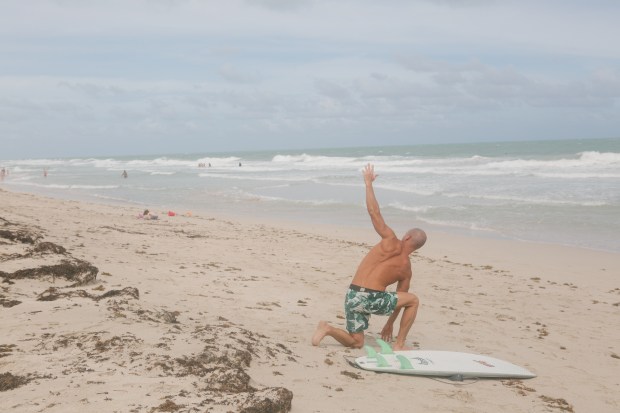 On Washington Avenue just below First Street, pick up dinner from Joe's Take Away, the far less formal arm of Joe's Stone Crab, the oldest restaurant in Miami Beach. In keeping with stone crab season, it's open from Oct. 15 to May 15. Joe's was opened in 1913 by Hungarian-Jewish immigrants during a time when Jews were not allowed to live above Fifth Street. (That stone crabs aren't kosher doesn't appear to have had any impact on its initial success or remarkable longevity.) Joe's Take Away has been around only since the 1980s, and I like it way more than the main restaurant, if only for the vibe. The poached salmon salad makes great little sandwiches with the challah or pumpernickel-onion rolls packed with your order. Try the Manhattan clam chowder. Miami-turned-L.A. pastry chef Hedy Goldsmith turned me on to the idea of eating Joe's famous Key lime pie frozen, so maybe get an extra slice so you can freeze one for later.
Another dinner option is Tap Tap Restaurant. There's great Haitian food all over Miami, but in South Beach, this is the place. Takeout is available, but eating in is a big part of the charm. It's relaxed and friendly and decorated with bright Haitian art. I like the soup joumou (pumpkin), akra fritters (made from malanga), zepina nan sos kokoye (spinach in a rich coconut sauce), kribish Kreyol (shrimp creole), and Tap Tap salad (mango and watercress), especially during mango season. Mojitos, made using Barbancourt rum from Haiti, are $10 to $11, which is a pretty good deal for South Beach. If you choose to dine there, you'll need to build in more time than for Joe's Take Away, so you may want to consider going for dinner after a Wallcast (our next stop) instead.
Walk or bike up to the Frank Gehry–designed New World Center concert hall for a Wallcast or concert inside. The New World Symphony, founded by Michael Tilson Thomas, is made up of post-college (often post-grad) or conservatory musicians who spend three years as fellows with the symphony. It has been a feeder for the Cleveland Orchestra, Boston Symphony, New York Philharmonic, San Francisco Symphony and other major ensembles. The Wallcast plays on a 7,000-square-foot screen on the façade of the building facing Soundscape Park. Prime spots on the lawn go fast, so get there early to set up chairs or a blanket. It's a great place to take dogs, kids, and a bottle of wine. Concerts are projected in real time and shot from various angles, so you get a level of detail impossible from inside a concert hall (except when they're projected on the video screens inside the hall). The audio is piped through 167 speakers throughout the park, and the sound quality—whether it's Mahler and Beethoven or Julia Wolfe and John Adams—is excellent. New World has an obvious affinity for music by contemporary composers, and those are my favorite concerts. Encore presentations mean more opportunities to spend time in the park watching the expressions on a conductor's face or the hands of a piano virtuoso.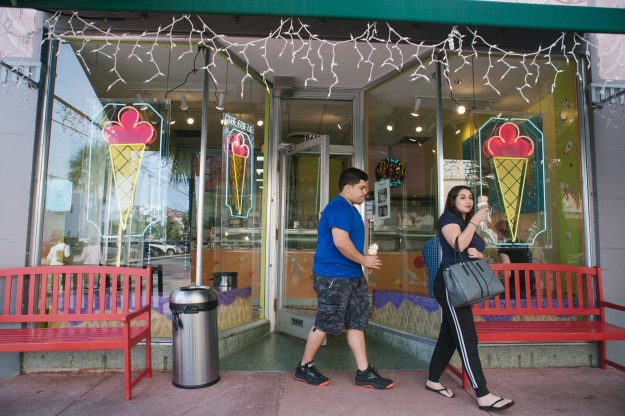 If you saved your key lime pie for later or you want dessert twice (in which case we should be friends), head to the Frieze Ice Cream Factory on Michigan Avenue, just off pedestrian-only Lincoln Road. (And while you're in the area, make sure to take in 1111 Lincoln Road, the mixed-use parking garage and commercial building designed by Herzog & de Meuron, the architecture firm behind the stunning Pérez Art Museum building on the mainland.)
Frieze is an unassuming neighborhood ice cream shop half a block from a hub of Miami tourism, and it has been there for more than 30 years, making ice cream and sorbet (nondairy) on site. The ice cream is consistently good, with a solid mix of seasonal flavors, but it's the sorbet that makes this place special. Rather than being an afterthought with a few predictable flavors, the sorbets there are Indian mango, passionfruit, champagne, lychee, Key lime, blueberry and more.
Speaking of mango: Almost any day I can get my hands on a mango grown in Miami is a perfect day. Before I moved there, I thought I knew what mango tasted like. I did not. So if you're there during mango season (summer), get one. Get as many as you can. People who have mango trees often can't give them away fast enough, so ask around.