Try as you might, it's just about impossible to find bad sushi in Kanazawa. Even the $1-a-plate conveyor belt joints, with their colorful dishes and bilingual tableside touchscreens, manage to churn out what would pass for pretty damn good at sushi restaurants anywhere else in the world. This alone would be reason enough to live there (and played a considerable role in my decision to move back there after a 14-year absence), but it's only the beginning of what makes Kanazawa one of Japan's most livable cities and, in recent years, a major draw for visitors from near and far.
How did it all begin? About 400 years ago, the Kaga region was ruled by the mighty Maeda clan. Because of a combination of excellent management skills and the natural bounty of the land and sea, the clan flourished. Soon word on the street was that the Maedas nearly rivaled the shogun in wealth and power—and the shogun wasn't happy. In a concentrated effort to convince everyone that they were not amassing an army of well-trained samurai poised to challenge the seat of power (of course they were), the Maedas began importing master craftsmen from around the land and setting them up with studios and stipends. Working in clay, wood, metal, lacquer, bamboo, and silk, these artisans soon earned Kaga the reputation as a center of the arts and, more to the point, succeeded in diverting the suspicion of the shogun from the Maedas.
My favorite story about this period comes from Meboso-san, a 16th-generation member of the family behind the oldest handmade fishing lure company in Japan. After the shogun prohibited wearing of swords or any form of military training, the samurai had little to occupy their time—until one enterprising warrior hit on the idea of river fishing. While it might have been a pleasant way to pass the hours, it also allowed the men to maintain their battle readiness, as the act of casting for fish is remarkably similar to wielding a sword. In addition, the hours spent standing in icy water allowed them to focus their minds.
Nowadays, Kanazawa offers visitors the chance to step back in time while providing some of the best eating in Japan. If I had to hone it all down to one day, here's how it would go: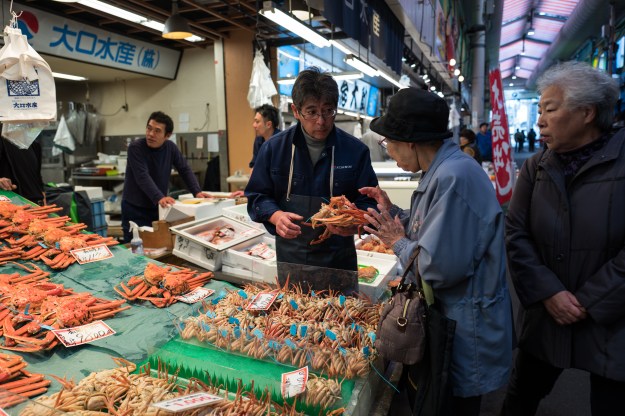 9:00
am
Omicho Ichiba
50 Kamiomicho, Kanazawa-shi, Ishikawa-ken 920-0905, Japan
Get Directions
After a satisfying Japanese breakfast at your ryokan or hotel, head directly to Omicho Ichiba, nicknamed "Kanazawa's kitchen," one of Japan's largest covered markets. Dominated by the fishmongers with their sprawling stalls covered in sparkling shaved ice and every kind of seafood imaginable, it's impossible not to sample a bit of this or that. If you see the giant iwagaki, or rock oysters, spend the money to try one; it will challenge everything you think you know about oysters. This is also a great place to pick up various loose teas and all kinds of pickles and to realize that real wasabi bears little resemblance to the green paste back home.
10:30
am
Kenrokuen
1 Kenrokumachi, Kanazawa-shi, Ishikawa-ken 920-0936, Japan
Get Directions
Stroll over to Kenrokuen, considered one of the top three gardens in all of Japan and a joy in every season. Just as you can't find bad sushi in Kanazawa, you can't take a bad photo in Kenrokuen; it's perfect. As you stroll the narrow paths, you may find one of the teahouses that serve frothy bowls of authentic matcha. Don't pass it by. Cross the wide stone bridge spanning the road and pass through the imposing gate of Kanazawa Castle. The outer walls are all that remain of the original, but the city has been slowly reconstructing the castle's buildings using traditional methods.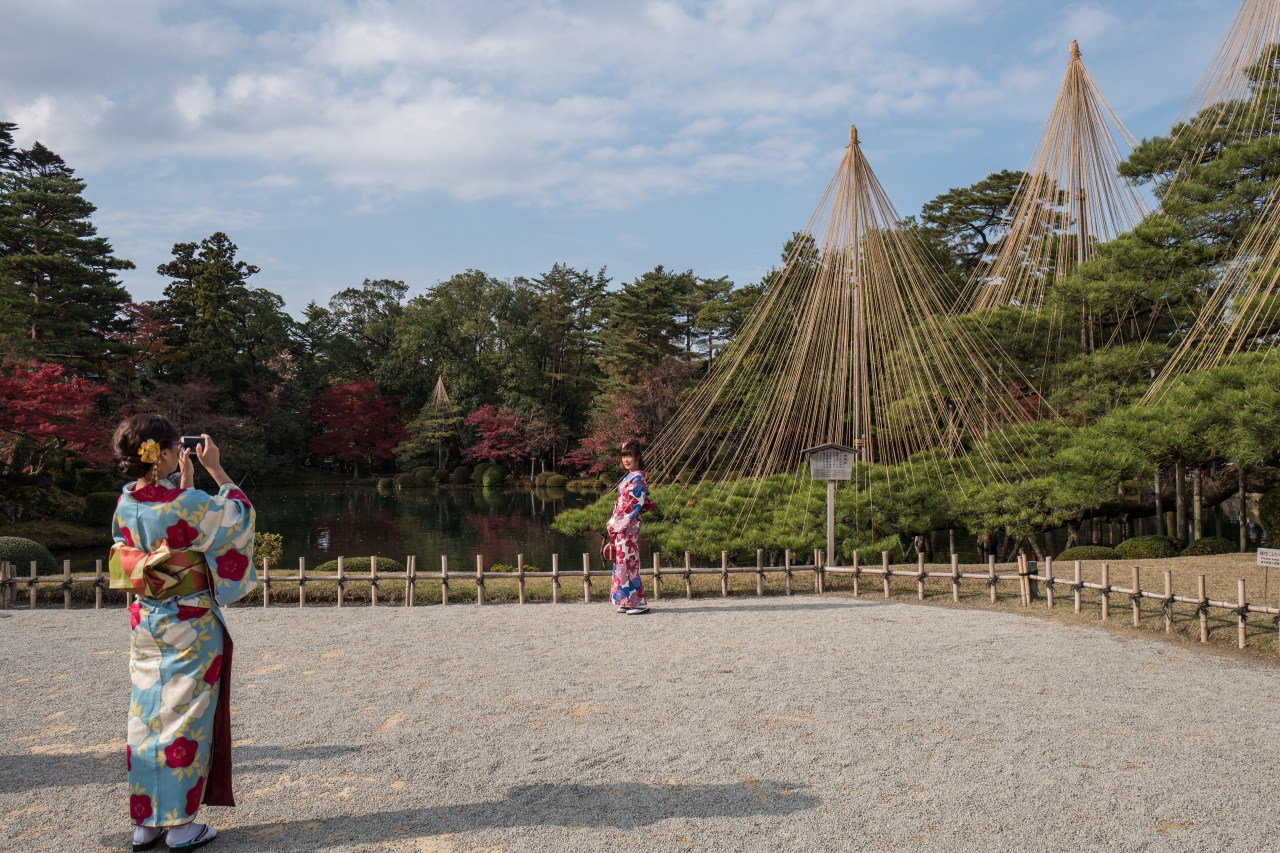 12:00
pm
D.T. Suzuki Museum
DT Suzuki Museum
3-4-20 Hondamachi
Get Directions
After the bustle of Kenrokuen, a bit of serenity is in order. This you'll find at the DT Suzuki Museum, a tiny gem nestled on one of Kanazawa's side streets. Best known as the philosopher who introduced Zen Buddhism to the West, Suzuki traveled the world extensively to learn and teach about this often perplexing way of thinking. Built on the site of Suzuki's childhood home by starchitect Yoshio Taniguchi (best known in the West for the 2004 addition to New York's Museum of Modern Art), it's more of a tribute to the philosopher's life than a museum, with reading rooms and places to meditate incorporated into the design. Around the back, there are paths to follow leading through a garden and eventually back into the city.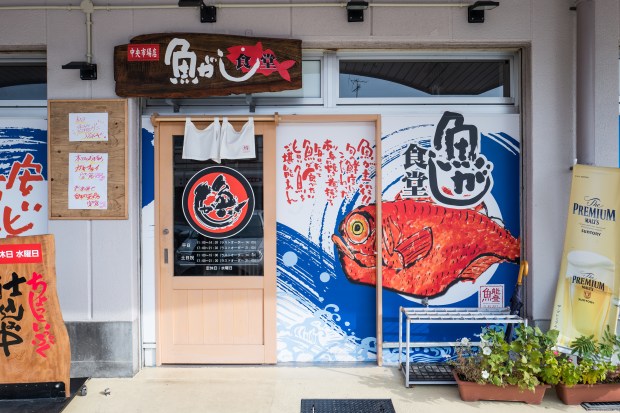 Time to eat! Take a taxi to the area around Chuo Ichiba, Kanazawa's central fish market, open in the wee hours exclusively for wholesalers and sushi chefs. At midday more than a dozen small restaurants open their doors, feeding workers and businesspeople in the area. Udon, soba, and of course, all kinds of fish are on offer, each as good as the next, so choose one and dive in. If you're looking for sushi, Tentoten is a good place to start.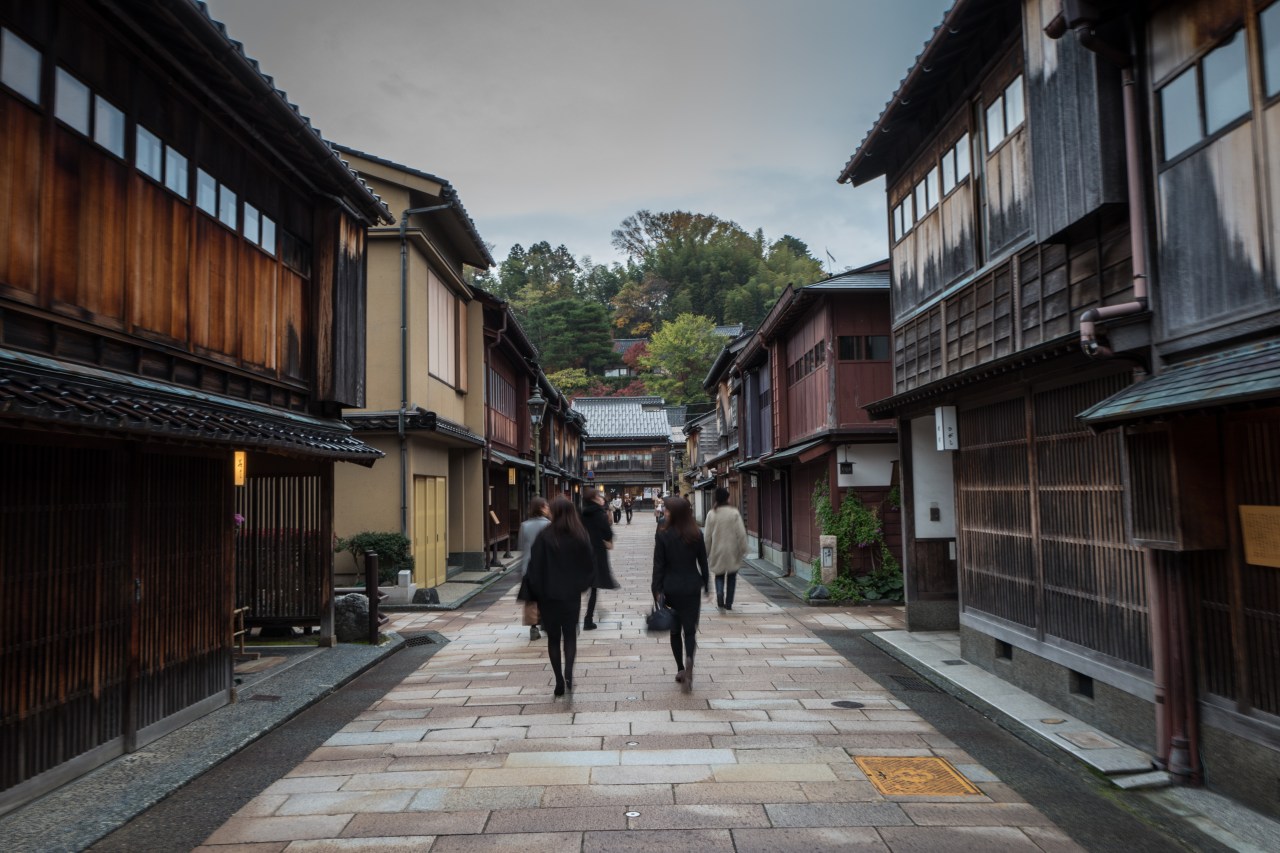 3:00
pm
Nagamachi
1 Chome-3-32 Nagamachi, Kanazawa-shi, Ishikawa-ken 920-0865, Japan
Get Directions
Head back into central Kanazawa and stroll through Nagamachi, the samurai district. It's possible to enter a couple of the houses for a glimpse of life during the Edo period, from 1604 to 1868. From there, walk, hop on the loop bus, or take a taxi to Higashi Chayagai (eastern teahouse district), one of Kanazawa's three geisha quarters. Rigorous zoning laws prohibit any new construction unless it follows the strict aesthetic codes of the neighborhood, resulting in several streets apparently untouched by time. A few of the geisha houses open their doors during the day, welcoming visitors for tea and the chance to see geisha up close and personal. The district is filled with charming shops, galleries, and cafés, making it easy to lose an hour or two.
Follow the stone road back out to the main drag, cross the street, and look for the Oriental Brewing Co., a craft beer brewery with a wicked yuzu ale among its offerings. Settle in on your barstool and watch passers-by as you sip your ale and chat with the bartenders and fellow drinkers.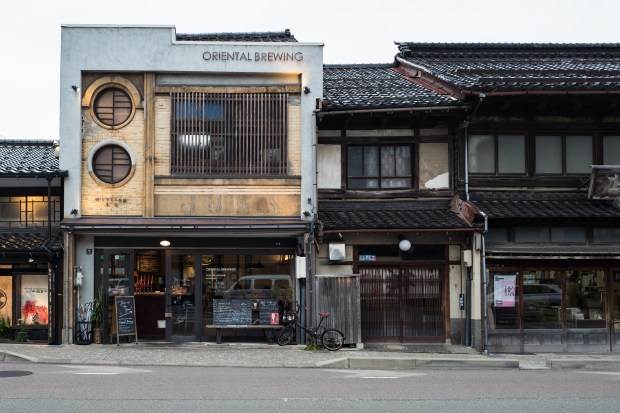 Rivaling Tokyo on a much smaller scale, Kanazawa has many wonderful restaurants, making it nearly impossible to narrow it down to just one. That being said, Zeniya offers a superlative kappo (a multicourse meal served at a small counter) experience. With just eight seats, diners are able to watch and interact with chef Shin Takagi as he creates his seasonal kaiseki (many small, beautiful courses) magic.
9:00
pm
Machrihanish Whiskey Bar
2-4 Kiguramachi
Nishino Building, second floor
Get Directions
After dinner, experience something a bit unexpected and completely authentic in its own way and drop into Machrihanish Whiskey Bar for a seriously impressive selection of the best single malts in the world. It's in the center of Kanazawa's restaurant and nightlife district, so after a few drams of courage, wander into a few other nearby spots for some local color.
Later, as you teeter back to your hotel, consider that you've spent the day following in the footsteps of samurai and geisha in what was once the second-most-powerful domain in Japan. Time may stop for no man, but in Kanazawa, in a few corners of the city, it has definitely slowed to a crawl.