Chef Patrick Sike stands over a deep grill at Njuguna's, a roadside barbecue joint in Nairobi. He nudges a slab of beef and flips it. He flips it again, onto a wooden slab, and slices it into bite-size cubes. Three customers crowd around the carving board and stuff the pieces into their mouth.
In rural areas goat or beef nyama choma—Swahili for "roasted meat"—is typically reserved for special occasions: circumcision ceremonies, marriages, graduations. The meat is prepared simply and often accompanied by traditional dishes like polenta-like ugali and a salad.
But as Kenya becomes increasingly urban, the traditional family meal is taking on modern twists, like innovative marinades and side dishes, says Raphael King'ori, a well-known Kenyan chef. He says that, much like American barbecue chefs, Kenyan chefs are starting to try out marinades—with ingredients like garlic, ginger, and soy sauce—to make the meat more tender.
Kenyans take meat seriously, and if you ask five Nairobians who serves the best nyama choma, you'll get five different answers. James Mugathi Kigotho used to own his own nyama choma joint. He and I spent a day gorging ourselves on meat so you don't have to.
Njuguna's has been in Nairobi for decades and is frequented by Kenyan politicians. You'll easily spot its green awning and neon lights as you approach from the highway, possibly at a snail's pace owing to congestion. Locals come for the traditional recipes, nostalgic decor, and central location.
Closer to downtown, at Road House Grill a group is drinking domestic Tusker and White Cap beers and playing pool. Others are perched near the bar watching television. This restaurant is close to the presidential State House, and many customers are government workers on their lunch break. Be prepared to wait—many people call in their orders ahead of time.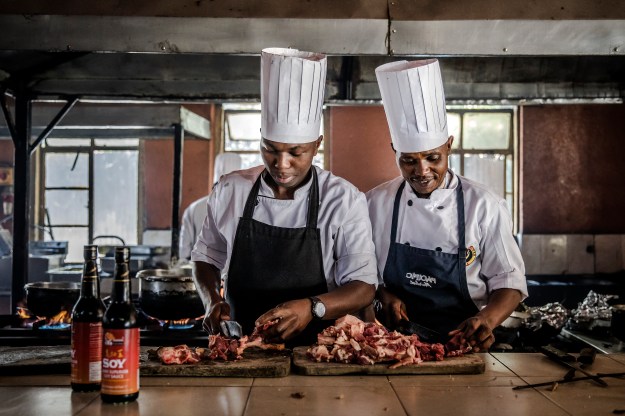 As at Njuguna's the meat is cooked without a marinade for about 45 minutes, then wrapped in foil to tenderize. And the kitchen has an open plan, so that customers can order their meat from a butcher's counter and watch it be prepared.
Nairobians are willing to travel for good nyama choma, Kigotho tells me. Some barbecue fans will drive nearly an hour to the town of Kitengela, where, they say, the salted soil has given the goats a delicious flavor. Others will drive southwest to a spot called Olepolos, which has a reputation for the best goat in the city.
We drive half an hour northwest, along Thika highway, past a military barracks and Kenyatta University. We turn off at exit 11 and drive down a road peppered with nyama choma spots, like Falcon Grill and Serengeti Gardens. There are flashing green and purple neon lights over two-storied wooden huts playing disco music and screening soccer matches. Smaller spots are tucked between pharmacies and gas stations, looking out over parking lots.
None of these places were here when Kamaki's Palace opened along what was then an empty stretch of road in the late 2000s. The competition in the area has grown fierce, and customers can hop from place to place, sampling different vendors' meat.
But we're going to the original, as Kamaki's modest painted sign boasts. It has the history, the fame—and the marinade. Chef Samuel Mwangi bathes a cut of red meat in a mix of ginger, garlic, dark soy sauce, a pinch of salt, lemon juice, and water before grilling it over low heat.
The mainly open-air seating area, shared with neighboring joints, is filled with plastic chairs and red-and-white-checkered plastic tablecloths. There's only one TV in the entire place, which suits regulars John Kimani and John Mbugua, who've just finished a day of construction work.
"We normally eat nyama choma with our friends when we're talking about our jobs, when we have something to discuss," Mbugua said. "It's sociable."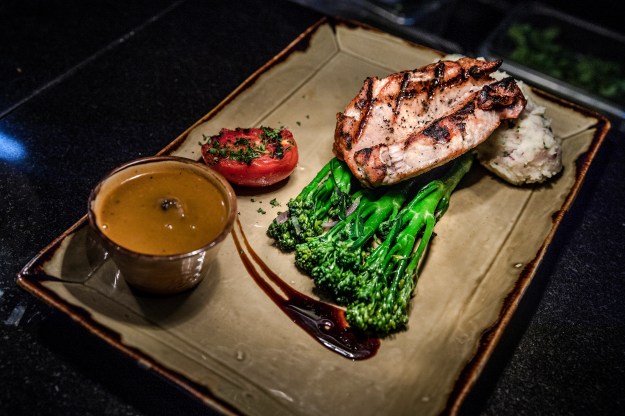 We make our way back to the city, to a shiny business complex that houses the award-winning Nyama Mama. The decor is modern. There's a trickling fountain on one wall and brightly colored fabrics coating the chairs. But sprinkled throughout are reminders of Kenya's rural and traditional side: old Coca-Cola crates, simple metal cups to take tea like you would in the village, large stew pots turned into sinks for washing your hands.
The same goes for the meals on offer. The most popular dish is the choma platter, a selection of grilled meats in marinades, like one with papaya, thyme, rosemary, parsley, garlic, and ginger. Instead of the staple ugali, the starchy paste has been molded into sticks and deep-fried: ugali fries.
Although Kenya is urbanizing (nearly 27 percent of people now live in cities), chef Charles Shayo said Kenyan barbecue really hasn't changed much. The city restaurants may have brought more marinades and modern twists, but, he says, ultimately nyama choma remains a tradition among family and friends.
How to get there: