At Koreatown Plaza, a shopping center in the heart of Los Angeles, there are a whopping 15 stores selling world-famous Korean cosmetics. A shop sells DVDs of Korean drama series here too—some to the tune of hundreds of dollars—next to a vendor of beautiful Korean bean cakes. Fashion stores named whimsical things like White Chic and Rubrum Boutique sell gray sweaters and beige ponchos that would make you look like the classy aunt in one of the dramas.
It's nice here.
There's a generous number of non-Koreans at Koreatown Plaza. One young Caucasian man, originally from New Orleans, says he lives in this neighborhood and is pursuing a career in film when he's not at his desk job. It's his first time trying the Korean food at the basement food court here. He's having the hot-stone rice pot, full of meat and vegetables and a side of soup—a big step up over typical U.S. mall food options.
With Korean culture—skincare, electronics, media, food—gaining popularity internationally in recent years, so too has L.A.'s Koreatown. But what's good for business might not be so great for the working-class people who live here. Local community advocates warn of rampant gentrification, as non-Korean-Americans pour in from nearby hipster hubs, Silver Lake and Echo Park, driving rents up and the longer-standing inhabitants of this place farther from their homes.
Koreatown Plaza is clean, quiet, and relatively well-to-do. But in 1992, at the height of riots that killed more than 60 people, this mall "quickly became the outpost for rapidly improvised Korean defense forces," Anthony Bourdain recalled on his visit here for "Parts Unknown." From the roof, Korean-American business owners pointed rifles at the embattled stretch of Western Avenue as looters smashed windows and set buildings ablaze.
The history of this building—and in some ways, of Koreatown more broadly—is up on that roof, inaccessible to the public. The riots and this neighborhood's dark history aren't the face this sprawling neighborhood is putting on for its visitors, with its seemingly endless abundance of paper facial masks and mineral-enriched BB creams.
Long-standing efforts to build a museum in this neighborhood telling the Korean-American saga are underway (and have been since 1991). The museum's voicemail says construction is underway at the corner of Sixth and Vermont and it will be up and running in 2018. None of the museum board members or staff responded to multiple requests for comment.
Koreatown Plaza invokes a moment in L.A. history that many these days paint as a traumatic but necessary growing pain for one of the U.S.' most cosmopolitan cities—one that redefined Angeleno race and socioeconomic relations. Some Korean-American community stakeholders agree that there were teachable moments in the riots and their aftermath that bettered this city; others say this community and city have yet to fully reckon with the riots and repair enduring resentments between the city's communities of color.
But it's not just Korean and African-American relations that suffered at the time; the Korean-American relationship to Los Angeles itself suffered. During the riots and their aftermath, the needs of the Korean-American community were largely ignored by city officials, many community members say. The Korean-American—and more broadly, the Asian American community—has grown politically, but others point to ongoing disenfranchisement by local officials. It's unclear if the Korean-American community would have the power to advocate for itself in similar circumstances today.
Of the 3,100 businesses destroyed in the 1992 L.A. riots, well over half were Korean-owned.
In Korean, the riots are referred to as Sa-i-gu (사이구), the numeration of April 29, the day in 1992 that angry Angelenos took to the streets following the acquittal of the four police officers who beat Rodney King.
Korean-Americans owned stores in chronically underserved South Central L.A. Alexandra Suh, director of community advocacy group the Koreatown Immigrant Workers Alliance (KIWA), explained that Korean-Americans filled a need in low-income, inner-city communities. According to Suh, the mom-and-pop shops of the 1930s and 40s that catered to these communities were run out of business by chain supermarkets. But then, in the 1980s, even the chains "started to retract" from neighborhoods like South Central.
"The mom-and-pop-shops left, the grocery stores went there and also left. The good jobs left, the public investment disappeared," Suh said. Korean-American immigrants brought retail to these communities when corporate America and L.A. economic development officials wouldn't.
However, Suh added that African-American community leaders members in South Central and elsewhere had valid grievances about some Korean businesses harming their neighborhoods.
"There were some Korean business owners operating liquor stores, pawn shops, and businesses that were not helping the community very much. Some of those businesses were owned by people who didn't live in the neighborhood. African-American leaders pointed out these businesses are just creating harm in our communities," said Suh.
Still, the existing friction between the Korean and African-American Angelenos was inflamed by the media of the day, Suh says. "There were many Korean-American businesses and workers who had no problems with the Latin and African-American communities. You never heard those stories," she says. And that tension reported in the media became a self-fulfilling prophecy, Suh says.
The results were devastating.
"It was surreal to see Koreatown and L.A., where overnight it became a war zone—to imagine that the day before you're walking safely, and then the very next day, you need to be careful of entering that place," said Hyepin Im, a Korean-American community leader who works on community and economic development. She was in her early 20s at the time of the riots. "It made me realize that society is vulnerable and we shouldn't take it for granted."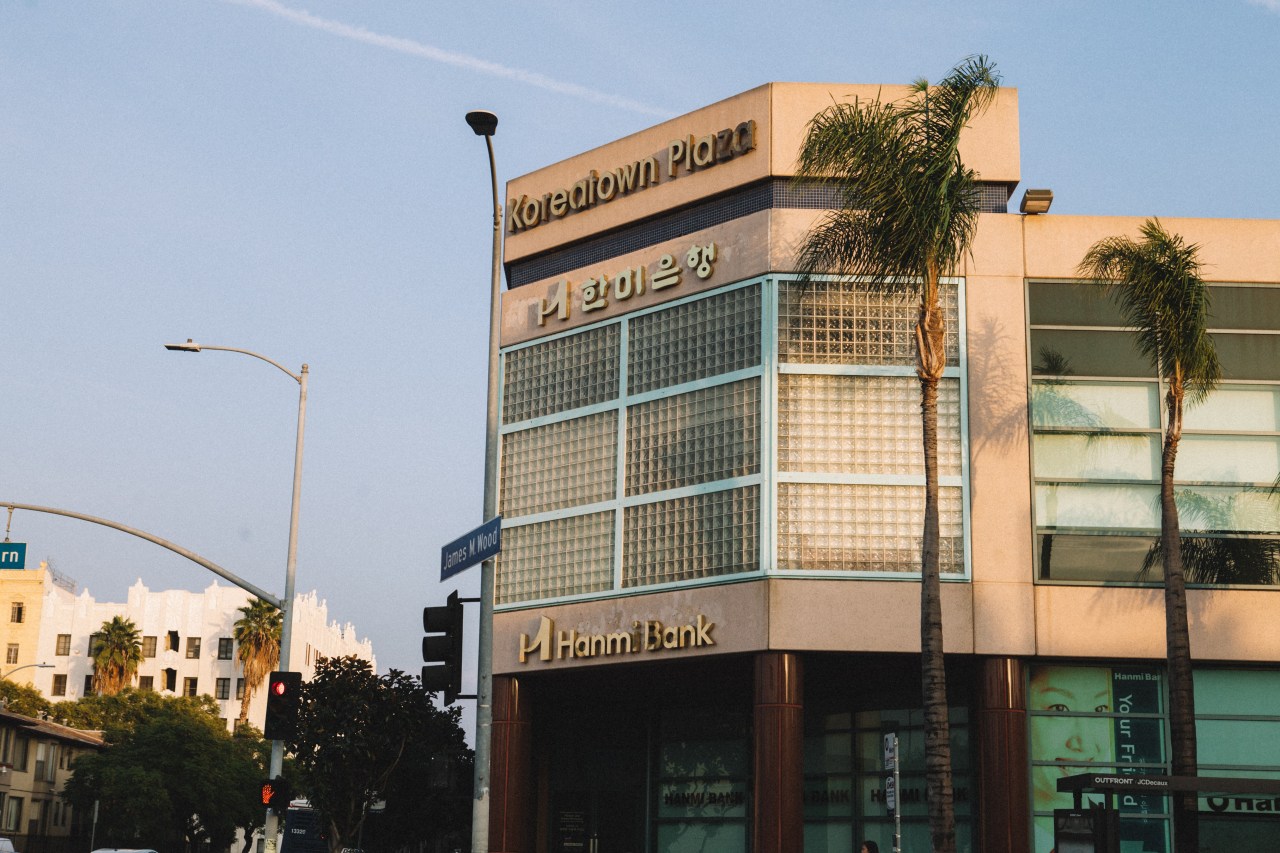 In some ways, the Korean-American community bore the popular anger over police brutality against communities of color. Today, the movement Black Lives Matter has directed itself more broadly at discriminatory practices in the law enforcement and judicial systems of this country behind incidences like the Rodney King beating. Of the 3,100 businesses looted or destroyed in the 1992 L.A. riots, well over half were Korean-owned, The Washington Post reported a few years after.
Today, as the Korean-American community remembers it, police were nowhere to be found during the riots. For law enforcement, Koreatown had become a virtual no-go zone; some charged in the aftermath that the working class neighborhood was a "low priority" for the police, according to a Los Angeles Times report at the time. In the end, only a fourth of Korean-American-owned businesses remained, despite the efforts of the community's vigilante store owners.
In the aftermath came rebuilding efforts that aimed to solve development quandaries and heal social fissures.
Angeleno community rights advocate Antonia Hernandez worked together with Korean-American architect Ki Suh Park and others as part of a community development initiative by the L.A. municipal government called Rebuild L.A. Together, they co-chaired the organization's reconciliation committee.
"Ki Suh and I convened many meetings, met with law enforcement, brought together families from the African-American and Korean community to listen to one another," she said. "We had listening sessions; often people just wanted to be heard. I participated in an advisory committee that recommended the hiring of the next police chief."
Rebuild L.A.'s work received mixed reviews—the bid to mend the community was eclipsed by the devastating 1994 Northridge earthquake. But Hernandez, who still works in community development advocacy, says Koreatown has since thrived.
"Since the disturbance, Koreatown has grown and prospered. The disturbance made all Angelenos realize that we must work together," Hernandez said.
Im recalls post-riot dialogue between Korean and African-American community stakeholders differently. Just after the riots, Oprah Winfrey invited members of both communities on her show to discuss their differences. Im was there.
"The Koreans were allowed to speak first," Im recalled. "They said we know we should do more [to work together with the African-American community], but they never got to continue, because the African-American community members pounced saying, 'That's right,' and they started yelling."
"I realized, 'Wow, our community didn't even get a chance to talk, even on Oprah Winfrey.'"
Instead of calling for redress from Angeleno officials for having abandoned them to the onslaught of violence in the unrest, Im—like many others in the community—feels that Korean Americans were "victimized a second time" by their media portrayal after the riots as an unfeeling, opportunistic community that had exploited other communities of color.
Community advocates like Im and Suh observe that Asian-Americans are often treated like a "model minority," and that the result is people don't see the problems faced by the community.
Koreatown may now be a Los Angeles attraction drawing non-Asian-Americans at unprecedented levels, but the Asian community there and elsewhere in the city and country sometimes struggles to stay afloat. In Los Angeles, 44 percent of Asian-Americans are either low-income or living below the poverty line, according to statistics released in early 2016 by legal advocacy group Asian Americans Advancing Justice. By comparison, 33% of Angeleno whites were low-income or impoverished.
When a building burns down that we both own, we don't care about each other's differences, we work to put out the fire.
Despite having some of the highest educational attainment rates in the nation, Asian-Americans have traditionally had some of the lowest rates of rising to management positions, according to historical statistics calculated by 80-20, the National Asian American Political Action Committee. "If you define discrimination in terms of return on investment, we're the biggest victims," Im said. In recent years, advocacy to address the issues facing the Korean and Asian communities has stumbled.
In 2012, many in the Korean-American community expressed an outpouring of anger against L.A. officials over the redistricting of the city that would ultimately divide Koreatown's leadership.
"You are disenfranchising us," said Hanna Yoon, then president of community advocacy group the Korean American Democratic Committee, at a stakeholder meeting in 2012. The bid to keep the district unified included not just Korean-Americans: "By this community, I don't just mean Koreans—I mean Latinos, Bangladeshis, Mongolians," she added.
Others noted that Koreatown business owners who donate to local officials were not being heard in their bid to maintain a single, united Koreatown council advocating for community members struggling with low incomes and low rates of fluency in English.
In February 2015, a federal judge overturned a challenge to the partition. The move, for some, lives on as an example of how Angeleno politicians have failed to listen to calls from its communities.
Korean-Americans were livid. Two decades after being left to fend for themselves during the riots, it seemed city officials again ignored their pleas for help.
Despite what some have called an instance of poor political leadership repeating itself, Suh and Im say that compared with the Korean-American community of 1992, political advocacy has grown in strength.
"I think when the civil unrest took place in '92, we didn't have this infrastructure of community organizations, both within the Korean community and the multiracial community," Suh said. "We have many progressive organizations that have worked together over all of that time since, creating structures for community empowerment and policy change."
KIWA was launched just before the riots, "responding to the conditions that gave rise to the unrest" in labor rights and other areas of social justice, Suh said. Since then, within KIWA and beyond "there's been a much more mindful building up of civic engagement" that has included all Koreatown communities, she added. KIWA organizes Korean-Americans, Latino-Americans, and others—offering aid in labor, housing justice, and immigrant rights.
For Im, faith helped—and not just in the spiritual sense.
At that post-riot Oprah Winfrey episode, where she claims Korean-Americans didn't get their fair say, Im had a realization. "At the end of the show, Oprah turned to an African-American pastor and said, 'Would you pray for us?' It was my first time seeing a pastor in a secular setting, especially on national television, bringing his faith leadership."
In 2001, Im founded nonprofit Korean Churches for Community Development in response to what she saw as a lack of effort at the local and national levels to better the Asian-American community. The organization's aim is to "build capacity, leadership, and partnerships in economic development and [serve] as a bridge between the Asian-American community and the greater community."
KCCD estimates that 75 percent of the Korean-American community is Christian. Im, whose parents were church leaders who helped other Korean-American immigrants settle in L.A., realized that she could leverage the church to build solidarity among the Korean-American community and beyond to advocate collectively. "When a building burns down that we [Korean-Americans and non-Korean-Americans] both own, we don't care about each other's differences, we work to put out the fire," she said.
"It's a win-win model I learned from the Black community," Im said, referring to the pastor she shared the dais with on Oprah. "I'm invited to so many of these meetings it's coming out of my ears. That's one of the very positive things that came out of the riots."
Still, high poverty rates and other trials the Asian-American community faces—chronic stereotyping and instances like Steve Harvey's derisive comments on Asian men, for example—prove there's work to be done. "Definitely, I would say that the community—our political power and our capacity to speak up is growing," Im said. "I'm hopeful—I'm seeing really positive signs. In this [President Donald] Trump era, it seems like a lot is going backward. There's more risk. Even more vigilance is going to be required. The silver lining is a lot more people are waking up."