Few neighborhoods in New York evoke the past or inspire nostalgia as much as the Lower East Side.
From the 19th-century tenement buildings that housed waves of immigrant families to the bars and nightclubs that made it a punk epicenter, history lurks everywhere throughout this neighborhood—even as luxury condos, third-wave coffee shops, and Chase banks multiply, seemingly unabated.
But scratch a bit beneath the shiny new veneer and you'll see that much of what made the LES one of New York's most dynamic neighborhoods remains.
Start your day with a cup of coffee and a treat at Abraço, a beloved coffee shop that serves some of the best espresso in town, alongside savory sweets like olive shortbread cookies and olive cake.
Notice how it's not completely overrun by laptops? This place is a Wi-Fi- and laptop-free zone (it's also cash only), making it one of the few cafés around that feels more like a gathering place than an NYU library. Grab a spot at the standing bar out front and watch the passersby on 7th Street, or take your snacks to go and head to Tompkins Square Park.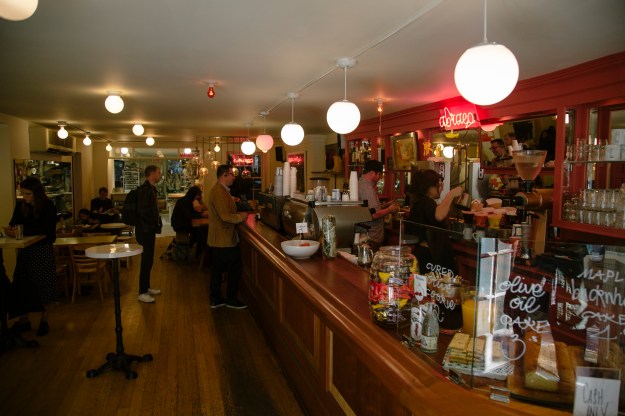 9:30
am
Tompkins Square Park
East 7th to East 10th streets, between Avenues A and B
Get Directions
In the heart of the East Village, Tompkins Square Park pulses with history. The city acquired this 11-acre swath of land in 1834 and set about developing it as a park over the next two decades, just as New York was seeing a population boom, largely fueled by immigration. Many of those immigrants would settle in the tenements surrounding the park.
In 1874, during a major economic depression, hundreds were injured when police clashed with thousands of protesters demanding jobs and labor protections. Throughout the beginning of the 20th century, the park continued to be a hotbed of labor activism.
More recently it was a flashpoint of conflict between police and long-term residents, culminating in the 1988 riots. A New York Times report at the time describes the park as "a base for nearly 150 homeless people, a playground, sometimes a drug market. It is also a gathering place for scores of young and sometimes drunken rock fans, whose boisterous all-night street parties were at first only a thorn in a few residents' sides but later became a demarcation line for the ideologies of an entire community." Police tried to enforce a curfew in the park, but it resulted in violent clashes and dozens of reports of police brutality.
Today it's filled with a mix of elderly residents, chess players, young families with strollers, fitness groups, musicians, skaters, and canines of all breeds in the dog run. Park yourself at a bench and take it all in.
Head down past Houston Street to what I've always considered the real Lower East Side. (Many New Yorkers refer to the area above Houston as the East Village.) As you're crossing Houston, look up and a bit to your left. Notice the statue peering out over Norfolk Street from atop a nondescript brick building? Yup, that's Vladimir Lenin.
The 18-foot statue once lived above Red Square, a large rental building that was built in 1989 on the north side of Houston. It was removed in 2016, when a development company bought the space, and subsequently relocated to 178 Norfolk. An associate of Red Square's original developers reportedly found the statue in a backyard in a Moscow suburb, and the developers arranged for it to be transported to New York.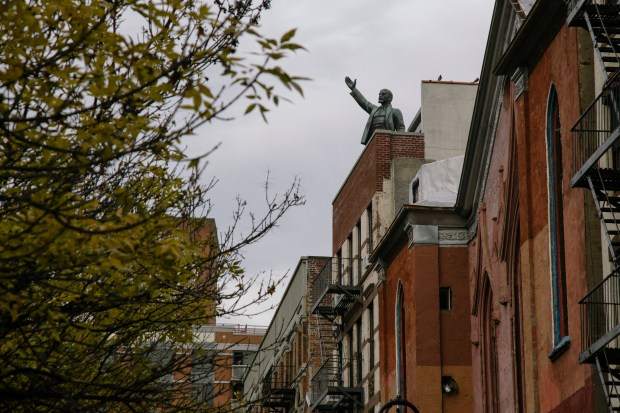 Make your way to the Essex Street Market, a collection of mom-and-pop shops that has been around since 1940. Grab a juice at Tra La La Juice Bar and visit Shopsin's—of the famously grumpy Kenny Shopsin, who died earlier this year. Peruse the eight-page menu, which includes deliciously odd creations like mac-and-cheese pancakes.
Like many things in this part of town, the Essex Street Market is getting a face-lift: In early 2019 it's moving into Essex Crossing, a massive new mixed-use development across the street.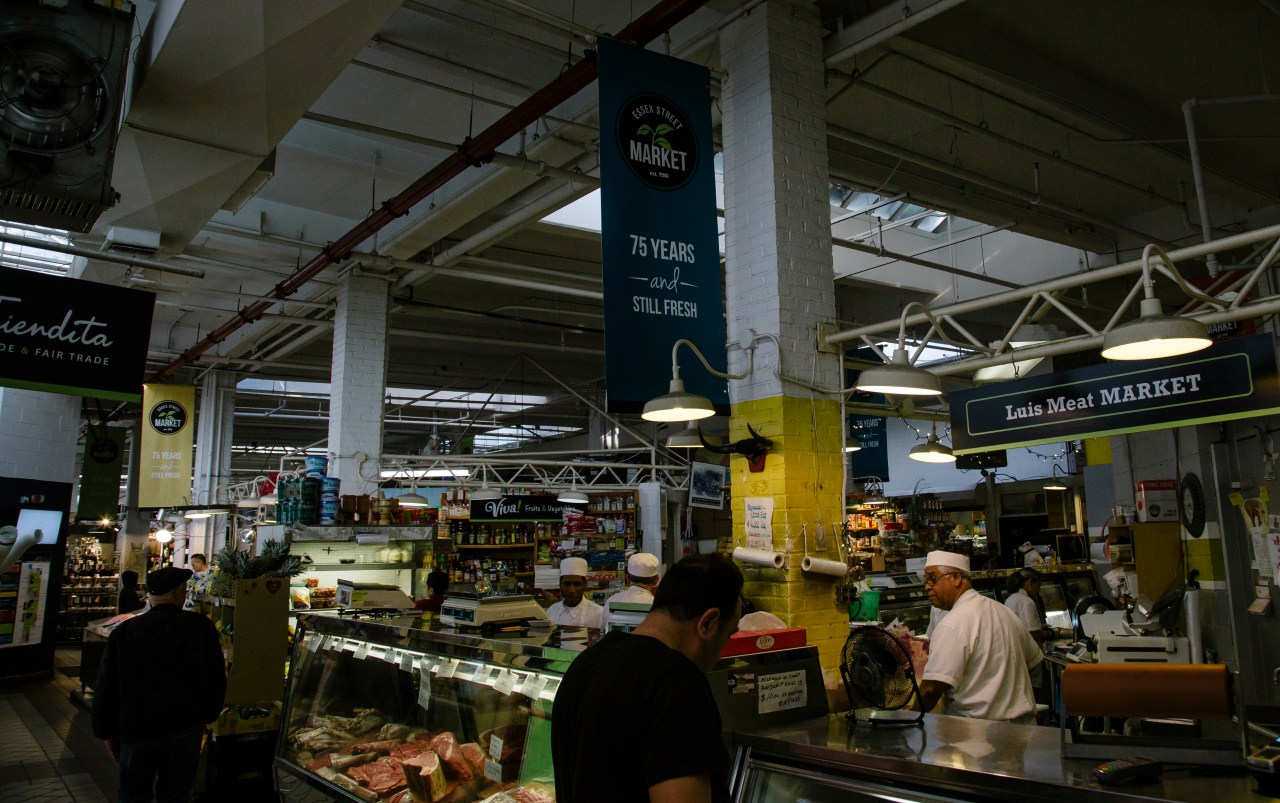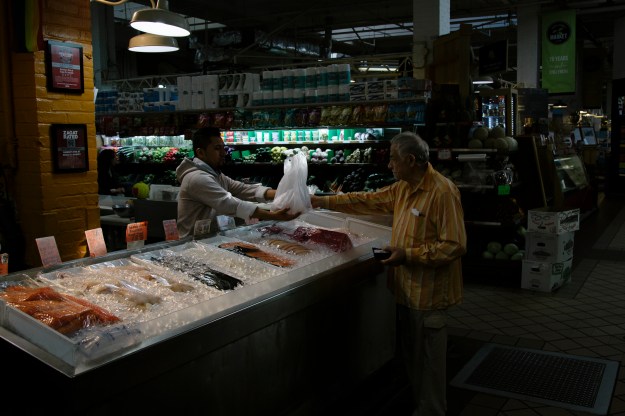 From the late 19th to the early 20th century, immigrants arriving from Germany, Italy, Ireland, and Eastern Europe, among other places, crammed into Lower East Side tenement buildings. Journalist and photographer Jacob Riis immortalized the squalid living conditions in his 1890 publication How the Other Half Lives, which inspired major housing reforms and is considered a pioneering work of muckraking journalism.
The Tenement Museum is one of the best places to learn about New York's immigrant legacy and how each wave of arrivals has influenced the neighborhood's identity. Tour the buildings and visit the restored apartments, each designed to re-create a specific era and immigrant experience on the Lower East Side; or take a walking food tour, sampling the diverse culinary fare that has been brought to this area.
It's time for lunch. And while I wouldn't blame you for just grabbing a pastrami on rye from the iconic Katz's Delicatessen, I'm sending you to Russ & Daughters Cafe, another Jewish deli with historic roots.
Cousins Niki Russ Federman and Josh Russ Tupper, fourth-generation owners of the original Russ & Daughters, which has been around since 1914, opened this higher-end offshoot in 2014. In homage to the original Jewish institution, the walls are adorned with family photos, vintage seltzer bottles, and old-fashioned caviar tins.
In fact, there is an enviable selection of caviar, as well as Jewish classics like matzo ball soup, knishes, and latkes, not to mention a surprisingly inventive cocktail menu.
Got a sweet tooth? Pop over to Morgenstern's, a classic-looking ice cream parlor serving flavors like cardamom lemon jam and burnt sage.
If Sour Patch Kids and Tootsie Rolls are more your thing, head to Economy Candy, the 81-year-old neighborhood mainstay, where you can buy candy in bulk or find oddities like Dum Dums lollipops the size of a baby's head or bacon-flavored jelly beans.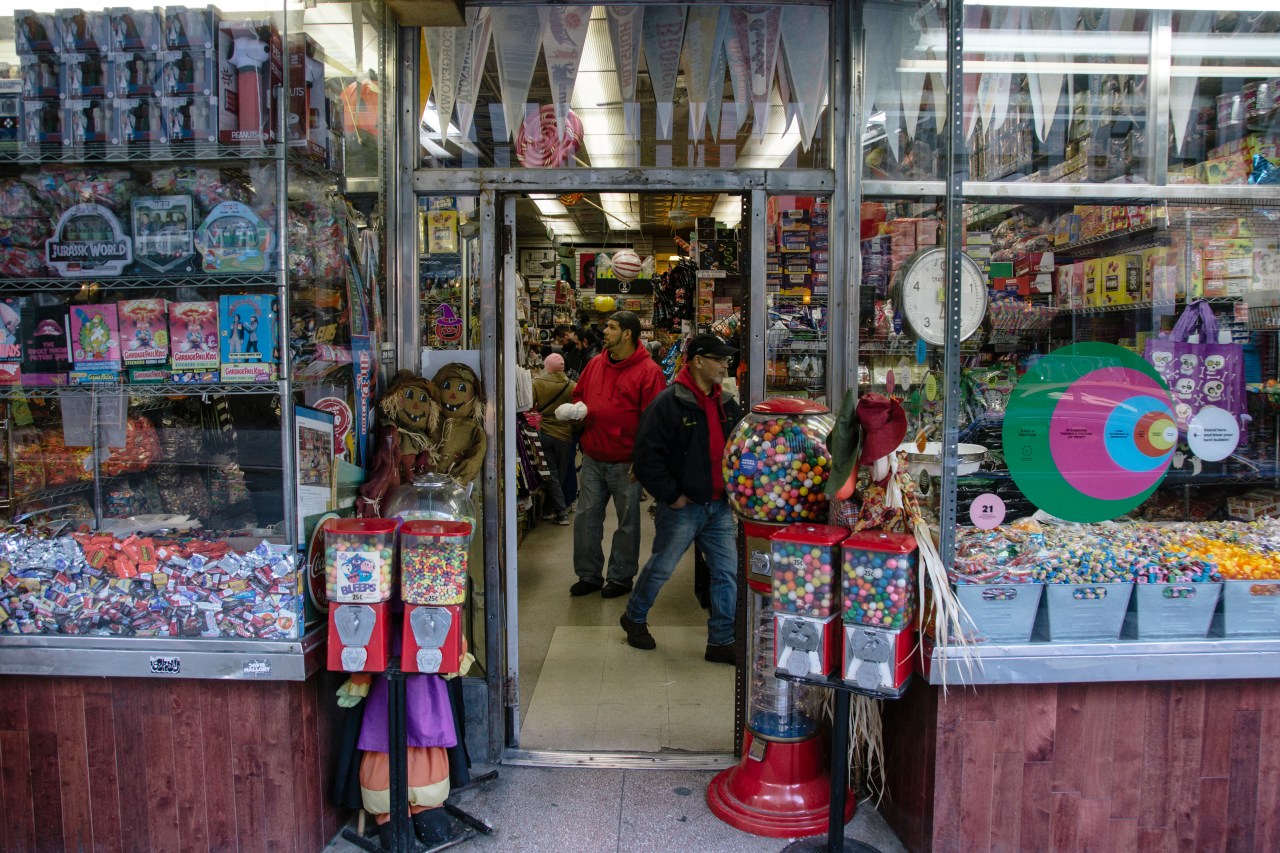 Chelsea has long been New York's go-to gallery neighborhood, but in recent years small storefront galleries have been cropping up on the Lower East Side, often showcasing younger, up-and-coming artists. This year 24 local galleries teamed up for the first-ever Lower East Side Art Week; each space displayed work by established and newer-to-the-scene female artists. You can find a list of participating galleries, like Lesley Heller Gallery (54 Orchard Street) and LMAKGallery (298 Grand Street) here.
Does any city embrace happy hour as enthusiastically as New York? In a neighborhood (OK, city) where $14 cocktails are the norm, there are still deals to be had—you just have to know where to look.
Stop by the Magician, a no-frills bar that pours $4 well drinks and $5 pints until 8 p.m. Around since the early 2000s, this spot is clean and sparse yet cozy and inviting. Last time I was there the jukebox was playing a mix of the Smiths, the Delfonics, and David Bowie at a volume no one had to shout over.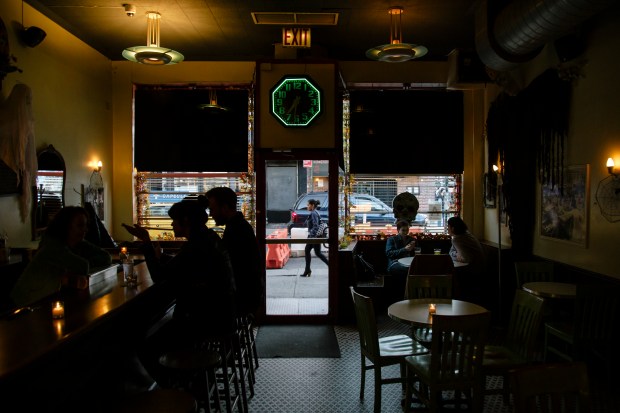 Yes, the Lower East Side is home to award-winning restaurants like Mission Chinese Food, Contra, and Uchu—to which you should, by all means, go. But if your goal is pure, unadulterated fun, then head to Kenka, a rowdy, Tokyo-style izakaya, where the pitchers of Sapporo flow freely and the meat skewers are inexpensive, delicious, and abundant. Most nights there's a DIY cotton candy machine out front—give it a whirl.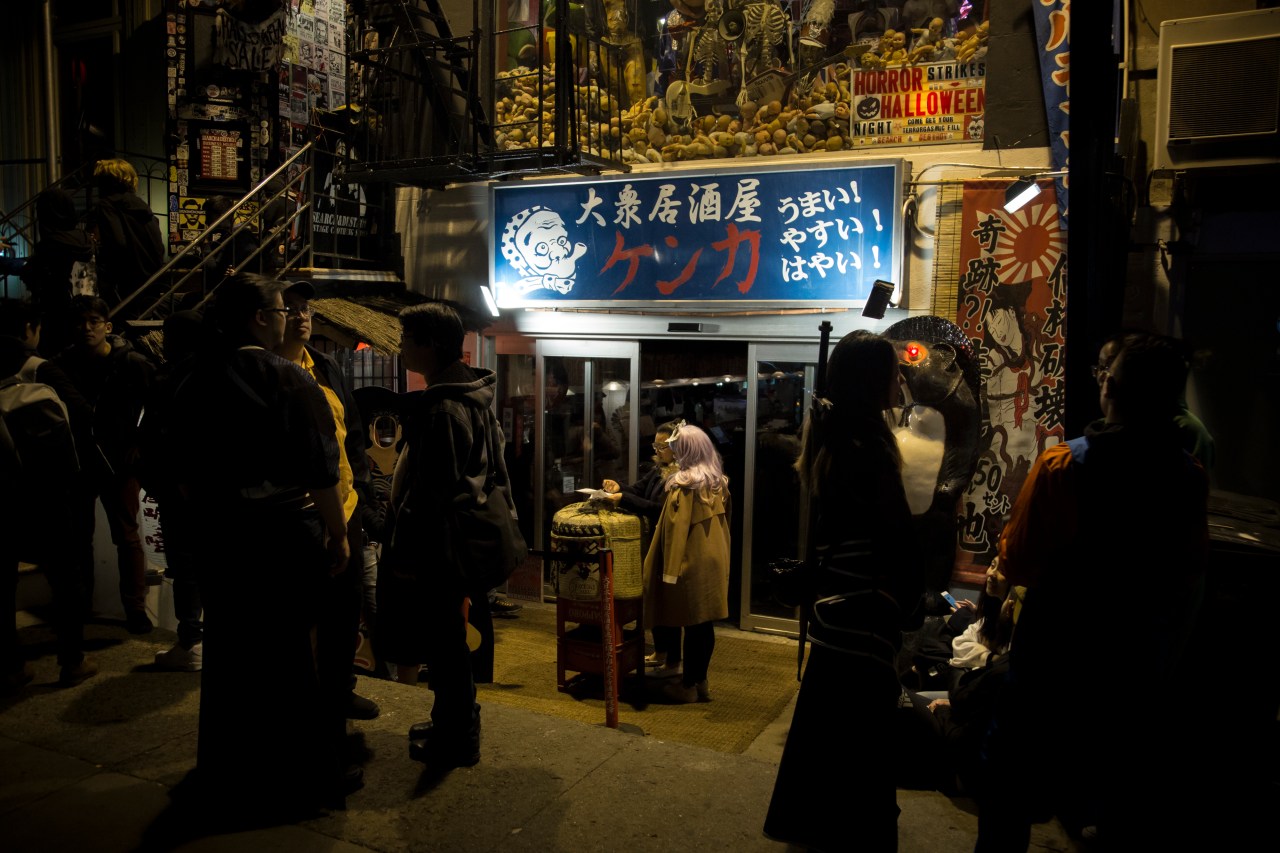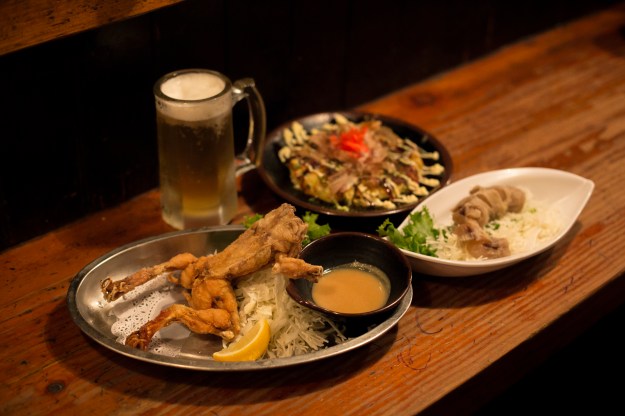 I'm going to reason with you. Even though it was the neighborhood's music scene that put it on the map, it's been a long time since I caught a show around these parts. My recommendations (Nublu? Mona's?) would be a little dated.
If I'm in the East Village on a Saturday night and I'm looking to be entertained, I'll probably head to UCB East, an intimate improv theater and outpost of the original, which opened in Chelsea in 1999 (since moved to Hell's Kitchen). The comedy acts range from high-profile (Sarah Silverman showed up last time I was there) to relative newbies.
We're going to stay put north of Houston—because weekend nights south of Houston the bars tend to be packed with finance and tech bros. But north of Houston a lot of the bars retain some of the grungy charm and affordable brews that drew many of us to the East Village in the first place.
There are still a lot of good spots, particularly hidden along Avenues B and C, but my nostalgic favorite is Sophie's. It's a classic New York dive bar—pool table, jukebox, and old wooden tables sticky from years of spilled beer. It's a place where different groups—students, long-term denizens, former residents who long for days past—actually do mingle over cheap pints. Grab the table near the window if you can, and check out the sketches on the wall—they're of Sophie's regular customers. Some still come around; others are long gone.
I'll go to Veselka any time of day for latkes and cheese blintzes, but some of my fondest memories of this 64-year-old Ukrainian joint are the times I came here giggly and hungry after a late night at Sophie's.
Is there anything better than crisp, greasy potato pancakes bathed in sour cream and applesauce to stave off a looming hangover? I think not.