I was raised by a domestic worker from the day I was born. Her name is Cecilia Nillasca, but I call her Nanay, which is the Filipino word for mother. Both my mom and Nanay are single mothers, a title which, at the time, was said with both admiration and taboo. Nanay worked with my family for more than three decades.
When I was born, Nanay was given the task of caring for me, as well as preparing food for the dozen people who lived in my grandparents' house. Mom always lived with her parents and at least three of her eight siblings at a time, but my world was always the small room I shared with my mom and Nanay. I knew Nanay in the confines of this house on Bautista Street.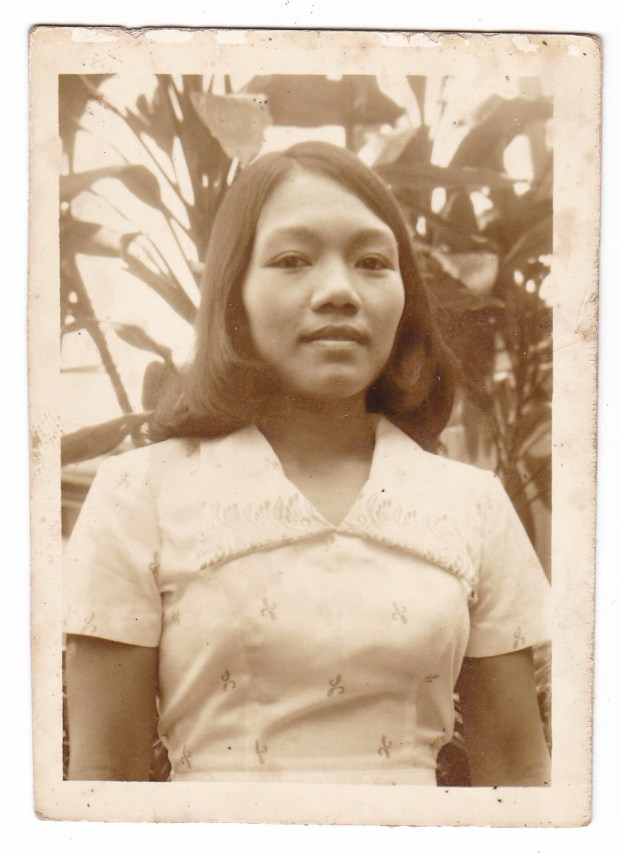 Between 600,000 and 2.5 million people work as domestic workers in the Philippines. Most of them are women like Nanay, who leave their homes in the provinces to provide for their families. Nanay was 18 when she started doing domestic work for families in Manila. She gave birth to her son at 38 and continued working for my grandparents for two more decades after.
When I think of Nanay I think of bath time in childhood. We didn't have a shower back then, just a large plastic vat of water, and when it was cold we would heat water up in a tin kettle and pour it in the vat. I remember her washing my face. Her hands smelled like a mixture of garlic and dishwashing liquid. After school I would rush home and I would study Andres Bonifacio and the revolution to the smells of adobo and sinigang. If I was lucky Nanay would be cooking a dish which she called imbento, meaning something she had just invented. She made magic in the outside kitchen, which Filipinos call the dirty kitchen. There Nanay helped me learn English, practicing with me on yellow pads of paper. Until I was in fifth grade I spelled words the way she did, with double consonants as if her words were especially emphatic. Life was verry beautifull.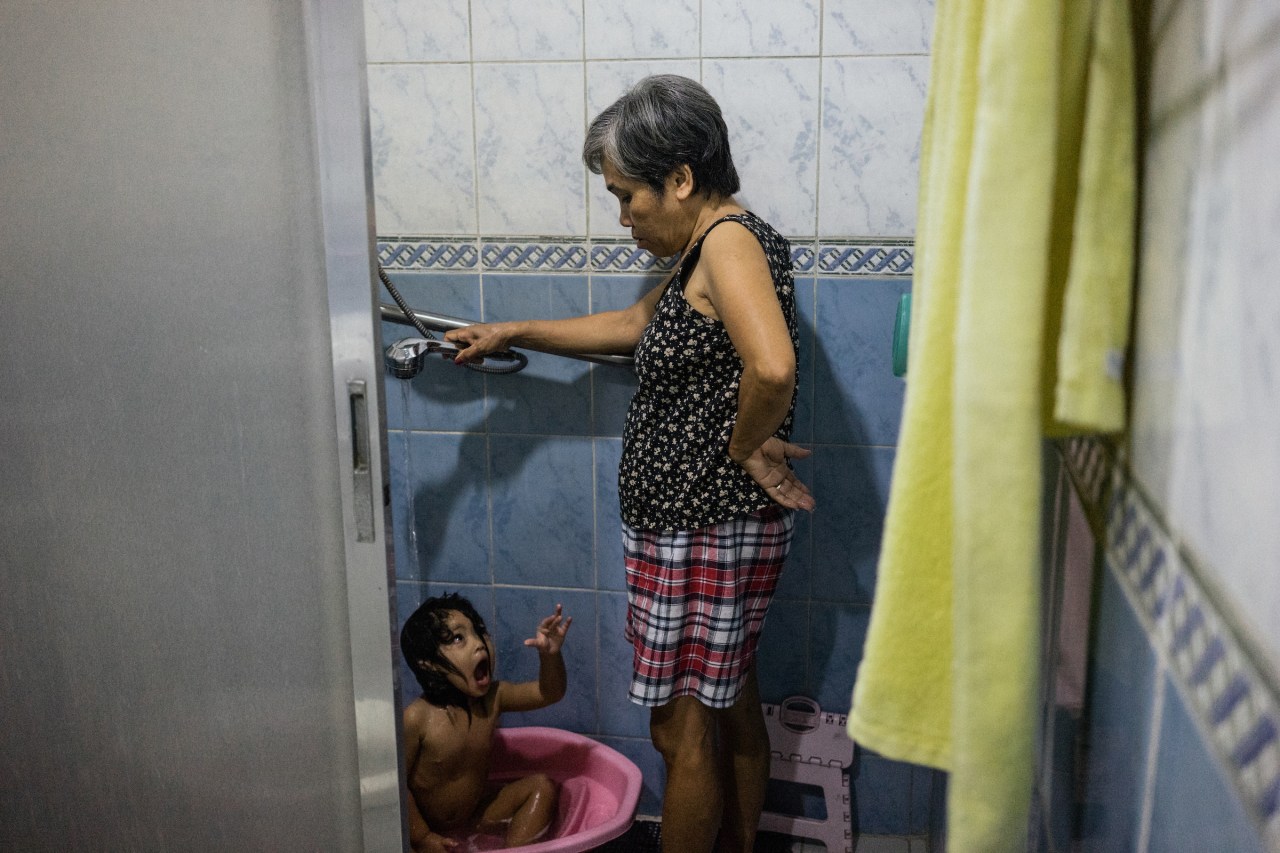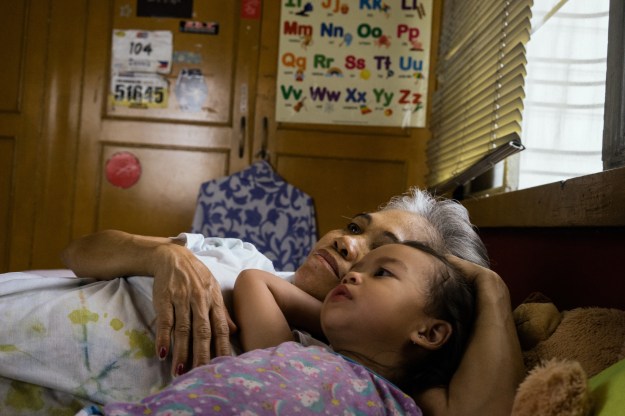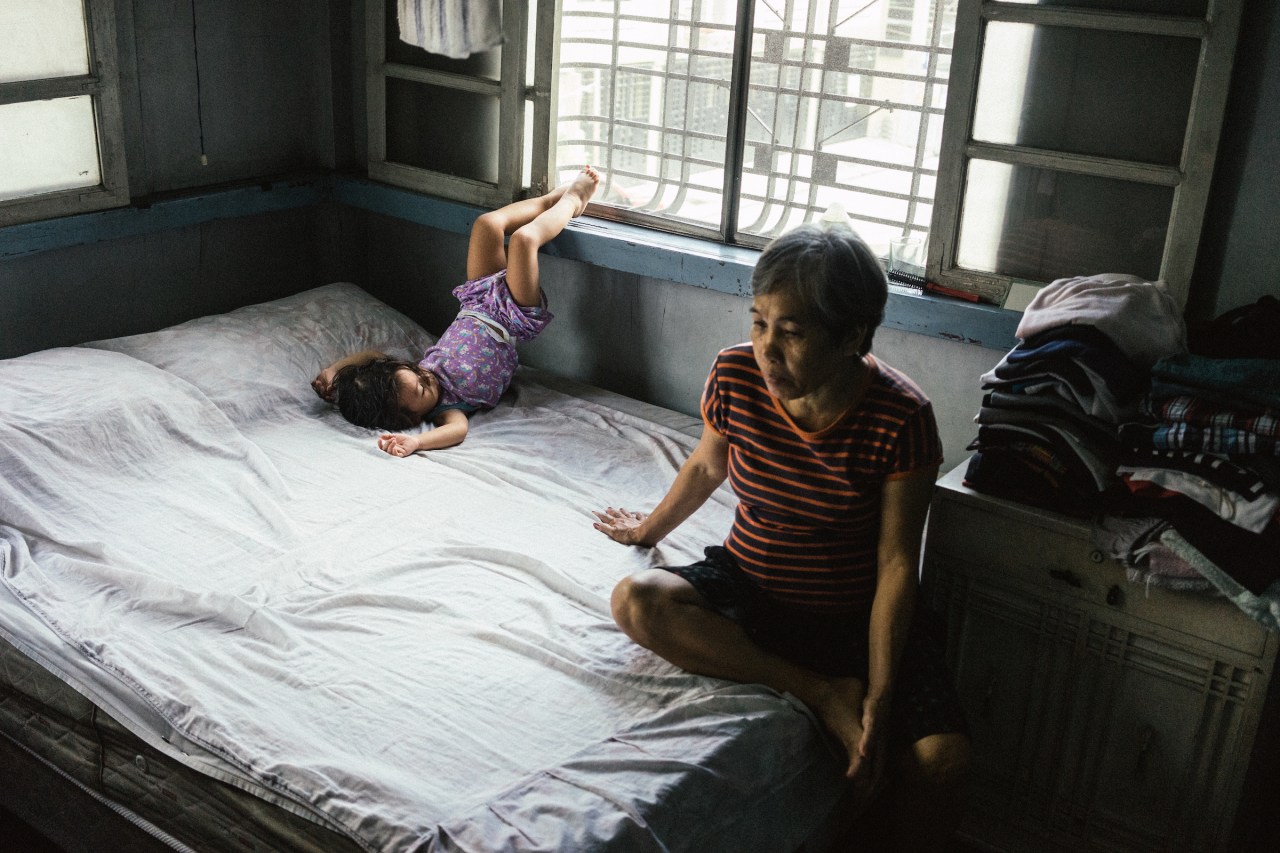 I began this photography project 10 years after leaving home. I fancied myself a photographer now, and Nanay asked why I was taking so many pictures. Wouldn't I run out of film? By the time I came back to visit, Nanay had been joined by Norma Bautista, one of her best friends. Bautista, who goes by the name of Millie, takes care of my goddaughter Ava. Their relationship reminded me of mine and Nanay's.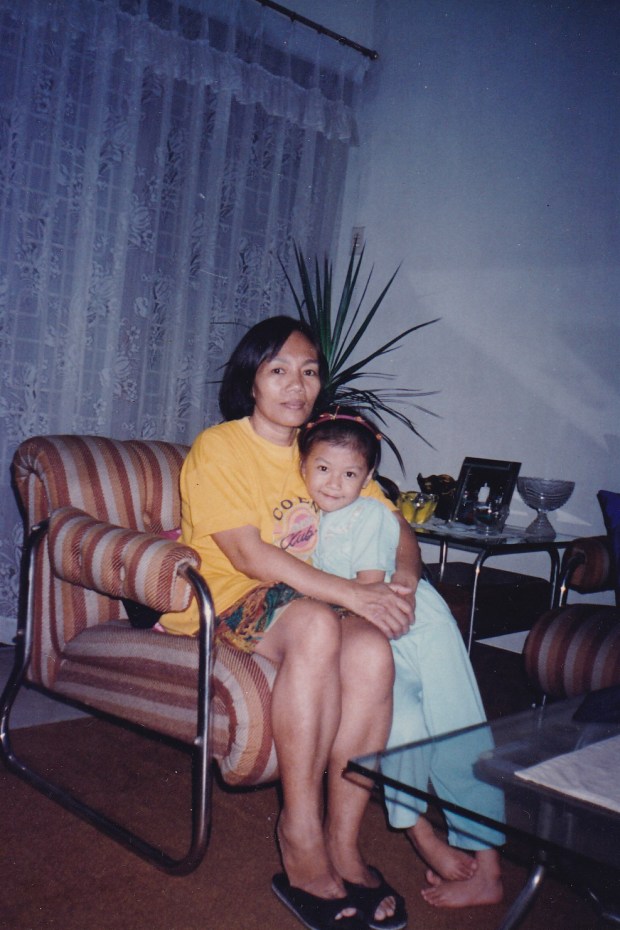 Nanay and Millie have been an essential part of our family. As an adult, I wanted to take a closer look at their lives, and the ambiguities they wade through while navigating the complex relationships of family and employment in parallel. I felt the need to make a family portrait, but one that would honor their sacrifice. After all, it was Nanay who showed me how complex love can be. When I was younger she would say a rhyme to me: "I love you todo-todo but my heart is poco-poco." Then she would laugh. When I asked what she meant, she said, "I love you so much, even though my heart is so small."
During my wedding, Nanay walked me down the aisle with my mom. She announced her retirement soon after. I made the journey back to her home with her—22 hours over land and water, lugging her belongings in duffel bags and plastic carryalls. She took me to her home, a house she had built, then rebuilt after Typhoon Haiyan destroyed it. It was the first time I had ever come to visit, and I stayed in her son Verone's room while he was away, working at a factory in Taiwan after failed attempts at becoming a seafarer.
Their house was in the middle of lush vegetation, in a sparsely populated area. It was the opposite of Manila, the mega city of streets and traffic. Her roof was made of straw and tin, and around it everything was green, and you could see the stars at night. She had few belongings, and among them was an album, which she had filled with photographs of the two of us. There was no running water, but she had her very own dirty kitchen, and over coal and fire she made us a feast.