The subtropical island of Okinawa is long and skinny, about 7 by 70 miles. Even at this size, the island's regions can feel localized, each with its own distinct character. For many visitors Okinawa is urban Naha, beach resorts, and historic, cultural, and aquatic tourist attractions. Travelers come for Okinawa's blue water and white sand, humid winds, red hibiscus flowers, cuisine that's been linked to longevity, and laid-back vibe at odds with the rest of Japan. Indeed, on Okinawa, you may find yourself referring to Japan as an entirely different place.
Central Okinawa is the area I know best, having researched the communities around the many U.S. military bases on the island. As one travels north through this area, Marine Corps Air Station Futenma—dubbed the "most dangerous base in the world" for its training exercises and location in a high-density city—is followed by Camp Foster, Camp Lester, Kadena Air Base, and Torii Station. The cityscapes here are all traffic, businesses, and bases. The asphalt and typhoon-resistant concrete blot out the affecting natural beauty of the island.
My perfect day involves getting out of central Okinawa and heading north by car: going where the ocean is closer, the scenery greener. Yet even as you move away from the bases, their presence—and the history that brought them there—seems to linger.  
9:00
am
Pancake House Jakkepoes
Japan, 〒904-0305 Okinawa Prefecture,
Nakagami District, Yomitan, Toya, 436
Get Directions
About a third of the way up the island is Jakkepoes Pancake House in Yomitan village. Although the restaurant is in a quiet residential neighborhood, on a narrow side street running toward the ocean, the bases are evident. The building that houses the restaurant is one of many squat concrete boxes the U.S. military built as family housing about 50 years ago. The homes have been repurposed as cafes, boutiques, and Okinawan residences across the island. If you ask, Jakkepoes owner Aki Fujimoto may show you an old photo of the house, shot in the early '70s by an Okinawan photographer who lived across the street in a building that was originally American military housing and is now a surf shop. In the photo three young American girls play outside in the dirt, the oldest wielding a hammer.
Now, the smell of bacon warms what used to be a living room. Have breakfast in one of the back bedrooms, where there are white curtains on the windows and a vase of flowers in the closet. The pancakes are American-style, inspired by the IHOP Fujimoto once lived near in Los Angeles. They are popular among the U.S. military community, but you're on Okinawa, so try the Anko Lovers, a stack of spongy, buttermilk-like pancakes topped with a mound of sweet bean paste and dustings of green tea powder and kinako (roasted soybean) powder. Pair it with getto tea made from a local medicinal plant.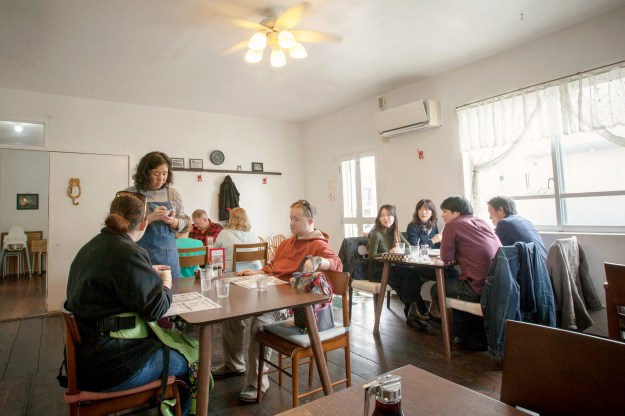 10:30
am
Cape Maeda
Japan, 〒904-0417 Okinawa-ken,
Kunigami-gun, Onna-son, Maeda, 469−1
Get Directions
Head to at Cape Maeda, a 20-minute drive farther north. This gorgeous stretch of coast is a well-known snorkeling and diving spot, but if you wander around past the sugar cane fields, you might just find the secret beach favored by those in the know. As you descend through the dense vegetation toward the sand, pass between two old Okinawan tombs built into the hillsides like sentries. Green false pineapples hang from above.
On the cloudy winter day when I'm there the beach is deserted, the sky moody, the shallow bay teal. On the right is a cave. A handwritten sign announces that it is "designated as cultural property (war remains)." When American forces invaded during the Battle of Okinawa at the end of World War II, civilians were caught in the crossfire between the U.S. and Japan. Many Okinawans hid in caves like this one. Often it didn't end well: along came an American blowtorch or Japanese soldiers demanding the space or wartime commands for suicide over surrender.
Walk, hushed, through the cave, and stroll along the beach, littered with broken shells and coral. In the summer you can swim and stand-up paddle board, but in the winter you'll need to visit a nearby dive shop to get equipped with a wetsuit and snorkel. In the naturally protected, shallow little bay, tropical fish dart amid the coral.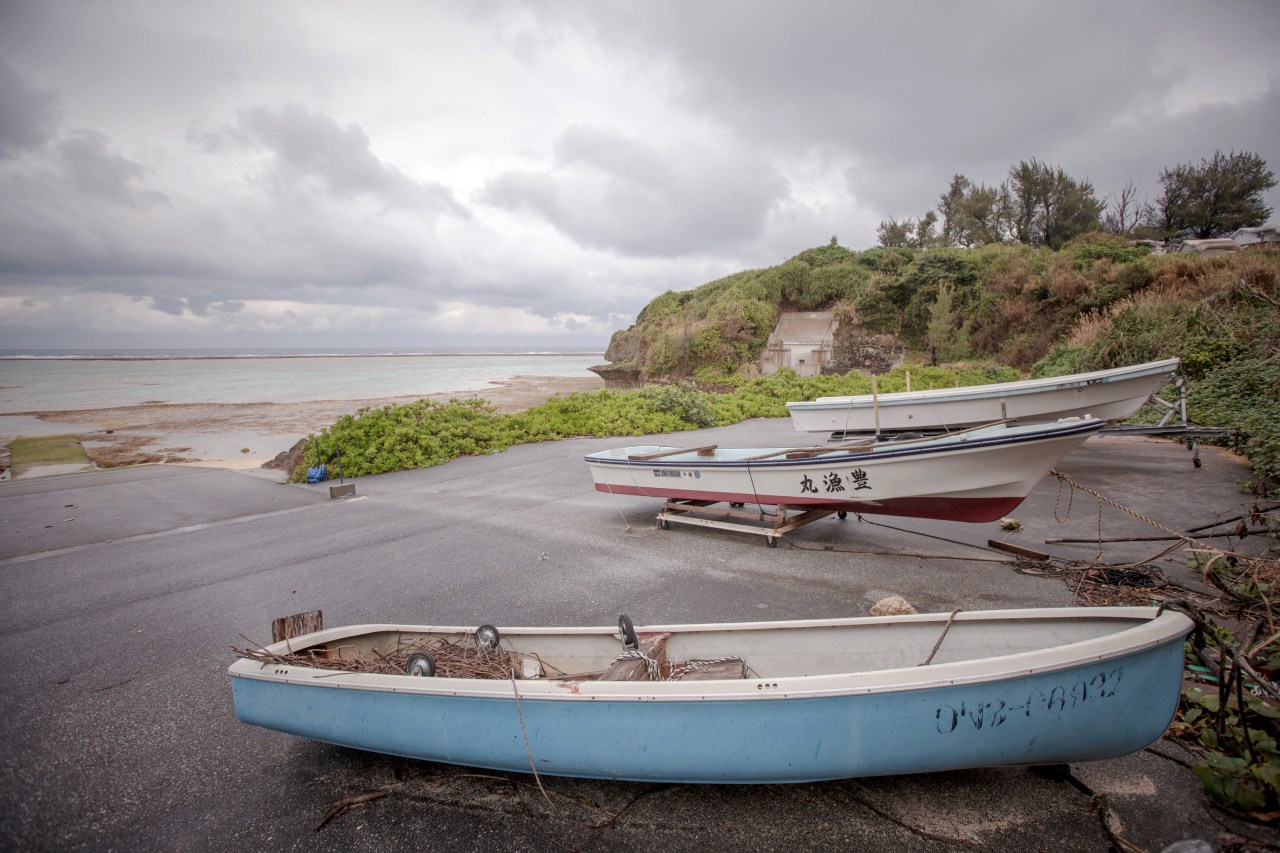 Take Route 58 up the coast. The roadway runs south to north and was built by the Americans in the rubble of World War II. In the south Route 58 runs along the bases, past barbed-wire fences, used-American-furniture stores, tattoo parlors, and burger joints. Here it snakes along the sea through beach towns and past resorts. More and more Okinawa is a vacation destination for Asian tourists. Some locals believe a future rooted in tourism will provide the final economic push away from the American bases and toward Okinawan self-reliance. Listen for Mandarin or Korean among fellow travelers when you stop at a viewpoint and take in the wild coastline scattered with hotels.
1:45
pm
Kishimoto in Motobu
Japan, 〒905-0214 Okinawa-ken,
Kunigami-gun, Motobu-chō, 本部町Toguchi, 5
Get Directions
Stop off in the fishing town of Motobu for a visit to Kishimoto soba-ya. At this hole in the wall, the gruff server asks you a simple question: small or large? Get the big bowl of Okinawan soba, topped with slices of fish cake and fatty slabs of pork. The special ingredients in this renowned soba, which has customers lining up outside at most times of day, is said to be tree ash–infused noodles and local bonito, caught off the nearby coast and brought into Motobu's port. Sip the smoky, light broth straight from the bowl in between slurps of noodles. If it hasn't run out for the day, order jushi, an Okinawan mixed-rice dish, on the side. Try not to fall into a carb-loaded slumber on the tatami mat.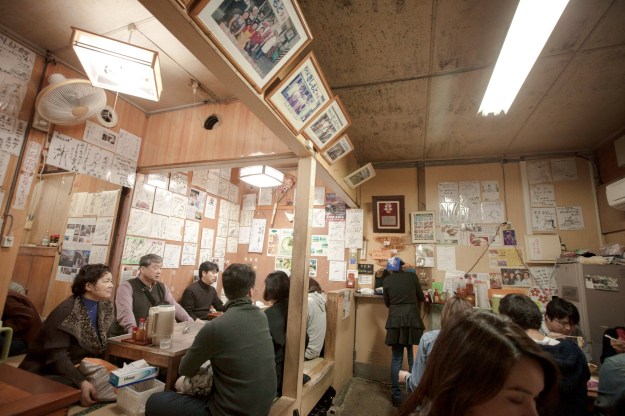 3:00
pm
Bise
Motobu, Kunigami District, Okinawa Prefecture 905-0207
Get Directions
Time to walk it off. Fifteen minutes north of Kishimoto is Bise village, a picturesque grid of homes that still use fukugi trees as windbreaks. Said to be hundreds of years old, the trees form leafy tunnels over sand-covered roads. On a rainy afternoon they keep you dry. The lighting is dark, the air a bit spooky. Coming across a traditional Okinawan house, with its tiled roof, weathered wood siding, and lion-dog shisa statues standing guard against evil spirits, you can almost imagine what this island was like before the Japanese and the Americans.
Nearby a woman rakes leaves, and the only other sounds are the waves, the crunch of your shoes on the sand, and trilling birdsong. Glimpsed down side paths is the ocean, glowing aquamarine through the tunnels of trees.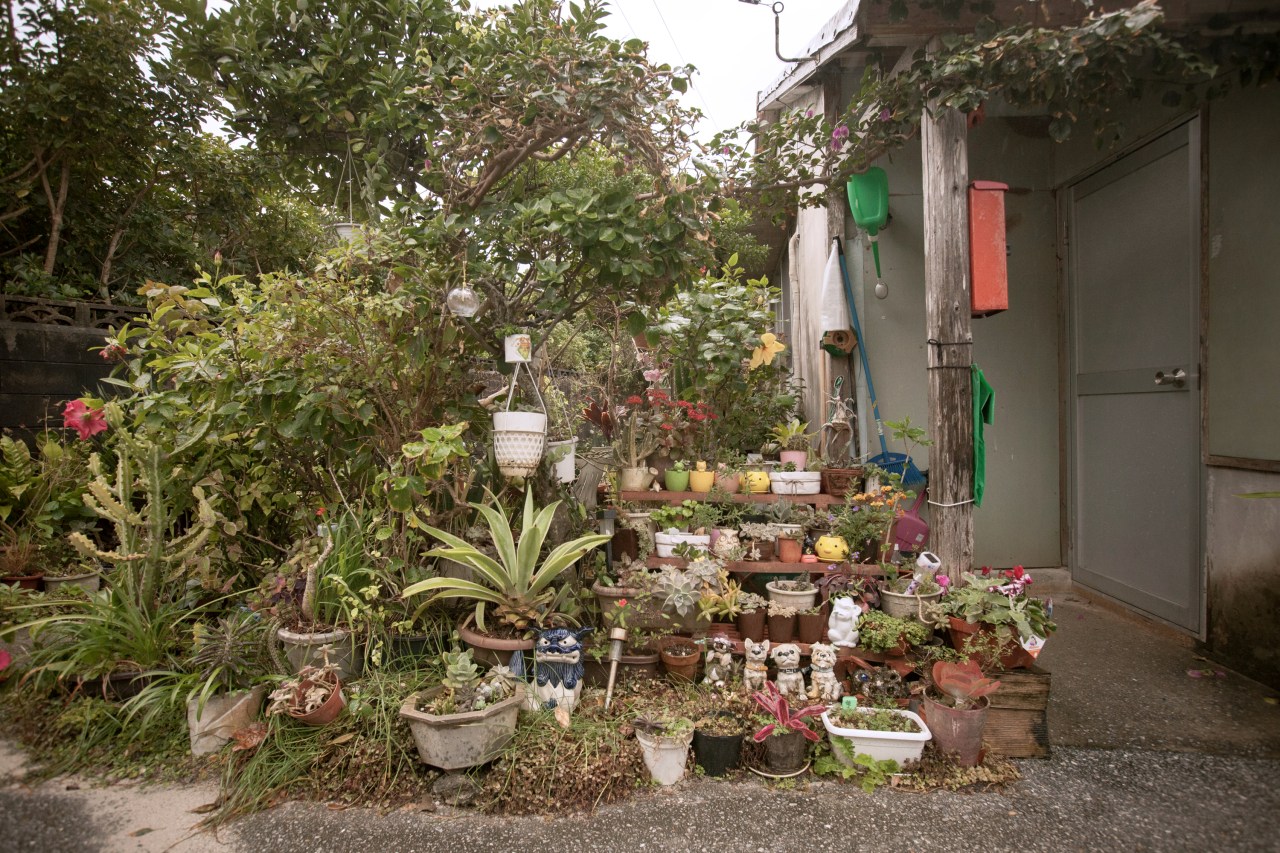 4:00
pm
Beach front walkway
This beach front walkway is across the street from this hotel:
Japan, 〒905-0207 Okinawa-ken, Kunigami-gun, Motobu-chō, Bise, 609-2
Get Directions
Emerge from the trees to the concrete walkway along the ocean. On the horizon is Iejima, a small island that's a third U.S. military base. Activists fighting against the construction of a base east of here say that the new base, on Oura Bay, would complete a triangle with Iejima and the U.S. military's jungle-warfare training area up north. They say aircraft flying between these bases will make the whole area a flight zone, plagued by noise and safety issues.
Today the afternoon is quiet, the ocean choppy under a gray sky. Enjoy the stillness as you walk, observing Iejima rise in the distance through the clouds. If they're open, pop into one of the small cafes to have a drink and watch the whitecaps.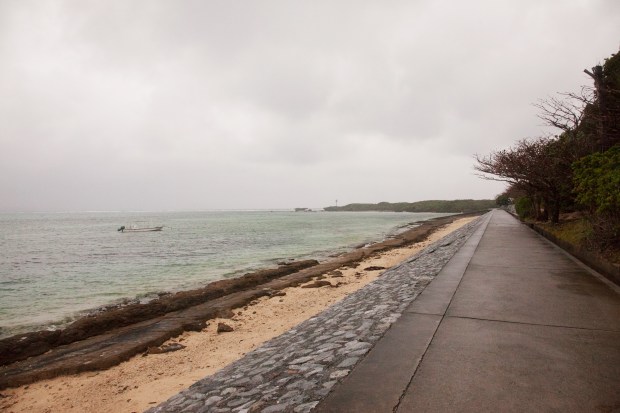 5:00
pm
Okinawa Churaumi Aquarium
424 Ishikawa, Motobu,
Kunigami District, Okinawa Prefecture 905-0206, Japan
Get Directions
Begin your journey back south, driving past the Okinawa Churaumi Aquarium, always packed with tourists, where two whale sharks circle in a giant, dreamlike tank. Take your time and wait for the sunset somewhere along the coast. If it's a wet winter day, keep going to Nago, where a cozy izakaya awaits.
6:00
pm
Yukino
450-8 Miyazato, Nago, Okinawa Prefecture 905-0011, Japan
Get Directions
Tucked away in Nago is Yukino, an Okinawan small-plates eatery with both Japanese red lanterns and blinking lights to announce its presence outside. Inside Chinese tourists eat alongside locals on tatami mats and in rooms with shoji screens. Above the bar area, where a sushi chef slices sashimi and bottles of awamori line the wall, dried blowfish float. Their bodies have been puffed into balloons and stuffed with lightbulbs—a school of otherworldly (and rather grotesque) lamps.
Try some Okinawan specialties like delicate sea grapes, tempura goya (bitter melon) and mozuku seaweed, irabucha (blue parrot fish) sashimi, and deep-fried gurukun, a small, white local fish awarded the title of "prefectural fish." Chase it all with an icy Orion beer or, if you're the one getting behind the wheel, cold barley tea (strict laws have designated drivers around here abstaining from even one drink).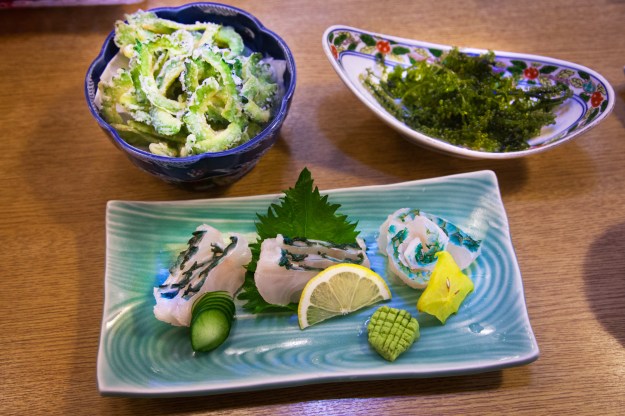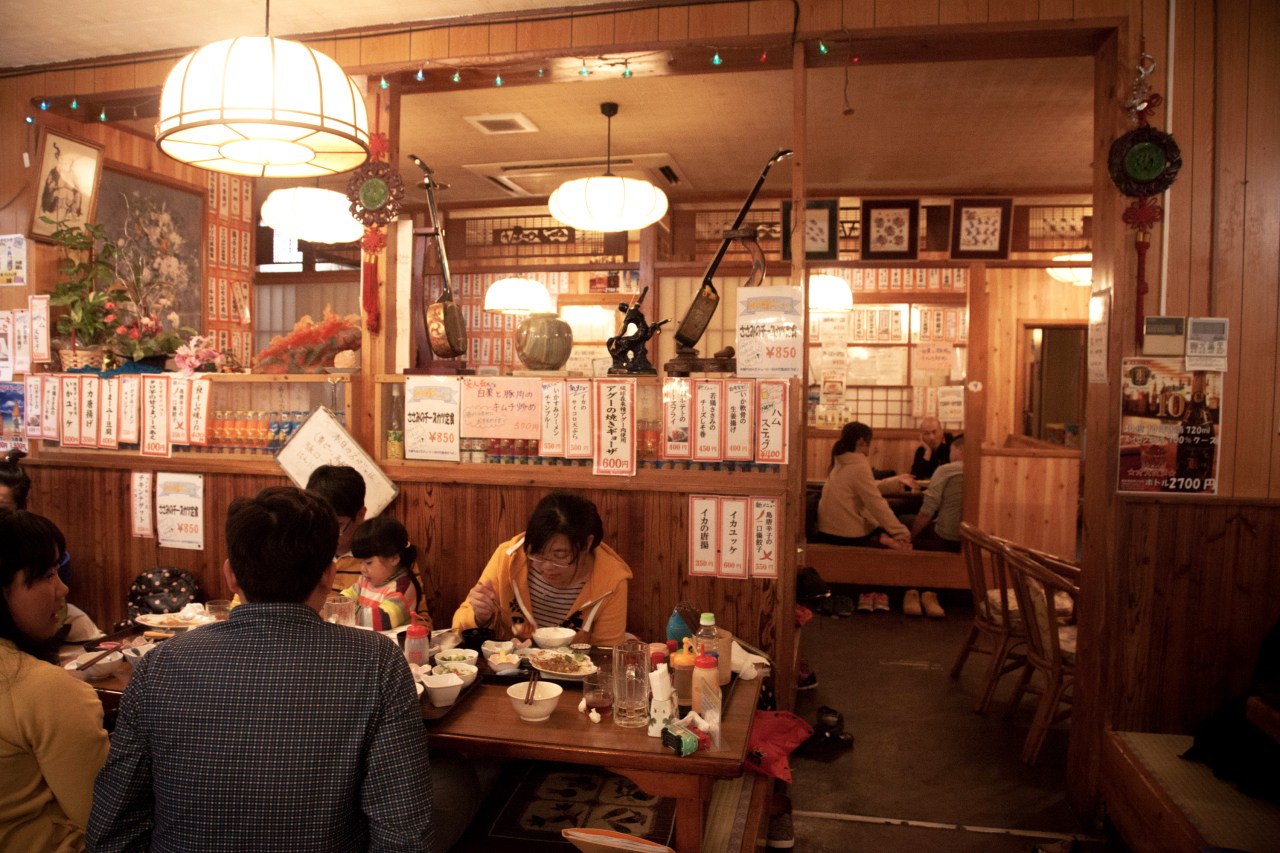 If you're not ready to call it a day yet, consider venturing into the heart of the U.S.-military-base borderlands. On the notorious strip of bars and clubs outside Kadena Air Base in Okinawa City, shoulder past service members and climb the stairs to Live Music Bar Jet. The small, dingy establishment is an icon of a past era. In the 1960s and '70s U.S. troops en route to Vietnam helped bring hard rock to the island. Local bands morphed the music into their own and played for soldiers who didn't know what tomorrow would bring. On weekend nights Jet now offers what it calls "no-frills…Mom & Pop-style" live entertainment. Listen to Okinawan takes on songs like "Stairway to Heaven" and "Every Breath You Take" while an Asian tourist pumps his fists and a drunk soldier shares a beer with a local obāsan (grandma).
Later, as you head back in the dark toward wherever you came from, let the pleasures and tensions of the day sit with you together at once. This is the only way I know to experience Okinawa, taking in its lush beauty and traditional culture alongside the lingering memories of war and modern-day questions of colonialism, militarism, and tourism.