18 Marina Gardens Drive, #03-01
Gardens by the Bay
018953
(+65) 6694 8489
Bourdain had: drinks.
Dinner date: Michael Ma, founder and CEO of the IndoChine Group.
Tekka Food Centre Branch
665 Buffalo Road, #01-326
210665
Bourdain ate: The restaurant's namesake, prawn noodles (虾面).
Dinner date: KF Seetoh, widely hailed as the preeminent expert on Singaporean street food, photojournalist, entrepreneur, founder of Makansutra, a company that promotes Asian food culture through media and events.
40 Joo Chiat Pl
Singapore 427764
+65 6344 2761
Bourdain had: Sour fish curry with pineapple, brazed duck with tamarind and coriander, okra sauteed with sambal, beer.
Dinner date: Damian D'Silva, chef and authority on Singaporean heritage food.
747 North Bridge Rd
Singapore 198715
(+65) 6291 0109
Bourdain ate: Lontong (rice cake, coconut gravy, vegetables, and a hard-boiled egg), mee Siam (Siamese noodle: fried rice noodles with chili paste, prawns, bean sprouts, and a spicy gravy; fried bean curd; and an egg).
Lunch date: Najip Ali, Singaporean comedian, entertainer, and producer.
531A Upper Cross Street
051531
Bourdain had: char kway tiao, beer.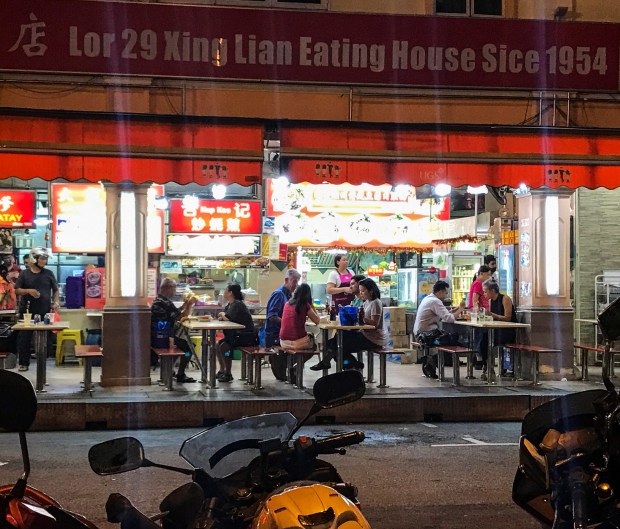 396 East Coast Road
Singapore 428994

Bourdain ate: fried oyster omelets, fried prawns with chili paste, bak chor mee (fish ball noodle soup), beef satay.
Dinner dates: Sudhir Thomas Vadaketh, author of Floating on a Malayan Breeze: Travels in Malaysia and Singapore; financial journalist Tania Angerer; and their friend Melanie Chan.
B28
28 Ann Siang Road
Singapore 069708
Bourdain had: drinks.
Drinks date: Donald Low, economist, writer on Singapore financial policies, and associate dean (Research and Executive Education) at the Lee Kuan Yew School of Public Policy.
Since the taping of this episode, this establishment has now closed. 
Bourdain was welcomed to the family home of Liew Choy, who runs a hawker restaurant that's been operating for around 40 years. If they don't invite you into their home, try their food at:
124 Bukit Merah Lane 1, #01-136
150124
(+65) 6272 1038