90 Claim St.
Hillbrow, Johannesburg, 2001, South Africa
Bourdain ate: fried chicken, greens, pap (sticky porridge made from ground cornmeal).
Lunch date: DJ Les, musician and nightclub promoter.
Mawilies Inn
2442 Langa Road
Rockville, Soweto, Johannesburg
Bourdain ate: beer, fire-roasted sheep's head, pap, dumplings made with flour and yeast.
Dinner dates: BLK JKS rock band, members Mpumi Mcata and Tshepang Ramoba.
73 Juta St.
Johannesburg, 2000, South Africa
(+27) 81 416 2605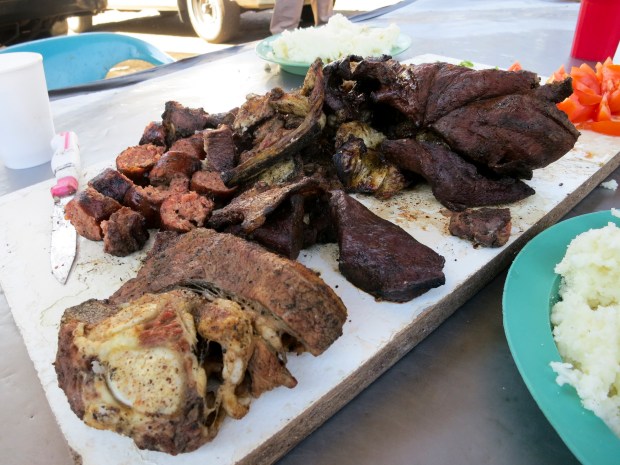 Eat Arabi
28 Rockey St.
Yeoville, Johannesburg
(+27) 83 447 4235
Bourdain ate: beef stewed with melon and pumpkin seeds, basmati rice with rose water, pickled aubergines and mangoes, cassava, futu (cornmeal porridge).
Mazondi Restaurant Zwangobani
Bourdain ate: brisket, sausage, heart, and salad.
Lunch date: Mdu, Soweto minibus driver.
Hunting party
Bourdain hunted and cooked eland, the largest antelope in the world with chef Andrea Burgener, Dionne, a local hunting expert, and Prospero Bailey, game farm owner Bailey is the son of Jim Bailey, publisher of the slyly subversive "Drum" magazine, the first of its kind during apartheid: a black-oriented investigative magazine slickly disguised as glossy pop culture. 
Ramadan meal
Bourdain broke a day of Ramadan fast with Joey Rasdien, a standup comedian, wife Cindy-Lee Rasdien, and son Hakeem. They had shakes, barley soup, cheese and beef samosas.