After thirty-five years of marriage, two children, and twin grandchildren, Natalie's greatest passions are knitting and cooking. Everybody in the family wears sweaters and scarves that she knitted for them, and everybody—including her daughter-in-law—brags that she is the best cook in town. I met Natalie and her family on a Saturday night for dinner in their big apartment in a huge building in the central part of the city. While we cooked together, we talked about our travels, politics, and art. I've felt like a member of Natalie's family ever since. In fact, Georgia was one of the places where I felt more at home than anywhere else. (In my opinion, Georgians and Italians are quite similar!) This recipe is so popular in Tbilisi that it can almost be considered an official dish. You don't have to be a master chef to make these, but some precision and good manual skills come in handy! – Gabriele Galimberti.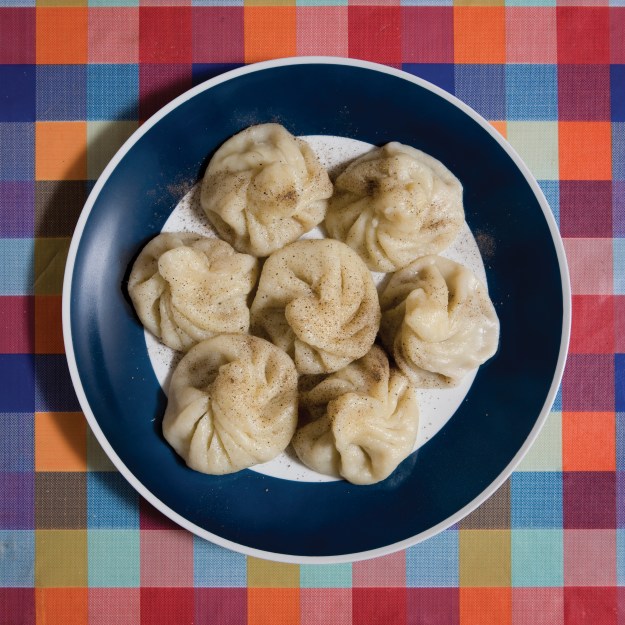 Ingredients
(Serves 4 (7 to 8 dumplings per person))
4 cups all-purpose flour
12 ounces ground beef
12 ounces ground pork
1 small onion, minced
¹⁄³ cup minced fresh flat-leaf parsley
¼ teaspoon chili powder, rounded
Salt and freshly ground black pepper
Preparation
Place the flour in a large mixing bowl. Gradually add up to 1¼ cups of warm water, working with your hands until you have a rather stiff dough. Place on a floured surface and knead the dough for 5 to 6 minutes, until it is smooth. Place the dough in a bowl and cover with plastic wrap. Set aside to rest for 30 to 40 minutes.
In a large bowl, combine the ground beef and pork. Add the onion, parsley, chili powder, 1 teaspoon of salt, and a dash of pepper. Set aside.
Working on a lightly floured sur¬face, roll the dough into a thin layer (about 1⁄8 inch thick) and cut it into rounds with a diameter of 3 inches. Roll each round into a paper-thin disk, about 5½ inches in diameter. Dust the rounds with flour and lay them on a board, slightly overlapping.
Working on a flat surface, place 2 tablespoons of the meat filling in the center of each round. Bring the dough up around the filling, pleating the dough with your fingers and then twisting it into a knob to seal it.
Bring a large pot of salted water to a boil and cook the dumplings in batches for 18 to 20 minutes.
Serve hot and enjoy.
In Georgia people eat these dumplings with their hands, grabbing the top knob, which is called "the cap." There are three different tales explaining why you shouldn't eat the knob of the dumpling: 1. It is tough, not cooked properly. 2. The dumplings are so good that you lose track of how many you eat. So you leave the caps on your plate to count them. 3. It was a typical dish of the working class of the mountains. When laborers would order them in the restaurants, their hands were still dirty from work, so they wouldn't eat the caps that they had touched.
This recipe was originally published in In Her Kitchen by Gabriele Galimberti.