Bourdain-isms
"It is no short hop to Antarctica, and no easy thing to see it the way it should be seen. The last un-fucked-up place on Earth."
"The C-130 Hercules is past the point of no return—the point at which there's not enough fuel to safely turn back, no matter what the weather is on the ice."
"[McMurdo Station] ain't pretty; it looks like a mining camp, but look closely and you notice things, like the total absence of litter. Not a single cigarette butt. It's one of the most carefully regulated communities on the planet."
"It takes a special breed of hard-ass to not just make it down here but like it. You got to be tough."
"The coffee shop—one of three watering holes on the station. It's not much to look at, but offers a welcome respite from the cold."
"Despite its seemingly endless whiteness, what you see is a desert, technically. The highest and driest on the planet."
"Shit is indeed moving, beneath your feet, all around you—just very slowly."
"It feels like dorm life at college; bathrooms are communal, everybody rotates housekeeping duties."
"There are no roads and few suitable runways beyond McMurdo."
"Antarctica was a great mystery for most of human history, only a theory, a great white space at the bottom of the world."
"What's Antarctica about if it ain't about a beach party?"
"What do they do down here? Some pretty trippy shit as it turns out."
"It really is the ass-end of the world."
"One can, it turns out, have a very good time at the end of the world."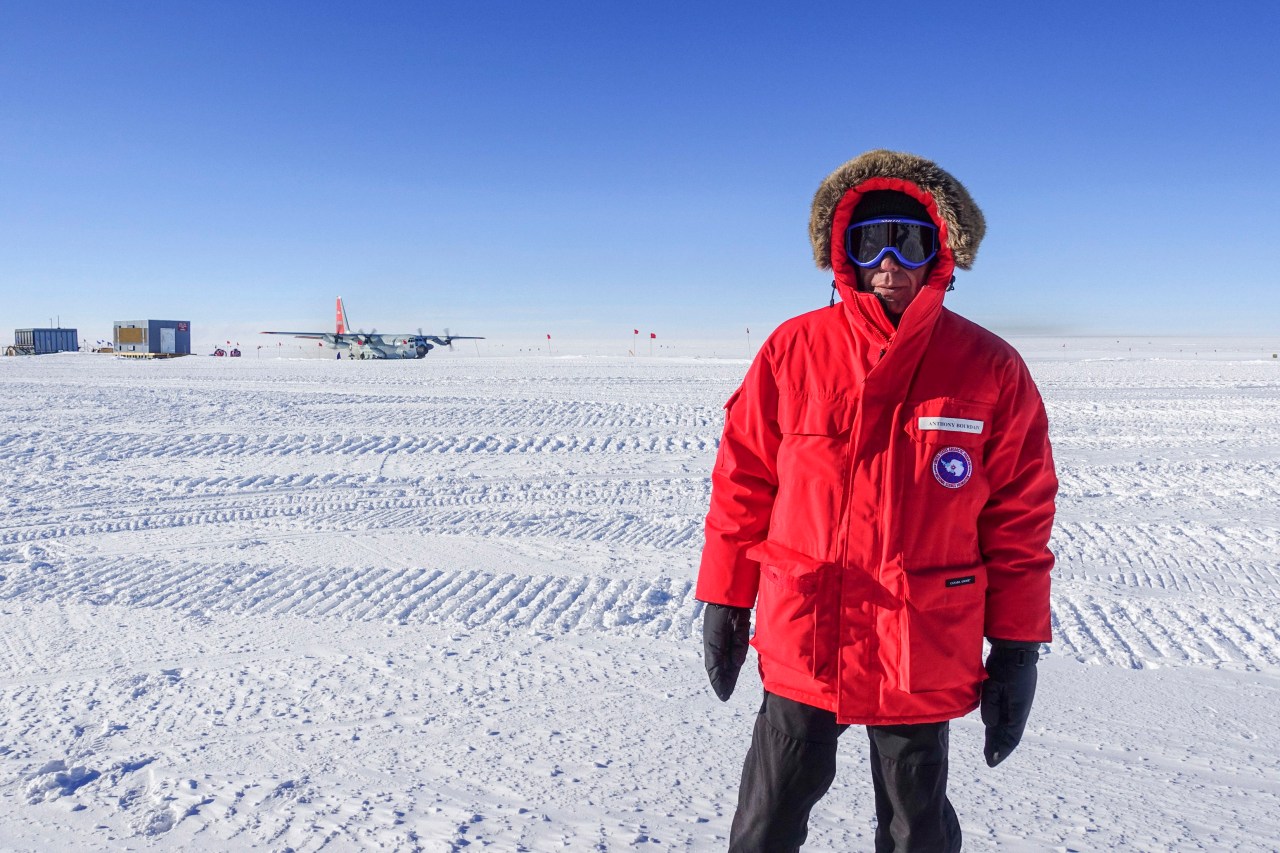 Fun Facts
Not all of Antarctica is covered in ice. Sixty miles out of town are the Dry Valleys, the 1 percent of the continent devoid of snowfall.
In Antarctica the sun sets and rises once a year. There is twilight in late March, five months of dark and extreme cold lasting until September. And then there's six months of constant sunlight. "It can and does fry the brain," Bourdain said.
117 degrees below zero (Fahrenheit) is the lowest recorded temperature at the South Pole
The South Pole is about 9,000 feet above sea level
Eats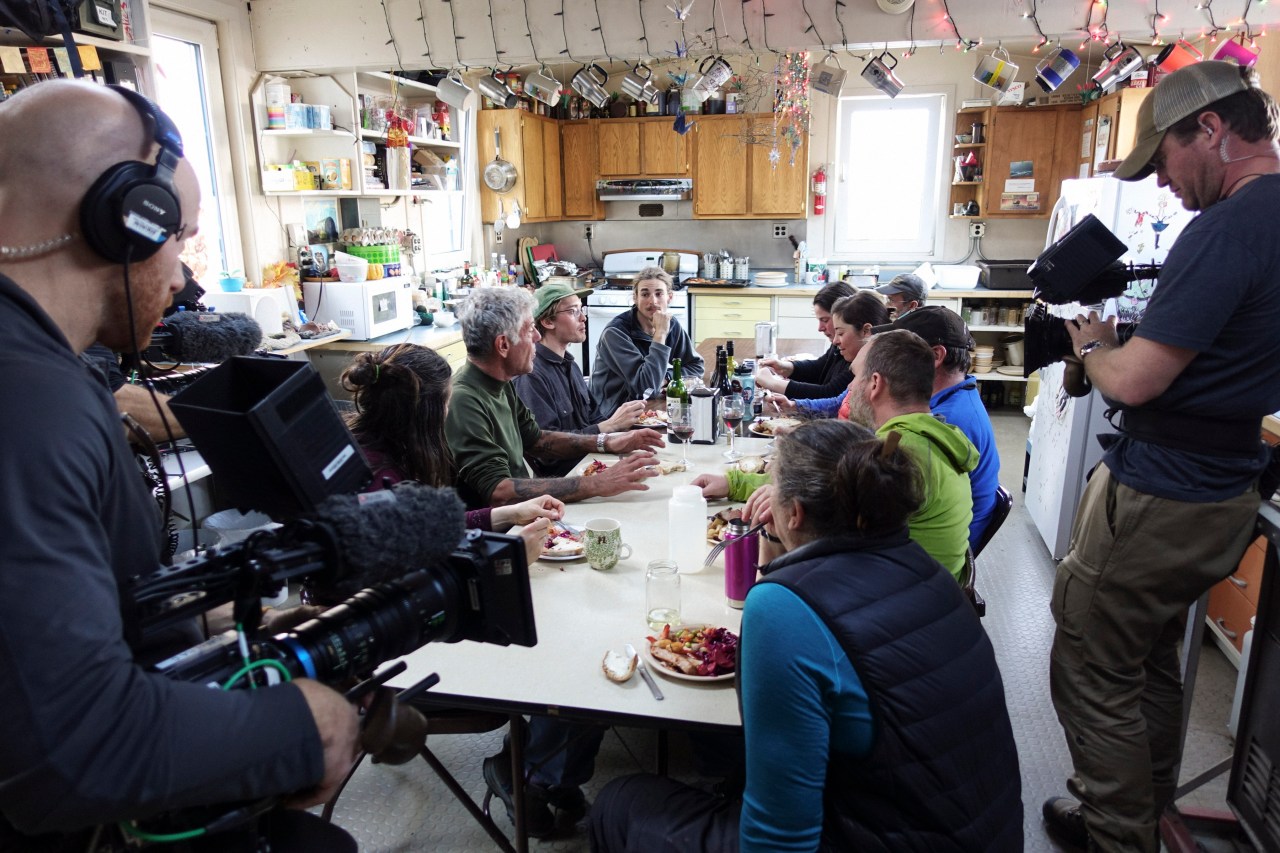 S 77° 50′ 30.76"E 166° 41′ 10.841"
Building #76
S 77° 50′ 30.76"E 166° 41′ 10.841"
Building #155
Bourdain ate: Unidentified cafeteria food
S 77° 37′ 42.477"E 162° 52′ 54.581''
Bourdain ate: Homemade bread, scones, muffins, bbq pork tenderloin, grilled mahi sticks and shrimp marinated in chili sauce, roasted beet salad with avocado, edamame salad with dried cranberries and carrots, roasted vegetables.
S 85° 6′ 0.002"E 0° 0′ 0"
Bourdain ate: Hearty stew.
Sidekicks
Dr. Douglas MacAyeal: One of the world's preeminent glaciologists who's been going to Antarctica since the 70s.
Julie "Jules" Uberuaga: Heavy equipment operator.
Kristy Carney: Fleet operations staff.
Joni Zisman: IT staff.
Ryan Skorecki: Helicopter pilot.
Rae Spain: Lake Hoare Research Camp manager (said to be the best cook on the continent).
Michael Goosseff: Hydroecologist at Lake Hoare.
Byron Adams: Biologist at Lake Hoare.
Bryan Denham: Amundsen–Scott South Pole Station chef.
Stuart Jefferies: Astronomer and solar specialist at Amundsen–Scott South Pole Station.
Siri Grossman: Runs equipment and supply at Amundsen-Scott South Pole Station.
Local Lingo
Beakers: McMurdo slang for scientists.
Carps: Carpenters.
Fuelees: People who work in fuel.
Wastees: People who handle waste generated by the stations.
Freshies: Food that's not frozen or canned.
Equality
At McMurdo, "everyone is interdependent and comes to realize that very quickly," Bourdain says. It's not all about the scientists; there's ample respect for the roles played by carpenters, heavy equipment operators, fuel workers, riggers, pilots, waste collectors, and cooks.
"One thing about this continent that's special is the vertical hierarchy. Everybody respects up and down equally," said glaciologist Douglas MacAyeal. "The janitor really does have a sense that their action is right at the frontline."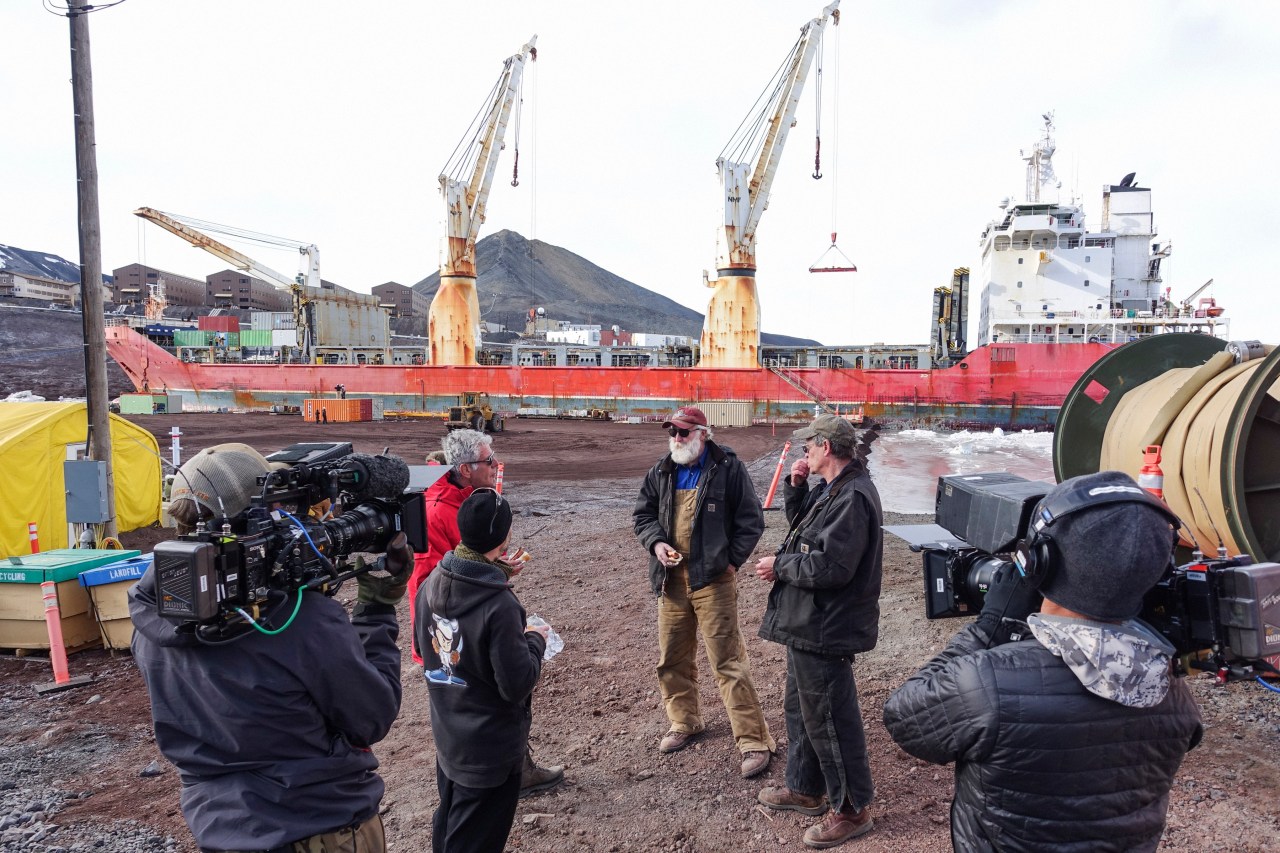 A respite from politics
Surrounded by a community of people working toward greater scientific understanding, Bourdain mused that Antarctica seems to be the antithesis to politics of the moment.
"At a time when science is held in open contempt," he said, "when painfully acquired data is actually being deleted from computers if it conflicts with preconceived policies, these guys are looking at some deep stuff."