If you were born in Palermo in the 1970s and lived there through the 80s and 90s, you would most certainly feel overwhelmed at times by the revolution the city has undergone in half a century. Up until not long ago, Palermo was known worldwide for the shootings and bombings at the hands of the Mafia.
I was born in 1989 and so I'm not among those who remember the worst of Palermo's murderous past, but I can say with confidence that the city is far from what it used to be. The very districts and corners that were once theaters of blood and terrorism have turned into lively and culturally inspiring spots, filled with tourists and Palermitani alike from morning to night. It is exactly around these revived streets that my perfect day in Palermo takes me.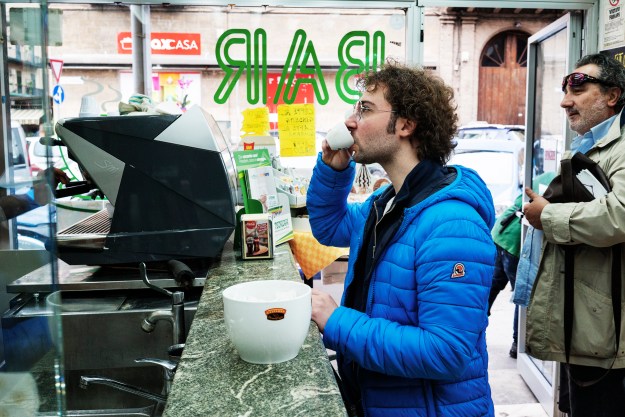 I grew up away from the buoyant atmosphere of Palermo's historical area. It was not until I turned 21 that my family decided to "tempt fate" (as a reluctant grandma put it) and buy an apartment in the historic Zisa district.
It did not take me long to fall in love with the area. Its historic buildings, fresh food stalls, handicraft boutiques, and its people breached my heart and finally persuaded me to also buy an apartment on the Corso Finocchiaro Aprile (Corso Olivuzza for the habitués), near the courthouse.
Ever since, I have been a Zisa fan and my perfect day starts with a delicious espresso at the Torrefazione Bar Maracanà, on the corner of Corso Olivuzza and Via Re Federico. No real Sicilians could claim to be able to start their day without a proper coffee (or two), and Maracanà is the place to get it.
After espresso, it's time for some breakfast. But before that, we must make a quick stop at Disappear Sewings which is a five-minute walk from Maracanà down Via Re Federico. Founded in 2011 by artist Pietro Motisi, it's a design brand specializing in handmade leather products. (The Walden backpack is one of my absolute favorites).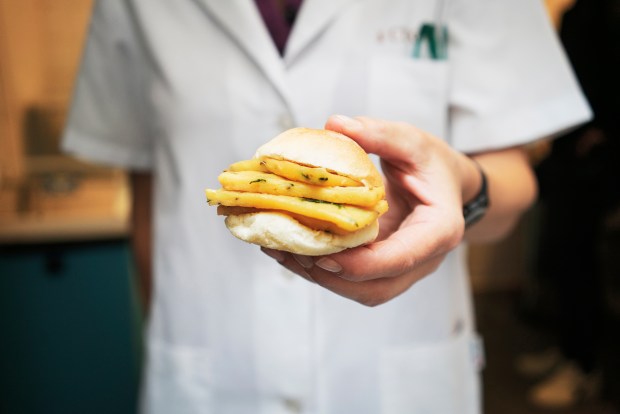 Breakfast in Sicily is a serious matter (as is any other meal, really). If you are among those who cannot resist a rich breakfast, like me, then I Cuochini deli is your kind of place. Founded in 1826 on the bourgeois Via Ruggero Settimo to satisfy the taste of Sicilian aristocrats, it has since become a must-see for all. Products are freshly made in-house, and they range from the popular balls of fried rice stuffed with meat or cheese, krapfens (fried dough with ham and cheese filling), pasta timbales, and the unmissable pane e panelle (a sandwich roll with slices of fried chickpea flour). What's their secret? The recipes have remained unchanged since the day they first opened.
Continue your walk toward the Via Maqueda, make a left along the tiny alley Via Giacalone and ring the bell at No. 33. There you will find a group of four photographers who have teamed up to create Minimum, a cultural association where photography is used every day as a tool for critical social thought.
Founded in 2015 to promote provocative and non-mainstream visual language, Minimum always seems to find a unique and interesting way to stimulate artistic curiosity. You can check its program and attend one of its inspiring events, or simply stop by and indulge in conversation with Valentino, Roberto, Michela, and Simone.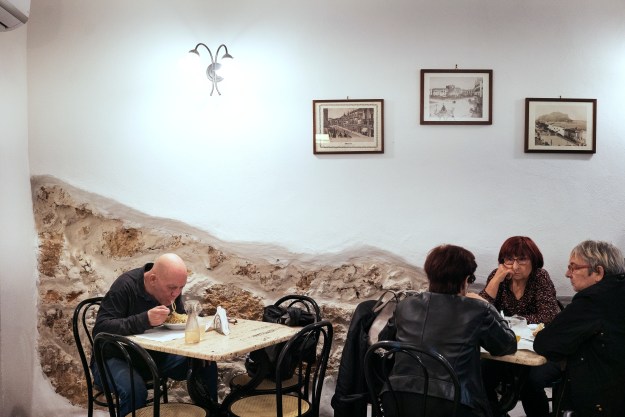 1:00
pm
Antica Focacceria del Massimo–Da Basile
Via Bara all'Olivella, 26
90133
Get Directions
If you've heard about Palermo's passion for food, then it will not surprise you that it's already time for your next meal. Focacceria Basile is just a three-minute walk from Minimum, on the lively Via Bara all'Olivella opposite the Teatro Massimo.
You can usually choose from among five types of pastas. My advice; go for the lentil one first, if you're lucky enough to find it. If pasta is not enough for you, try the classic pane ca meusa (spleen sandwich), served with grated cheese or lemon.
Continue your walk along the Via Maqueda toward the train station for a visit to the Ballarò Market. It's most active in the morning, although you may be lucky and find some food stalls left early in the afternoon. The variety of products is endless, ranging from fresh vegetables and fruits to meat, fish, and cheese. If you are curious about the Palermitano dialect, you'll hear it all around you in Ballarò Market.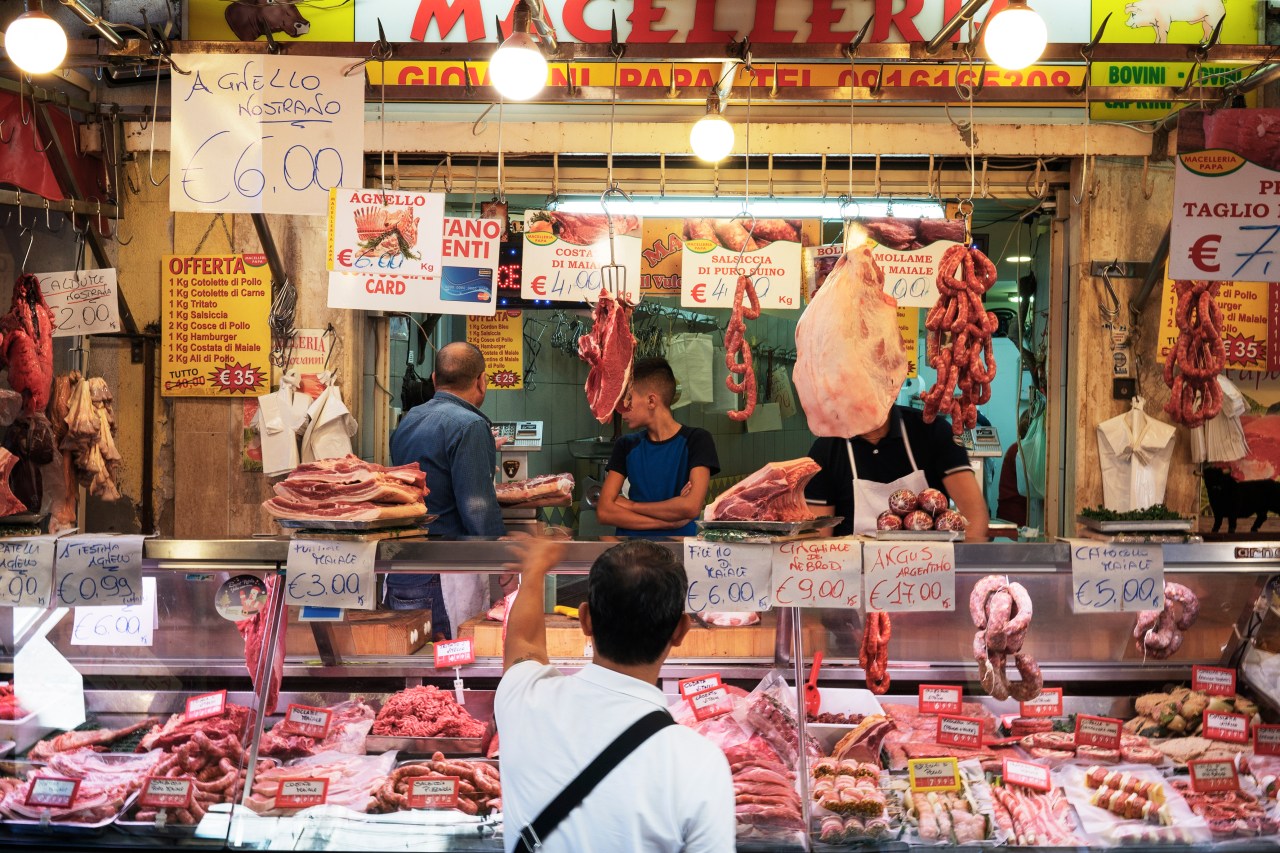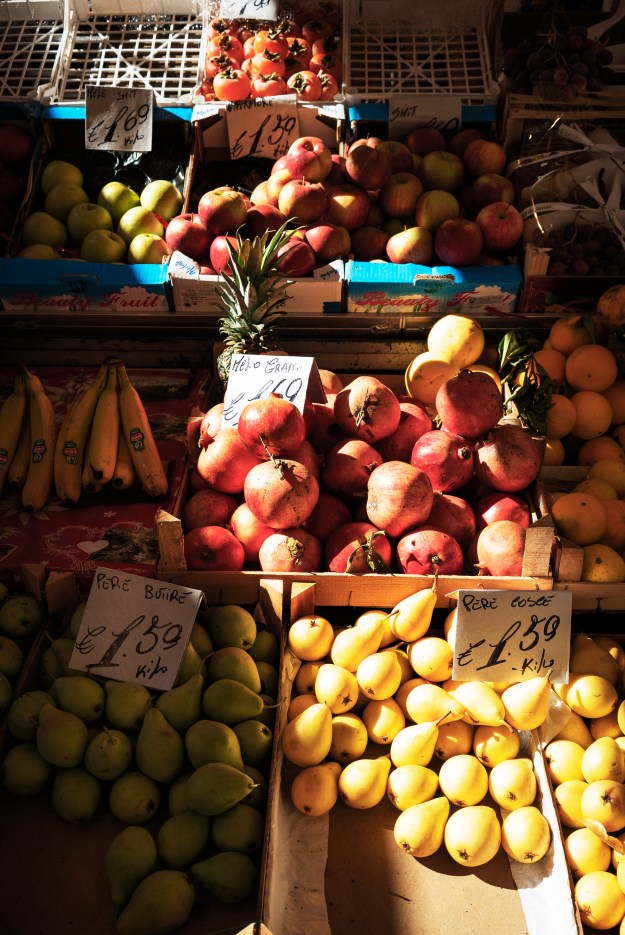 Another especially good reason not to miss Ballarò is its multicultural nature. Today, as you walk along the corners and alleys of this area, you will be tempted by the smell of Sicilian and African food from the street food stalls and small restaurants near the main square. One place that perfectly unites all the different culinary and cultural elements of Ballarò is Moltivolti. It was born out of the owners' desire to translate the integration between different cultures of Ballarò into a space that combines a restaurant, a co-working lab, and a cultural association. Give the mafè a try, it's a Senegalese dish made of beef stew, onions, and peanut butter and accompanied by white rice.
Time to leave Ballarò and move towards the sea by walking across the nearby Via Roma to Via Alloro. I usually get espresso twice a day to keep me going, and the best place near Moltivolti is the Cioccolateria Lorenzo. Don't miss Lorenzo's pain au chocolat; stuffed with sweet ricotta cheese, it's adapted to Sicilian traditions and tastes.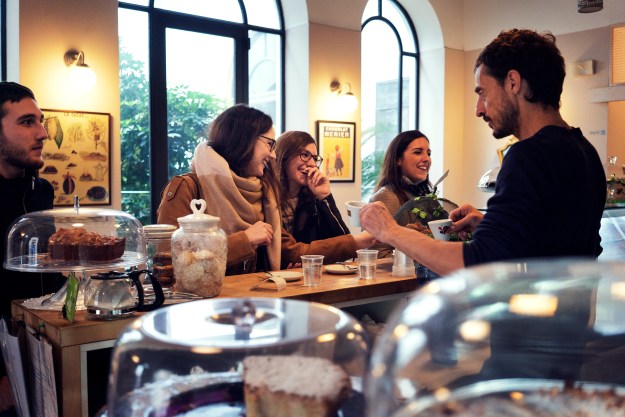 For an aperitif, walk back to Via Roma and stop by the Ambasciatori Hotel. Your goal is the Seven Restaurant at the top of the hotel, where you can enjoy a glass of Sicilian wine and, more importantly, the incredible view over the ancient roofs of Palermo's historical center, along with the sea and the surrounding mountains.
Palermo's most delicious food is often not in restaurants but at the many street stalls in the city center. My ideal dinner brings us to another historic market of the city, Vuccirìa ("noise" in Sicilian), where you'll find a selection of grilled meat, fish, vegetables, and fried potato balls (crocchè in the local dialect). Vuccirìa also hosts several taverns, if you feel like a beer to accompany your food.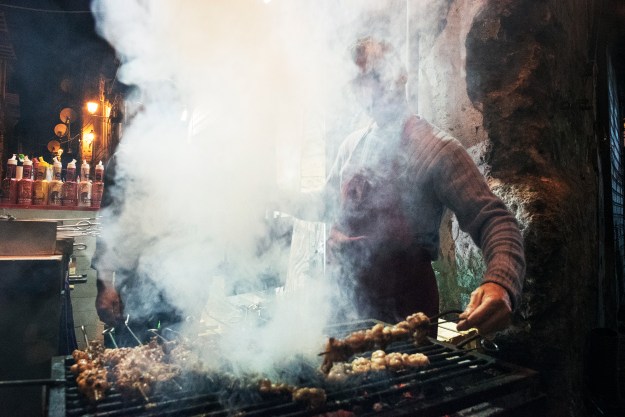 St'orto is a combination of things: friendly atmosphere, delicious cocktails, and tasty sandwiches made with fresh Sicilian products, which mean this pub is irresistible. It is open all day long, and I also recommend it for an espresso and a slice of cake. If you end up here after dinner, ask Franky for a Moscow mule or a Negroni. Whatever the cocktail you ask for, make sure to watch while he prepares it, and you'll see how much passion and expertise he puts into the job.
To make the most of the city's nightlife, walk down Discesa dei Giudici from St'orto and cross Via Roma into Sant'Anna Square.
There you will find several bars and pubs. I recommend you sip a drink in the main square or, if you're lucky, find a seat at the Monkey Pub and enjoy the music. Live bands play there most Fridays and Saturdays from about 7 p.m.
Sant'Anna Square hosts a vintage market about once a month. And on weekends, you can find a colorful van run by the Health Services of Palermo until 2 a.m. A very friendly group of doctors, nurses, and psychologists welcomes everyone, Palermitani or not, to get free blood tests for sexually transmitted diseases.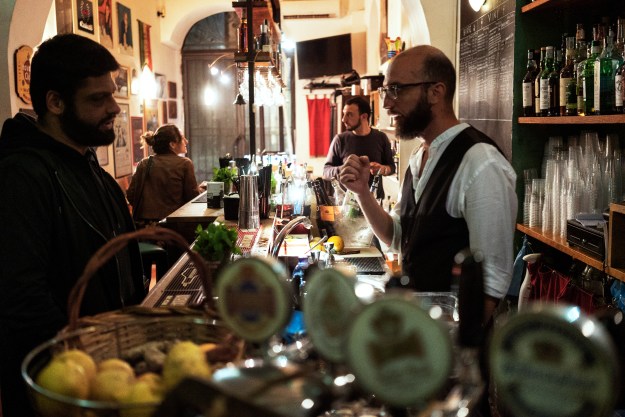 11:00
pm
Garibaldi Books & Records
Via Alessandro Paternostro, 46
90133
Get Directions
Music lovers will absolutely fall in love with Garibaldi Books & Records, a project of the Bar Garibaldi. If you're after a drink that is more than just a drink and is within walking distance of Sant'Anna Square, then you need to stop off here. It's basically a vinyl shop, but with a little twist compared with most other vinyl shops in the city. Massimiliano started it in 2016 and immediately gave the shop a personal touch. Every evening from 5 PM to 2 AM., he carefully selects music from the rich collection of alternative indie rock vinyl he has with the focus on non-mainstream bands.