In the Berlin episode, Brian Jonestown Massacre frontman Anton Newcombe hosts Anthony Bourdain and several friends at a dinner party at his home. Newcombe shared with us his recipe for the roast lamb with vegetables that he prepared for his guests.
Start to finish: about four hours.
Ingredients:
(Serves 4 to 6)
1 leg of lamb, approximately 5 pounds
6 garlic cloves, sliced
¼ cup olive oil
1 tbsp sea salt
2 tsp black pepper
6-8 potatoes (Yukon Gold is a good option), peeled and halved
3 parsnips, roughly quartered
4 carrots, sliced
2 large yellow onions, roughly quartered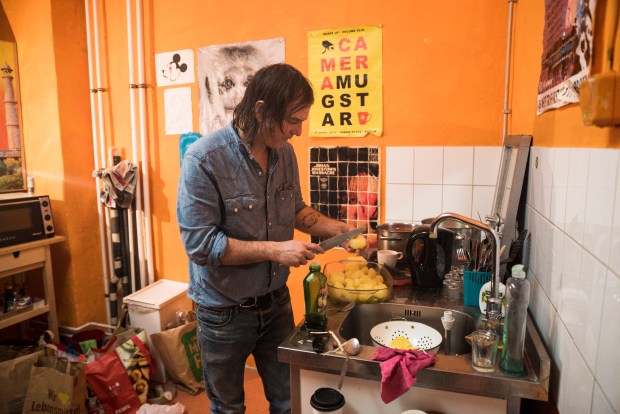 Preparation:
Preheat the oven to 500 F.
Rinse the legs of lamb and pat dry with a paper towel. Remove any extra bones (not the leg bone) so it will fit your Dutch oven or glass dish.
Make around 12 small cuts (about ¼ to ½ inch deep) on both sides of the lamb and insert the sliced garlic cloves into the holes.
Rub the lamb in olive oil, and generously season with sea salt and black pepper. Set aside.
Place the peeled potatoes, parsnips, carrots, and onion onto the bottom of a deep glass dish. Set the legs of lamb on top of the bed of vegetables arranging as needed so that lid fits on top of your dish.
Cook for about 30 minutes, then turn the heat down to 260 F. Let the lamb roast for about 2-½ to 3 hours. Use a thermometer to check the internal temperature to make sure the lamb is cooked to your liking (135 -140 F is about medium rare).
Remove the dish from the oven and cool for a few minutes.
Best when served family style.