Kuching is not generally seen as a tourist destination. It's usually used as a crash pad for day trips to Sarawak's national parks and animal-rehabilitation facilities. With around 600,000 people spread across mile after mile of delta swamp and intermittent jungle, this capital city is hardly a metropolis. Yet it hums with the energy released when so many cultures collide.
Founded in the 19th century as an outpost of the Malay sultanate of Brunei, Kuching is a patchwork of every culture that has built the pluralistic and tolerant modern Sarawak. The city is an endless and confusing warren of deeply engrossing neighborhoods and hidden gems. Some quarters are home to Iban and Bidayuh, the largest indigenous groups. Pockets of smaller tribes abut those of Malays, new immigrants, Indians, Javanese, Filipinos, and Chinese speaking about a dozen dialects. Each community has its own feel—and food.
Fun fact: Kuching has seriously glommed on to its name being a false cognate for the Malay word for cat, kucing. The city has installed three major and dozens of minor cat statues and murals, flooded gift shops with feline kitsch, and even opened a free cat museum just outside the center of town.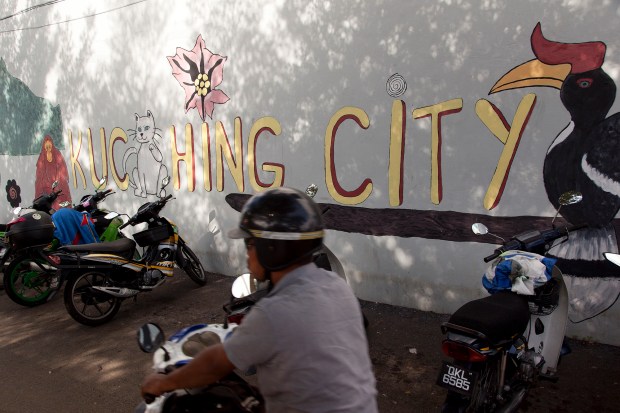 6:30
am
Choon Hui Cafe
34, Jalan Ban Hock
93100 Kuching, Sarawak, Malaysia
Get Directions
Get up early to make a proper run at exploring Kuching. Located about 110 miles north of the equator, Kuching is blessed with 12 hours of sunshine but cursed with a reliable midday stretch of humid heat that will leave you damp and cranky. If you want to explore Kuching, use the cool shoulders of the day. You also have to be an early bird if you want to avoid an overly long queue at one of the city's best laksa eateries.
Any kopitiam (a coffeehouse, usually consisting of a few plastic tables and chairs under a concrete overhang) will have multiple stalls, each specializing in a gratifying breakfast, be it kolok mee (egg noodles in simple broth with barbecued pork) or fat slices of toast slathered in kaya (thick coconut jam). Locals may give you the side-eye, though, if you don't try the Sarawakian variant of laksa, the rice-noodle dish found all over Southeast Asia. Here it's made with coconut milk, tamarind, garlic, galangal, lemongrass, and sambal belacan—a chili-and-fermented-shrimp paste that lends the broth the potency of bayou water spiked with pepper-plantation runoff—and topped with shrimp and chicken or pork. It's served with a side of yet more sambal belacan and a small, bitter calamansi fruit—a cross between a mandarin orange and a kumquat—if you want to add even more kick.
Every kopitiam is a great place for people-watching while lingering over a cup of strong coffee or teh tarik (black tea with condensed milk that is frothed by passing it back and forth between two cups). Feel free to head to the one closest to your hotel if you can't travel before coffee. But Choon Hui Cafe, on Ban Hock Road in the central Padungan neighborhood, enjoys widespread and deserved hype. I recommend checking it out, if not today, then at some point during your stay.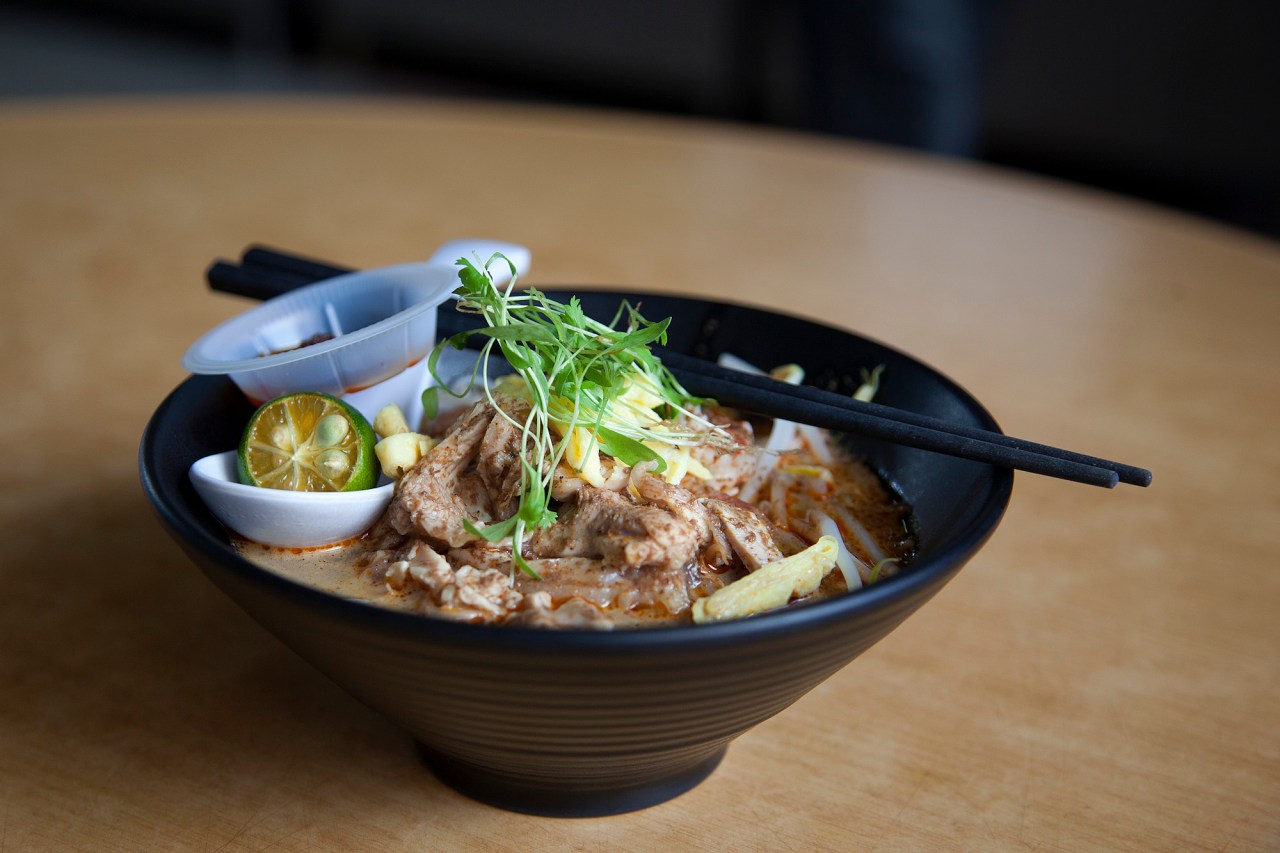 8:00
am
Sarawak River Waterfront
Jalan Main Bazaar
93000 Kuching, Sarawak, Malaysia
Get Directions
Head north to the Sarawak River waterfront. Every 50 feet or so you'll find stairs to docks for sampan, cigar-shaped boats that, for about 25 cents each way, ferry people to and from the north bank and Petra Jaya, a cache of governmental buildings amid Malay settlements.
You can spend the morning strolling the northern riverbank and its kampongs, vibrantly painted Malay villages built alongside or hanging over the water on stilts. Because outsider foot traffic is rare, you'll probably find yourself wrapped up in conversation with street hawkers or invited into a local home. If you'd rather not travel on foot, most hotels or hostels in the city center can hook you up with a bike or scooter for a few ringgits. One bike-shop-slash-tour-guide agency, Paradesa Borneo, on Wayang Avenue, has guides who'll take you through the kampongs for three or four hours for about $22.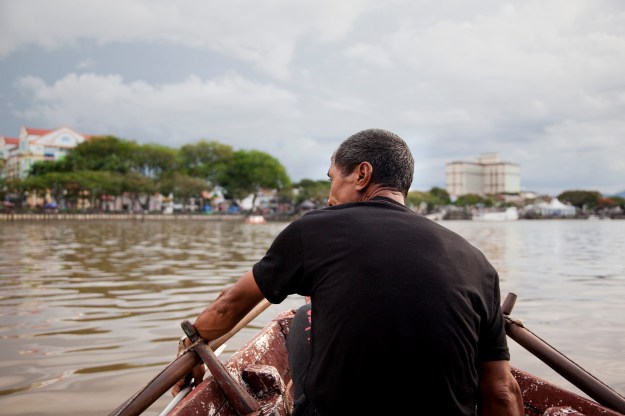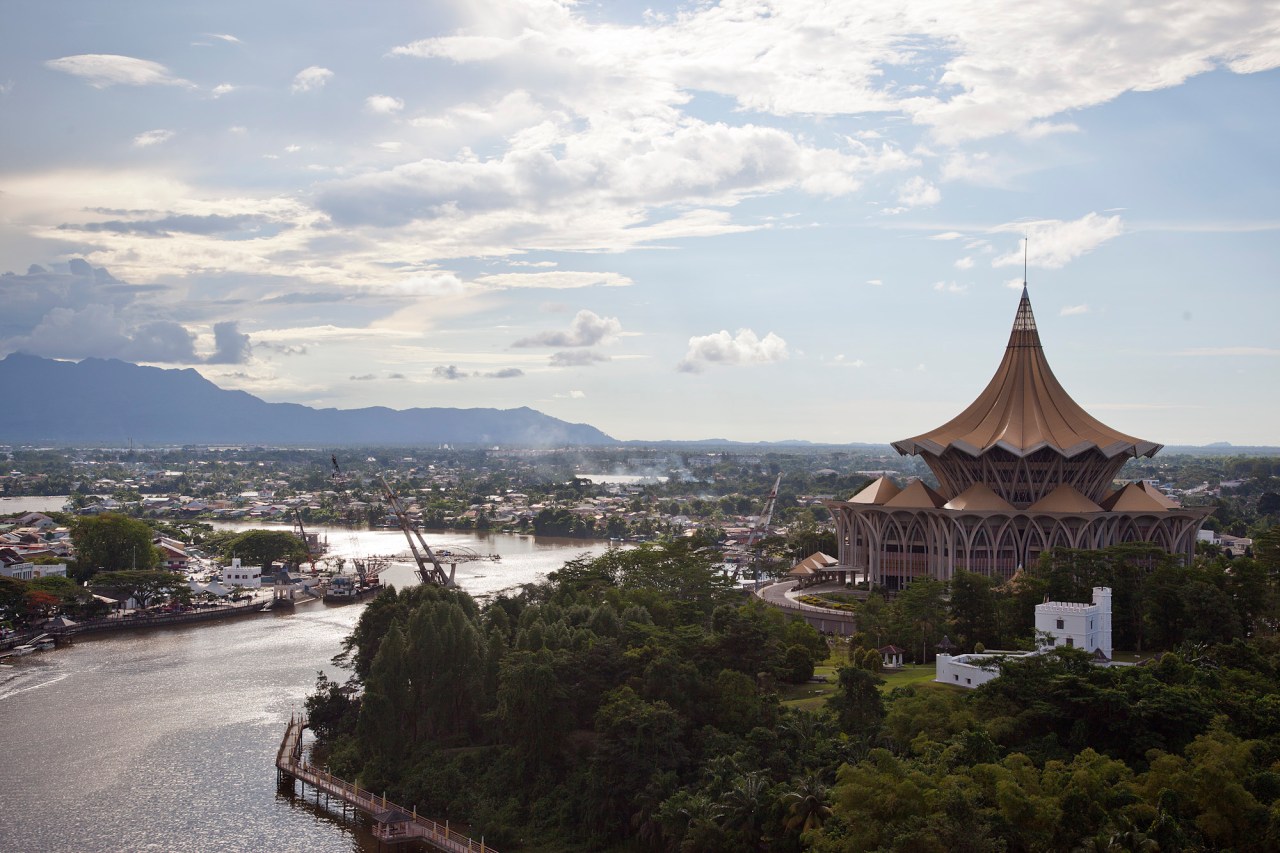 11:00
am
Kubah Ria Satok
Taman Foong Joon
93050 Kuching, Sarawak, Malaysia
Get Directions
Moving west along the tiny kampong roads that hug the riverbank, you'll hit Merdeka Street. Take it south toward the Kubah Ria Satok, Kuching's largest open-air market. You can get lost in Kubah Ria on any day, but it's best to go on a weekend, when jungle gatherers flood the parking lot with carts of exotic fruits and shoots.
Have a local take you through the weekend market to help you figure out what everything is and which produce is in season. Your hotel or hostel can snag you a guide, or you can call Joseph Daniel, the Bidayuh man who runs Kuching's Bumbu Cooking Class on Carpenter Street. He leads regular market tours and is encyclopedic.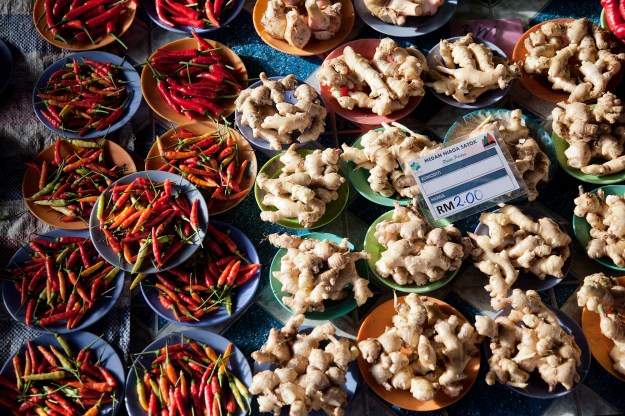 12:00
pm
Kuching City Mosque
332, Jalan Datuk Ajibah Abol, Kampung No 3
93400 Kuching, Sarawak, Malaysia
Get Directions
By now you should be wilting. Some locals escape the heat into one of the unreasonable number of air-conditioned shopping malls popping up around the city. Bypass these and bike or taxi back across the river on the Satok Bridge, right next to the market. Once on the south bank again, head northeast toward the towering pink and gold Kuching City Mosque.
On the way, stop to rest your heels and cool your flesh for a spell at this smaller open-air market, two tin-roofed collections of hawker stalls. There is excellent lunch fare here, from rojak salads of cucumber, pineapple, and fried tofu in a mysterious sweet, spicy, and savory brown sauce to fried rices and heavy porridges. These folk also sling mean ABC—short for air batu campur, it's shaved ice covered in condensed milk and palm sugar—mixed with corn, red beans, and jelly grass, among other cool-down treats.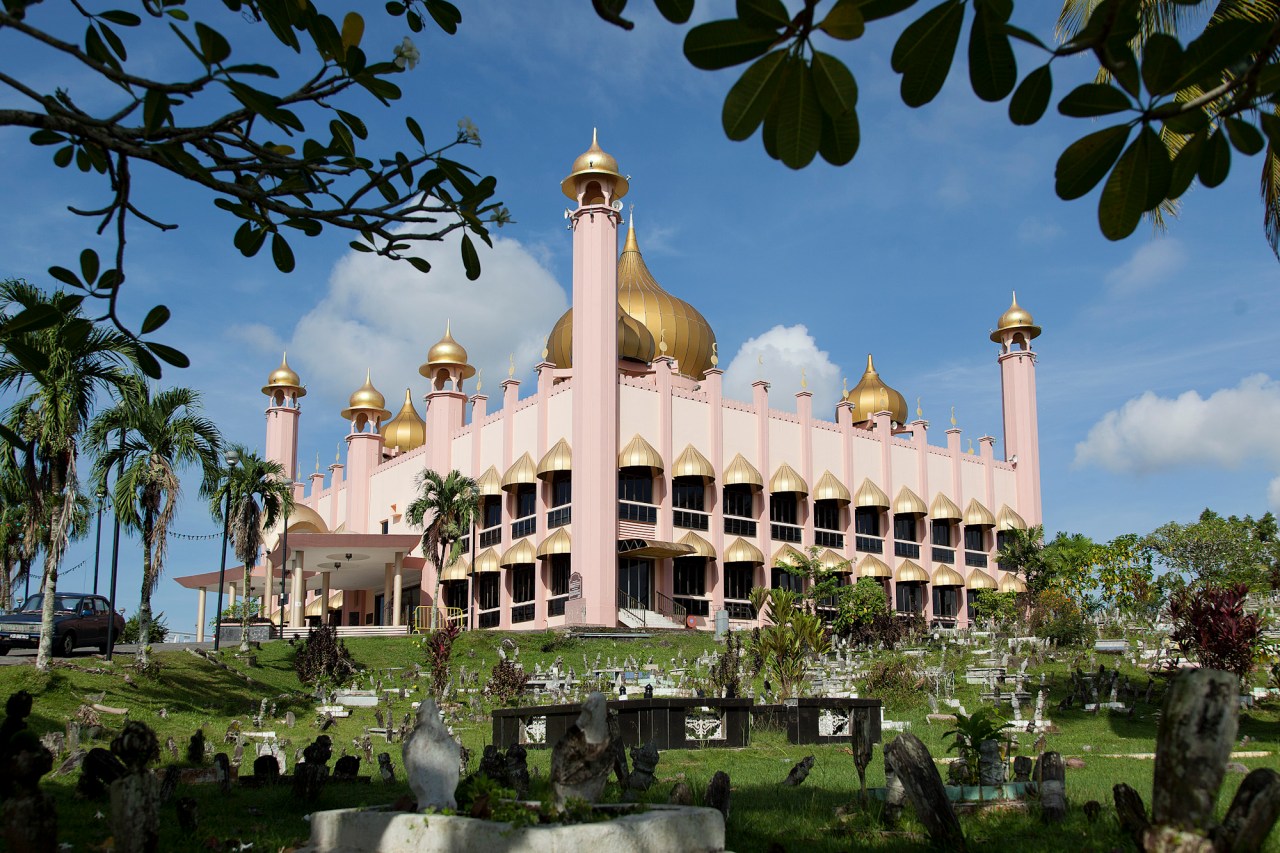 1:00
pm
Sarawak Museum
Jalan Tun Abang Haji Openg, Taman Budaya
93400 Kuching, Sarawak, Malaysia
Get Directions
From the market, loop around Khoo Hun Yeang Street toward Plaza Merdeka and head south on Abang Street until you hit the Sarawak Museum, a complex of pretty whitewashed colonial buildings. The ethnology exhibit features some of the best-preserved Dayak artifacts in existence, from gorgeous wood carvings to real human skulls hanging from a basket in a re-created Iban longhouse. It also features thoughtful explanations of the island's historical headhunting tradition. The museum's gift shop has a side room with two shelves of rare books on Sarawakian history, culture, and nature, marked at fair prices.
3:30
pm
Old Courthouse
Jalan Tun Abang Haji Openg
93000 Kuching, Sarawak, Malaysia
Get Directions
Once the sun is no longer overhead, head back up Abang to the Old Courthouse, the Brooke family's administrative building. The Brookes were British citizens who ruled Sarawak as a sovereign nation from 1841 to 1946. Today the courthouse offers upscale escapes—like a high-end cafe and a gallery—but limited historical markers. (To learn about the Brookes, who are essential to understanding modern-day Sarawak and Kuching, hop back on the nearest sampan for a quick trip to Fort Margherita, where a new gallery dedicated to the family's history in the region is perched on a hill to the side of the ostentatious State Legislative Assembly.) The courthouse is also a great shortcut to India Street, a multicolored pedestrian walkway and focal point of Sarawakian Indian culture. Its side streets boast Tamil hawkers, a tiny Indian mosque, and piles of spices that will transport you from Kuching to Kochi.
At the end of India Street, turn down Gambir Street, which takes you back toward the waterfront, past a collection of Brooke-era monuments and souvenir stands as well as a few of the city's better shops for kek lapis, colorful multilayered cakes that are as fun to look at as they are to eat.
Wander through the Chinese History Museum and the nearby Tua Pek Kong Temple, then drop down Temple Street, cut west along the alley toward the Wayang Street and Hong San Si Temples, and find yourself on Carpenter Street, the cultural nucleus of Kuching's Chinese community. The side streets off Carpenter are great places to catch Chinese goldsmiths and tin crafters at work. There you can also feel out the religious, cultural, and entrepreneurial flair of the many Chinese-heritage associations that long ran the trade and development at the heart of Kuching.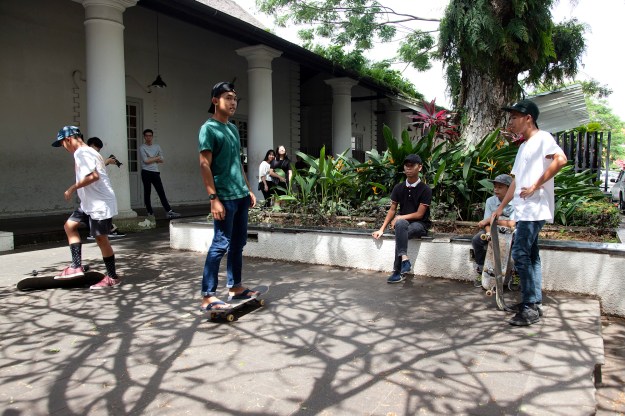 6:30
pm
Top Spot
Jalan Padungan
93100 Kuching, Sarawak, Malaysia
Get Directions
Carpenter Street will dump you back onto Abang—likely just as the sun sets and your stomach grumbles. For appetizers make your way to Top Spot, a fish market on top of a parking garage near the end of Green Hill Street. Dozens of stalls offer more varieties of crab, lobster, and prawn than you likely knew existed; they're cooked to order and served alongside fresh fruit juices or cheap regional beer brands. But save plenty of room, because when in Sarawak, you ought to try some Dayak food.
Kuching is in the middle of a small renaissance of modern Dayak cooking. Joints like The Dyak and Tribal Stove mix local traditions with contemporary influences. For holistic atmosphere, price, and portions, though, try Lepau, a low-slung wooden structure at the back of a maze of alleys off Ban Hock Street. Parts of Lepau feel hokey—like the Dayak man in a traditional hat serenading patrons live with a sape (an Orang Ulu lute). But the food is wonderful and unlike anything you'll eat in the rest of Southeast Asia: meats cooked pansoh (stuffed with spices and roasted in bamboo shoots); umai (a fiery local take on ceviche served with sago balls); and banana leaves filled with fragrant, colorful Bario rice and heaps of crunchy jungle ferns.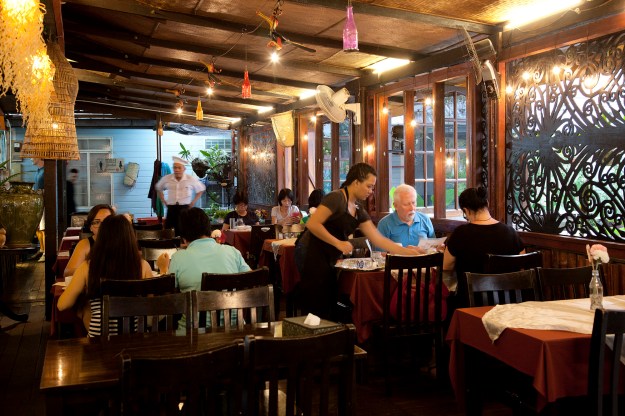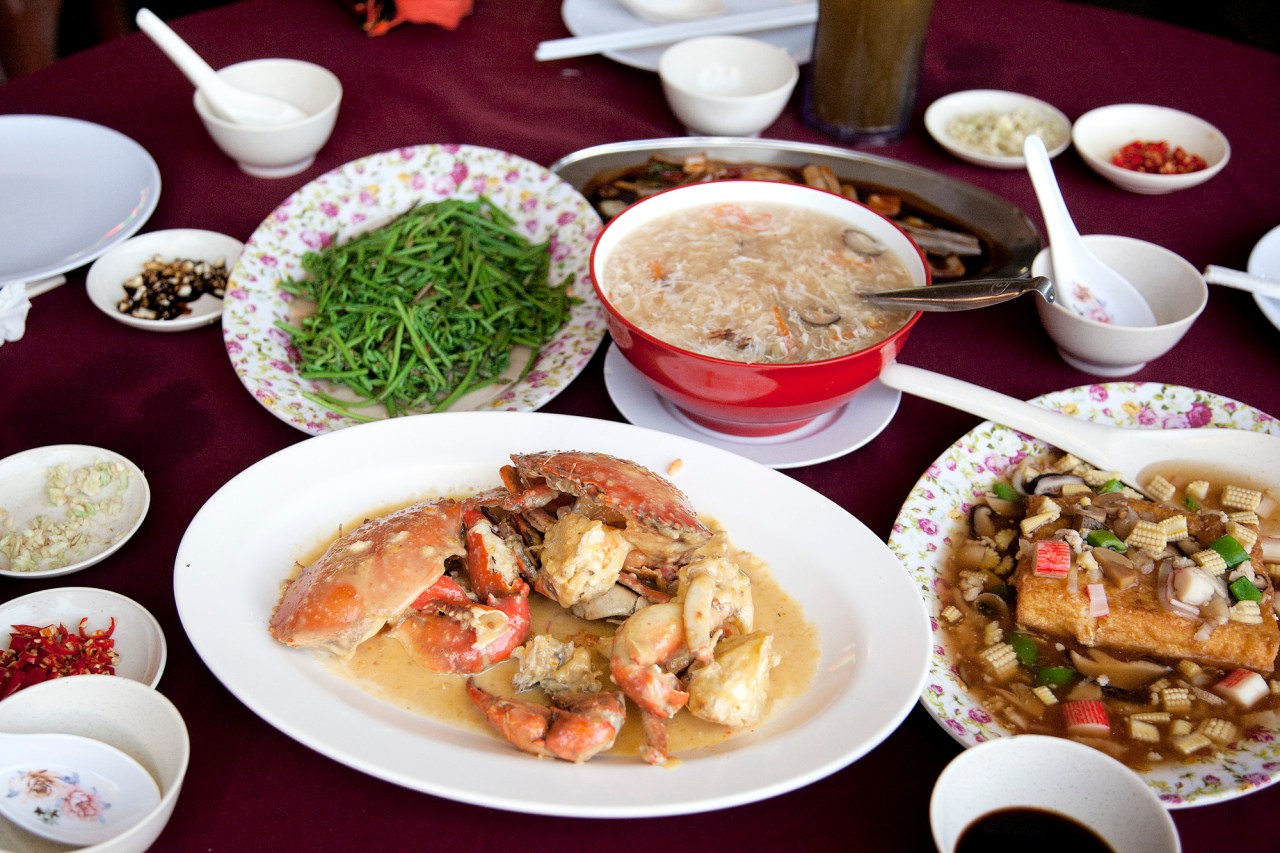 Once the moon has risen, ask around to find a good night market. If it's Friday night, try the one at Siniawan, a tiny Chinese community on the outskirts of Kuching, accessible by taxi for $5 or less. You'll find some of the oldest wooden shop houses in Kuching, as well as unpretentious karaoke, hearty street meats, and free-flowing booze. It's a less touristy side of Kuching letting its hair down.
10:00
pm
Ruai Bar
Jalan Ban Hock
93100 Kuching, Sarawak, Malaysia
Get Directions
After a few beers at the night market, switch gears and sample a little local liquor. Hop back in a taxi and make your way to Ruai Bar on Ban Hock. Decked out in Dayak art collected by the owner's father, it's a neighborhood favorite, where locals and tourists gather for a Tiger Beer or a shot of Johnnie Walker at the end of the day. It's also one of the few spots where you can regularly find quality tuak (Dayak rice wine) and langkau (rice moonshine), the latter sometimes spiked with scorpions. At Ruai you may find yourself, like I did, sucked into bar-counter conversations, egged into drink after drink, and stumbling back to your bed in the wee hours. Fall asleep heavy and satisfied. Wake and repeat.