Back in the days when Buenos Aires was the capital of one of the world's 10 wealthiest countries, the city was known for its sumptuous mélange of Old-World charm, South American soul, European affluence, and tango dancing under purple jacaranda trees.
In the wake of several military dictatorships and economic crises—not to mention the onset of Starbucks-sipping modernity—it's impressive that even a shadow of the old city still exists.
It does, but mostly in little corner shops and quiet neighborhoods far from most tourist haunts. It's remarkable that a modern city like Buenos Aires still has the ability to take you back in time for a day—starting with breakfast.
9:00
am
Las Violetas Confitería Las Violetas
Av. Rivadavia 3899
C1204AAD CABA
Get Directions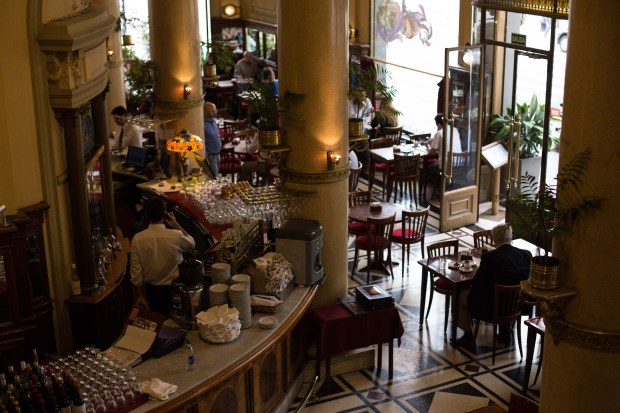 Seated at the high-ceilinged cafe Las Violetas, a historic confitería, or pastry shop and cafe, you'll be presented with various lavish European-style breakfast menu options. Reservations are recommended, especially on weekends, when the waiting line often snakes around the building. Las Violetas is in the historic tango district of Almagro, a tranquil, working class neighborhood off the tourist path. The cafe, a historic landmark built in the 1920s, stands at the corner of Medrano and Rivadavia, a main thoroughfare for horse-drawn carriages dating back to 1876. You'll follow that same carriage route when you emerge, bright-eyed and satisfied, from Las Violetas and enter the subway on Linea A.
Get off at station Primera Junta. When you exit, you'll be facing a big building that says Mercado del Progreso on it (look up), but there will be no clearly-marked entrance. Look for the small kiosk—to the right, almost hidden from view, is a little entranceway. A very easy-to-miss sign reading "Entrada Mercado del Progreso" is painted on the opposite wall underneath a payphone.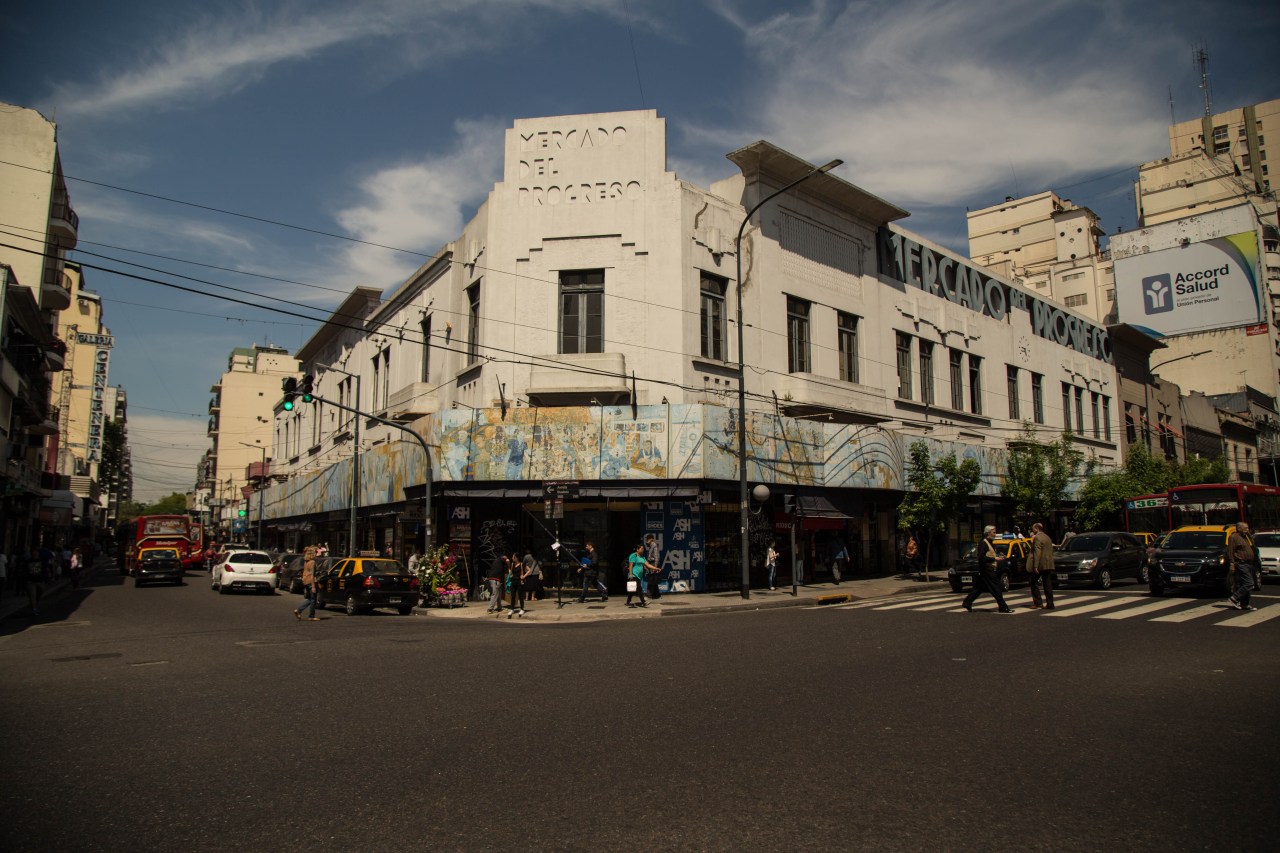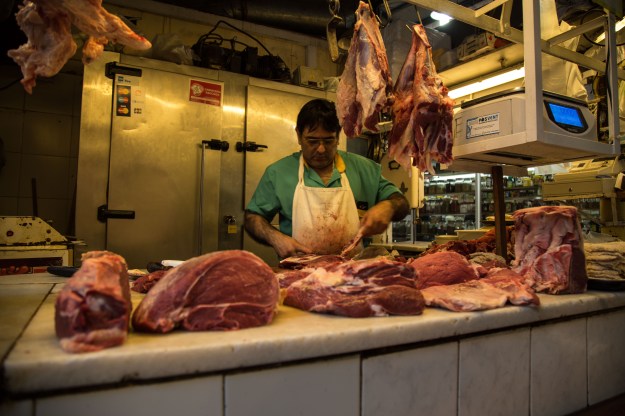 Welcome to the Mercado del Progreso. Once inside, get your bearings. Above is a charmingly dilapidated imitation-Alhambra ceiling, and a maze of food stands beckons from all sides. Lesser known to tourists than the San Telmo Market, a walk through Mercado del Progreso offers visitors a glimpse of traditional Argentine fare.
First, note the number of butchers, far more than any other type of vendor. Many will be pounding away at thin strips of meat—that's to make the classic milanesa, a thin piece of meat that's breaded and then baked or fried. Some butchers will probably already have lines of Argentine mothers, grandmothers, and cooks patiently waiting for their weekly supply.
10:00
am
Mercado del Progreso
Av. Rivadavia 5430
C1424CEW CABA
Get Directions
You'll also find purveyors of spices, fruits and vegetables, nuts, and seeds. This would be a good moment to look for dulce de leche, the classic caramel spread, or you can stop in at the little bakery called Locas Por Las Tortas (Crazy for Cakes), which offers muffins and other treats. For a more savory snack, grab a cone of fried calamari for the equivalent of about $5 at the pescadería, or fish stand.
Once you've snacked and shopped your way through the market, leave via the exit just past the Locas Por Las Tortas store. You'll go down a ramp and past a parking garage, take a left, and find yourself on Avenida del Barco Centenera. Immediately to your right will be a street called Guayaquil.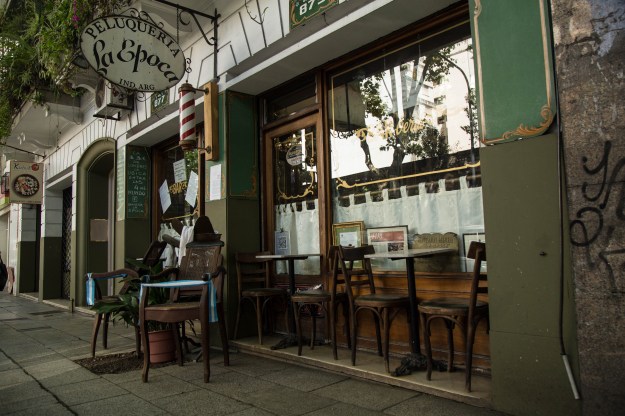 11:00
am
Peluqueria La Epoca
Guayaquil 877, Cdad
Autónoma de Buenos Aires
Get Directions
Walking up Guayaquil, you'll soon stumble upon the museum-like barbershop Peluqueria La Epoca. There, gentlemen can get their hair or beards trimmed while ladies have a coffee, explore the enormous antique collection, and watch the guys get anointed with elegant hair oils—just like in days gone by.
Jump back on the metro—Linea A, going the opposite direction—and get off at the station Congreso. When you come out of the subway, you'll be in or near a sprawling plaza with a Romanesque congressional building. On the corner to the right of the building, you'll find a towering old mill, a historic landmark inaugurated in 1917.
Soak that in, then take a stroll down Avenida de Mayo, a grand boulevard lined with Art Nouveau and Neoclassical architecture.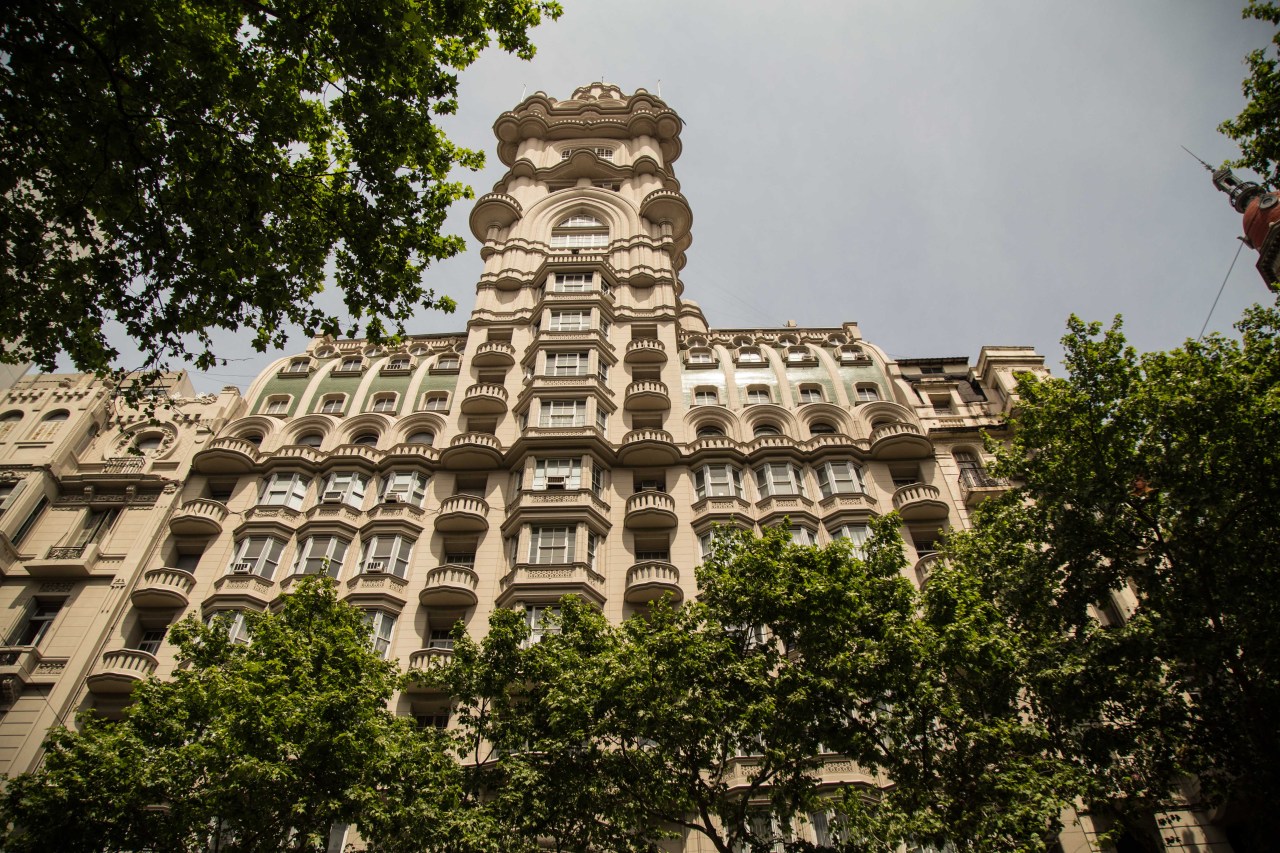 Stopping in front of number 1370 won't be difficult; the building itself will probably halt you in your tracks. Palacio Barolo is an imposing national historic monument inspired by Dante's Divine Comedy and completed in 1923. Once the highest building in all of South America, it's a tribute to the large wave of Italian immigrants that swept into the city in the latter part of the 19th century.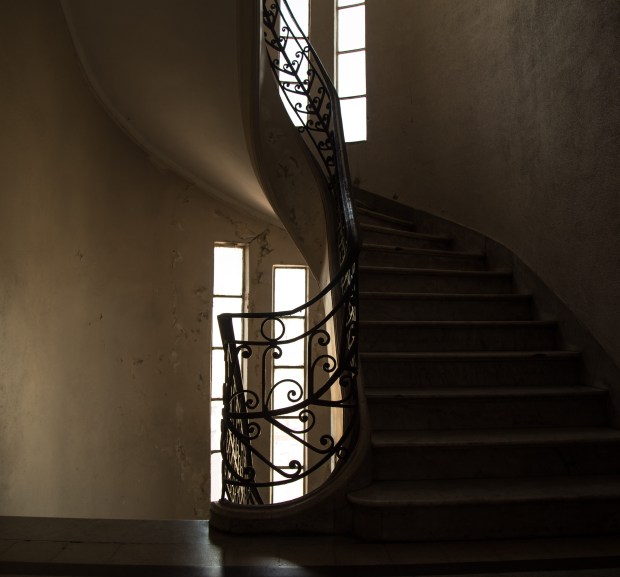 Commissioned in 1890 by a wealthy Italian immigrant who was a big fan of Dante's Divine Comedy, and built by another Italian and fellow Dante admirer, Mario Palanti, the building is a monument to eclectic architecture and has a sister structure called the Palacio Salvo in Uruguay.
The basement and ground floor of the Palace represent the first book of the Divine Comedy, Inferno, or hell, followed by Purgatorio, or Purgatory, on floors one through 14. Keep climbing and you get to Paradiso or heaven, on floors 15-22. The building is topped with a lighthouse that can be seen from Uruguay and is exactly 100 meters high, each meter representing one of the 100 cantos (verses) in the Divine Comedy.
After all the heady symbolism of the Palacio Barolo, you'll need to lighten things up. How about seeing plates of tempting food whiz by at dizzying speeds down a long marble counter? You'll find this display and more at the classic Café Paulin. There may well be a line out the door but don't be deterred. While you wait, scour the menu posted on the window. It has all the typical Argentine lunch plates. It's also worth elbowing your way in for a seat at the bar, where plate after plate is slid down the long counter to meet hungry clients.
Café Paulin is known for its sandwiches—the pork-stuffed bondiola is a classic—or try the Milanesa Napolitana con fritas, a Buenos Aires creation consisting of fried and breaded meat covered in tomato sauce, cheese, and ham. Or order a slice of savory pie; the acelga, or chard pie, is one of my favorites.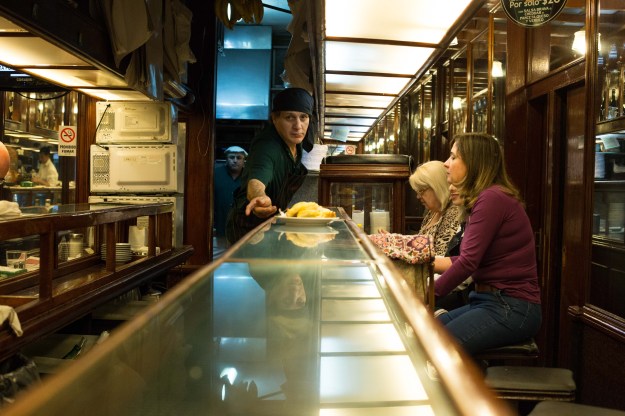 2:30
pm
Colmegna Spa Urbano
Sarmiento 839
CABA C1041AAQ, Buenos Aires 1041
Get Directions
After you've eaten, walk back the way you came on Sarmiento until you reach number 839. It may not look all that glorious on the outside, but Colmegna Spa Urbano is home to some of the most elegant bathing pools south of the equator. Here, ladies can treat their tired feet, get a massage, or, Thursdays through Saturdays, go to the sauna. Gentlemen can do the same or take the time to wash away the grime and dust of the city in the spa's multiple male-only (note: nude) pools. Built in 1882 and currently, under restoration, the spa is said to be frequented by the likes of Diego Maradona and offers an array of spa treatments at reasonable prices.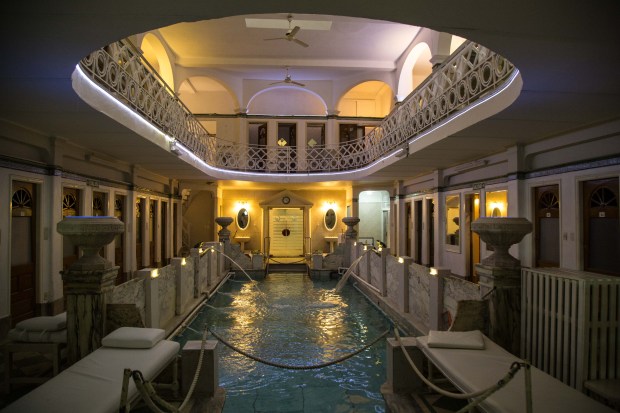 After you've relaxed at the spa for a while, take line C and get off at the station San Juan. Once out of the station, you can begin your short walk down the Avenida San Juan into San Telmo.
Buenos Aires' old artists' district is a classic barrio known historically for its cosmopolitan mix of creatively-inclined immigrants. The neighborhood is now a hotspot for tourists and hipster backpackers—you'll inevitably bump into a few if, walking up San Juan, you take a left on Bolivar until you hit the San Telmo Market, a more touristy version of the Mercado del Progreso. If it's a Sunday, the streets will be packed for the Feria San Telmo, a weekly street fair that spills out from nearby Plaza Dorrego.
For a more unusual journey, take a right on Defensa from San Juan. A few blocks down you'll find the Galería del Asombro (Museum of Horrors), where you can stop for an old-time photo souvenir to capture the theme of the day, be it zombies, aliens, or ghosts, or browse for old vinyl records at Eureka Discos as you make your way to Pulpería Quilapán.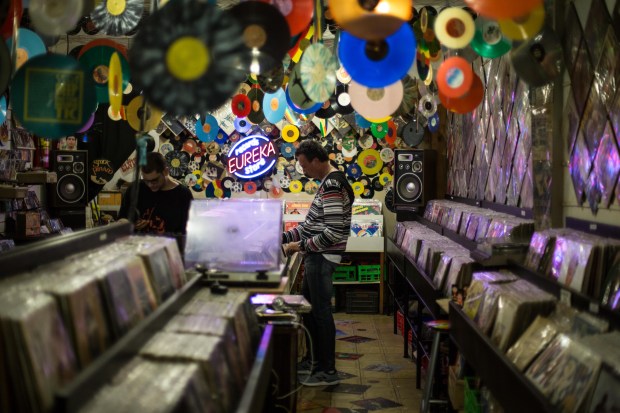 5:30
pm
Pulpería Quilapán
Defensa 1344
Cdad. Autónoma de Buenos Aires
Get Directions
A bar, store, and all-around Argentine experience, this unique spot features two sprawling patios, plenty of tasty snacks—try the picada, a little starter plate of meats and cheeses, or another Argentine classic: the empanada, a palm-sized savory pie—and a secret jazz club. Pulpería Quilapán is a good time pretty much any hour, day or night.
The pulpería itself is a remnant of the past. When I asked one of my Argentine friends what a pulpería was, he actually didn't know. Pulpería Quilapán manager Grégoire Fabre told me pulperías might be one of the first businesses to have started up in Argentina.
"It's a mix between a bar, a general store, and a social club," he said, leading me through the restaurant—passing what can best be described as the picada assembly point, where a young man beamed as he sprinkled thyme leaves over cheese slices—to the shop, where you can buy tote bags, condiments, specialty beers and wine, all made in Argentina.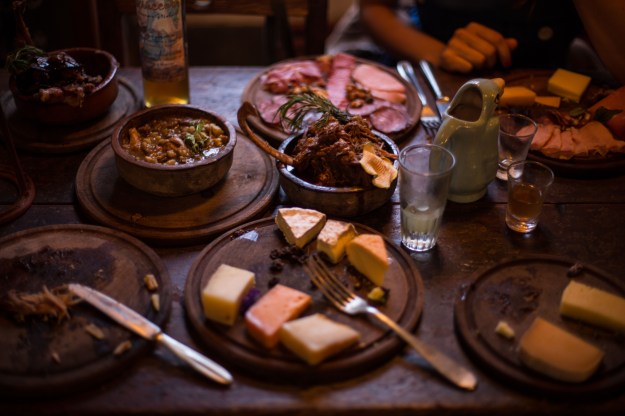 An institution critical to the early development of Buenos Aires in the 18th century, pulperías historically offered a number of social services—more than a bar and marketplace, they also functioned as banks, hiring halls, collection points and, often, illicit trading posts for gauchos.
Pulpería Quilapán's 1920s-style jazz club can only be accessed through a secret entrance. Find out about concerts by keeping tabs on their Facebook page.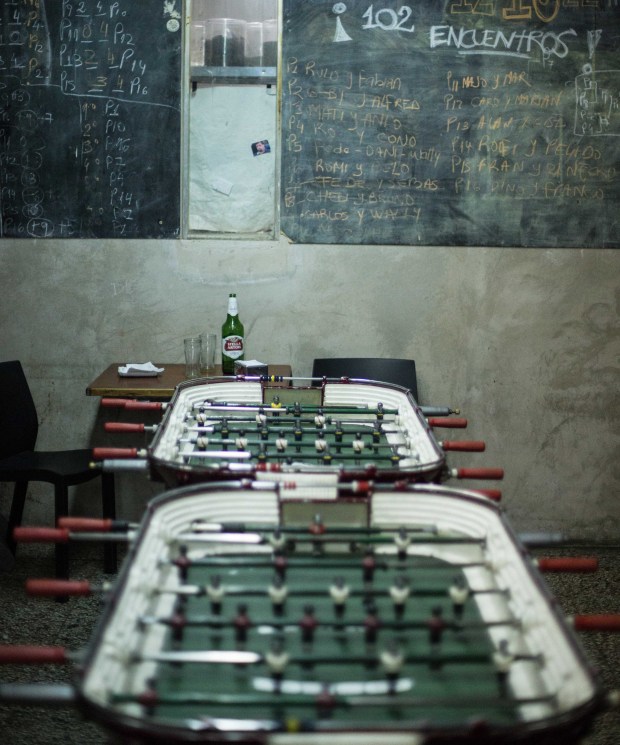 7:00
pm
Cafe San Bernardo
Av. Corrientes 5436
Cdad. Autónoma de Buenos Aires
Get Directions
The next stop is a gaming hall. Ready for some pool, ping-pong, or foosball? Not in the mood? You can always take a seat, drink beer and watch other people play. If you wander a few blocks over to Corrientes 5436 you'll find Cafe San Bernardo, an enormous old hall filled with billiard tables.
Dating to a relatively young 1957, Cafe San Bernardo is a fascinating place to play games and people-watch. A hangout for young Argentines by night and elderly regulars by day, the 24-hour cafe attracts a steady supply of the city's more interesting characters.
Don't be surprised to find an eccentric old woman drinking tea in a corner, watching hordes of goth teens play pool next to a group of suit-decked lawyers, for example.
After a few rounds of drinks and games, prepare for some Peruvian-Japanese food. Walk back to where you came out of the subway, and head down Malabia to the Palermo district, about a 20-minute walk or a five-minute cab ride, to Nicky New York Sushi (Malabia 1764). This upscale restaurant offers a variety of culinary delights, ranging from maracuyá-soaked sushi to sashimi topped with fried capers. But, as delicious as it is, you're not really there for that. Well, you are and you aren't. The food's fabulous, but what happens after dinner is equally exciting. That's when you ask to see the bodega, or wine cellar. You'll find yourself in an old-school speakeasy with excellently crafted cocktails. Try the Santo Negroni, Malbec Style, and Union Pacific—all the brainchildren of Seba Garcίa, one of the best bartenders in Argentina.
Now that you've sipped your way back in time, return to the present in a way that keeps the past still very much alive: Music. Jump in a cab—subways are closed by now—and head to Lo de Roberto, a classic tango bar frequented by both professional and amateur tango singers late at night. The walls are lined with old beer and wine bottles, the empanadas are tasty, and singers and musicians pass around the hat at the end of a set. It's a small, intimate place, so you may have to squeeze in, but it's worth it to find yourself seated amongst tipsy Argentines singing their hearts out to the tango songs they know and love. Sit back and enjoy the music of Buenos Aires' past and present.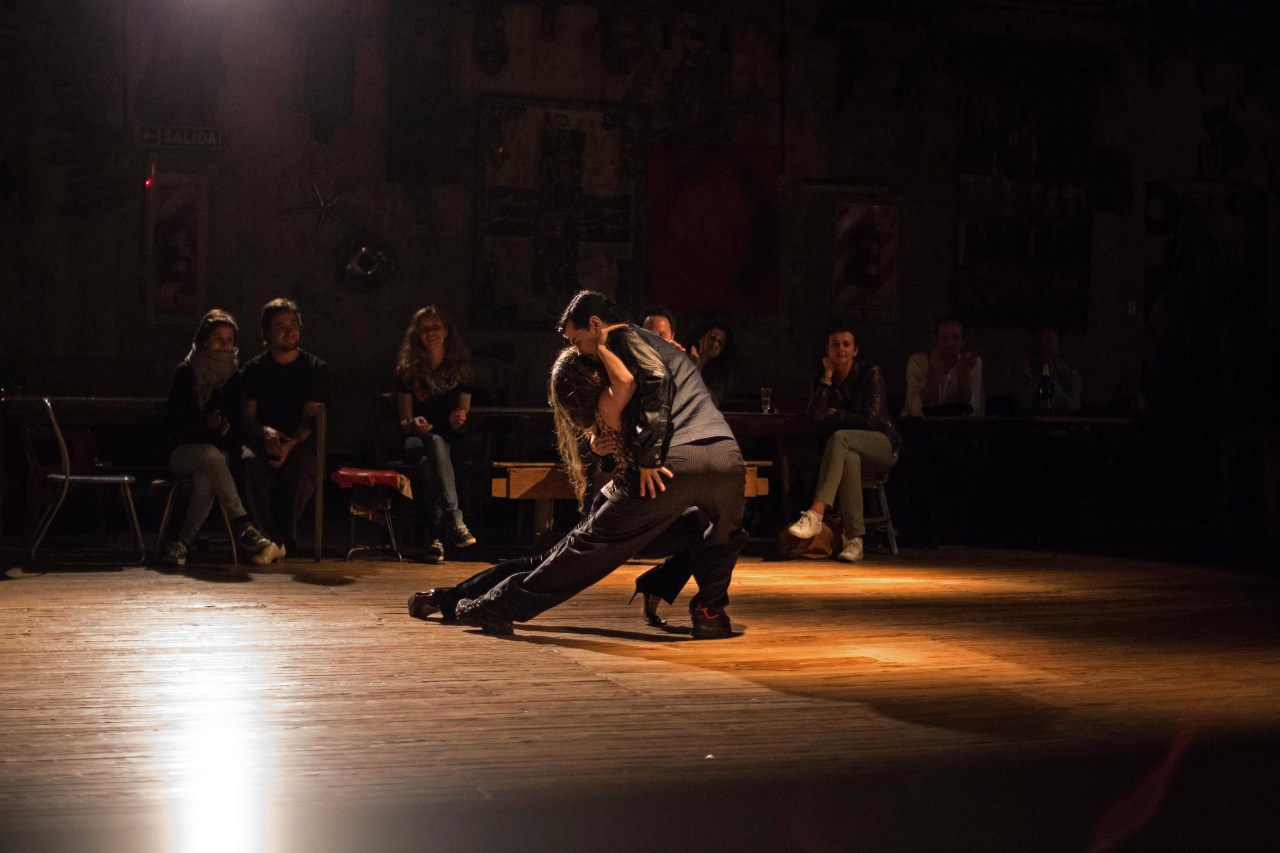 If the music moves you, three blocks away is La Catedral, where you can dance, or watch the tango being danced, in one of the city's historic old buildings. Once there, congratulations are in order: Dancing 'til dawn may be the best way to end a day in Buenos Aires.
Founded mostly by immigrants, Buenos Aires has always been a culturally complex city. Today you've strayed off the beaten path a bit in search of the city's past, a past that gives the Buenos Aires of today its might and magnetism. Buenos Aires maintains much of its old grandeur and has lost none of its appeal — in fact, it may have even charmed you.