Pitmaster Rodney Scott cooked his first whole hog at the age of 11. His family owned a convenience and grocery store in Hemingway, South Carolina, and they barbecued in pits they built behind the store. Customers would drive several hours just to get a taste. In 2016 Scott struck out on his own, opening Rodney Scott's BBQ in Charleston—a venture that earned him the James Beard Award for Best Chef: Southeast in 2018. In addition to whole-hog barbecue, Scott serves up a catfish fillet, a rib-eye sandwich, and a host of classic sides. Here's the pitmaster's recipe for barbecue collard greens.
Barbecue Collard Greens
Serves: 15–18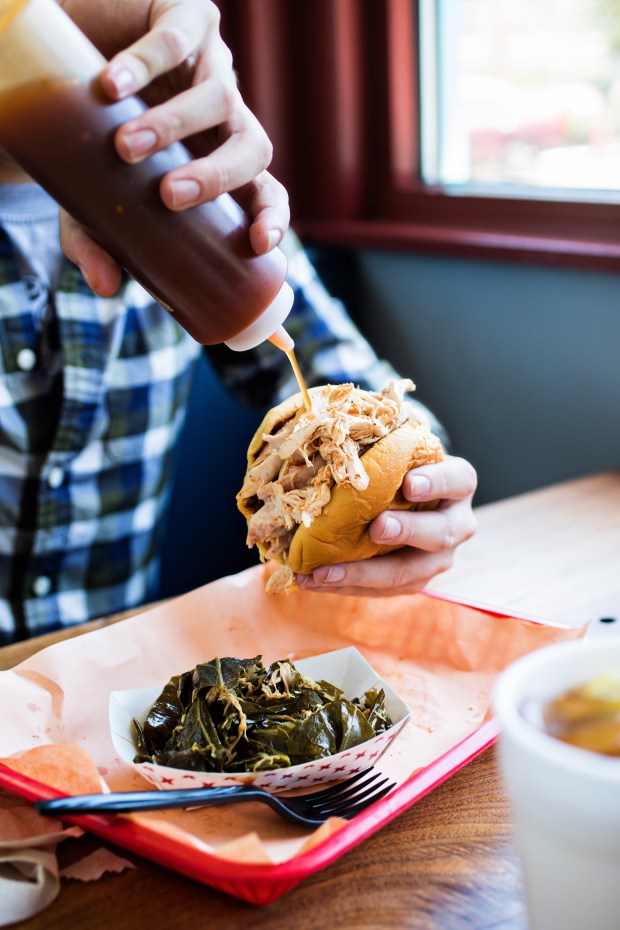 Ingredients:
½ cup pork rendering (pork stock is a good substitute)
8 ounces yellow onion, diced
2 teaspoons garlic, minced
2 pounds collard greens, washed and stemmed
1 quart water
10 ounces pork skin (a smoked ham hock can substitute)
4 teaspoons Kosher salt
1 tablespoon Rodney Scott's BBQ Sauce (substitute a vinegar-based barbecue sauce)
2 tablespoons apple cider vinegar
Preparation:
Heat a heavy-bottomed pot over medium heat and add the pork rendering. Sauté the onion and garlic until they become translucent, about 5–7 minutes. Add the greens, water, and pork skin to the pot and cover with a lid. Simmer until the greens are completely tender, about 45 minutes. Season with salt, barbecue sauce, and apple-cider vinegar.