Rodney Scott learned to cook barbecue as a child at his parents' shop in Hemingway, South Carolina—he prepared his first whole hog at the age of 11. Now 46, the chef and businessman has a James Beard Award under his belt, runs Rodney Scott's BBQ in Charleston, and is eyeing expansion projects in Birmingham and New York City. He recently spoke with Explore Parts Unknown photo editor, Cengiz Yar, about what makes Charleston barbecue stand out, his favorite places to eat in the city, and how to make great ribs at home.
Cengiz Yar: What's special about barbecue in Charleston?
Rodney Scott: Well I'm here. Charleston's known for its fine cuisine—fine dining rooms with great chefs like Mike Lata, Sean Brock, Jason Stanhope, just to name a few. Barbecue is a new type of thing that's being recognized here amongst all these other great chefs and their cuisines. I think the barbecue in Charleston comes with Southern charm, that "Hey, y'all. Y'all come on in" type of feel. You get hospitality that's wrapped up right along with the Southern-style pork and beef. I think that's what makes it a little special here in Charleston.
Yar: How long does it take to cook a whole hog?
Scott: My cooking process takes about 12 hours. First you've got to get the wood burning and then wait for the coals to get hot. You take those hot coals to cook your proteins, which will be a whole hog in this particular situation. You're going to cook with hot coals just nice and slow, all night long.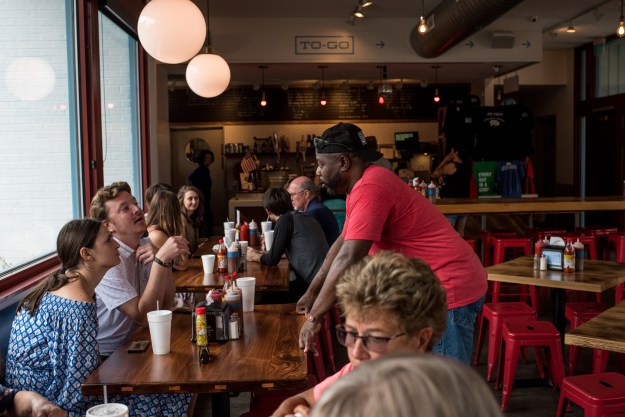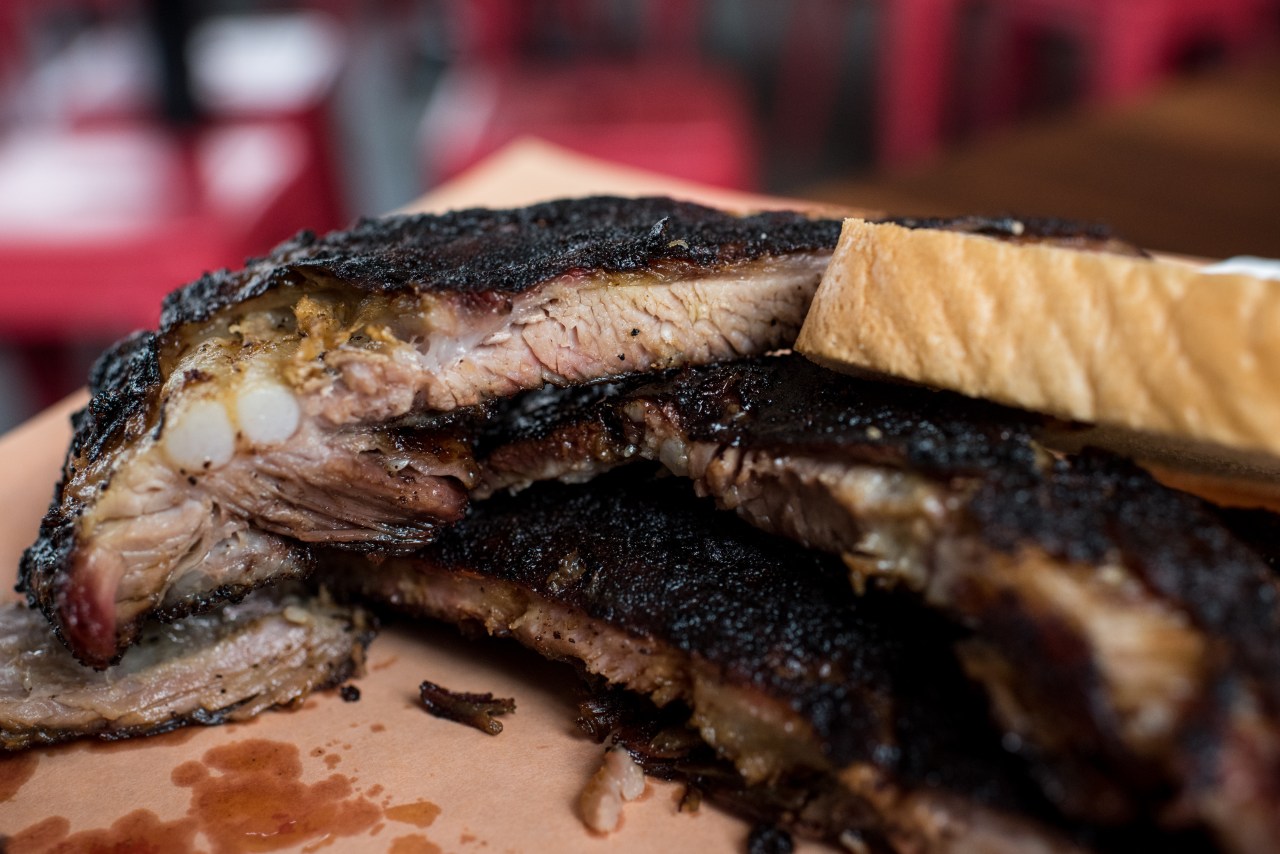 Yar: What is the hardest part about making good barbecue?
Scott: The challenging part about it is standing by the heat in the summertime and all the physical movement needed to manage the fire and the hog throughout the night. It's a lot of walking and moving around with a hot shovel.
Yar: How many animals do you go through in a week, and where do you get them?
Scott: It depends on the time of year, but we average anywhere from about 20 to 30 hogs a week. I get my hogs from Hemingway, South Carolina. The guys over there slaughter for me and deliver here in Charleston, which is amazing, because it's a two-hour drive and they respect us enough to make the delivery.
Yar: How often do you eat barbecue?
Scott: I eat barbecue every week. We like to taste the food before we serve it. Tasting barbecue is pretty much what I do on a day-to-day basis.
Yar: What's on your perfect plate of barbecue?
Scott: When I'm eating barbecue, my favorite cut is a combination of mostly the belly—from right under the ribs—and the shoulder of the pig. My favorite sauce would be a vinegar-based sauce. Usually I can take that and a slice of bread and that's it. That's all I need.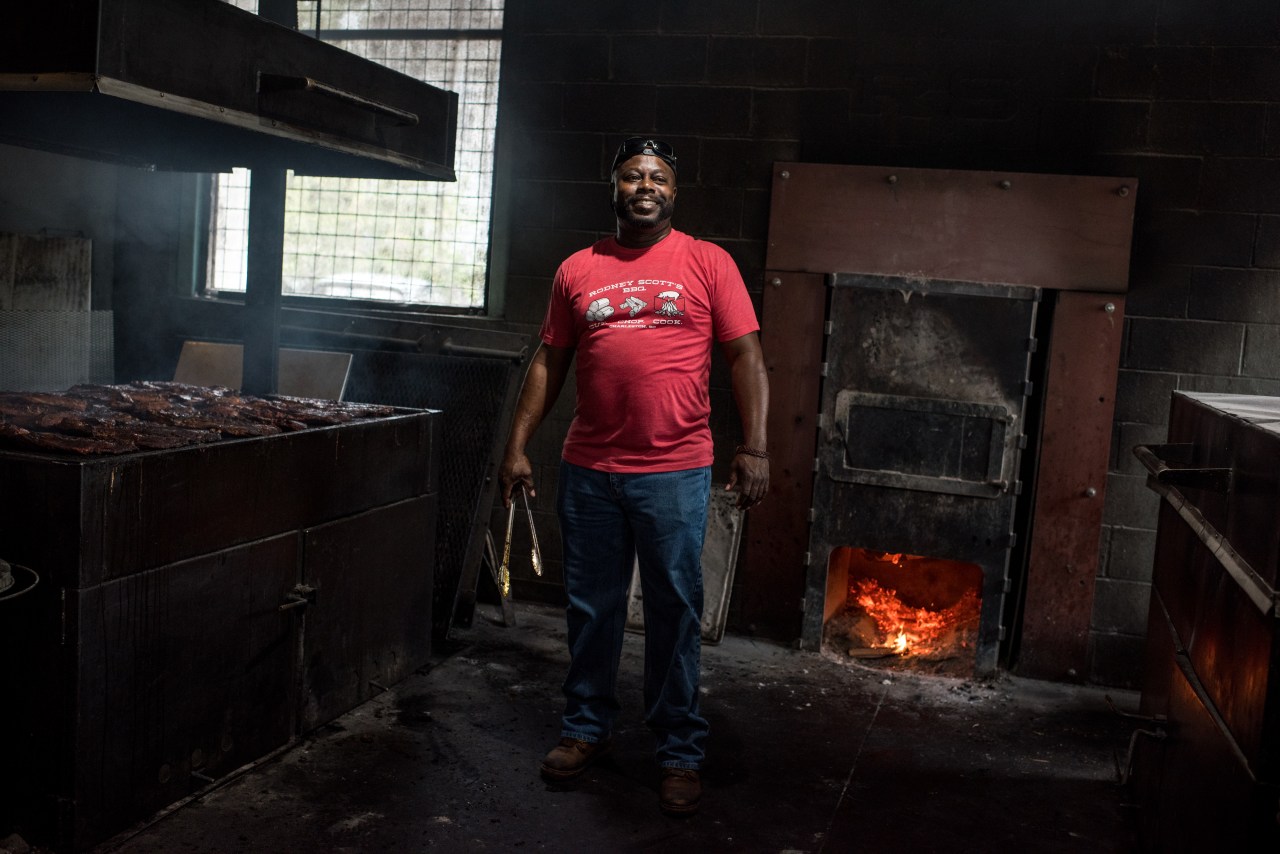 Yar: What's your favorite restaurant in Charleston right now?
Scott: When I'm not eating barbecue, FIG or The Ordinary are usually the two places that I'm always hanging out at. Every now and again I'll roll over to Husk or Nana's Seafood & Soul.
Yar: Do you have any tips for someone who wants to make simple barbecue at home?
Scott: If you're cooking ribs, turn the oven off. Forget about it. If you've got a nice little Weber grill, get the coals nice and hot, sprinkle whatever rub that you've put together on top of your ribs, and then put the ribs on the grill. You want to make sure you've got the right rub on there. No flames, just a nice, hot bed of coals. Have your sauce ready so you can add a little bit of it to the ribs while they're cooking. Sauce it. Flip it over. Sauce it again. Cover it up and let the ribs sit for about an hour. When you pick it up, if it flexes like a T. rex's arm, that baby is ready to go, man. It's ready to go.
Yar: What's next for you?
Scott: Rodney's glass is always half full—a lot of learning and inspiring is next. Birmingham, the newest location of Rodney Scott's Barbecue, is next. It's smoking and ready to go. That's what's next for Rodney—to change the world through barbecue and uplift people through food and music.
This interview has been edited and condensed.