Charleston, population 130,000, is no longer a forgotten gem.
The port city, whose cobblestone alleys and palmetto fronds inspired a generation of poets and painters like DuBose Heyward and Edward Hopper, drew more than 5 million visitors in 2016 and consistently ranks among the top U.S. tourist destinations.
That's in no small part because of award-winning restaurants like Husk and FIG, which update and celebrate classic Southern ingredients. But it's also because of its people. Charleston is filled with people who quietly resist being made into a soundbyte, a label, or a stereotype. This is the spirit running through and over and around those Charleston single-house porches and down the old lanes, where, when it comes to business, culture, and architecture, the new is constantly blooming beside old.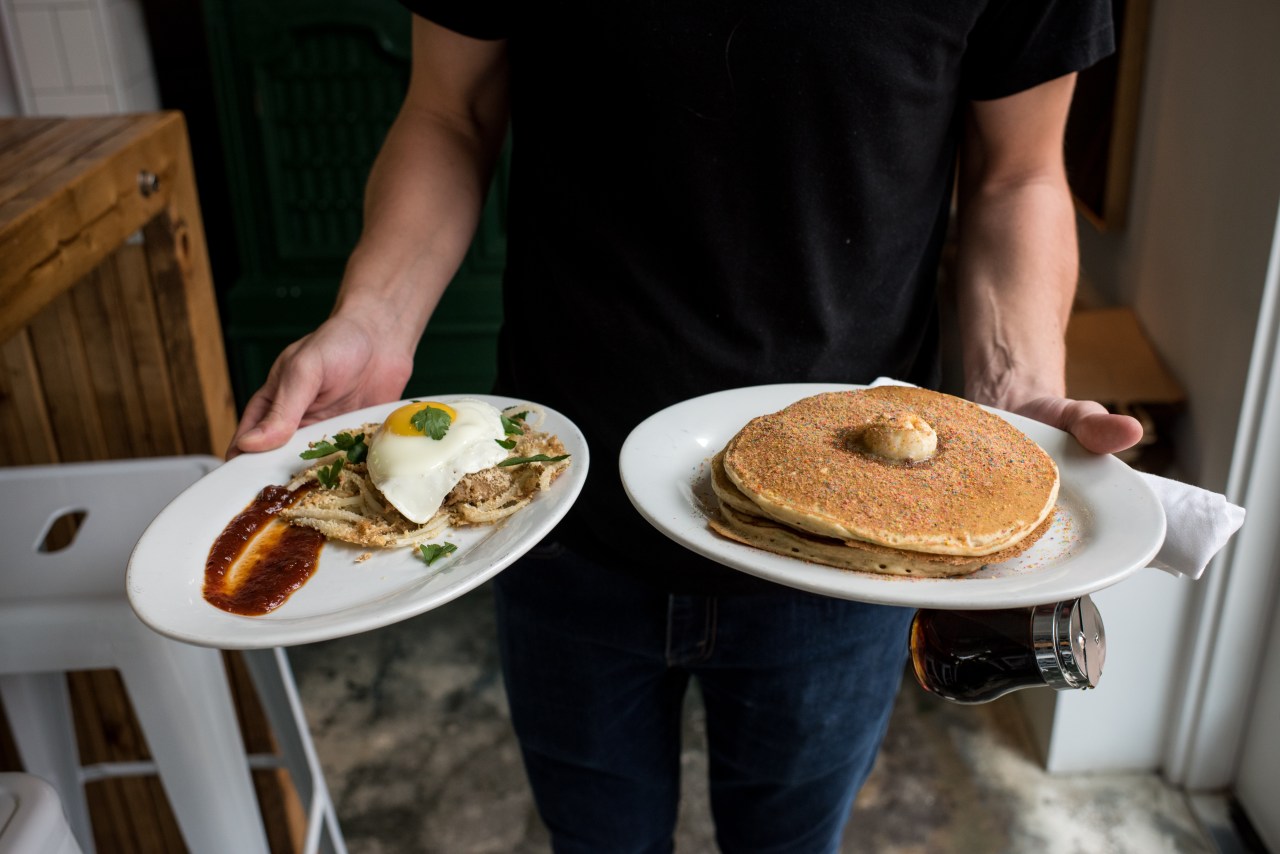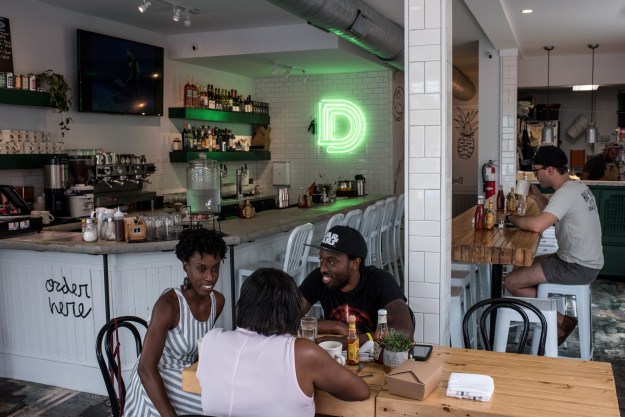 If you're out and about early on a Saturday morning, you'll notice that the city wakes like a cat—with a long, slow stretch. You'll have the sidewalk to yourself as you make your way to the Westside for breakfast at Daps Breakfast & Imbibe. Owners Jeremiah Schenzel and Nicholas Dowling will get you caffeinated and fed with good things like house-made hash and a stack of pancakes. If you want to top off your first meal in Charleston with a Bodegas Yuste Aurora sherry, they can help you out with that, too.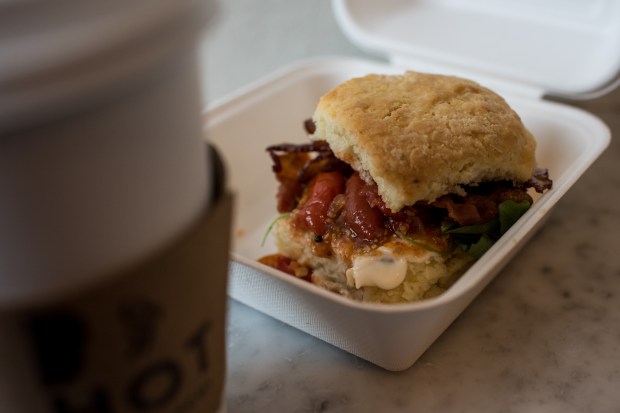 Looking for a quick fix instead? Swing by Callie's Hot Little Biscuit for a buttery Southern biscuit and French-press coffee.
You could stay in town and traipse about on foot for hours, but if the sun's out, I recommend driving to nearby Folly Beach, 25 minutes south of Charleston. Home to a lighthouse and a 1,000-foot pier, the beach is popular with families, surfers, fishermen, college students, and day-trippers. Call Folly Beach Chair Company before you go and ask them to set up a spot on the sand for you—your chair and umbrella will be waiting when you arrive. Lose your train of thought and stare out at the waves or toward the pier, but don't lose track of time. You don't want to start crisping under the island sun.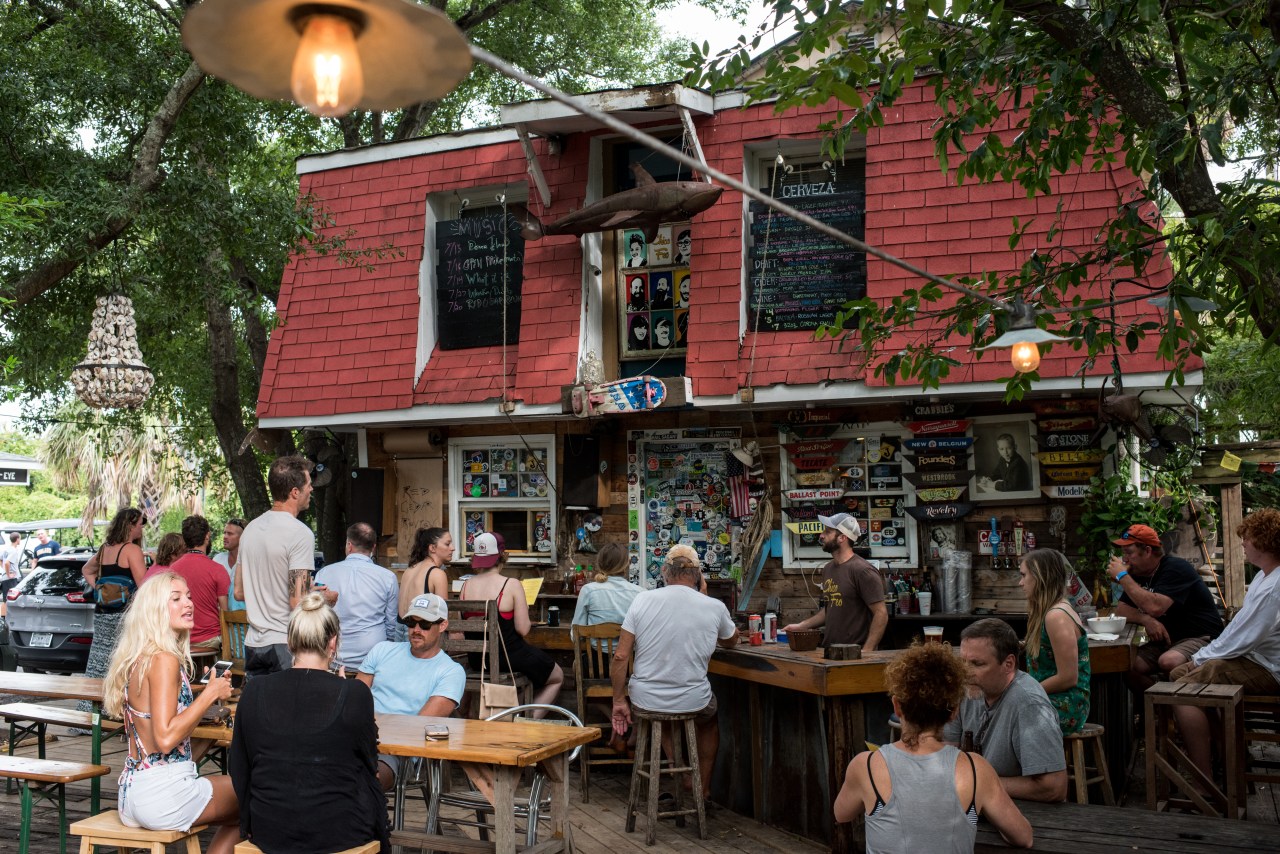 Put on your sandals, throw on a cover-up, and walk to Chico Feo, where the casual decor makes the place feel like a neighbor's backyard. The menu is constantly changing and features items ranging from Vietnamese bun cha to Cuban beans and rice and Cambodian num pang. Grab a beer from the metal cooler behind the bar, order the goat curry or tacos, and listen to the cicadas sing in the oak trees around you.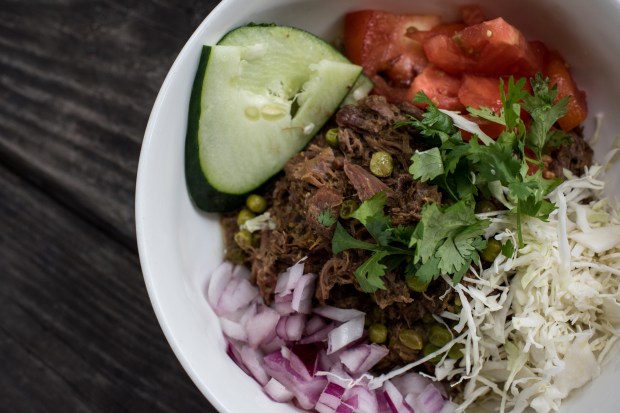 Make your way back downtown to Basic Kitchen, where you can cool off with a drink. The place serves lovely cocktails—like its beet margarita—but I am a fan of the Golden Elixir mocktail, made with turmeric, ginger, agave, and lemon. It will give you energy to continue exploring.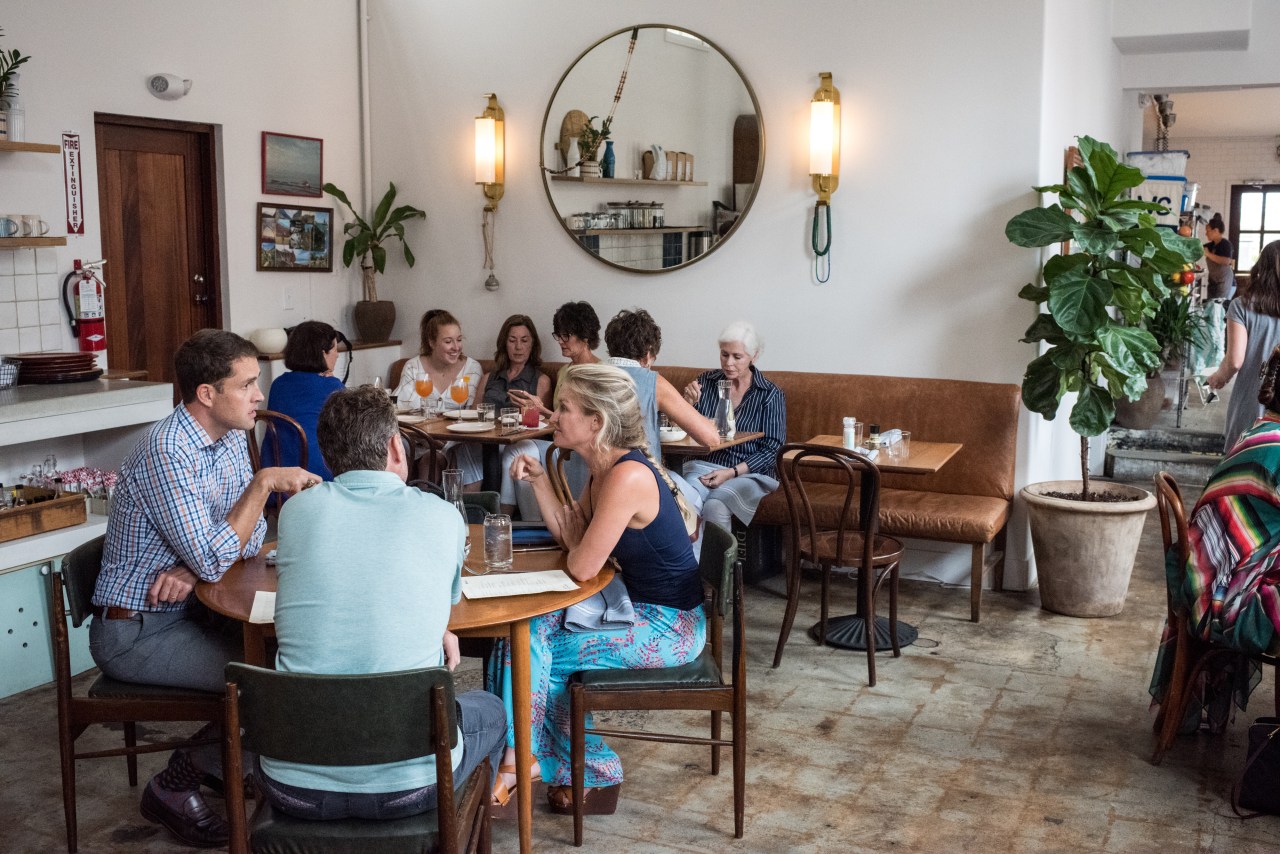 Head south on Archdale Street toward the churchyard at the Unitarian Church of Charleston and look for an entrance to the cemetery on King Street across from the library society. The paths throughout the cemetery are kept clear, but otherwise nature is allowed to take its course. As you follow the trails lined with Spanish moss–covered trees, you might feel as if you're walking through a scene straight out of a Southern Gothic novel. The Unitarian church has allowed nature to take its course, and the cemetery is the evidence of that.
Exit the cemetery toward King Street, which abounds with mom-and-pop shops. My personal favorites are Croghan's Jewel Box, for glittering estate jewelry, and Blue Bicycle Books, for signed editions and great recommendations.
Then head to the Mitchell Hill interior design store for a visual feast that includes designer furniture and local art. Check out Hirona Matsuda's mixed-media pieces, South Carolinian Alicia Leeke's huge painted canvases, and a window full of gleaming oversize piggy banks.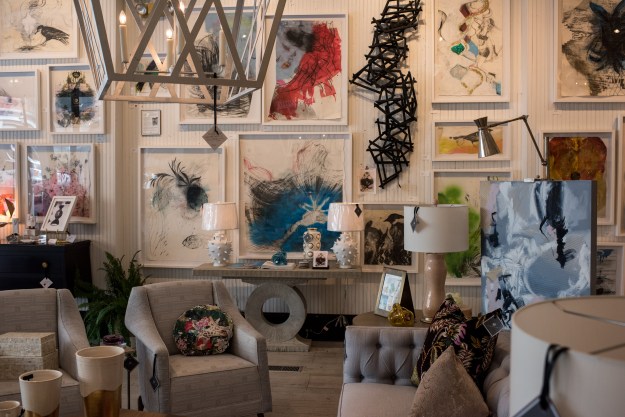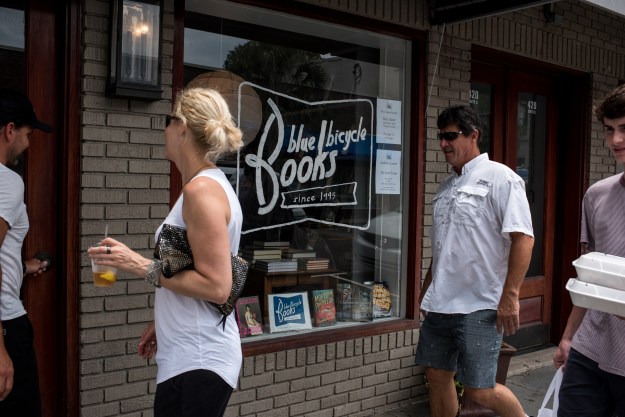 Last, if you're up for walking a bit further, drop in at Graft Wine Shop & Bar, where owners and longtime friends Femi Oyediran and Miles White will help you choose a bottle of booze to suit your tastes. This is a place for people who love the experience of wine, not its exclusivity.
Continue down King Street to The Ordinary to catch the end of happy hour and order fresh oysters. If you need help deciding, the server or bartender will advise you on the best choices to achieve bivalve bliss. Don't pass up the oyster slider!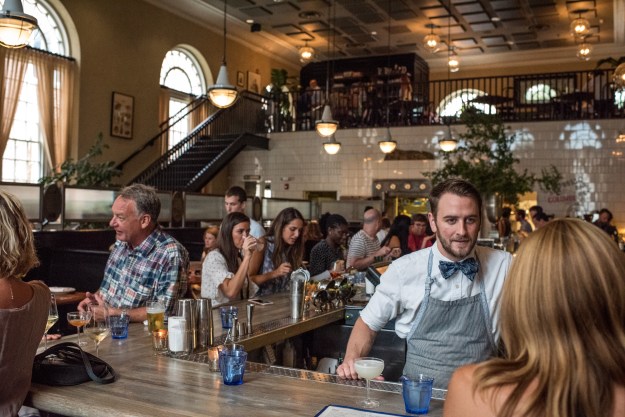 A few steps from the front door of The Ordinary is The Grocery, where you should absolutely try to squeeze in another appetizer before dinner. Anything from the seafood or produce sections of the menu is a solid choice, but the essential drink of choice is the Dirty Green Tomato Martini. Since there are very few wrong turns when deciding what to eat at this restaurant, order quickly and with gusto so you can make it to your next destination. Eating is serious business in Charleston, and there are more plates to be had.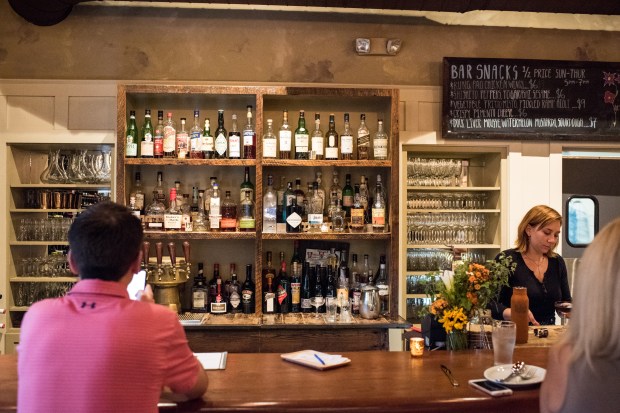 Take a car to FIG for dinner. You made a reservation, right? Good. Because everything here is exceptional. FIG (Food Is Good) is more than a decade old, but the Southern neighborhood bistro continues to surpass even the highest expectations, with dishes, such as slow-baked red porgy, summer bean salad, and, of course, the show-stopping ricotta gnocchi, that use local ingredients. Save room for dessert—the baked Alaska, sweet-corn fritters, or peach-leaf ice cream.
Are you up for a nightcap? Walk over to Sean Brock's The Bar at HUSK for a Double Vision—a refreshing mix of tequila, rum, jalapeño, cucumber, lime, ginger, and lemongrass. Or take a car to Proof, which specializes in classics and new inventions, both taken with the same care. Both establishments serve some of the best cocktails in the city, crafted by industry standouts, such as Proof's Craig Nelson, who refuse to rest on their laurels. Their menus mix classics and new creations in a way that is distinctly Charleston.