When Anthony Bourdain returned to Charleston in 2015 for an episode of Parts Unknown, he said he wanted to "get it right." To do so he entrusted his itinerary to celebrated chef Sean Brock, of Husk, McCrady's, and Minero. And Brock delivered: He introduced Bourdain to the exquisite joy of a late night at Waffle House, discussed the varied roots of Southern cooking, and brought his friend Bill Murray out to lunch.
Brock recently spoke with Explore Parts Unknown about working with Bourdain, quitting drinking, and how sobriety has changed the way he cooks.
Danielle Renwick: Bourdain got some flack for a 2007 episode of No Reservations he shot in Charleston and says early on in the Parts Unknown episode that he wanted to get it right this time around. Did he?
Sean Brock: Yes. The first Charleston episode was soft and fluffy. Before we shot this episode, he called me and said, "I have to redeem myself. I still catch s*** everywhere [for the earlier episode]."
This one was a better look at reality. It looked at the fact that the Lowcountry's agricultural and culinary history has a lot of different stories and a lot of those are difficult conversations to have. For instance, we went to Mosquito Beach with BJ [Dennis] and talked about slavery and its influence on our food and culture, and those are tough conversations.
Many people don't talk about it because it is so shameful, but it needs to be talked about in order to heal. That was a great example of food being able to start that conversation and hopefully start the healing process.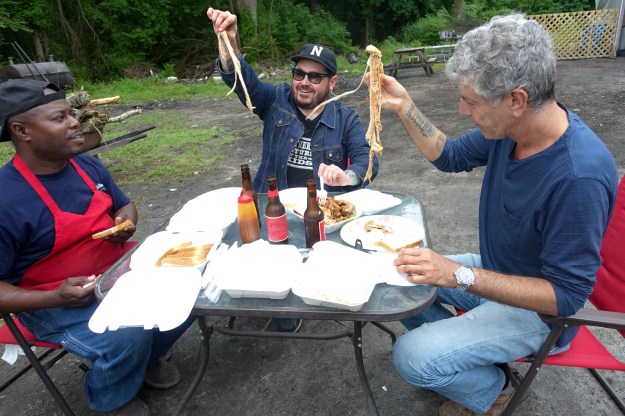 Renwick: What are some of your fondest memories of working with Bourdain on the episode?
Brock: To be able to show Tony the place that I am so proud of and I'm deeply in love with through my eyes was a once-in-a-lifetime opportunity. It was and will always be one of the most amazing and cherished experiences of my life.
I loved everything, from drinking too much at my favorite dive bar and showing him Waffle House the way it is experienced by most people—which is to say being extremely intoxicated. Showing him that for the first time and seeing his reaction—he reacted like a child would, with pure giddiness—and the fact that I was able to show him something new was just incredible.
Shooting that scene with Bill Murray and Tony and Danny McBride watching a baseball game will be hard for me to top in my lifetime.
Renwick: That episode was shot three years ago. Where would you take someone visiting now?
Brock: My new favorite place to take people is called Nana's [Seafood & Soul]. It's a gem. They do a Lowcountry garlic crab, garlic shrimp, crab rice, and a lot of Gullah Geechee seafood dishes—that's kind of undiscovered on the national map.
McCrady's has since shrunk to 22 seats and is tasting menu only. It's a very modern Lowcountry experience, which is new and exciting. So many restaurants have opened in Charleston that I haven't been to yet.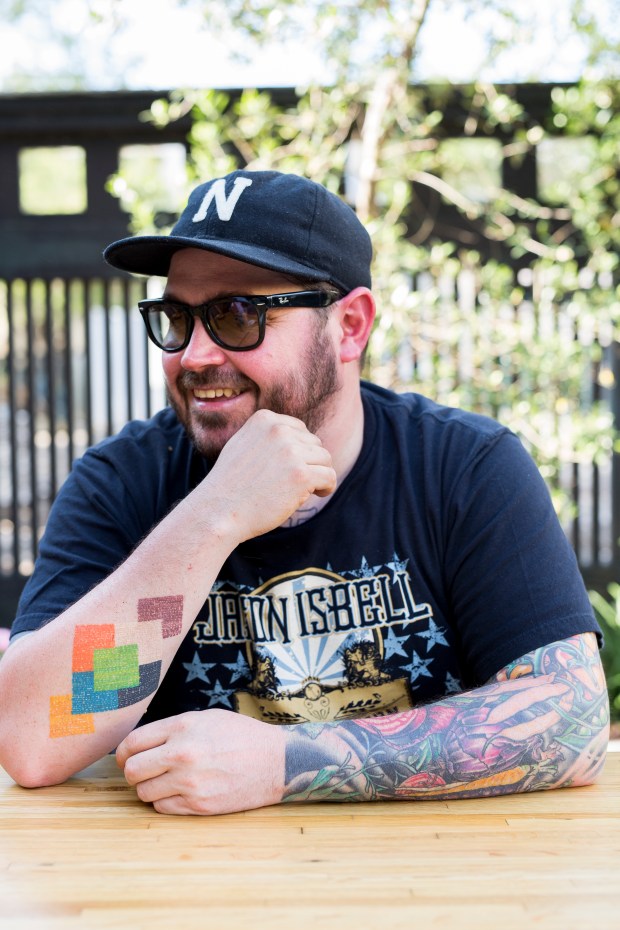 Renwick: Has the city changed much since the episode?
Brock: I moved to Charleston in 1997, so I've seen it grow over the last 20 years and yet it still feels the same. That's what Charleston does well and what makes it such an amazing destination.
Charleston has always been a place where people come to eat, and visitors will plan their vacations around eating a cuisine that they can only find there.
Renwick: Alcohol features prominently in the episode, and you've since given up drinking. How's life changed since getting sober?
Brock: Yeah, it's been the most amazing thing that's ever happened to me. It has changed my life, my cooking, and my perspective on the world.
Renwick: You did a lot of press when you got sober. Was it an active decision to get sober publicly and to talk about alcohol abuse in your industry?
Brock: Yes. Rehab had had such a profound effect on my life, and being the hospitality professional that I am, I wanted other people to experience what I had because I wished that someone had gotten to me earlier.
I knew going public could be a threat to my sobriety. I had been contemplating it for a couple weeks, during which time an employee died from drinking and other things, and at that point it just felt urgent. I think in the restaurant industry we play by a different set of rules. And the response I got from the [New York Times] article—and continue to get—has been amazing. I've helped a lot of people go to treatment and seek sobriety, and it's changed their lives.
I had actually reached out to Tony about writing a book about my experience with recovery and sobriety and was going to send him a proposal. He was very excited about it. It was gonna be a survival guide to the restaurant world.
Renwick: A survival guide to going sober?
Brock: Or just something general about mental health and happiness and communication. Sobriety would be in there, but it would really just pool all the things that I've learned in recovery that could be applied to the restaurant world.
Renwick: What are some of those things?
Brock: Well, it starts with communication and allowing for vulnerability, which produces empathy and compassion, which causes connection, and that leads to happiness. It's a beautiful formula. I put it into place in my restaurants and I've seen it change everything, and it's been one of the most rewarding things of my entire career.
Renwick: How has sobriety affected the way you cook?
Brock: When you wake up with 100 times more energy and more clarity, you crave a completely different style of food. When you wake up hungover and angry, you crave Waffle House and other unhealthy things.
When you wake up crystal clear and grateful and happy, what ends up on the plate is a very vibrant and alive reflection of my personality.
Renwick: Do you still go to Waffle House?
Brock: I went on the Fourth of July. It was a little sad because I just thought about Tony the whole time.
Renwick: How did you and Tony first meet?
Brock: I think it was when he was in town filming his 2007 episode in Charleston for [No Reservations]. For those few days that he was in town, he ended up hanging out at my favorite dive bar that I hung out at every night. And I got him sloshed on Jägermeister and Grand Marnier. And then we met again in Japan to shoot Cook It Raw, and we tooled around Japan for a week and it was amazing. It was just us in a white cargo van, driving through the countryside of Japan, and it was one of the most amazing things. It was when I became a Japanophile.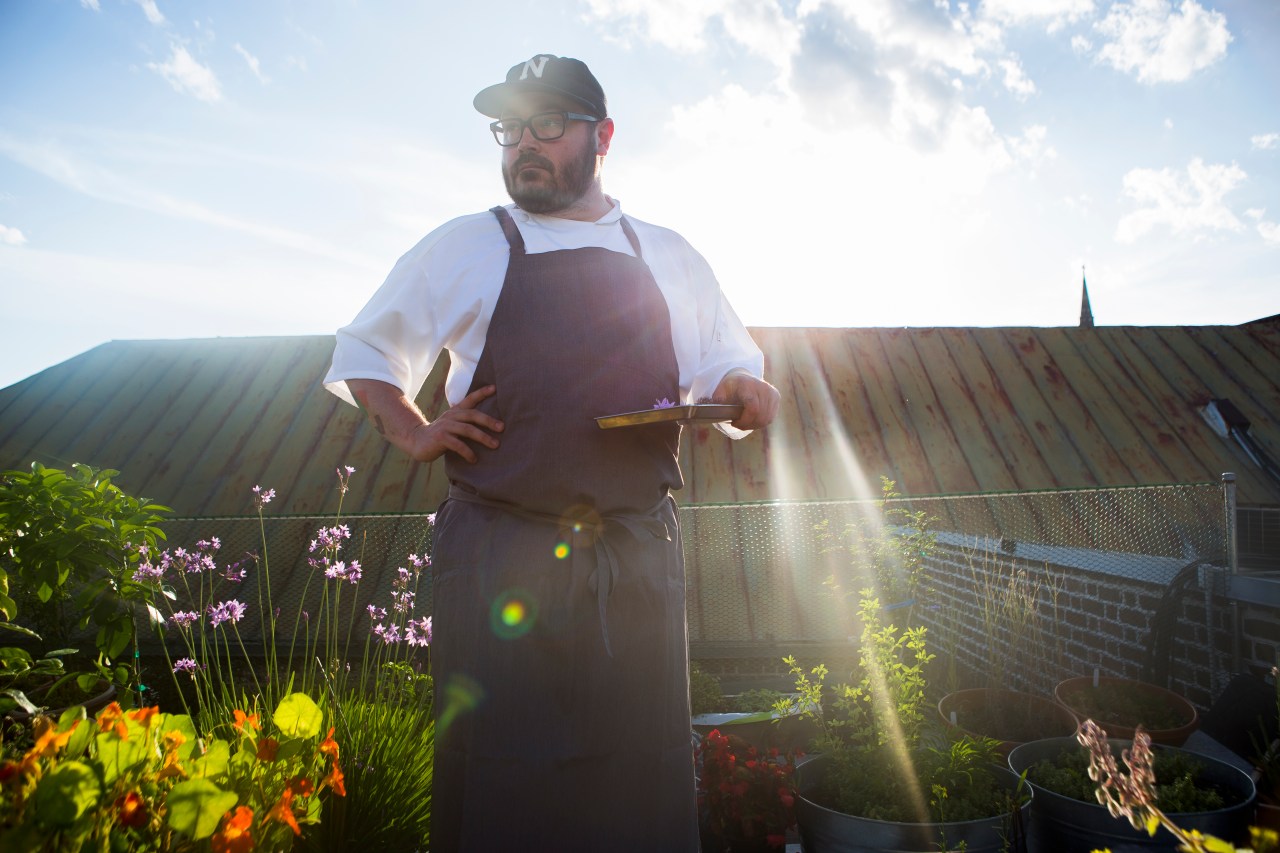 Renwick: You spend a lot of time in Japan?
Brock: Yes, I'm addicted. I have to go all the time.
Renwick: Has that affected the way you cook?
Brock: Yes—and my way of life. I've learned a lot from the minimalism, respect, hospitality, manners, and the handling of beautiful things and the craftsmanship. It's a different perspective. I've spent so much time there that I'm starting to see the world through that way, and my food goes in that direction as well.
I don't necessarily use Japanese ingredients, but there is a Japanese mindset of crazy, wild respect for beautiful ingredients. I call what I'm trying to do "Jappalachian." My roots are from Appalachia, and I want to take the food of my childhood and look at it through the Japanese lens.
Renwick: Any last thoughts?
Brock: I think one of the things that really impressed Tony and what he got a kick out of was just the work that's being done in the Lowcountry to revive lost crops and animal breeds and a cuisine. You don't see that in very many places in the world—especially not America—and the fact that he was interested in that was important to me because of his worldview. And the fact that someone with such a worldview was excited and impressed about the work we do every day was very inspiring and motivating.
This conversation has been edited and condensed.