Fish Fry Friday is the ultimate home-style communal dining experience—especially on the South Side of Chicago
For about $10 a plate, revelers typically get to load up on pan-fried catfish or perch accompanied by smoky collard greens, creamy mac and cheese, potato salad, deep-fried okra, buttery cornbread, and sweet potato pie.
It's a pretty standard formula, yet a few years ago Yasmin Curtis decided to take it to the next level at her run-of-the-mill sports bar in the predominantly African-American Bronzeville neighborhood.
Observing that low country seafood-boil-style establishments were emerging across the country, she decided to experiment, adding king-crab legs to her Friday-night fish fry. Boiled in large plastic bags filled with house-made jerk spices, chicken andouille sausage, red potatoes, and corn on the cob, the crab legs sold out within a few hours on the first night. When a patron from Louisiana praised the new offering, which "reminded him of home," Curtis knew she was onto something great.
So she decided to close the tavern—she said she was tired of the late-night bar scene anyway—and opened the family-friendly Two Fish Crab Shack a few blocks away, in the same Bronzeville neighborhood where Curtis has lived her entire life.
The concept is gloriously messy, like all seafood boils. But Two Fish sets itself apart with its ambiance and the secret spices that flavor the food. The restaurant is sparsely decorated with a hand-painted mural of African-American life on one wall and a chalkboard for diners to embellish as they see fit on another. The crowd reflects the neighborhood and is predominantly African-American.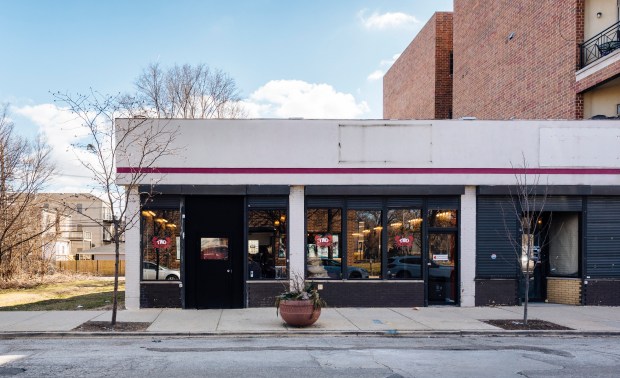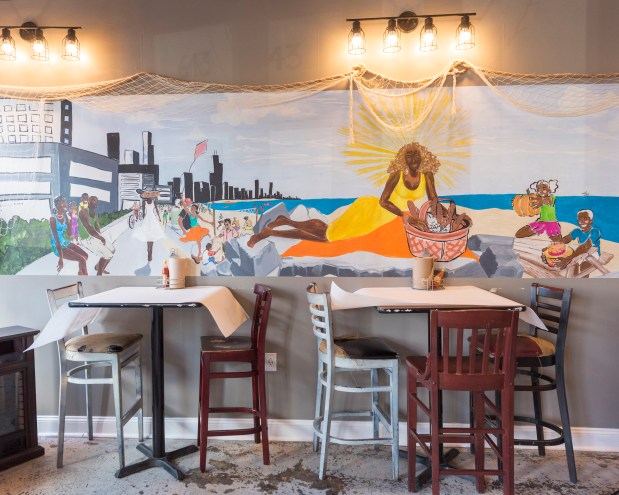 On average Two Fish plows through 3,000 pounds of seafood a week. That's quite a feat, considering the tiny storefront's kitchen consists of a diminutive back area where four to five cooks are up to their elbows in Cajun and jerk seasonings. There is also the highly recommended "3 the Chi Way" rub. A mix of Cajun spices, lemon pepper, and garlic butter, it is megawatt spicy. In addition to king-crab legs, the cooks boil lobster tail, soft-shell crab, shrimp, and crawfish.
Occasionally Curtis jumps in to help when her staff is in the weeds, but the restaurateur believes it is important that diners see her on the floor. She wants to send a powerful message that black women can thrive as business owners.
"You're expected to fail even before you start," explains Curtis. "[Your business is] not expected to be successful. That's my perception of it." She adds that there is a misconception that businesses owned by black women will be substandard. Over the years Curtis has observed other establishments owned by black women and has taken notes on what makes them successful or not. Often black businesses are seen as offering less-than-stellar customer service. Curtis says she works hard to disprove that notion.
"When people leave Two Fish, I want them to leave with a good experience. You do that by having conversations with the customers. You have to make them feel as though they're a part of the restaurant's success," she adds.
She is also fortunate to have the support of the Quad Communities Development Corporation (QCDC), a nonprofit organization set up for economic development in the Chicago districts of North Kenwood, Oakland, Douglas and Grand Boulevard. With help from corporate and private donations, the organization supports more than 150 businesses in the area with marketing, training, and other nonfinancial efforts. Many of the businesses are owned by African-Americans.
"To improve the quality of life in the neighborhood, we needed to enhance our commercial corridor," explains Tracy Lewis, who formerly worked as the business development program director for QCDC, which was established 14 years ago. "We needed to bring jobs into the area."
In its heyday, during the Great Migration in the early half of the 20th century, when many African-Americans left the South in search of prosperity in the North, Bronzeville's transformation rivaled Harlem's famed renaissance. Located one mile from the lakefront and just 10 minutes from downtown, Bronzeville was appealing for its proximity to Chicago's major attractions.
The likes of Nat King Cole, Sammy Davis Jr., Ella Fitzgerald, Duke Ellington, and Miles Davis regularly performed at various nightclubs along the neighborhood's main entertainment strip. Black-owned businesses were thriving in Bronzeville, which earned the nickname the Black Metropolis. At its peak, more than 300,000 middle-class and blue-collar black residents lived in the district.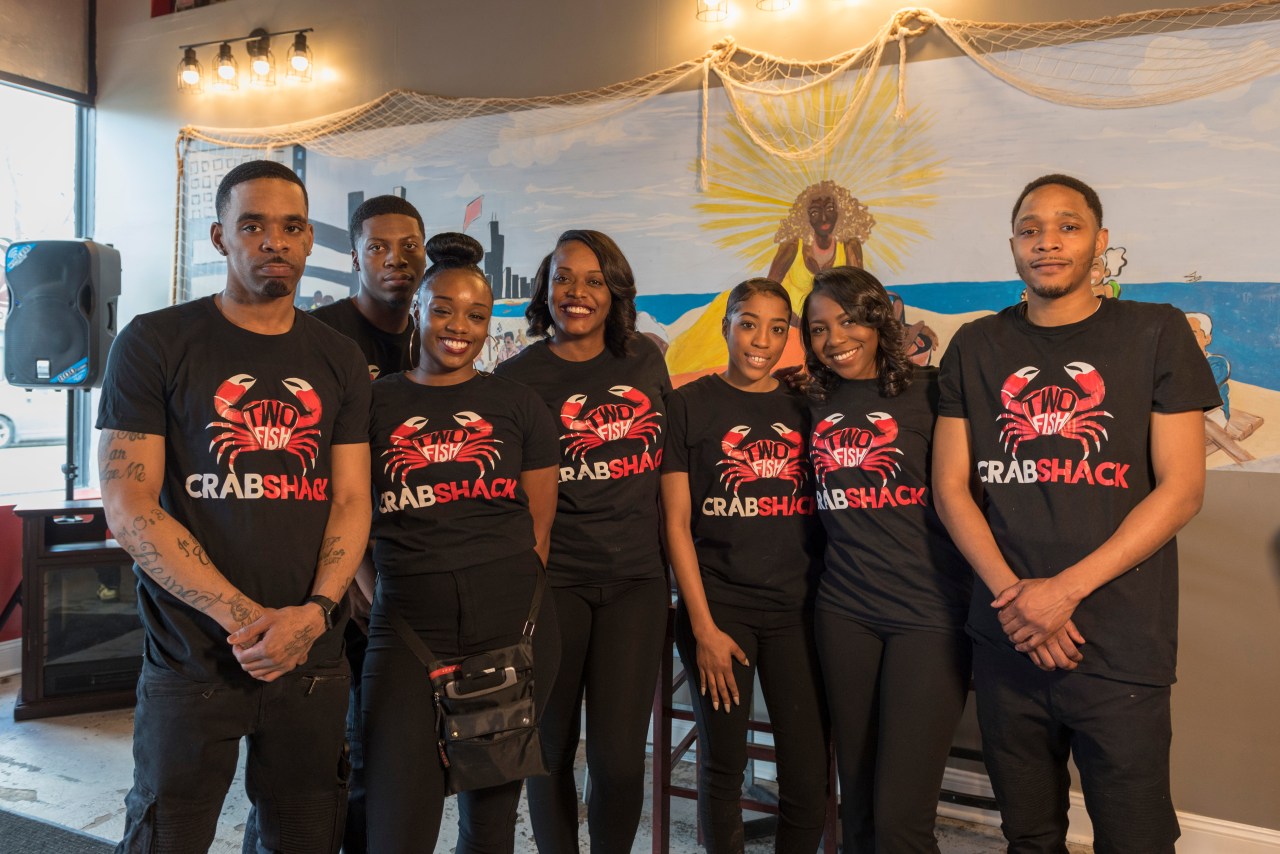 With desegregation of housing and schools in the 1950s and 1960s came a decline in population. Many prosperous black families and business owners left the area, resulting in urban blight. Abandoned buildings, coupled with drug and gang activities, caused an uptick in crime, and Bronzeville became a less desirable place to live.
Only in the past 15 years has Bronzeville been designated an "up-and-coming" neighborhood again, where organizations like QCDC are working to encourage its rebirth.
"We've seen a character change with the type of businesses that have opened [in Bronzeville] within the last 15 years," says Lewis. "Ten or 15 years ago there were a lot of liquor stores and businesses that were not very favorable to the quality of life for residents of the surrounding areas.
"We are continuing to increase the diversity of our corridor. We have restaurants. We have art galleries. We have boutiques in our space. We now have a bike shop. We have a creative arts spot that offers live jazz. We've come a long way."
Lewis adds that residents are becoming more socially conscious, and they're looking to support businesses that are black-owned as well as healthier, greener, and organic.
It has helped Bronzeville again become the place to be seen in. Five minutes away from Two Fish is a new upscale grocery store, featuring a wine bar, oyster bar, gelato station, and weekend jazz ensembles. Before Mariano's opened, residents complained that the neighborhood was a food desert. Now it is a crowded market throughout the day every day.
Other popular gathering spots in the area include Sip & Savor, a fashionable cafe that's been called the "black Starbucks"; Norman's Bistro, which hosts live jazz every Sunday; and the Senegalese-focused Yassa Restaurant, known for traditional seafood stews, lamb dishes, and grilled whole fish.
"Millennials such as myself take much pride in this neighborhood and its history," says Albert Morrison, a hairstylist and business owner who's lived in Bronzeville for more than five years. And while he's pleased to see the growing number of locally owned establishments like Two Fish, Ain't She Sweet Cafe, Peach's Restaurant, and Pearl's Place, he's hoping that more will open that cater to a variety of dietary restrictions.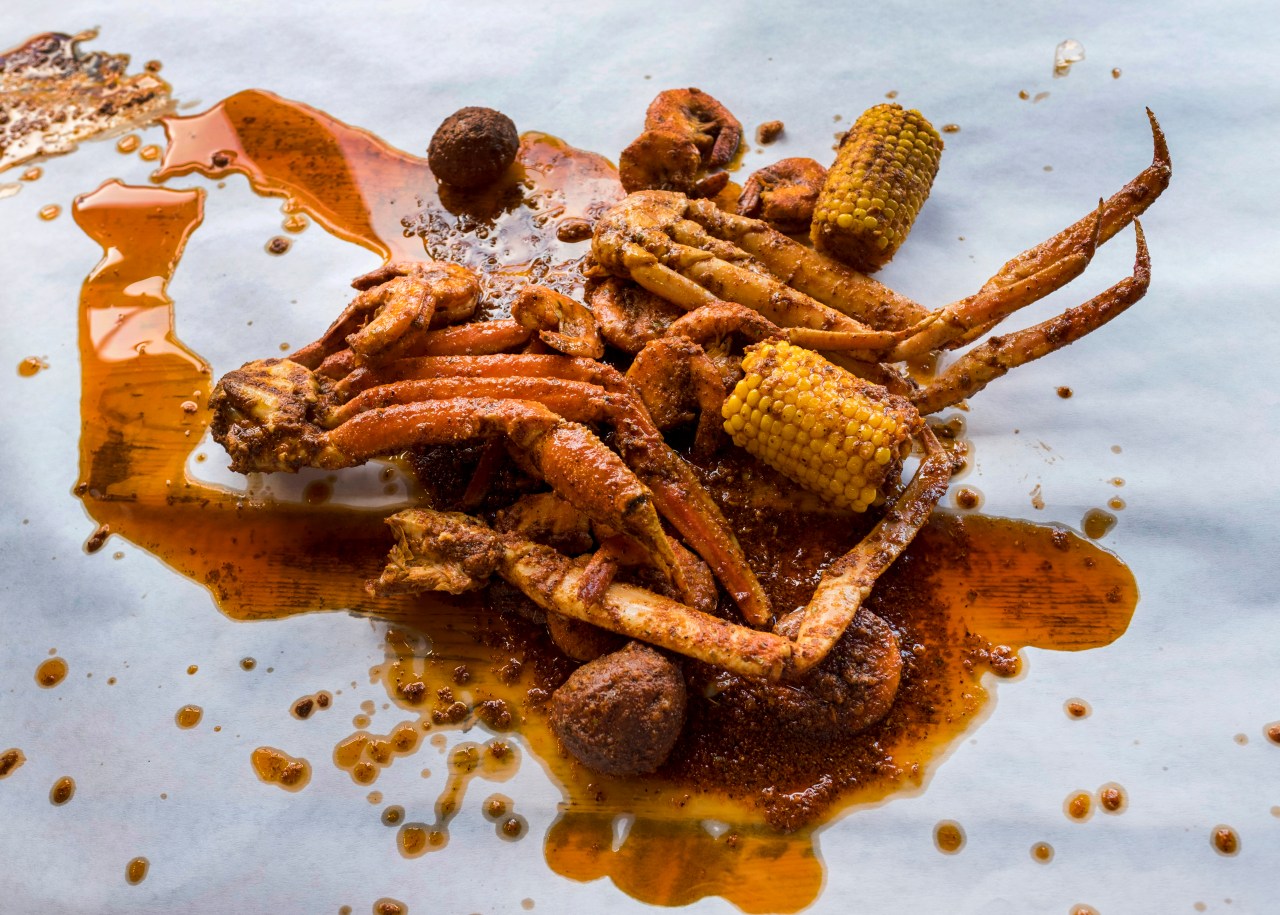 Healthier dining choices are also a concern for Gina Barge, a natural-beauty-product entrepreneur who is also African-American. "We could stand to see a shift to fewer fast-food restaurants in favor of more upscale, healthier establishments," says Barge. "A juice bar might do well here or maybe a restaurant that features fresh salads and options for cleaner eating."
Originally a South Sider, Barge briefly moved to Chicago's affluent Gold Coast neighborhood but decided to buy property in Bronzeville around 16 years ago because she wanted to "contribute to the South Side renaissance."
"In recent years the neighborhood has improved dramatically, with more real-estate developments and an increase in amenities," she says. Barge has hope that people from other cities and countries will come visit and "enjoy their experiences in our neighborhood."
In 2016 Chicagoans who rented out their houses and apartments via Airbnb earned $67 million, according to a report compiled by the home-sharing service. Of that amount, South Side hosts earned $3.7 million, and the most lucrative South Side neighborhood was Bronzeville. On average hosts in the area earned $10,900 in 2016, said the report.
The influx of money and visitors comes as entrepreneurs continue to expand opportunities in the area. Bronzeville is one of several South Side neighborhoods designated a "retail thrive zone," in which small-business owners are eligible to apply for economic-development incentives.
Additionally, Bronzeville is the only South Side neighborhood participating in Chicago's Make Way for People program, which advocates for public spaces. There are two in the neighborhood, including one directly in front of Two Fish. During warm weather, the communal areas are lively with dance performances, spoken-word events, jazz bands, and more. People, of course, are encouraged to congregate.
"It's all a part of the strategy in making the corridor look vibrant," explains Lewis, adding, "Businesses will not come to a market if they feel they cannot make money."
Bronzeville Summer Nights Arts District Trolley Tour is another way to attract new people and businesses. Entering its sixth year in 2018, the summer-long program occurs June through September and showcases the area's art galleries, restaurants, boutiques, and other small businesses. There's live entertainment, food, and drink and an opportunity for participants to patronize the business district after dark.
"There used to be 100 or so people coming out. Now it's 4,000," says Lewis, whose organization helps put on the event. "The point is to make Bronzeville a destination."
It is also a chance for businesses like Two Fish to shine. "The event truly showcases what's going on in the neighborhood and demonstrates that there's enough room for everyone," says Two Fish owner Curtis. "We are not in a space where we have to compete against one another. I want us to always help each other so that all the businesses continue to grow."