219 W. North Ave., 60610
(312) 944-7020
1518 E. 53rd St., 60615
(773) 667-0647
Bourdain ate: meatloaf and macaroni and cheese.
Lunch date: Bruce Cameron Elliott.
2414 S. Wentworth Ave., 60616
(312) 791-1882
Bourdain ate: pork dumplings in chili oil, mapo doufu, fish hot pot.
Dinner date: chef/restaurateur Stephanie Izard and her colleague chef Peter Wong.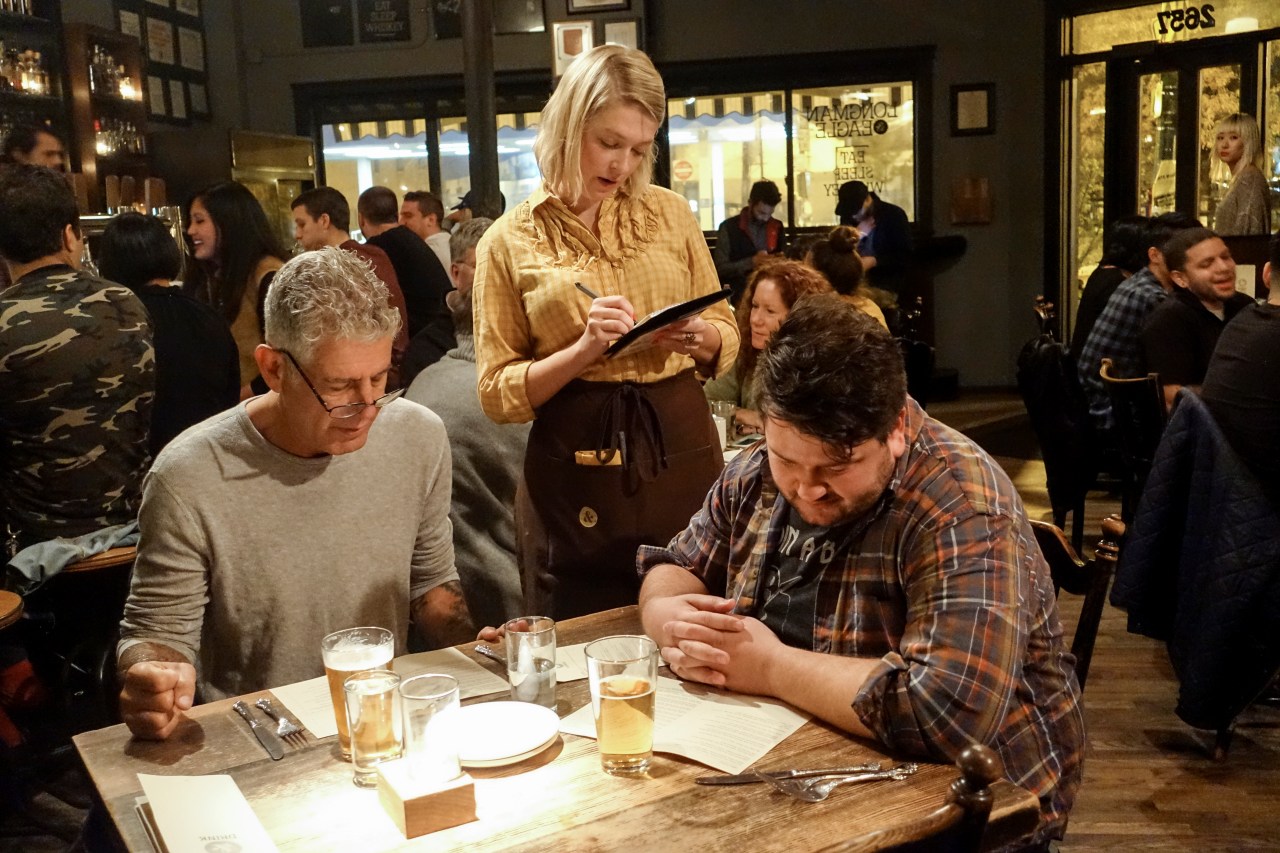 657 N. Kedzie Ave., 60647
(773) 276-7110  
Bourdain ate: beef tartare, roasted bone marrow, tête de cochon with bleu cheese and celery relish, confit of beef tripe, slow-roasted cauliflower with caramelized onions and lentils.
Dinner date: Paul Jurewicz, local comedian and actor.
252 W. 26th Sts, 60616
(312) 225-5555
Bourdain ate: breaded steak sandwich.
Dinner date: Musician, producer, and sound engineer Steve Albini. 
1516 N. Wells St., 60610
(312) 266-9355
Bourdain had: scallops in pesto cream sauce, squid-ink pasta with shrimp, veal saltimbocca.
Dinner date: Bruce Cameron Elliott and a pal from the Old Town Ale House whose nickname is Buzzkill.
Lupe Fiasco's family home
Bourdain had: a home-cooked meal of macaroni and cheese, collard greens, and various other soul-food classics prepared by Fiasco's mother.
Lunch date: Chicago-based rapper Lupe Fiasco and his extended family.
Bruce Cameron Elliott's art studio
Tony was given a quick tour of Bruce Cameron Elliott's private studio, where he saw Elliott's original vulgar caricatures and portraits. Tony seemed to especially enjoy his portrayal of Vladimir Putin as an elegant ballerina.