With her medical options exhausted in Serbia, Suzana Janković and her husband, Zoran, left their home behind for Germany in 2013. They went seeking treatment for her chronic health problems and a necessary kidney operation. Nearly four years after applying for asylum and ultimately being rejected, they remain in the country in Duldung, or "toleration" status. To be tolerated in Germany is to be indefinite. To be tolerated in Germany is to keep a succession of Foreigners Office appointments that seems endless until it ends. To be tolerated in Germany is to defer deportation in three-month increments and then someday—perhaps years later—have that deferral denied.
Back in Serbia, Roma like Suzana and Zoran are often cut off from the most essential of services, and reliable health care is one of them. So for the past three years, the Jankovićs have done all their living in the 150 square feet assigned to them by the city of Cologne. They cook on a hot plate, eat at their small table a few feet away; at some point they fold out their sofa for sleep. Bathrooms, shared with the roughly 45 other people on their floor, are down the hall. Their little room is one of dozens of little rooms on a sprawling assisted-living estate for seniors that the city partially repurposed in 2014 to accommodate more than 500 people awaiting decisions on their asylum applications and whatever would follow.
No one was meant to be permanent on this institutional acre in Cologne's industrial Riehl neighborhood, yet scores of families are now there "impermanently." They live behind door after closed door on the Jankovićs' floor, upstairs, downstairs, and in the equally unfriendly building across the courtyard, where kids chase balls when the weather's right. A few months ago the Macedonian woman across the hall was removed for deportation in the middle of the night. The Jankovićs sometimes take pills to help themselves sleep. "If they come," Zoran says, "I just hope they don't use handcuffs."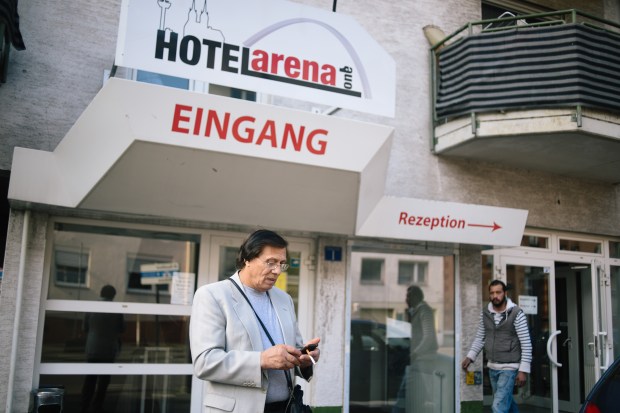 Tonight the Jankovićs have laid out their small table with cabbage salad, salted tomatoes, a basket of bread—the Balkan staples—and plugged a thumb drive into the flat-screen television. There's Zoran, serenading a recent party in a smoky voice that recalls the Romani legend Šaban Bajramović.
Zoran sits in front of the TV, smoking. Suzana has lit a cigarette, too, and they're sorry they can't open a window, but the city has sealed them shut. Back in Pirot, a town of roughly 55,000 people near Serbia's border with Bulgaria, they cooked and slept in separate rooms, and they smoked on their terrace. Here administrators restrict showering to certain hours. People recognized them around Pirot; Zoran had sung at so many weddings. "Here we sit watching television," he says, "just waiting for something to happen."
If you have a favorite Balkan ballad, Zoran knows the words. In a basement, backed by his son, Milan, on piano and grandson, Kristijan, on sax, he runs through Romani standards: good times and hard times, love and migration, stories that sound like home. In Germany he learned the blues.
"Seconds beat so loudly," Zoran sings, "and the minute hand is at rest." "Duldung Blues" explores the tolerated life in Germany: "How long does it take / to resolve fate?" A friend the Jankovićs made here, the musician Boris Rabrenović, laid down the guitar line long ago and found the lyrics when he met them. "I didn't write it," Zoran says, "but it's my story." Since Rabrenović posted "Duldung Blues" to YouTube in January, Zoran has received correspondence from across the Balkans. "I had that duldung," his new fans write. "I had those blues."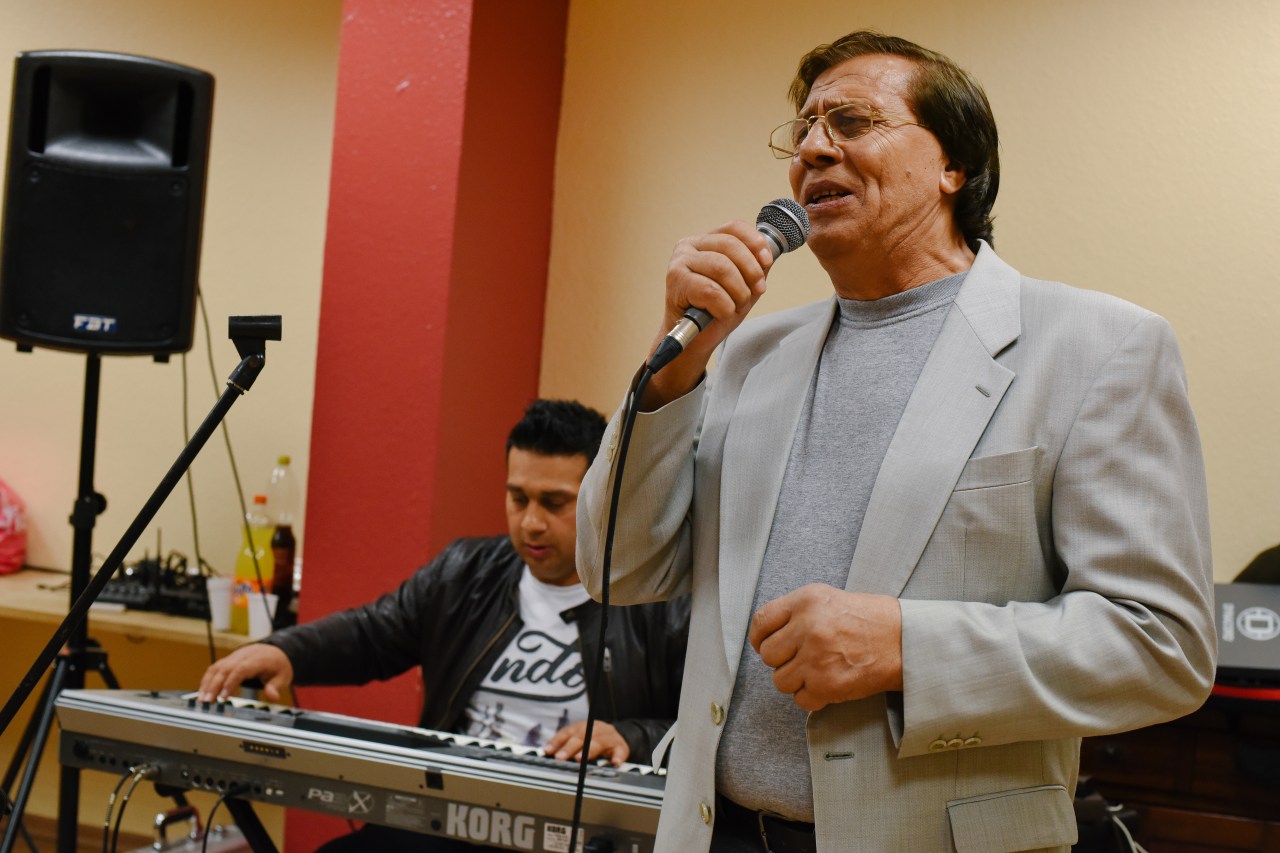 In converted shipping containers at municipal margins, in rows of bunks in junior high gyms, and in the cramped but relatively private quarters that the Jankovićs enjoy, nearly 160,000 people are tolerated across Germany. Authorities gave asylum to about one-fifth of the more than 372,000 people whose applications were decided upon in the first five months of 2017. They denied nearly two-fifths. Another 166,000 people await initial or appeal decisions. According to one projection, Germany could classify 485,000 residents as ausreisepflichtig (obliged to leave or else be deported at some point) by the end of 2017. That number includes people who have gone into hiding to avoid deportation as well as people who cannot be deported for legal reasons, such as lingering illness or the presence of an acute threat in their home country.
Internationally, Germany became known as a place of refuge on September 4, 2015, when Chancellor Angela Merkel said the country would take in the tens of thousands of displaced people held back at the borders of nearby nations. But even as Merkel proclaimed Germany's humanitarian capacity, her government continued reworking asylum regulations to allow for more deportations, more expeditiously.
When the Jankovićs arrived in 2013, Serbia and most of its neighbors were not officially considered "safe countries of origin," a criterion Germany uses to deny asylum. People from countries declared "safe" are almost always rejected. Syrians and Eritreans are the only two groups that almost always receive some form of protection. Yet in 2013, 18,000 Serbians applied for asylum here in Germany—surpassing Russians (15,427) and even Syrians (12,863) two years into the civil war. Macedonians, Bosnians, and Kosovars were close behind; nearly 30 percent of the 127,000 applications that year came from citizens of the republics of former Yugoslavia. Many of those people are Roma, who continue to be denied the most basic conditions of a sustainable life even as the Balkans rebuilt after the wars of the 1990s and several nations seek membership in the European Union. However, German asylum law does not recognize the sweeping, sometimes semiofficial discrimination as a form of political persecution.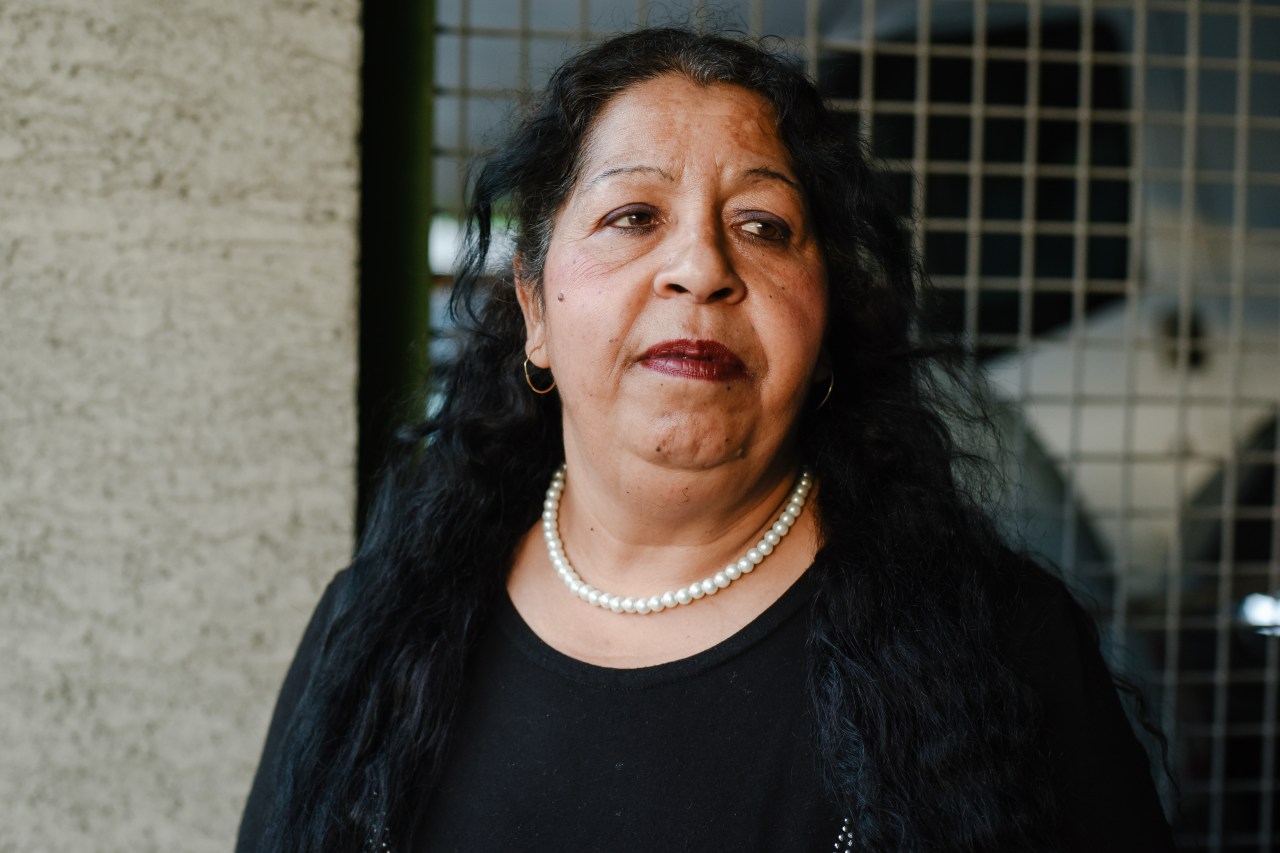 In coalition talks after the 2013 elections, Merkel's Christian Democrats and their main rivals, the center-left Social Democrats, agreed that expanding the safe-countries list would be a priority in their future government. By September 2014, nine months into that new government, Germany had declared Serbia, Bosnia-Herzegovina, and Macedonia secure; in 2015 the other former Yugoslav republics Montenegro and Kosovo joined the list, along with neighboring Albania.
Because, according to the German government, there is "generally no state persecution to be feared" in these countries, their citizens almost always find their claims declared "clearly unfounded." "For the affected refugees, it means significantly different treatment than [for] that of people who do not come from safe countries of origin," says Claus-Ulrich Prölß, head of Kölner Flüchtlingsrat, an advocacy group and resource center in Cologne for people with precarious migration status. "Asylum cases for people from safe countries of origin are very short, the hurdles are as a rule too high, and the legal-process guarantee of the constitution is effectively invalidated for most," he adds. "The assessment of whether a country is safe or not is a political assessment, and factors such as reports from human rights organizations—the UNHCR, for example—play no role in it."
The UN's refugee agency has not taken an official stance against Germany's policy, but its stances have often appeared critical of Germany's application of it. "UNHCR is not generally against applying the concept of 'safe countries of origin' if it is ensured that the asylum claims are examined on an individual basis with the possibility to dispute negative decisions," a representative wrote in an email clarifying the agency's official stance. "Each case has to be reviewed completely in substance and form according to the existing procedural safeguards. The decision to declare countries as 'safe countries of origin' needs to be based on a broad, transparent, and current set of information."
In Serbia, a UNHCR review found, "according to pertinent reports, Roma are now as ever the most vulnerable minority community and have repeatedly been the victims of police violence, social discrimination, and verbal and physical harassment." Roma in Serbia face exclusion "in nearly every aspect of public and private life, ranging from lacking access to adequate health care, education, and social services up to restricted access to the labor market."
The government's next step has been to expand its list of safe countries and even safe regions within unsafe countries. Since late 2016, five planes have carried 107 people "home" to Afghanistan, a country that the UNHCR has described as vulnerable to conflict nationwide.
German officials spent months protesting that evaluation. "The security situation in Afghanistan cannot be described overall as unsecure," German Interior Minister Thomas de Maizière wrote in a letter to his counterparts in Germany's 16 states. "There are provinces and districts in which the situation is comparatively secure and stable." Government forces, he wrote, control Kabul and 33 provincial capitals. Though he has acknowledged on television that the "normal population" is frequently injured or killed in Taliban attacks and crossfire, he believes that average Afghans were rarely themselves targets, which "is a big difference." The general threat of violence does not constitute persecution.
A scheduled May 31 deportations departure was canceled after a bomb attack that morning in Kabul's diplomatic quarter—where Germany's own embassy is located—killed an estimated 80 people. (Over the next week, the total number was revised to more than 150 people.) Her administration initially announced that the attack would not change Germany's policy, but a day later Merkel said there would be a temporary halt on deportations to Afghanistan. "Criminals" could still be sent back.
The moment for a radical new beginning has come.
At the end of 2015, the journalist Miltiadis Oulios was wrapping up the second edition of Blackbox Abschiebung (Blackbox Deportation), his comprehensive critical examination of Germany's immigration policy. Though he was hardly optimistic, Oulios wondered at the time whether German officials, confronted with new challenges and therefore new possibilities, might rethink their approach to migration and deportations. Shortly before signing off on the book, he wrote, "Now, at last, the moment for a radical new beginning has come." Blackbox Abschiebung has retained its relevance as prospects grow bleaker for many displaced people in Germany, but that line sticks out a year and a half later—to Oulios, too. "The opportunity for a new start wasn't used," he says. "I believe, however, that, in the short term or the long term, this deportation policy will not prove successful, and we'll once again find ourselves at the point where we need to ask if some other way wouldn't be better."
That doesn't appear to be imminent in the run-up to the 2017 federal elections. On September 1, 2016, almost a year to the day after she took her stand for displaced people and as her party is losing voters to the ascendant far-right Alternative for Germany, Merkel told CDU members that her government's new near-term priority would be "repatriations, repatriations, and more repatriations."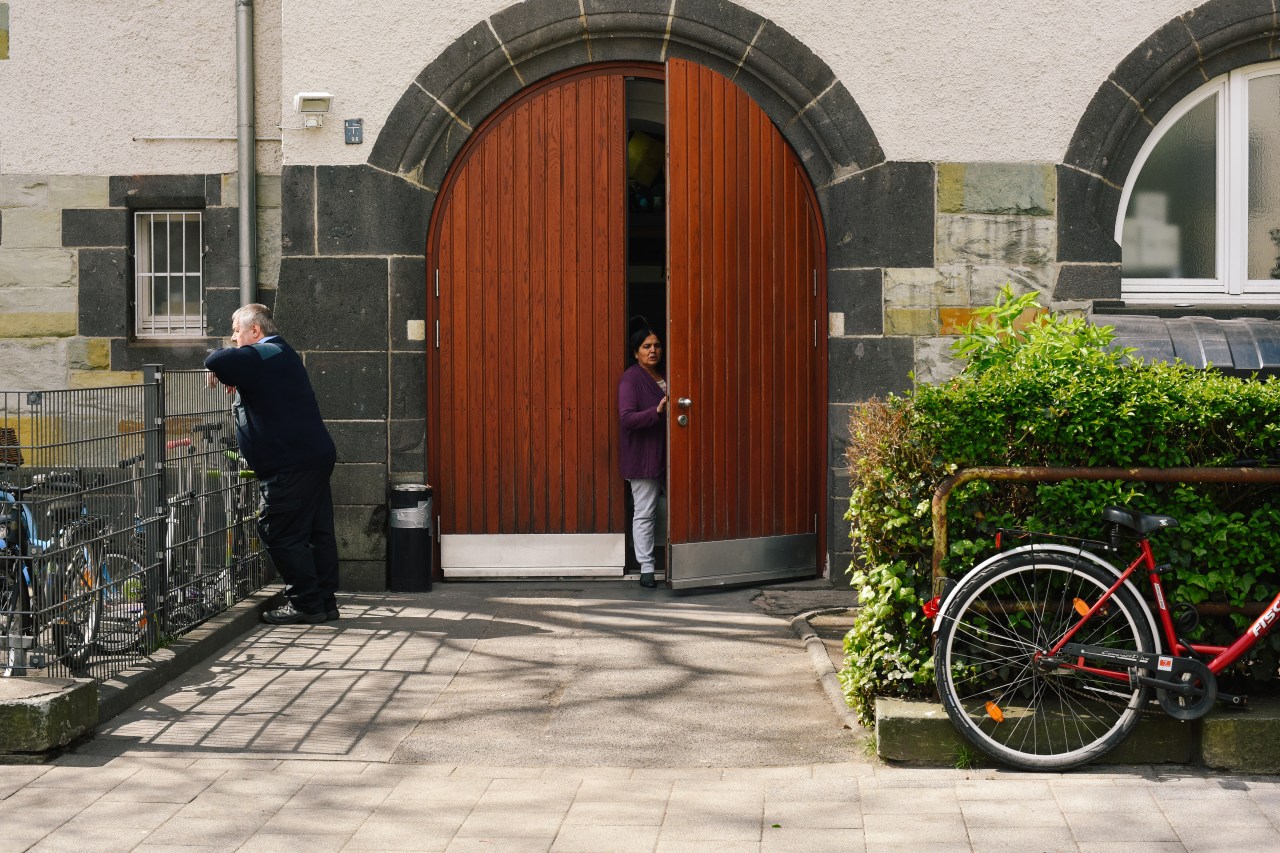 Just before 5 a.m. on January 23 of this year, seven federal police officers picked their way in the dark through dozens of bunks on a hardwood basketball court in an elementary-school gymnasium in Cologne's Ehrenfeld neighborhood. The room woke to the sobs of four children, 6 to 14, and the pleas of their parents, Besa and Arven Yzellari, to be allowed at least to call their lawyer. The Yzellaris, from Albania, had missed an appointment to discuss their asylum application the afternoon before, an appointment they say they weren't aware of. The police shackled Arven at the wrists and ankles and dragged him in his underwear to a van. They confiscated Besa's phone and threatened to cuff her, too. "Not Besa," said a Syrian woman in a nearby bunk. "She's a good person." The police forced Besa and the children into another van. "We're actually taking you to Afghanistan," one of the cops joked as they drove.
That's how 12-year-old Klaos remembers his family's predawn deportation. His 14-year-old sister, Ariola, speaks better German, but she wasn't up for talking. She hasn't been since the family was removed from Cologne. Klaos spoke over the phone from Switzerland, where the Yzellaris applied for asylum before moving on to Germany, fearing their claim would not be approved. Because they entered Europe's nominally passport-free Schengen Area via Switzerland, that was the country responsible for seeing their asylum application through to its conclusion.
It was April, and Arven had made a formal application for residency and the right to work in Germany and return to Cologne. For three months the Yzellaris had waited it out in Switzerland, where the children weren't allowed to enroll in school. "We have our textbooks here, and we read them," Klaos said, "but we only understand up to the part they taught us." In May, after nearly four months, the Yzellaris gave up on their wait for Germany's decision, and were flown back to Albania, a country the children hardly knew anymore.
The Jankovićs, still in Cologne for now, continue to wait for Germany to decide just how much longer they will stay. On the long walk from his and Suzana's little room to the communal toilets, Zoran gestures at the names on the doors. Bosnia, Macedonia, Kosovo, Montenegro, Serbia, Yugoslavia, he says, reassembled for now in a repurposed wing of a semifunctional sanitarium on the outskirts of Cologne. It's 9 p.m. and dripping wet outside, and children chase each other in the stairwells, running out their restlessness before their parents call them in to sleep behind their designated doors. This is life in Germany as they have come to know it. Anyway, it's only temporary.