"They say — and by 'they,' I mean people from around here — that Cologne is an ugly city. This is quickly followed by the proud statement that the people are nice. That they are welcoming, tolerant, kind, open to new things. I never saw Cologne as ugly at all. I always saw it as, well, charming in the least patronizing sense of the word. I mean, this city charms you. It takes you in. It makes you feel welcome."
"Here decent beer is a way of life. It's a birthright. You don't talk about it too much. You freakin' drink it."
"Malzmühle Brewery has been slinging beer non-stop for the last 150 years. Democratic, utilitarian, welcoming to all people with a powerful thirst. I love the whole style, the little glasses."
"Cologne is or was a predominantly Catholic city, perhaps more Mediterranean in temperament than those fun-hating Lutherans and Calvinists. It's Germany's fun-zone."
"Festive attire? I have beer right now. I don't need no stinking Carnival to drink beer, man. And as I understand it, I am urged to drink beer as part of a community of beer drinkers with other bros. I hate bros."
"My heart is a cold, cold place, and there's no room in it for jugglers."
"It's not the most beautiful city in the world… but it is not an ugly city, I mean, at all."
"You know, you go to San Francisco, Rio, there are pressing problems or that the character of the city is changing. The character of this city does not seem to be changing."
Eats
Zülpicher Str. 9, 50674
Köln, Germany
+49.221.232.346
Bourdain ate: Schnitzel, which Bourdain describes as "surfboard-sized slabs of veal and pork filled with many wonderful things, dredged in breadcrumbs and fried in magical, magical deep fat."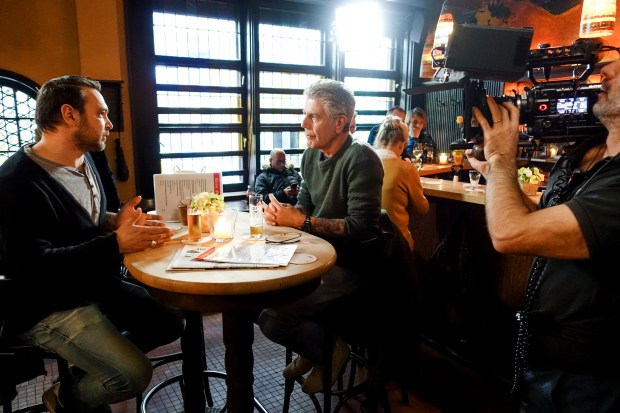 Glockengasse 58, 50667
Köln, Germany
+49.221.258.9517
Bourdain ate: Sauerbraten (pot roast of horse meat)
Im Zollhafen 18, 50678
Köln, Germany
+49.221.1695.6603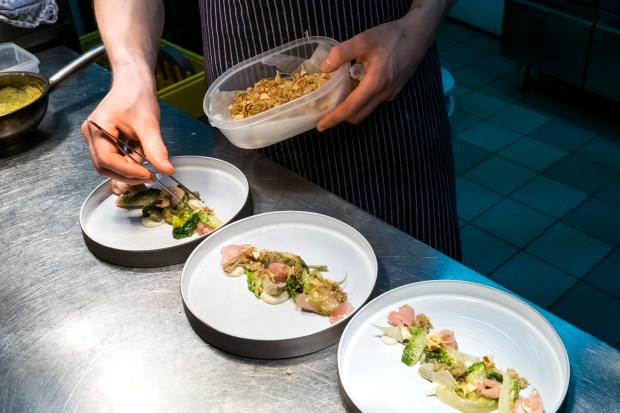 Bourdain ate: Grilled scallops, consommé of burnt hay, lemon gelée and walnut oil, grilled lobster with eel marinated algae fermented kale and yuzu froth, braised ox cheeks with marrow, beetroots with mustard, gratin potatoes and black truffle
Eigelstein 78, 50668
Köln, Germany
+49.221.123.928
Bourdain ate: Grilled bratwurst with curry and fries, garnished with mayonnaise
Heumarkt 6, 50667
Köln, Germany
+49.221.9216.0613
Bourdain had: Kölsch beer, mettbrötchen (raw minced pork sandwiches) and Halve Hahn (gouda on rye), Himmel und Erde (blood sausage, fried onions, mashed potatoes, applesauce), cured pork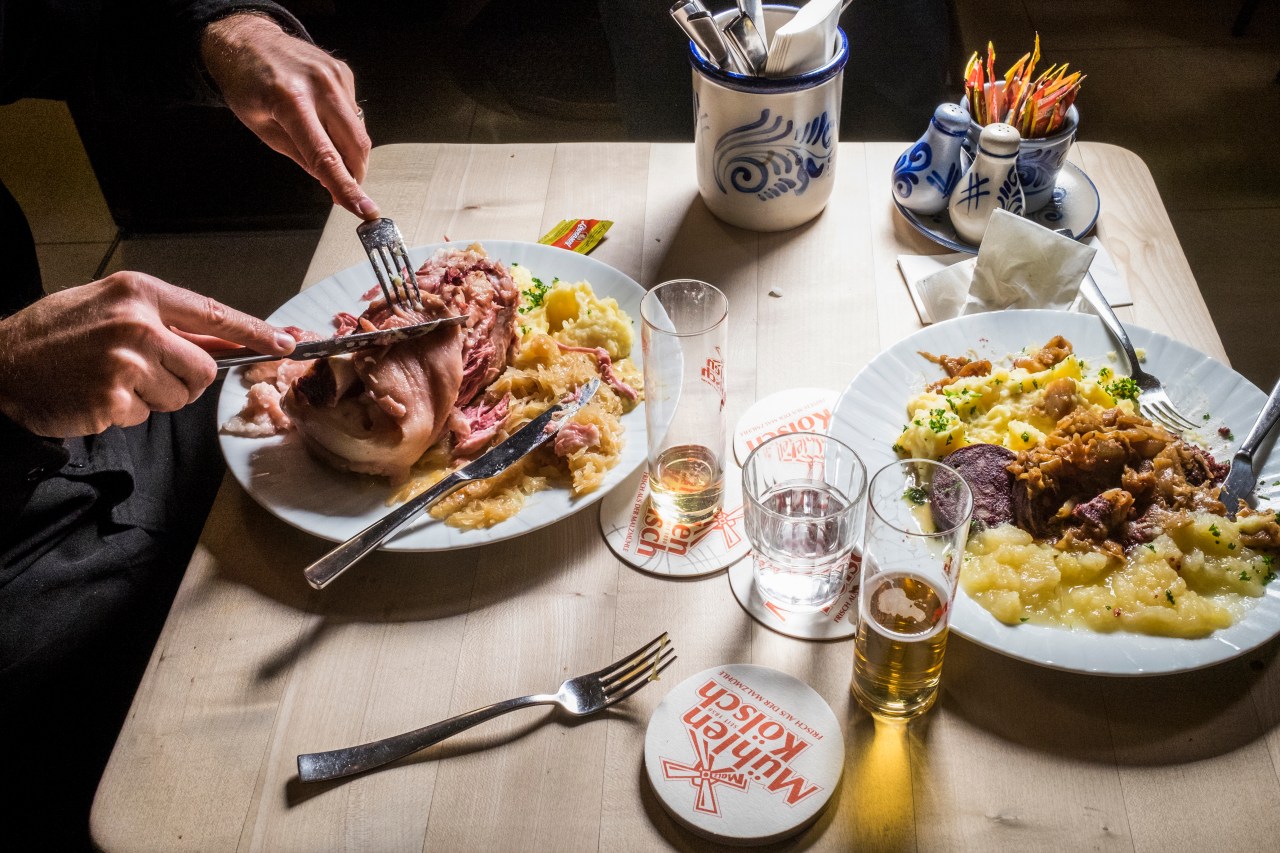 Kirchstraße 16, 50996
Köln, Germany
+49.221.3014.4016
Bourdain had: Raki and mezze (spicy mashed vegetables, tzatziki, hummus, beetroot and olive dip, fried eggplant, pastries with feta, meatballs with tomato sauce and mint)
Zülpicher Str. 28, 50674
Köln, Germany
+49.221.271.7141
Berger Str. 1, 40213
Düsseldorf, Germany
+49.221.866.990
Bourdain had: Düsseldorf beer, pickled eggs, kale and sausage, spicy pork goulash with rye bread
Bar Celentano
Maybachstraße 148, 50670
Köln, Germany
+49.221.739.3004
Bourdain ate: Wine, antipasti (carpaccio, tomatoes with pepper and parmesan, grilled zucchini, mortadella), spaghetti with white clam sauce
Sidekicks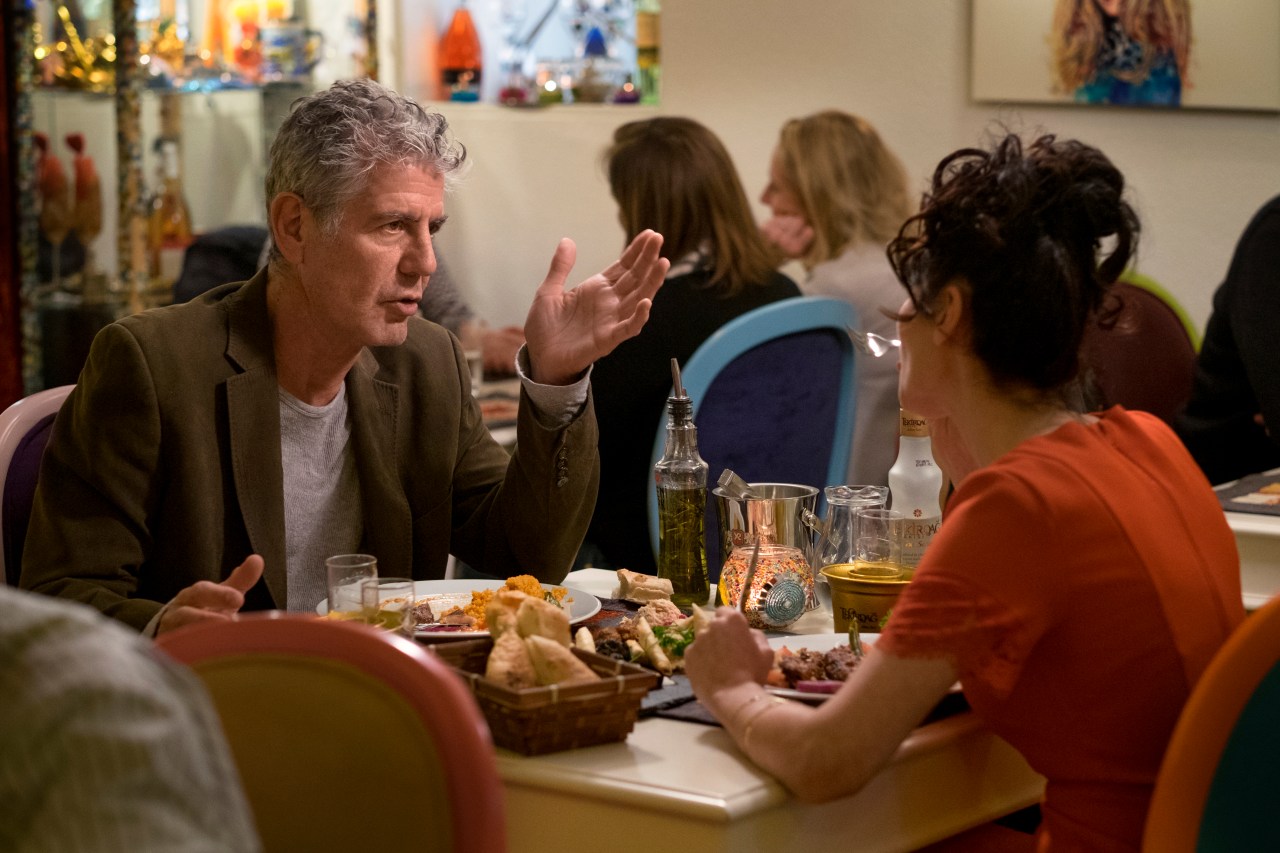 Heinz Grüne: Cologne resident who does marketing for German breweries
René Stessl: Local artist and chef
Tracey Gudwin: Bourdain's old friend and former field producer for his previous travel program No Reservations
Anke Lönne: Cologne resident
Irmin Schmidt: Founding member of Krautrock band Can
Daniel Gottschlich: Chef at Ox & Klee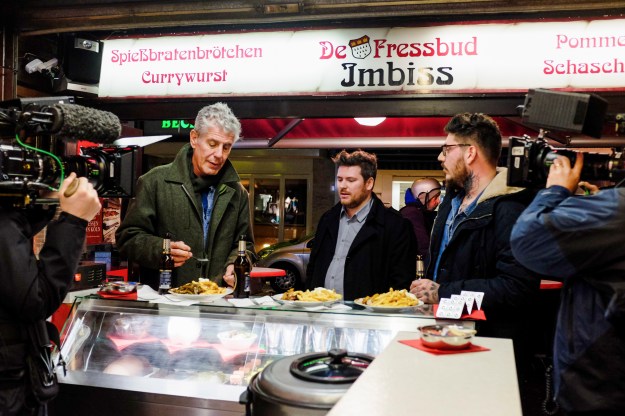 Dimi Katsavaris: Daniel Gottschlich's friend
Sakher Al Mohamad: A Syrian-German refugee
Hani Zaitoun: A German-born Syrian-German
Melek Yaprak: A Turkish-German whose grandparents were among the first wave of Turkish immigrants in Cologne
Judith Behmer: Joined Bourdain for beer and a bite in Düsseldorf
Maurizio Arca: A Sardinian-German who joined Bourdain for wine and antipasti at Bar Celentano
Lingo
Kölsch: A style of pale ale, low in carbonation and typically served in a small glass, that is native to and beloved by Cologne
Mettbrötchen: Raw minced pork on a roll, sometimes with onion; one of the traditional Kölsch accompaniments Bourdain ate
Halve Hahn: (Literally a "half chicken" in German — although there's no chicken in this sandwich) A buttered rye roll with gouda
Himmel und Erde: (Literally "Heaven and Earth"): Blood sausage, fried onions, mashed potatoes and applesauce, cured pork
Sauerbraten: Pot roast, usually of horse meat
Danke schön: 'Thank you very much,' in German
Prost!: 'Cheers!' in German
Krautrock: A kind of electronic experimental music found in 1960s Germany
Party Town
From November to February, Cologners celebrate Carnival. Partying here has a whole season. Carnival here is an exuberant, anarchistic, batshit wild, 40-day celebration leading up to Lent. It can be absolute mayhem.
Don't expect to run into Bourdain there, though.
"My completely rational fear of clowns, mimes, parades, public dancing and crowds in general really, prohibits me from taking part," he explains.
"These days Brian Jones could come back from the grave for one night only with the Stones and Janis and Jimmy and Jim, they could all be there. And you know what? I ain't going. But the Cologners, God bless them. They love it."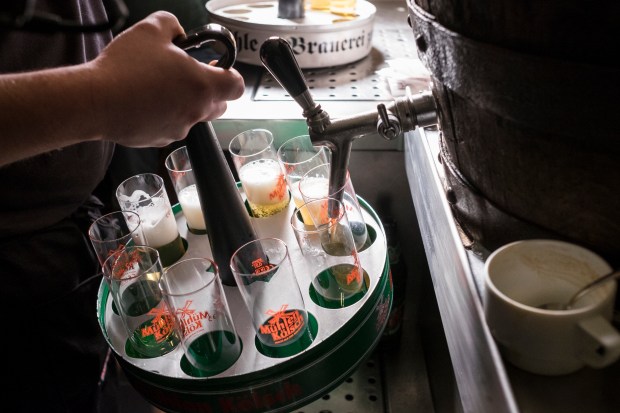 A Hub of Tolerance
Situated on the Rhine, Cologne was historically a trade city. The city's economy was premised on outsiders, one local told Bourdain.
"The Cologne people, from the beginning, were interested in other people and they profited from the presence of others," said Heinz Grüne, a lifelong Cologne resident who does marketing for beer companies. "We are not afraid of influences from outside."
It's the "San Francisco of Germany," said Dimi Katsavaris, who shared a late-night bratwurst with Bourdain, citing the city's large LGBT community and cosmopolitanism.