I left Syria in 2013, forced out by many parties because I was an activist and working with foreign media. I went to the neighboring country of Turkey, which has hosted the largest number of Syrian refugees. But after being in Turkey for a long time I decided to leave for Europe because it was so difficult to be a refugee there. The journey started from the Turkish city Izmir on June 5, 2015, with some friends. We arranged for a smuggler to take us on a plastic boat.
On a hot summer night, we gathered in Basmane Square—the famous place of smugglers—and we prepared to leave to meet the smuggler. We took taxis to a place in the countryside where a big truck was waiting.
There were about 150 of us, and we were stuffed in like animals. We couldn't even breath for three hours till we arrived at the beach. There, armed smugglers were waiting for us. They divided us into three groups, 50 to each boat. it was around 6 o'clock in the morning. There were men, women and children; some didn't even have life jackets. My cousin was the "captain," and for me and my friends it was like a tourist trip. It took us one hour to get to the Greek island of Lesbos.
When we first arrived, some Greek fishermen came to take the boats' engines to be sold. The boats and their engines are suitable only for a one way trip. Everyone was really happy because it was an easy trip, and we all called our families to comfort them that we were safe in Greece.
We met an unforgettable British man, Eric Kempson, who was living there with his family. He was like a savior for the refugees, watching the boats with his telescope and calling the Greek Coast Guard if there was something wrong. Then we had to walk for 60 kilometers on foot to get to the Coast Guard station. The police control the flow of arrivals by making it forbidden to take a taxi. After walking for some time, we got to meet a lot of the inhabitants of the island, who had welcoming smiles and humanitarian emotions. They brought lots of food, water, and even tampons for the women. It made me happy to know that there is still humanity somewhere on the Earth. The ironic thing was that we were a bunch of refugees in a miserable situation on a beautiful tourist-destination island. I wished I could live there.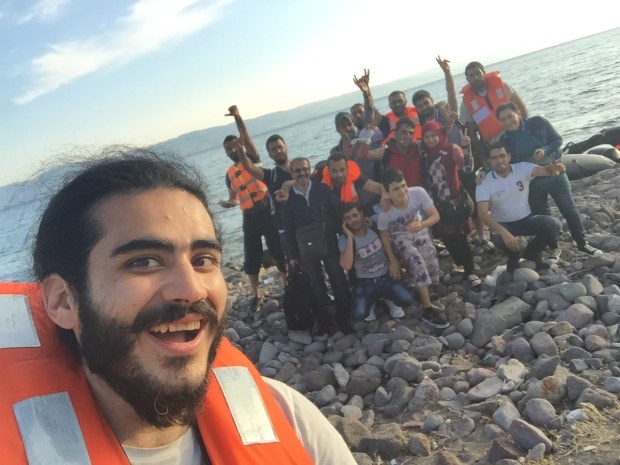 We arrived at the Coast Guard station at midnight that day so we had to wait and sleep in the street until morning because it was not allowed to stay in a hotel without khartia, papers allowing for six months of movement in Greece.
In the morning we registered; it took us about 10 hours to finish the procedures. I volunteered to help with translation since I speak English. We were taken by bus to a detention camp, where there were lot of people of many nationalities waiting for khartia to be able to travel to Athens. We stayed in the camp for about ten days.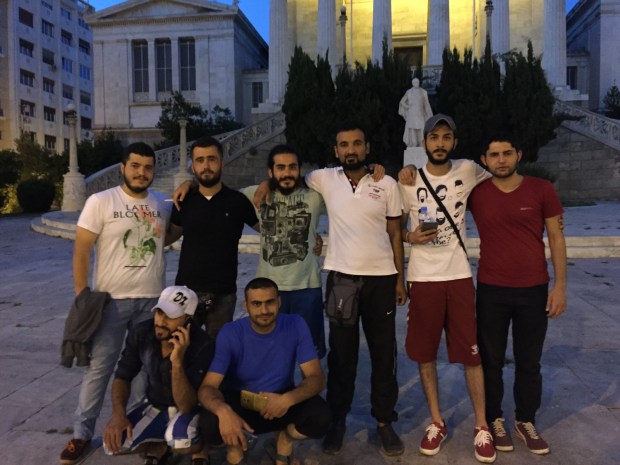 After we got our khartia, we headed towards Athens by ship. The ship was full of refugees, and it took us about twelve hours by sea to reach our destination.
In Athens we were free to stay in a hotel and move around without constraints while we completed our plans on how to continue the journey. Athens was amazing; it was ironic how different I felt from being a real refugee in Lesbos to a tourist refugee in Athens, the heart of the old Greek civilization. I visited the temples and the ancient monuments which were charming and relaxing. People in Athens are full of humanity; they have beautiful hearts in a beautiful country. It was the best, most unforgettable experience of my whole journey. The Greek grilled lamb is a perfect dish, and I loved the daily coffee frappé, a unique flavor for Greece.
After four days in Athens, we moved on to Thessaloniki for two days, and then through Idomeni, the last station in Greece on the Macedonian borders.
We arrived Germany after a long, tiring trip across many countries, and through difficulties like being imprisoned, sleeping in the forests, staying without food and water, and going without showers. In Germany, we went from one camp to another, facing bureaucracy everywhere. Now I've been here around 16 months. My wife came four months after my arrival. We miss our past life, being active and hard-working because after all of these months in Germany we are still at zero. I recently got my residency, but my wife is without it, and we can't join a language course or move freely without the three year-residency permit. My goal was to go to an English-speaking country so we can integrate faster. My wife is an English teacher, and we could find our way faster than we are able to here in Germany.