At night, when the pink Hawaiian sun gets swallowed up by the sea, the island of Moloka'i drifts quietly to sleep. The sole exception is the after-dark crowd that lines up in a blearily-lit alleyway behind Kanemitsu Bakery. Past a boarded-up building and to the left of some hibiscus flower graffiti, a passageway covered by a sheet metal awning leads to warm, oven-fresh breads that ooze invitingly with blueberry, cinnamon, and cream cheese.
This open secret is called hot bread. And the nocturnal quest for these sticky, preservative-free treats is this pleasantly languorous island's only semblance of nightlife. Though last call for mai tais on the island is a sharp 9 p.m., the nondescript window through which patrons can attain steaming, dinner plate-sized loaves of strawberry- and butter-stuffed bread stays open until midnight.
"You can only get it here—nowhere else," says Aramis Buchanan, Kanemitsu Bakery's 34-year-old manager. "It's so exclusive, and we do it the old way. Everything is handmade. That's why it's famous. This is one of the only things you can buy that's Moloka'i-made."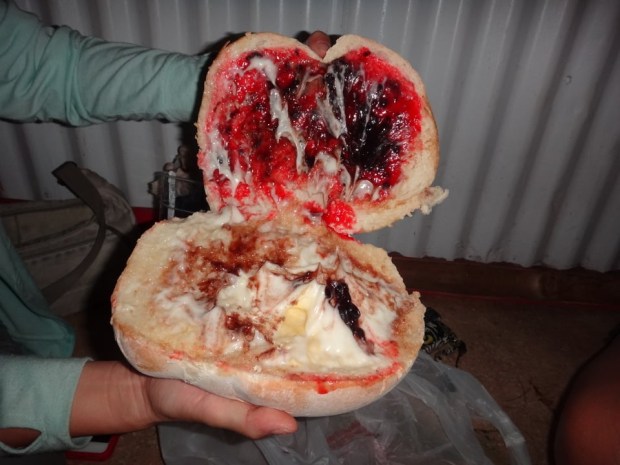 Hot bread is a business-within-a-business for Kanemitsu Bakery, founded nearly a century ago by Japanese immigrants and owned by descendants of the Kanemitsu family. During daylight hours and into the early evening, a casual restaurant serves local cuisine, such as miso ramen soup and kimchi fried rice. The L-shaped eatery lined with orange booths also functions as a simple boutique. Glass cabinets and cases house rhinestone earrings for sale, as well as an assortment of American flag pins and bald eagle figurines.
After sundown, the bakery is in full swing. Pastries for the coming morning are loaded into ovens, and employees armed with sugary spreads and knives sell the hot breads to eager customers who swarm the back window like insects drawn to light. When it's busy, customers take turns shouting custom orders: "One with blueberry, strawberry, and cream cheese. And two with the works!" Bakers slice the bread in half and generously pile on the fillings.
In 2015, owner George Kanemitsu, who is in his 70s, hired Buchanan to help him refresh and expand his business, which faces constraints due to its location on Hawaii's least-visited isle. A former deer hunter whose grandfather ran the bar when there was a nightclub and bowling alley attached to Kanemitsu Bakery in the 1950s, Buchanan has since introduced new delights like the taro glazed donut. He is also plotting to open a second bakery in Honolulu, Hawaii's largest city, by the end of 2017.
"I always knew this place had a much bigger potential," Buchanan says. "Right now, if I want to ship our bread to the city, I have to charter a plane. I do it a couple times a year, and we sell out of a thousand hot breads in three hours. There is just so much business potential in the city."
On an island famous for a tight-knit citizenry that's uniformly averse to gentrification, homogenization and, more or less, any major change, Buchanan's big dreams for the little mom-and-pop bake shop have been surprisingly well-received.
"I want to make it bigger and better," Buchanan says. But he assures: "Just about everything we do is going to stay exactly the same."