The esnaf lokantası is Turkey's gift to the working man and woman. While in many parts of the world, lunch during the workweek means an uninspiring sandwich or salad inside a lonely cubicle at the office, workers in Turkey have the esnaf lokantası—tradesman's restaurant. Outfitted with a steam table that usually holds dozens of ready-made and homey dishes, it is much more than simply a canteen. In reality, these are the places that keep a hungry nation going. We've rounded up six of our favorite esnaf lokantaları in Istanbul.
But first, here are some crucial lunch-hunting tips:
#1: Wander into one of Istanbul's numerous districts of small commerce and find yourself on a small street with a shoe cobbler, a knife sharpener, and hardware shops.
#2: Enter one of those shops, preferably one where two old men are sitting at the counter looking at the horse-racing form or working the crossword puzzle.
#3: Ask them where they eat lunch. (Note: They might misinterpret your question and try to send you to the place they think you should eat lunch.) Repeat the question clearly, "Where do you eat lunch?"
#4: Follow their instructions to the nearest esnaf lokantası.
Mutfak Dili: Tradesman's Paradise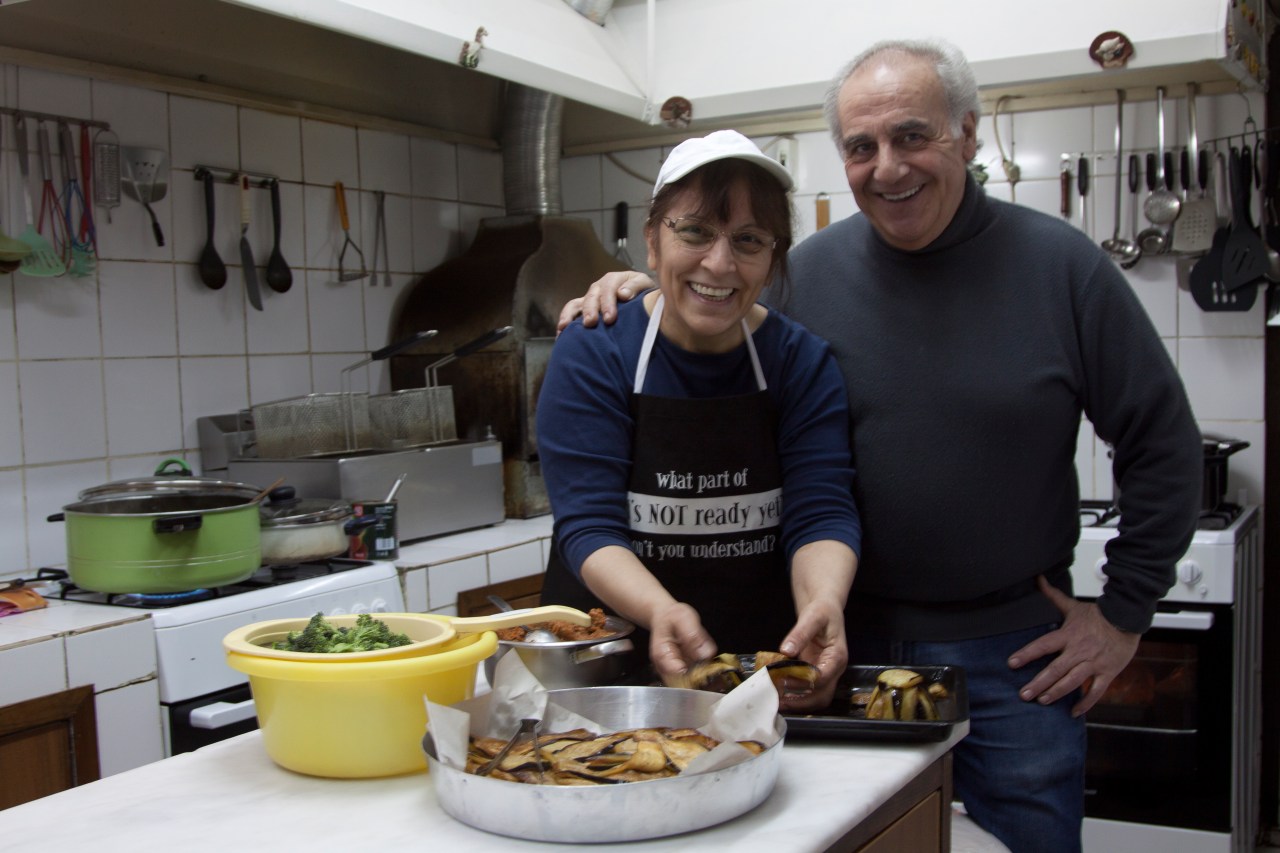 Unlike many such Istanbul lunch spots, where character is often sacrificed for a misguided, sterile atmosphere in the interest of appearing cleaner, Mutfak Dili's charm remains intact. Its dark, paneled interior with pictures of the owner mugging for the camera evokes a Chicago dive bar. The smattering of tables out front set against the bright-blue façade almost reminds us of an unintentionally hip café in Barcelona. The location alone, in one of the oldest, grungiest, non-gentrified markets in Istanbul—one devoted to hardware and nautical supplies—adds quite a dramatic backdrop to a lunch excursion.
But the folks at Mutfak Dili are not just sitting around looking cool; they've got it going on in the kitchen, too. On a recent visit, we opted for the fresh stewed green beans served cold in olive oil in place of a salad and on the side, a bowl of cacık, chilled yogurt with diced cucumbers. Though Turkish cacık is, principally and linguistically, the same as the Greek gyros spread tzatziki, the yogurt in the Turkish version is thinned out and served as a refreshing cold soup. The imam bayıldı, also a cold dish of eggplant stuffed with tomatoes, peppers and onions, had perfect balance for a dish that usually seems to give way to the onions and garlic. The restaurant also serves esnaf lokantası classics like patlıcan karnıyarık, eggplants stuffed with meat and peppers, and taş kebabı, a succulent beef stew.
For dessert, the antep fıstıklı yeşil yayla tatlısı felt like the happy union of two favorite Turkish sweets, the syrup-soaked cake revani, and a traditional pistachio baklava. As we spooned up the last of a diabolical chocolate pudding called aşkım aşkım, one older tradesman walked by and eyed our table forlornly: "In the days when I could eat like that…"
Tradesmen do not have the luxury of traveling across the city at midday to fill their bellies, so there is probably a place similar to Mutfak Dili a few steps from any row of shops. But delicious food and wonderful ambiance make Mutfak Dili well worth the trek.
Doyuran Lokantası: Working Class Hero
We usually steer clear of the touristy old city district of Kumkapı, where you are more likely to be accosted by an aggressive maitre d' trying to corral you into his overpriced fish restaurant than to find something simple, tasty and reasonably priced to eat.
When in the area, we make a beeline for Doyuran Lokantası, a serious little eating sanctuary on a nearby side street. The men at the next table might be wearing spackle-crusted work shirts and have measuring tapes on their belts, but they know their food. In most Istanbul neighborhoods, the working class sets the culinary bar, and they set it high. They want it fast, fresh, cheap and as close as possible to their mothers' recipes. Offering up four or five daily lunch specials, including homemade Turkish dumplings (mantı), chickpeas over rice and an assortment of traditional stews, Doyuran's husband-and-wife team answers the working man's call with ease, the service both professional and homey.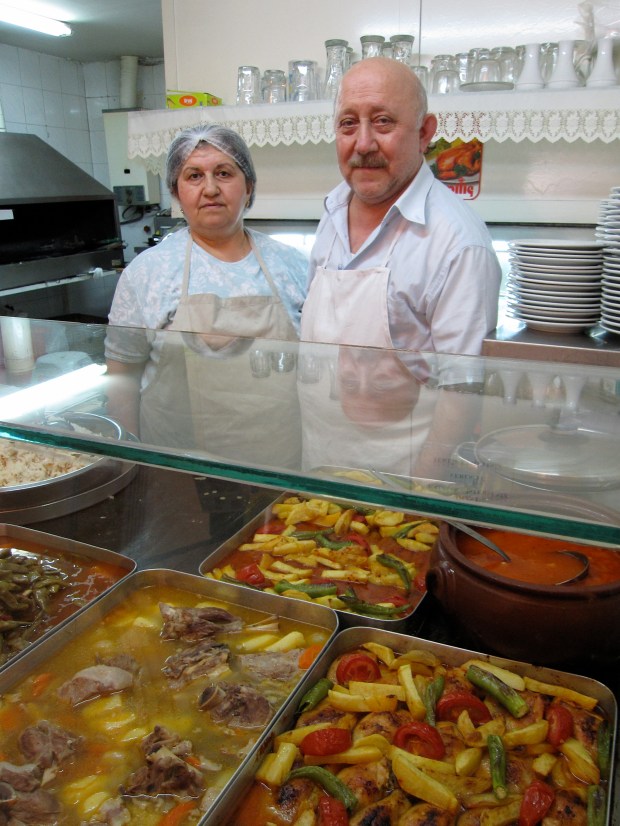 "Bismillah," said owner/operator Musa Ergenç, calling on the name of God as he cut the first piece of a steaming musaka from a large pan on a recent visit. Unlike the Greek version, which is usually topped with a creamy béchamel sauce, the top layer of Doyuran's musaka consists of a refreshing blast of chopped tomatoes. In order to try as many of the day's specials we ask for small portions, or "az."
Ispanak yemeği, a steam table standard of stewed spinach and rice didn't look or taste anything like the heavy, overcooked green mush we've become accustomed to elsewhere. This one had a made-to-order feel, with each flavor presenting itself separately, from the fresh spinach to the light tomato-sauce base. A dollop of yogurt on the side, if requested, thickens the last few bites into something pleasantly spoonable and leaves the dish with a cool finish.
Though Doyuran's dessert puddings are perfectly passable, around the corner something truly phenomenal awaits to satisfy the sweet tooth. Boris'in Yeri has been keeping Kumkapı's restaurants and residents stocked with bal-kaymak, a rich buffalo milk cream served under a blanket of honey, for almost a century. And from the looks of the place, little has changed since Boris first opened shop. Old cracked tile floors, marble tables worn from use and a pair of stainless-steel coolers the size of Buicks are about the only décor you'll find here. Like at Doyuran's, the focus here is on the food, not on trawling for customers. With food this good, they come on their own.
Lades: Old Faithful
If Lades, which means "wishbone" in Turkish, provided an actual wishbone alongside the usual post-meal wet wipe and toothpick, we'd close our eyes and make a wish that we could eat their tandır–oven-roasted baby lamb–seven days a week. These large knots of tender, fragrant meat lined with a soft cushion of fat are the sort of high-calorie lunch that we might save for a special occasion but Lades regulars take for granted.
Lades is an old school spot, a classic local lokanta serving stews and steam table favorites day in, day out. The monogrammed flatware, faded from decades of use by diners sopping up that last bit of stew with a fresh piece of white bread, indicates the sort of customer approval that we seek in a lunch spot. On one recent visit, we tried the talaş kebabı—a stew of beef, carrots, currants, onions, and pine nuts wrapped in phyllo dough. With a bowl of lentil soup, a side of okra and, for dessert, kazandibi ("burnt pudding"), just about everything at Lades is highly soppable and dependably good.
Indeed, if Lades were an automobile, it might be an old Volvo station wagon—nothing exotic, but safe and extremely reliable. "Most of our customers are regulars. They know exactly what is served on which day of the week. How could we possibly change anything?" said manager İlker Bey from his post at the register.
As it is written (on the window out front), on Mondays and Thursdays you shall eat döner kebab in succulent ribbons served over rice. Tuesday is a day for Arnavut ciger, lightly fried lambs liver ramped up with red peppers. Smothered okra, spinach with rice, roast chicken, various stews and our beloved tandır kebap are available everyday but Sunday, when the restaurant is closed. They may be dependable, but even the guys at Lades deserve a day of rest.
Lades
Location: Sadri Alışık Sokak 14, Beyoğlu
Contact: (+90) 212-251-3203
Hayvore: Black Sea Magic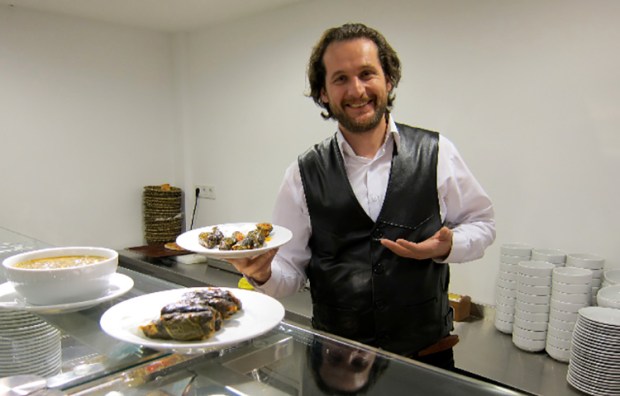 The Black Sea area is Turkey's culinary misfit; it's not really about kebabs or mezes. If anything, the food—cornbread, collard greens, smoky bean stews—seems to have been mysteriously transplanted from the American Deep South. It's simple, filling, down-home food, and Hayvore is a great—and affordable—spot to get acquainted with it.
Hayvore is the pride and joy of Hızır Bey, a shaggy-haired restaurateur who had previously been the driving force at another Black Sea restaurant but left after a disagreement with its owners, taking with him the kitchen's A-team, including the feisty old lady who prepares the Black Sea specialty dishes and the man working the pide oven. After Hızır's departure, the quality at his previous restaurant took a turn for the worse and we were feeling a bit lost for a period.
Then we got a call from Bey about his new venture, called Hayvore, another Laz word, meaning, "I am here." After a quick sampling of the dishes we recognized from Pera Sisore—chickpeas in a glowing red gravy, meaty stuffed chard leaves, large hunks of cornbread, and Black Sea sardines lightly fried—we knew we'd be coming here regularly.
Şahin Lokantası: Edible Complex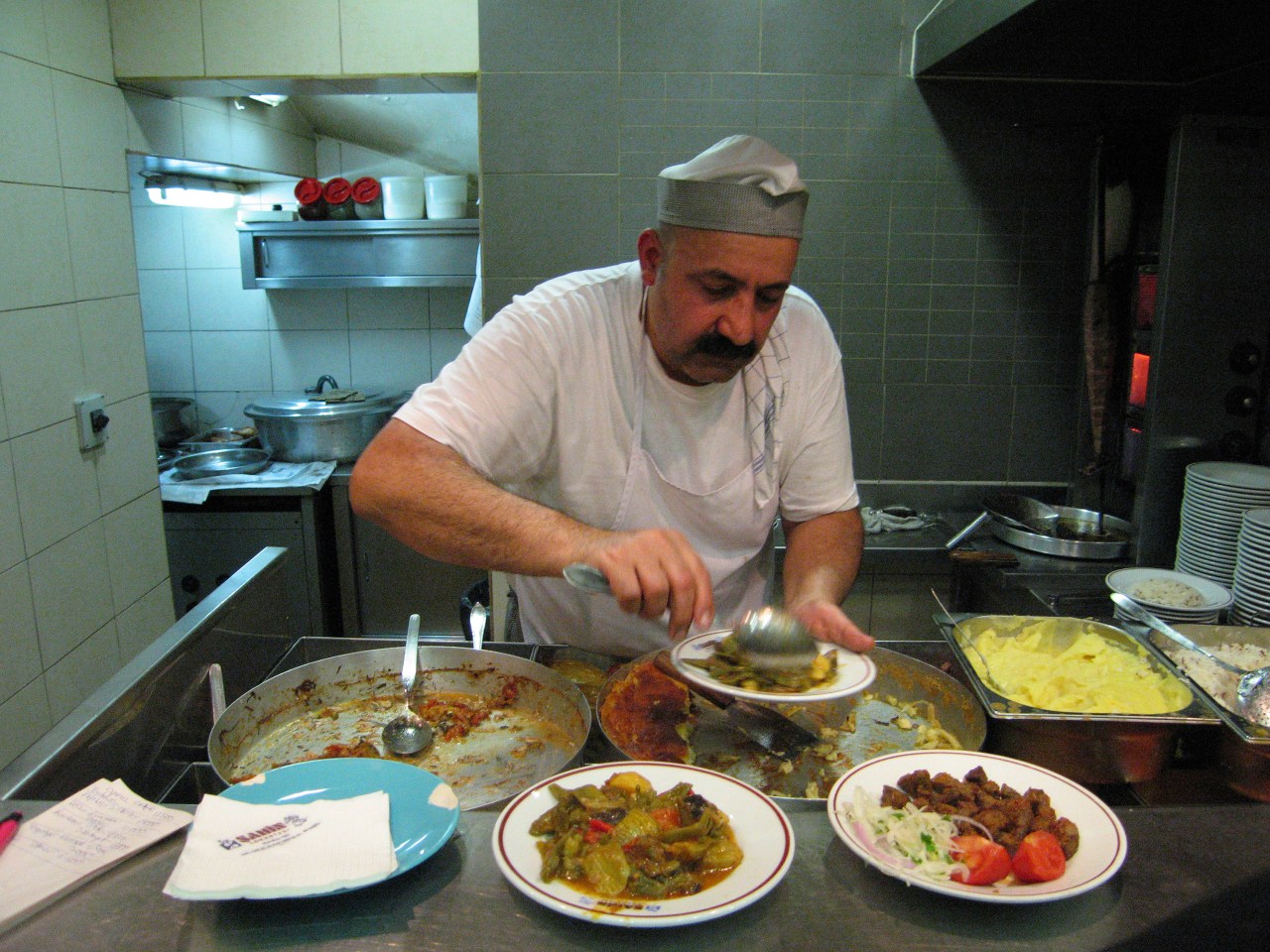 For Turks, mealtime is often a complicated emotional drama, one that revolves around a lifelong effort to return to the culinary womb—in other words, their mother's kitchen. In Turkey, Mom's cooking sets the standard by which all others are judged and, truth be told, some of the finest meals we've had here have been home-cooked ones.
Lately, we've been making ourselves at home at Şahin Lokantası, an esnaf lokantası on a Beyoğlu side street that very successfully manages to put the "home" back into home cooking. In the case of Şahin, "home" is a bustling place where waiters in white smocks shout orders over your head and you will likely eat your meal at a table full of strangers.
Recent visits found nothing but winners coming off Şahin's steam table. The İmam bayıldı (made out of a fried eggplant stuffed with onions, tomatoes and garlic—the name means "the imam fainted") actually made us swoon, as it was among the finest renditions of this totemic dish that we've had in Istanbul. A tangy dish made out of brown lentils in a tomato broth, occupying a space somewhere between a soup and a stew, was utterly satisfying, as was a big, fat artichoke heart stewed in olive oil and served cold.
We finished our meal off with Şahin's superb sütlaç (rice pudding), which reminded us of what's missing in so many of the other versions of sütlaç around town—rice. Şahin's is chockablock with grains of soft rice floating inside a thick, milky pudding. It was delicious, comforting, and—like everything else served in the restaurant—just like what "Mom" makes.
NATO Lokantası: The Lunchtime Alliance
Turkish politics make for a great lunch counter conversation. These days, one of the hot topics is a perceived axis shift, as if Ankara, feeling burned by the West, has turned the gaze of the Republic eastward, as easily as a dönerci reverses the rotation of his spit. But down in Karaköy at NATO Lokantası, an esnaf lokantası named in honor of Turkey's entry into the Western Bloc some six decades ago, the tenor of the debate is still decidedly Cold War-era.
"One lady comes up to pay, says to me, 'If I'd known this place was called NATO, I wouldn't have eaten here,' and walks out. Clearly a communist," said manager Mevlüt Bey from his perch at the cash register.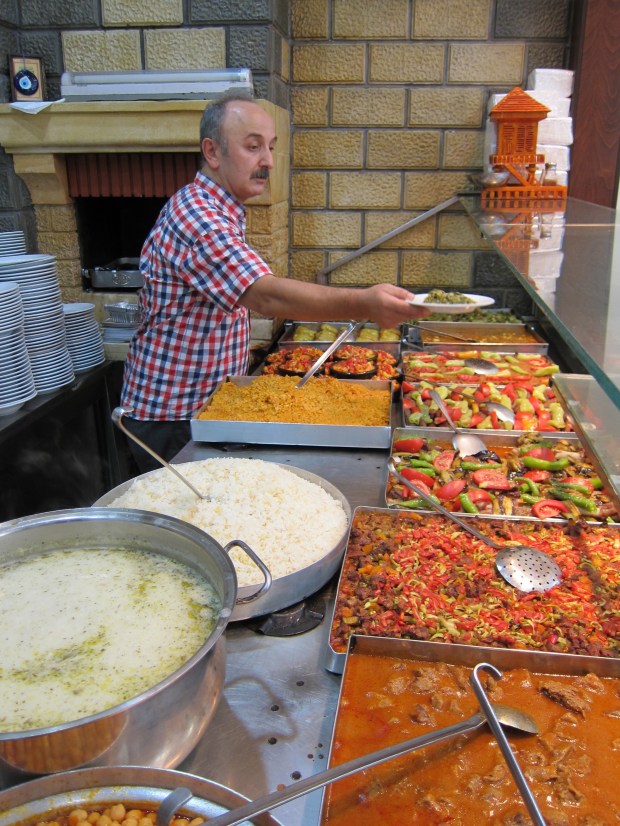 But she must have been an exception. On our visits to NATO Lokantası, we have found the place to be in high spirits. The wood-paneled dining room is usually filled to capacity with men in ties; tables overflowing with plates, spent hand wipes and crusts of bread; and panicked waiters trying to manage all of the consumption—a glutinous celebration of freedom's victory.
On one visit, we started our meal with a hearty yogurt-based noodle soup called Erzincan çorbası, followed by the reliable hamsili pilav—a savory baked rice cake topped with anchovy fillets—as a bridge to the main course. Undecided between the hünkar beğendi—tender roasted chunks of lamb over a creamy purée of eggplant—and a plate of döner, we ordered a half portion of each (just say, "az").
With such a variety in the main courses, it might seem like a waste to order döner, but a good esnaf lokantası usually serves a high-quality döner, in thin slices over rice. NATO's was everything döner should be: not too greasy, yet fatty enough to keep the meat moist and flavorful.
Two teas and a rice pudding later, we surveyed our table and those around us. Customs agents, small businessmen, office workers from Bankalar Caddesi—everyone looked sated and happy, as if they'd just closed a big deal. Say what you will about NATO the organization—that's a discussion for another lunch—but most everyone agrees that NATO the lokanta is just as relevant today as it was when it first opened in 1952.