Get to Port Antonio in the early morning, when the sun reflects off the town's West and East harbours and knee-high children wave warmly at you on their way to school. Or arrive closer to 10 a.m., when the morning commute has fizzled and the streets are as calm as the Caribbean Sea breeze that hovers over them. The jocund aura of young and old—as well as the relatively slow pace of life—in the Jamaican capital's most northeasterly parish can easily charm you into extending your stay; however, 12 hours are enough to experience its magic.
Sporadic downpours of rain are characteristic of Port Antonio life, so come with an umbrella. But if you are fortunate to arrive at a sunny hour, take the town by foot. It is walkable, and if you tire, you can take a shared-route taxi—think UberPool without the app—to your next destination.
Massachusetts-born sailor and Boston Fruit Company co-founder Lorenzo Dow Baker traveled to Jamaica in 1870, just when the island was experiencing financial hardships. Sugar production had started to wane, following the official abolition of the enslavement of Africans brought to Jamaica (not in fact implemented until years later). Rural areas, however, were teeming with bananas. While wealthy sugar-cane planters dismissed bananas as "negro food," Baker saw an opportunity to export the crop. He moved from successfully selling just a few hundred hands of the island-grown crop in New Jersey and Boston to establishing an office in Port Antonio and making an average of five trips to the U.S. each year. Eventually, he began using his steamships to transport both bananas and tourists, making Portland Jamaica's tourism capital.
Today Port Antonio is renowned for the seamless way that tourists and residents coexist. The city might owe this dynamic to the fact that it was the first Jamaican town to welcome the throngs.
If you've rented a car, park at the Errol Flynn Marina. If not, take the Knutsford Express coach bus to the marina. The government constructed it in 2002 and renamed it four years later after the Hollywood actor who famously described Port Antonio as more beautiful than any woman he had ever seen. Take a few minutes to admire the glistening bay, svelte yachts, and sprawling flora. Relax in one of the gazebos that pepper the promenade and take in the quiet—it goes away when high schoolers flock to the marina in midafternoon.
Exit the marina onto Fort George Street, facing the Royal Mall. Turn right and continue straight toward the top of West Street. From there you can see Port Antonio Square, with its unmistakable white cenotaph at the center, a commemoration of the men of the town who died during World War I and II. Turn right on West Street and continue until you get to number 18, Coronation Bakery. The delivery truck carrying fresh goodies arrives early in the morning from a larger branch of this local bakery. My favorite is the crunchy rock bun (a small fruitcake of British origin), which costs less than $1, but the bread pudding and hard dough bread—a Jamaican specialty, served whole or sliced with cheese—are also delectable. If your diet allows, you mustn't leave Port Antonio without trying Coronation's grotto bread. Freshly baked with butter bursting from the middle, it makes for a good hot breakfast, but you won't regret keeping it to munch on throughout the day.
Facing Coronation is My Choice Cafe. Order to-go peanut punch or a smoothie made from local fruits like watermelon and papaya. If you don't want an overly sweet smoothie, you have to tell your drink mixer not to include syrup—yes, even in the peanut punch. In Port Antonio syrup is a staple.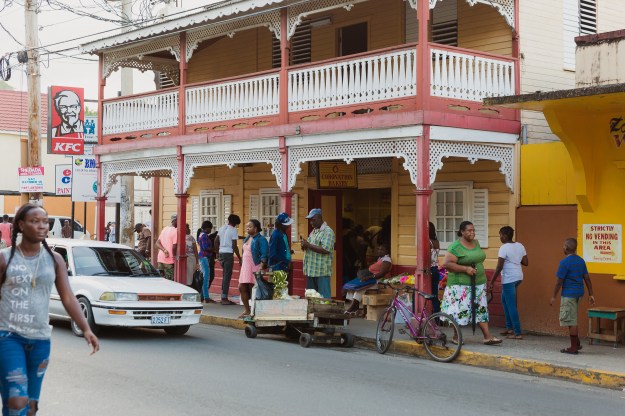 Now take a spin through Musgrave Market, which runs along West Street. Depending on the fruits that are in season, purchase avocados or tasty mangoes to eat with your grotto bread. Toward the back of the bazaar you'll find a cozy craft market. Beautiful craft jewelry—necklaces, bracelets made from seeds, and earrings with bamboo—is available here, but no one pressures you into buying. I normally look past their Jamaica-branded memorabilia, beach towels, and casual clothing to the dramatic wooden carvings, often made with wood found on the beach. I especially love the carved faces. I can imagine hanging them in my own home someday.
Pro tip: If you really love crafts, there is another collection farther east, facing the sea on Allan Avenue. I once stopped at Craft Village for what I thought would be a few minutes. I left hours later, filled with a history lesson about Portland and wearing a delicate brown coral bracelet I seldom take off, both from the artist Rock Bottom.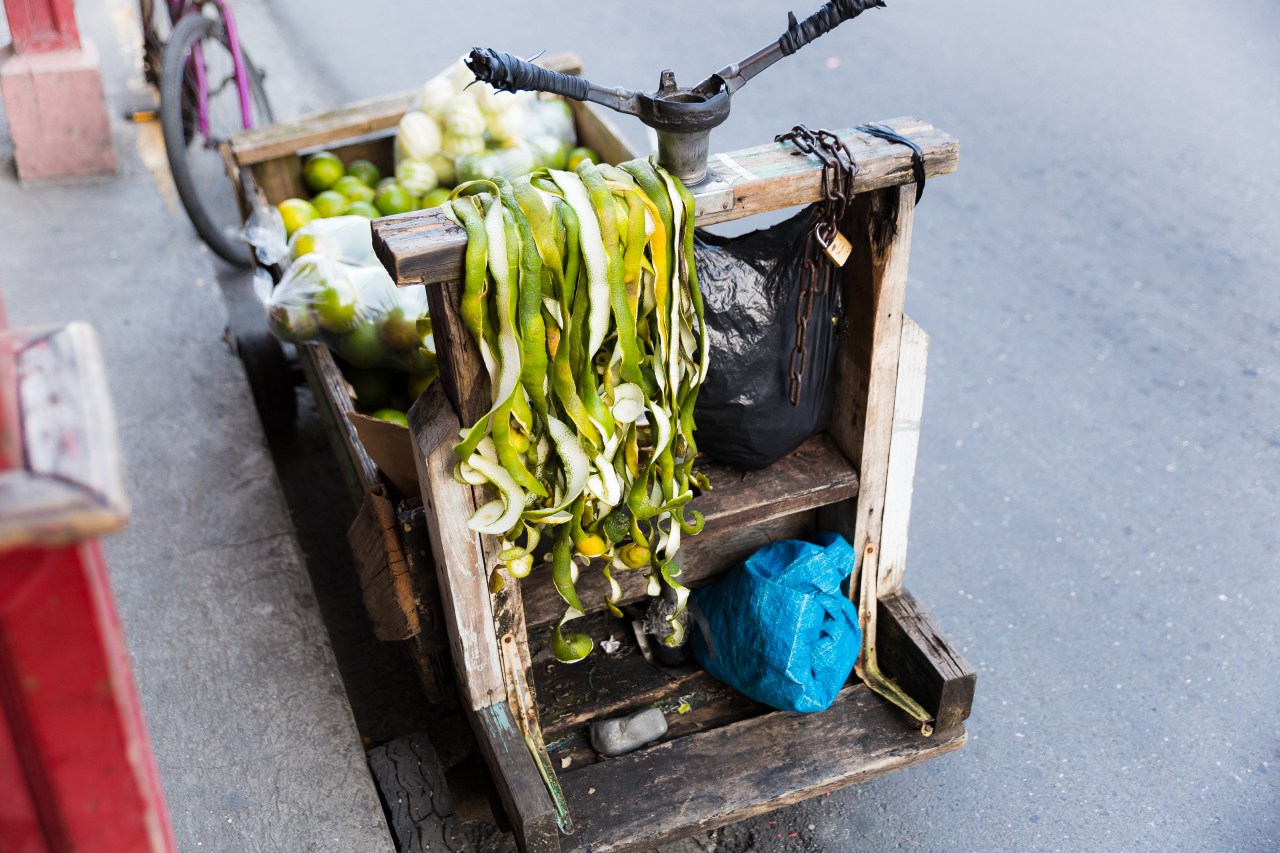 Retrace your steps to the cenotaph and the marina's main entrance. Turn left and walk uphill to the Titchfield Peninsula, which juts out between the town's twin harbors. When you are about halfway, you run into a Victorian-style red-brick building. The DeMontevin Lodge is a national heritage site, built in the early 1900s and formerly home to a "custos," or keeper of the rolls, of Portland. Today this relic of the British colonial period operates as a hotel. Continue north along Fort George Street until you run into Fort George, constructed in 1729 to guard the harbors. The barracks now host Titchfield High School—the public, coed alma mater of Jamaican-Canadian billionaire Michael Lee-Chin and a school in which Portland residents take much pride. Enjoy the views before you head back down the hill.
It's time for a detour. Walk south on Fort George Street. Pass the mall and West Street again, but now slip onto Harbour Street. At the intersection of Harbour and Blake streets, you should be surrounded by taxi cabs headed all over Portland. Jump in a taxi headed for Boston Bay, an easy 25-minute trip. Ask the driver to drop you off by the internationally beloved Boston Jerk Center—even though your destination isn't chicken (unless you're peckish and want some!).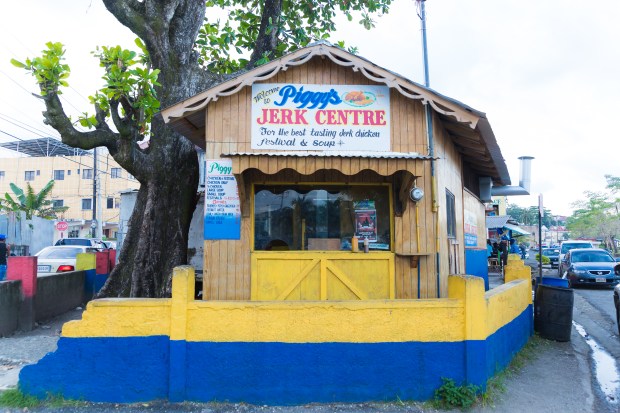 Walk toward the back of the center and take a sharp right. Behind the jerk pit is a hidden gem: Welcome to Great Huts, an eco-resort and paradiselike perch over Boston Bay. I have often been caught between wanting to blab to people about this one-of-a-kind resort and trying to keep it a secret so I can always find room there.
You don't need to be a guest in one of the luxury treehouse huts to enjoy the stunning view of the bay. Have a tropical cocktail or Red Stripe beer at the Pharaoh Bar upstairs, or order lunch and browse the library in the lounge area downstairs; then ask one of the courteous staff members to allow you to roam the property. Great Huts contributes a portion of its monthly revenue to Portland Rehabilitative Management, a homeless shelter in the parish, so it's a win-win if you opt for a $10 guided tour of the lush grounds. During the tour, ask for a peek inside unoccupied huts; meet the turtles and birds that live on the property; quiz your guide about the medical doctor who created the resort; and, if you are brave, take a leap off the 20-foot-high diving rock.
If looking down at Boston Beach from Great Huts has put you in the mood for a beach trip, there's a place for you to go without spending a dime on entry fees—which is almost unheard-of in Portland. Return to the main road and hail a cab headed back to Port Antonio, but ask to be let off at Winnifred Beach in Fairy Hill. This is my go-to detour in the city, mainly because of its beauty and remoteness, but also because community residents successfully fought the government to be put on the land title. The road leading to the beach is filled with potholes, so the taxi driver will likely refuse to drop you on the beach and make you walk. Follow the main road for about 15 minutes, until it turns into a white-sand seashore dotted with towering coconut trees. The placid, clear water will make you give into an afternoon dip, if only of your toes.
Relax and drink a beer while talking with any of the beach vendors. Most of them have been a part of the Fairy Hill community for decades, and each one can teach you more about the community than any history book.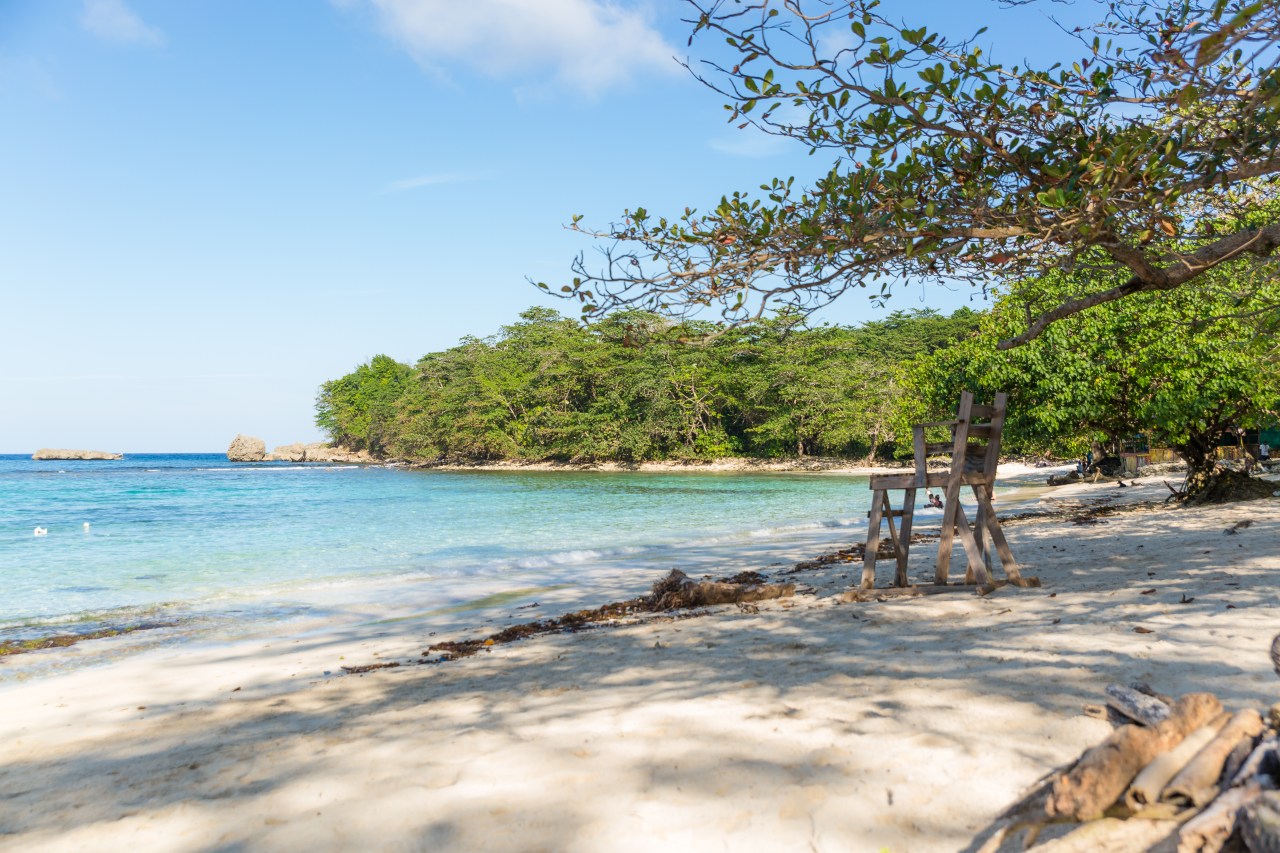 Find a cab headed back to town and get out at the dirt-road entrance to a wide-open field called Folly Oval, where cricket is frequently played. Continue north along the road and follow it until you find the ruins of Folly Mansion, built in 1888 by American millionaire Alfred Mitchell. There are multiple theories about why this home fell into disrepair, including the theory that, in haste, Mitchell used mixed cement with seawater in the construction of the mansion. Above the ruins is the red-and-white-striped Folly Point Lighthouse, built in 1888. To get to it, walk across the fields northwest of the mansion. Before the sun falls, take in the limestone rocks and lawn around the lighthouse and enjoy the elevated, picturesque views of Port Antonio and Navy Island.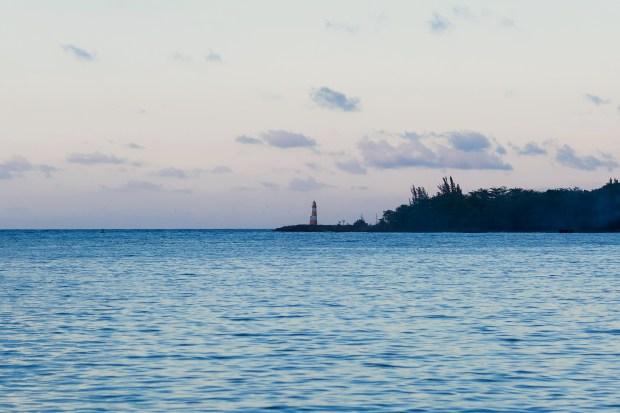 6:30
pm
Survival Beach
24 Allan Ave.
Port Antonio
"Work is over now, it's evening time," goes the famous Jamaican folk song. A lazy walk along Folly Road, which turns into Allan Avenue, is a great way to start your evening cool-down. Once you exit Folly Oval, you begin to run into colorful little shops and rum bars; some of the latter advertise risqué nighttime entertainment.
Saunter on the side of the road facing the sea. I recommend dinner at Survival Beach, a great place to get a scrumptious meal made with fresh fruits and vegetables—ackee, cabbage cooked down in coconut milk, served with rice and peas. Whatever you order, leave room for dessert.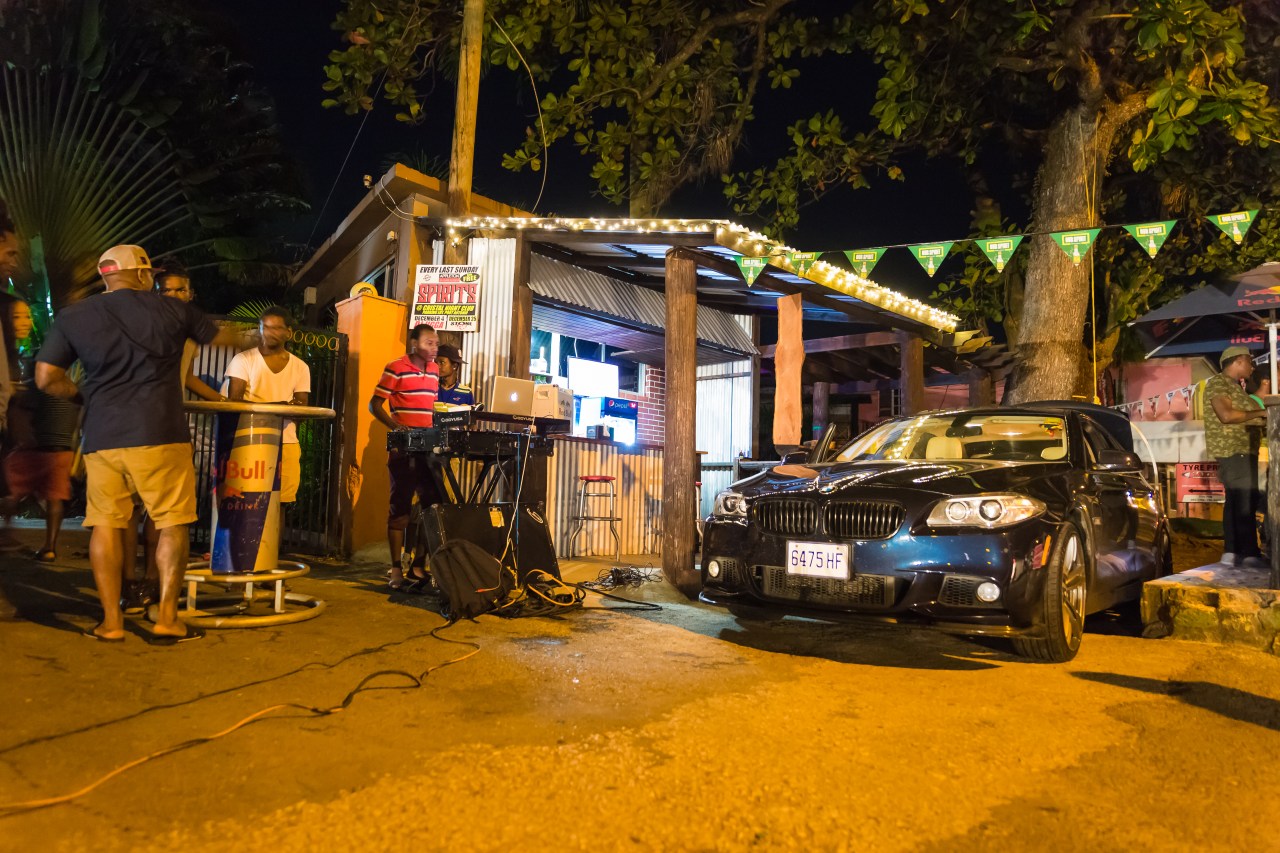 8:30
pm
Devon House I Scream
Errol Flynn Marina
Port Antonio
Get Directions
Devon House I Scream is waiting for you back at the marina. In 2011 National Geographic ranked the main Kingston location of this dairy chain the fourth best place to eat ice cream in the world. Flavors on hand usually include chocolate, coffee, and others—a far cry from the almost 30 available at the Kingston flagship, but a delicious assortment nonetheless. Each scoop of naturally flavored treat will cost you about $3. Sit along the promenade or walk to the nearby dock and hang your feet above the water as you lick it down.
The marina has several spots to hang out at night. Depending on your mood, the rooftop sports bar or Marybelle's Pub on the Pier might be where you want to end your day. Bikini Beach Bar & Grill, at the end of the strip, is also a good option. After eating, you can lie outside the restaurant on the small stretch of sand shaded by low coconut trees and gaze upward at the stars.