Nairobi, from the Masai for "place of cool waters," goes by many names. Some say it's the "green city in the sun," a nod to the city's forests, national park, and generally great weather. More recently the East African capital has gained the moniker Silicon Savannah for its burgeoning tech sector. In worse times it's been called Nairobbery, a reflection of the chasm between the city's haves and have-nots, its elite and its ignored.
Nairobi was once viewed as the brief layover on the way to a safari. That is no longer the case. Much has changed over the last decade in the city of 4 million: A new creative class of poets, bloggers, and playwrights is emerging, telling unapologetically Kenyan stories; young people are politically engaged and critical of long-standing social mores; entrepreneurs are launching start-ups at a breakneck pace; and co-working spaces have become a Nairobi staple.
Though the traffic will make you want to tear your hair out, Nairobi's hustling spirit is awe inspiring. It's a city with a rich history, diversity, nature, and, most of all, energy—here's a perfect day in Nairobi.
Nairobi is one of the few major cities in the world that has a national park within its limits. Cooler temperatures make early morning an ideal time to visit. You can see lions, leopards, rhinos, and buffalo, among other animals, roaming, grazing, and (if you're lucky) hunting along the savannah—all with the Nairobi skyline in the background. Give yourself at least three hours here. The park offers guided tours with a National Park ranger, but you can also organize a visit through a private safari company.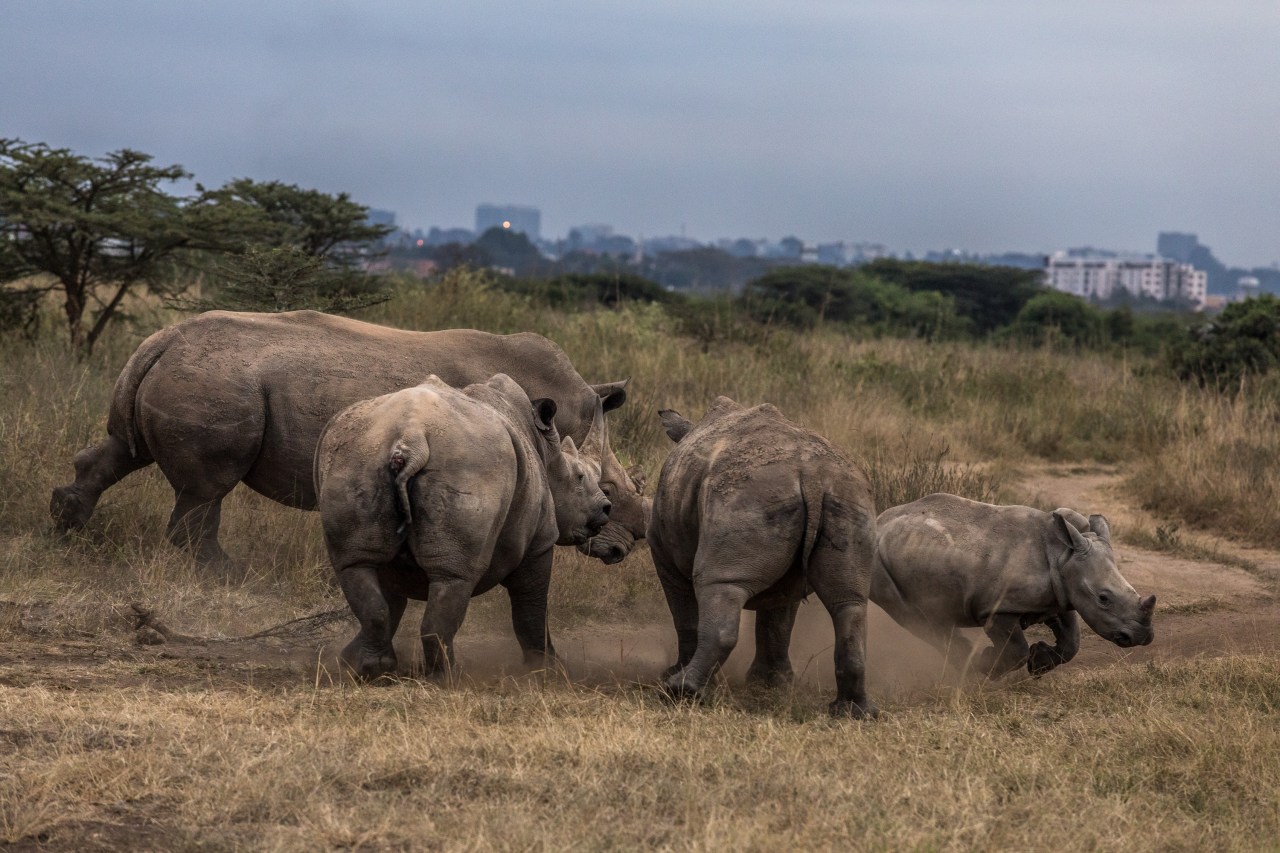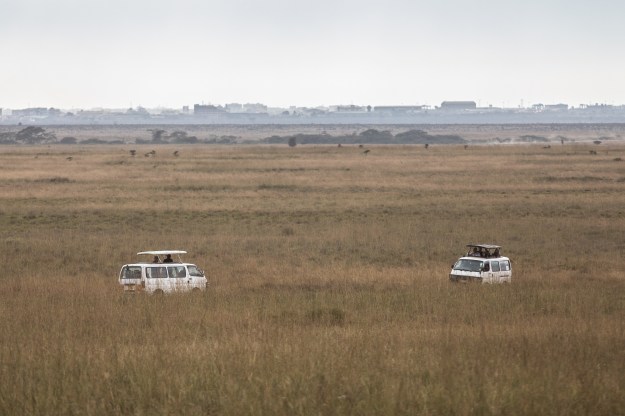 Since this is a perfect day, let's assume traffic is running smoothly as you head over to the heart of Nairobi and the celebrated Karura Forest. Its 2,500 acres are home to hundreds of species of birds, antelopes, bush pigs, and Sykes' monkeys, to name just a few, and features an extensive network of biking and hiking trails.
Grab breakfast at the River Café Karura, which sits on a raised wooden deck surrounded by towering trees. It's a spot where you are as likely to see guests in fancy outfits as you are to see people in workout gear, where you're as likely to see a family having a meal as you are a group of avid bird-watchers peering through binoculars between bites.
You may notice a framed photo of Nobel laureate Wangari Maathai overlooking the restaurant. The MP and former professor was one of Kenya's most important environmental activists. In the 1990s she pushed back on government-supported efforts to develop large swaths of the forest and was arrested and even tear-gassed in the process. It's in large part thanks to her that Karura Forest remains standing.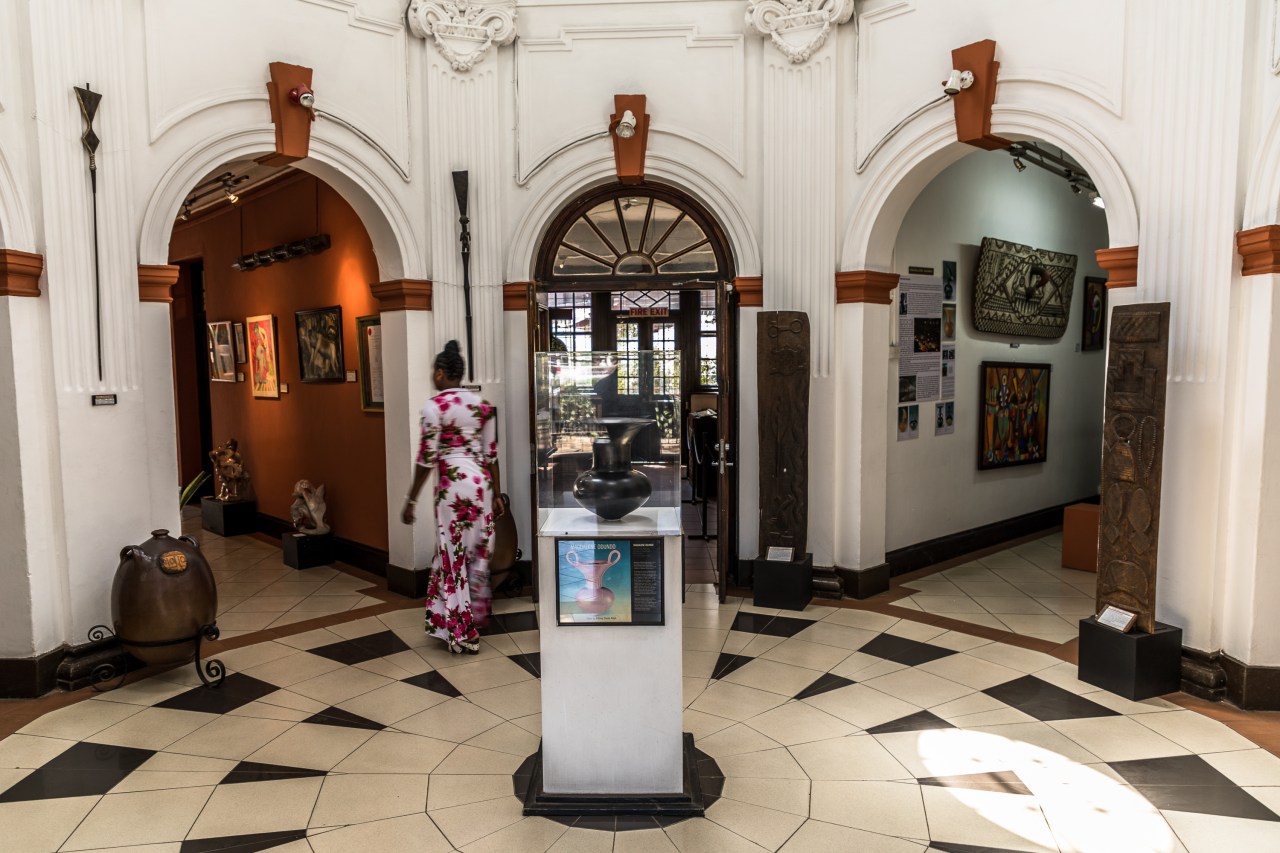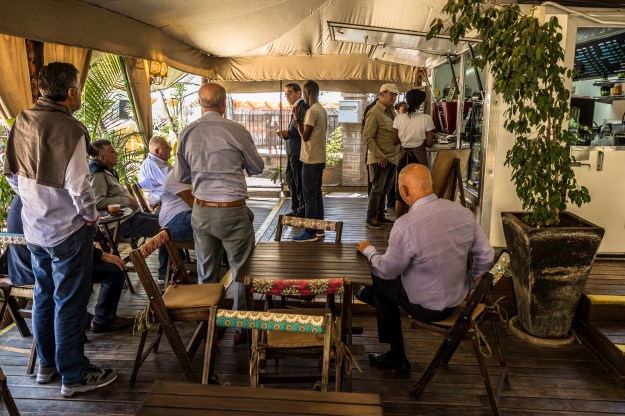 Make your way to downtown Nairobi, typically referred to as CBD—the central business district—where colonial buildings meet modern architecture. It's one of the few parts of the city that is pedestrian friendly.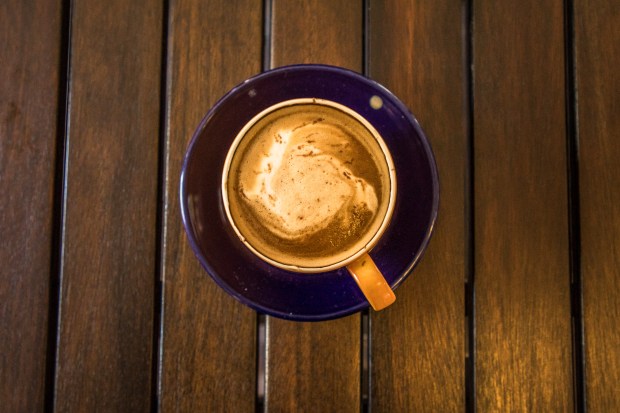 Stop in at the Nairobi Gallery, which is home to one of Africa's largest collections of art, jewelry, textiles, stamps, and sculptures. Built in 1913, the colonial building was once the Provincial Commissioner's Office, a part of the (cringe) Native Affairs Ministry, where officials kept records for births, marriages, and deaths. It is also Kenya's "point zero," from which all distances in the country are measured.
Stop by Pointzero Coffee in the courtyard of the gallery—the canvas-covered outdoor cafe with traditional kanga-covered furniture—for a quick pick-me-up while you reflect on your gallery visit.  
Walk 10 to 15 minutes toward the Kenyatta International Conference Centre (KICC), which takes you past Uhuru Park, one of the largest green spaces in the CBD, and Parliament. Once you reach the KICC, head to the top floor, which offers one of the best views of the city. If you happen to visit in October, your view will be dotted with purple jacaranda flowers. Past the KICC sits the McMillan Memorial Library; built in 1931 and currently under renovation, it's a great stop for book lovers who want a hint of the past.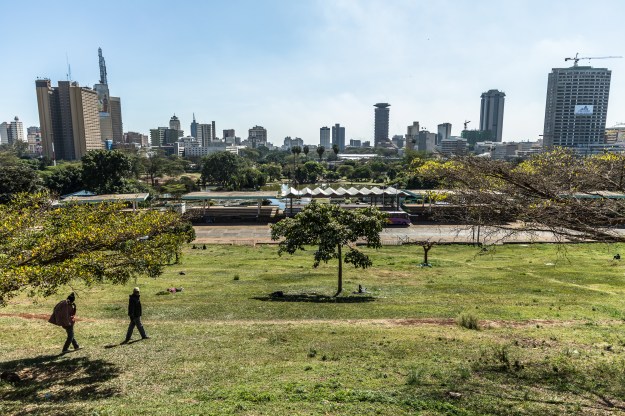 Head to Trattoria for lunch. Opened in 1981, the Italian restaurant is a Nairobi institution; over the decades it has hosted prominent Kenyans and famous visitors alike—it's also where, as a child, I spent most New Year's Eves with my family. The pages-long menu offers up all the seafood, starch, and sugar one could wish for, and the extremely knowledgeable staff has been around nearly as long as the restaurant has been open.
Try the homemade gnocchi, slow-braised lamb shanks, and fresh and tasty seafood platters. The food is undeniably good; and the two-story setup means that if you grab a balcony table, you'll sit among vine-draped trellises and hanging plants as you overlook the vibrant downtown.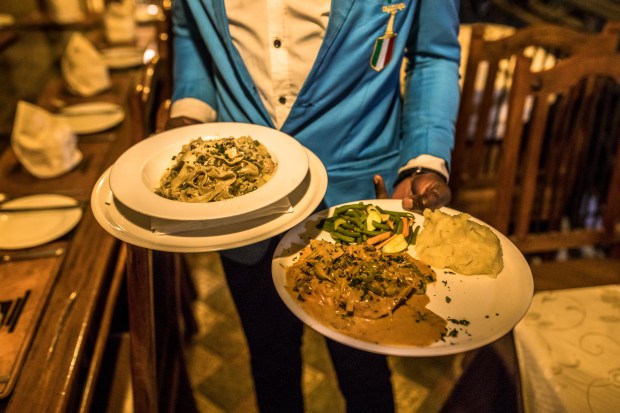 Swing by the new CJ's café after lunch. Founded by young Somalis, the cafe has a large white awning, outdoor seating, and a spiral staircase that turns the space into a two-story marvel. On any given afternoon you're likely to find clusters of Somalis talking politics and business— something called fadhi ku dirir, or "fighting while seated." They're part of the large Somali diaspora that has settled in Kenya. Order a cup of chai or a dark-roast coffee.
Visit the Nairobi City Market, where you'll find Masai jewelry, brightly colored textiles, soapstone sculptures, wooden cutlery, crockery made from all kinds of material, statuettes, and much more. The market was built in the 1930s as a plane hangar, before the authorities decided to build the airport farther away from the city center. Once that plan was scrapped, they turned the large domed building into a market.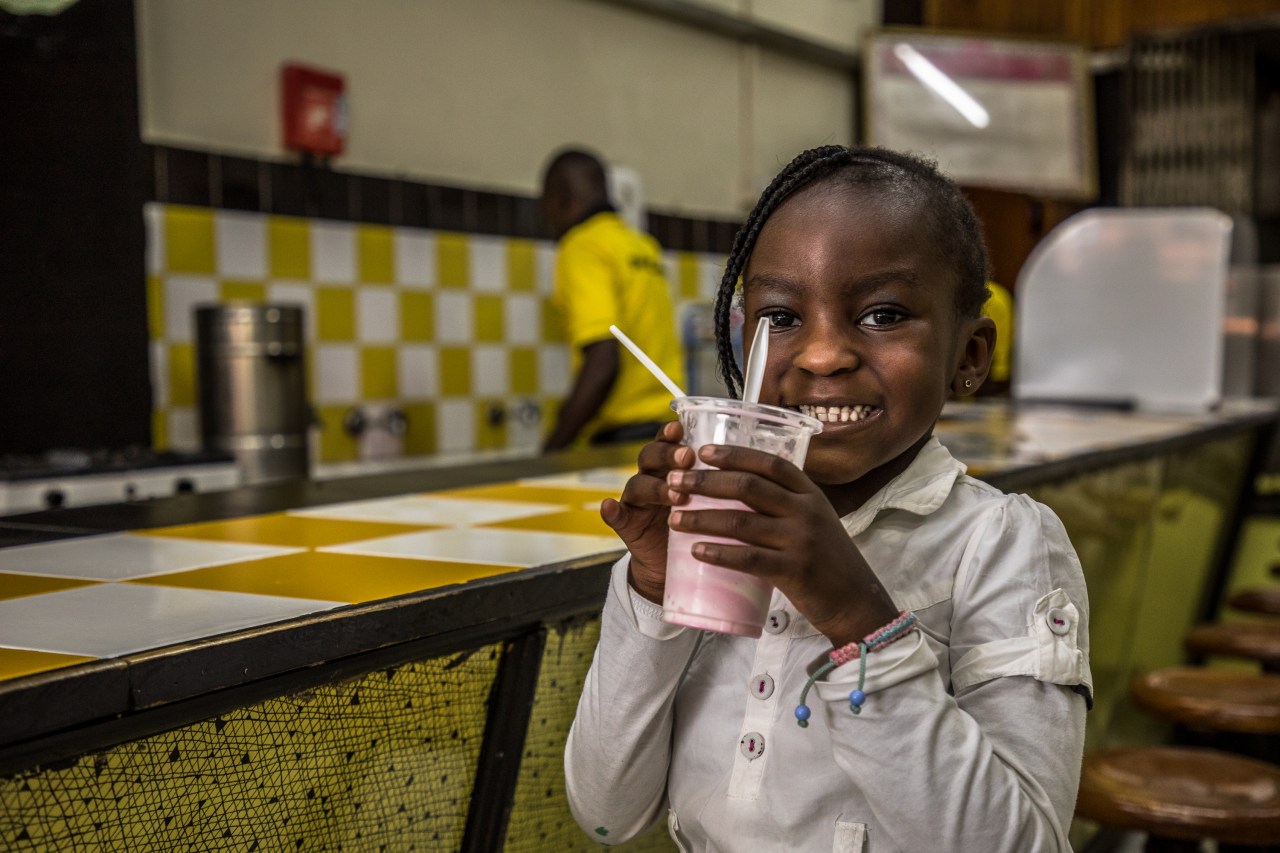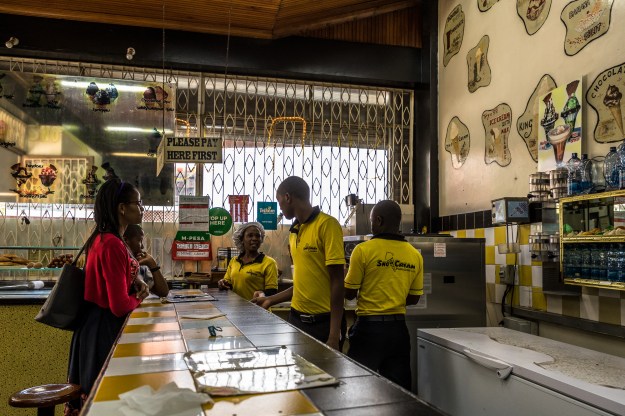 Next stop is Sno Cream, a hole-in-the-wall ice cream parlor opened by an Indian-Kenyan family in 1952. It's reminiscent of the ice cream shops seen in decades-old American films, including retro posters featuring the Beatles and women with mod 1960s hairstyles. Sno Cream is a rare glimpse into how pre-independence Nairobi saw itself in relation to other capitals around the world. Plus, who doesn't like ice cream?
4:00
pm
Kuona Artists Collective—Centre for the Visual Arts
Get Directions
Next jump in a cab, on a boda boda (motorbike taxi), or into a matatu (minivan or bus) to the Kuona Trust artists collective in Kilimani, a neighborhood that mixes residential and commercial spots with ease. The scene is something you find across the city: stately homes-turned-offices and restaurants behind wrought-iron gates.
Kuona's garden is lined with studios that used to be shipping containers. You can pop in, speak with artists, buy souvenirs, and get to know the young Kenyans who are sharing their vision and talent with the world. The space also houses the Upepo Photo Gallery and periodically hosts live music and art events.
Galleries have multiplied across the city in recent years as hotels host art exhibitions on a regular basis and renowned Kenyan artists open their own viewing spaces. But Kuona is one of the best.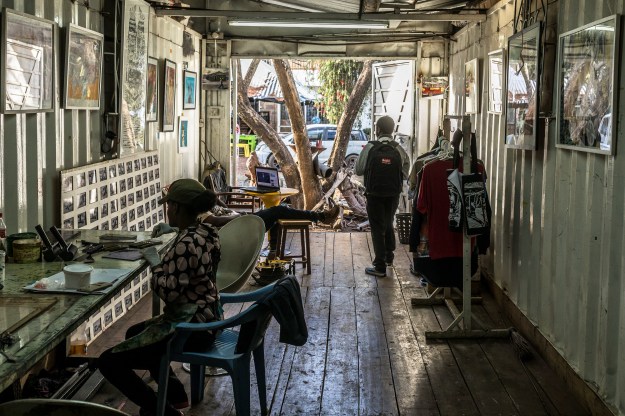 Nyama Mama is a funky restaurant in hip, affluent Westlands that bills itself as a "modern day African roadside diner." The restaurant is housed in a corporate office building without losing any of its charm—no small feat in Nairobi.
The clientele is a mix of Kenyans and expatriates alike. Many come for the food and stay for the jams: Nyama Mama hosts live music on Wednesdays and a late-night DJ on Saturdays. The restaurant also hosts other events from time to time, including afrojazz and sundowner sessions.
Speaking of sundowners, now is a good time to have one. Nyama Mama's drink list offers remixed classics, microbrews, and house originals like the Blue Mount: tea-infused Gordon's gin, Mama's blackberry-and-mint cordial, mango, lemon, chai spices, and mint.
The menu features modernized Kenyan staples: ugali (cornmeal) fries, chapatti (flatbread) wraps, arrowroot, sweet potatoes, nyama choma (grilled meat), coastal biryani, matumbo (tripe), and much more. Try the seared-chicken chapatti wrap with mango chutney and kachumbari (Kenyan tomato salsa), served with a side of masala chips.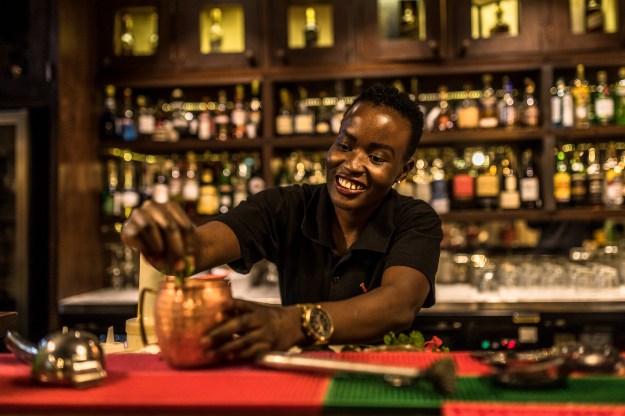 Another relative newcomer, the Alchemist is a bar, performance venue, and collaborative space, and it's constantly shape-shifting and growing to match Nairobians' needs. The Alchemist has a large stage, several food trucks, and small storefronts that add to the dynamism of the space.
Young creatives come to test their mettle at the weekly open-mic nights, local artists graffiti on the walls, and local filmmakers (and aficionados) screen films that range from classics to documentaries and indie films. It's also a great spot to catch live music, international DJs, and a Sunday flea market.
And that's just the beginning: The Alchemist's owners are planning on hosting career fairs, panel discussions that focus on current events, and a dedicated space for career mentorship. A co-founder once told me, "Alchemist is a snapshot of Nairobi at any given time."
For now, however, grab a drink, roam around, and dance! If you get hungry, stop by one of the food trucks. Try the vegetarian hot dog from Street Bistro or the Fela Supa chicken burger from the Nigerian-Kenyan sisters at Mama Rocks.